A pilgrimage to Hundisilma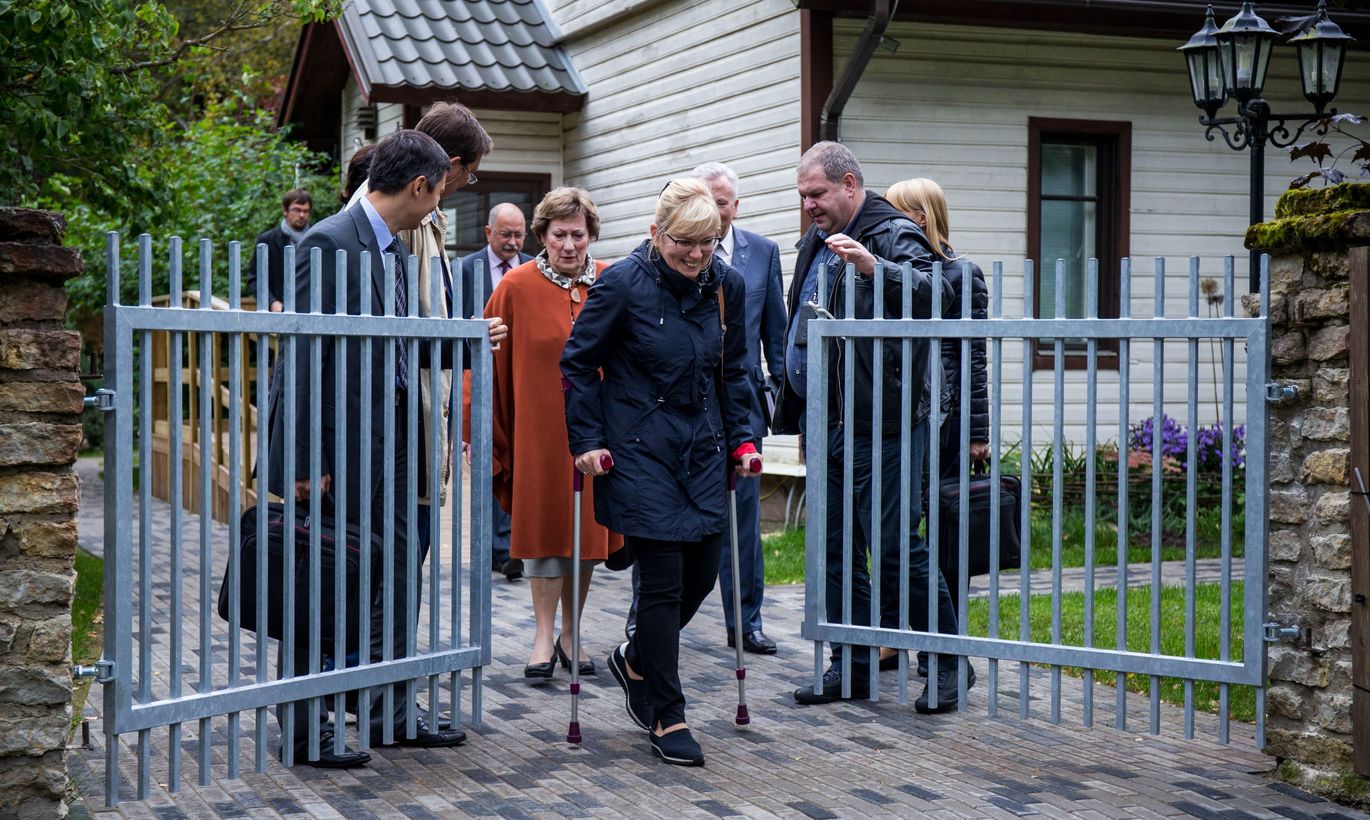 Suspended from being Mayor of Tallinn the day before yesterday, Edgar Savisaar again meets his closest trustees at Hundisilma home today, who in this final battle are expressing faithfulness worthy of a religious sect. Calloused in his ridicule towards the labours of security police and prosecutor's office, Mr Savisaar is testing the legal system limits. Intentionally, rather. With nothing left to lose, it looks.
Party cadres paid the suspended mayor a visit yesterday as well. At 12:30 pm, Mr Savisaar's West-Viru County home front was packed with cars of deputy mayors.
An hour later, all guests exited the country house. Not a deputy mayor was missing as Taavi Aas, Kalle Klandorf, Mihhail Kõlvart, Eha Võrk, Merike Martinson and Arvo Sarapuu stepped forth. Also among them were city government adviser Liina Oja, adviser to the mayor Moonika Batrakova, the city's PR director Ain Saarna, and mayor's assistant Jekaterina Fedkina.
As affirmed by Mr Aas, they talked no business but rather about legal affairs and the health of the suspended mayor. «Naturally we choose what we talk about because we are under no illusions that the covert investigations operations would be over,» said Mr Aas, not excluding that security police may indeed have eavesdropped on it all.
According to explanations by state prosecutor, suspension of Mr Savisaar from being mayor was firstly needed so as to prevent him from affecting witnesses, the city government officials. Mr Aas dies not think that the outing by city government to Hundisilma would in any way contradict the spirit of the court injunction. «He has no limits of movement imposed on him. We have no limits of movement,» said the deputy mayor.
As affirmed by prosecutor's office, they have no reason currently to assume that by meeting with city government representatives Edgar Savisaar would have affected witnesses. «At the moment, the prosecutor's office has no information regarding Edgar Savisaar having affected witnesses to give testimony favourable towards him,» said office of the Prosecutor General press representative.
The fact that they talked no official business was also assured us by Tallinn's PR-director Mr Saarna.
«Let's take it as an act of humaneness, and of solidarity, as it is no secret that  Edgar Savisaar's health condition is as it is. I dare say that the people working at Tallinn city government are not at all indifferent towards the destiny of a person. It was a humane act to go support a person for a moment,» he explained regarding the visit.
Mr Saarna added that the visit to Hundisilma fell on yesterday as the city government officials just did not find a more suitable time to visit Mr Savisaar as Tallinn city council session was planned for yesterday afternoon.
Though opposition had promised to initiate no confidence vote regarding Edgar Savisaar and city council chairman Kalev Kallo at the session yesterday, they ended up not doing that.
«In order to vote no confidence, it takes the signatures of at least 20 members. As the Reform faction did not support no confidence of the mayor, and IRL members did not show up, the no confidence wasn't proposed,» explained Anto Liivat (Soc Dems).
Just an hour before the session, IRL deputy Madis Kübar said the opposition had the needed 20 votes, but in the end it were the IRL representatives who failed to attend sufficiently.
As for Reform, they opted out preferring to wait for the result of the proceedings. «There is no disunity in the opposition regarding the mayor,» underlined Reform representative Ants Leemets. «Reform faction will wait for the results of the proceeding underway. We do not consider it right to vote no confidence towards a person suspended from office. Decisions by council cannot replace investigative proceeding. No confidence of the mayor is an option while he is functioning in his official duties. In case of no confidence, he ought to have an opportunity to also defend himself.»
On Tuesday, Harju County Court satisfied application by prosecutor's office and suspended Mr Savisaar from being mayor for the duration of criminal proceedings regarding him.
Meanwhile, city secretary Toomas Sepp said the court decision means not that Mr Savisaar is no longer mayor. «The mayor's employment relationship is suspended for us, but that will not mean he is not mayor. He is the mayor elected by council and to be released from that office there are altogether other legal bases, either decision by council or conviction by court,» said Mr Sepp. «Presently there are no such bases and should someone say Tallinn needs a mayor then the post is currently occupied. It's just that his service is suspended for now.»
«Everything to do with the things at his (Edgar Savisaar's – edit) disposal, largely we will deposit these at city office or reformulate the contracts. That takes time, the formulation of the documents is underway. To which degree we will need to restrict access to information, this is a question extremely difficult to answer. I personally will dare say he will keep his e-mail address, as I cannot imagine that this would have to be closed down,» said Mr Sepp.