Yearlong swap settled in top gear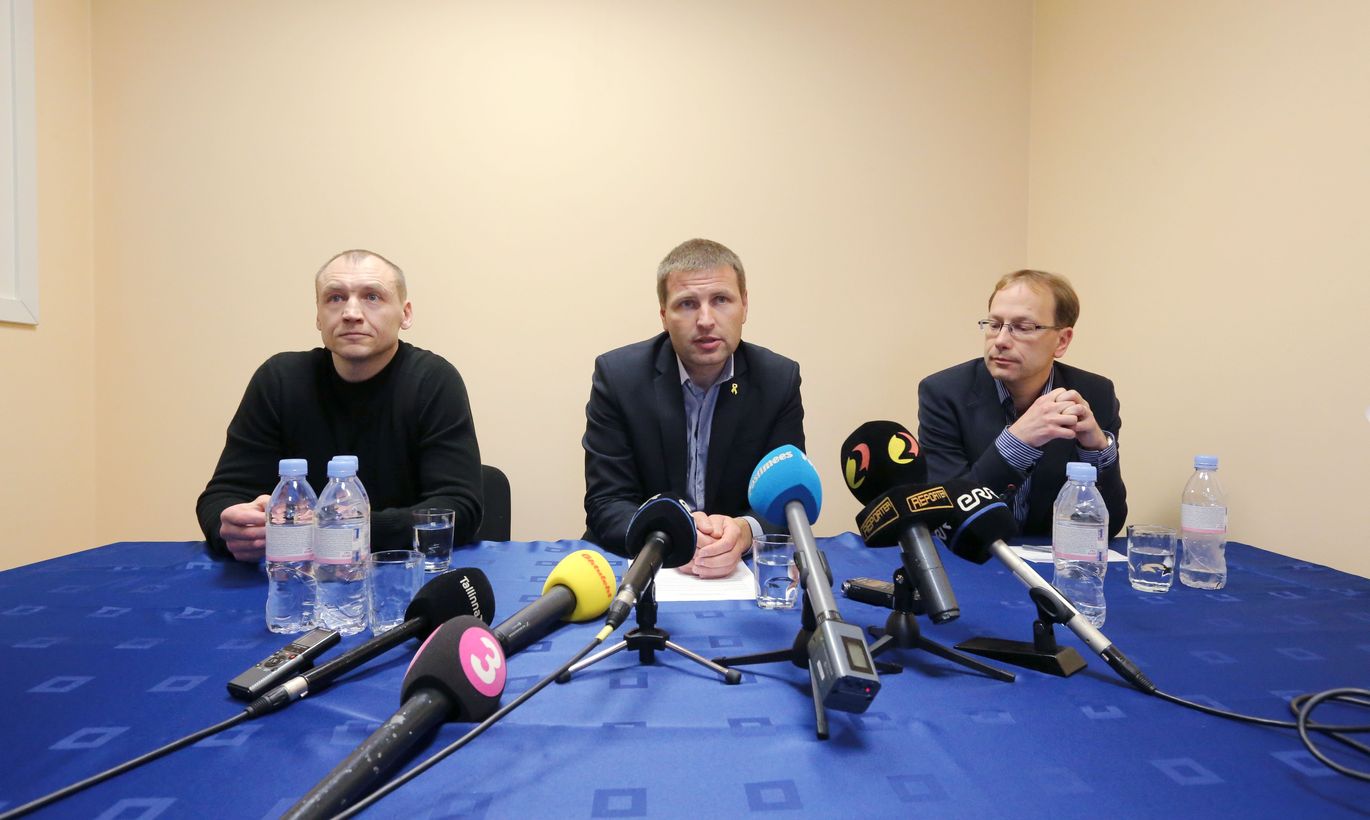 By last Friday noon the rescue operation regarding Eston Kohver came to a high-speed end as President Toomas Hendrik Ilves pardoned traitor Aleksei Dressen and Russian counterpart Vladimir Putin showed mercy on the «spy» from Estonia.
Thanks to signatures by heads of states, the exchange planned on Piusa River bridge was mere technical formality. While Estonian Security Police had a couple of masked/armed men along just in case, the Russians surprised us by coming with media.
Of the plan to be swapped, Mr Kohver knew ever since he was snatched. As for his colleagues from security police, they were busy the whole year long, meeting Russian colleagues from FSB, discussing details of the swap, exchanging the formalities intelligence.
From the beginning, FSB wanted the security policeman turned traitor Mr Dressen. Towards the traitor of higher calibre Herman Simm – internationally speaking – the Russians showed no interest whatsoever. Firstly, Mr Simm was an agent for Russian foreign intelligence. Secondly, he is not their «own» but an Estonian.
An alternative could have been another traitor, former KGB officer and security policeman Vladimir Veitman, but the guys were from an entirely different weight category. In Estonian security police, Mr Veitman was a technical department mid-level man, and a pensioner. Mr Dressen, however, a former Viru region head who was promoted to Tallinn to head investigations of corruption crimes. In a word – top level in the world of intelligence.
At that, insignificant was the fact that at security police Mr Dressen swiftly fell to be a rank-and-file guy dealing with extremist nationalists and the like. In information war, «bringing home» the Riga-born Mr Dressen was invaluable. Spicing it up, Moscow mentioned exposure of classified CIA materials during 20 years.   
With secret services on both sides in readiness for the exchange, it still had to wait. Namely, Russia had to solve the «espionage case». As Mr Kohver got convicted in that in Pskov Court this August, all obstacles had been removed.
To get it over with, and to enable Mr Putin to pardon him, Mr Kohver never bothered to appeal the ruling. Meanwhile, the Estonian bargain Mr Dressen sat nervously in Tartu prison waiting to be released and sent to Russia.
As a nuisance in international relations, Russia wanted the Kohver-topic over with as soon as possible. Therefore, once the court ruling entered into force, procedures kicked into top gear. With Obama-Putin meeting looming, trivialities must go off the table.
The main condition for Estonia was that we hinder not the family of traitor from moving into Russia. That once Mr Dressen arrives, the family would be there, awaiting. To that, Estonia had to agree.
Thus, Mr Dressen's traitor-wife Viktoria who, before he husband got caught, was working at an extreme nationalist Estonian businessman and escaped with a conditional punishment, was then able to proudly tell the Russian TV audience: «I always knew that Russians will never forsake their own!»
The Saturday morning at Koidula border point was intense. The crossing closed for common people for dozens of minutes, security policemen arrived with Mr Dressen without any personal item with him. On the other side of the river, in Russia, there stood a black Mercedes containing Mr Kohver.
Of the Russians, it was a high level FSB official who first set foot on the bridge. To meet him, Estonia sent security police deputy director for counterintelligence Aleksander Toots, who had been preparing details of the procedure with colleagues for months.
After brief formalities and handing each other the exchange documents, they went back to the cars trailing the main heroes. Symbolically, if was the very Mr Toots walking Mr Dressen to the bridge. Together, they had made their careers in Virumaa and Tallinn, and it was Mr Toots who caught Mr Dressen at treason.
On the bridge, it was the end of the story. Attempting to wave at his former subordinate and later boss, Mr Dressen got no kind reply – you are history. Trash.
Meanwhile, a free man Mr Kohver was walking towards Estonian territory and the colleagues there to meet him.  After the vital informing of colleagues of details of imprisonment and stuff shared at interrogations, and a brief appearance at press conference with the heart-warming «Thanks Y'all!», Mr Kohver  was released to go meet family.
To go meet the wife and four kids – the ones who to just see the pictures of, he'd had to endure all kinds of «treatment» by FSB colleagues while jailed. It was all over now.  
«We won out for sure,» opined a person involved in the swap operation. What he meant was that while Mr Kohver was at the Russian prison for a year, the traitor Mr Dressen served three years in Estonia. And would have lived there for a long long time at the expense of Estonian taxpayers.
Meanwhile, Mr Dressen received a hero's welcome who met the TV station Rossiya-RTR microphone as soon he stepped off the bridge. «It's a joyful feeling,» announced Mr Dressen.
He said he only felt relieved when meeting Mr Kohver on that bridge. «Before that it all was delayed and that causes tension. I only felt relief as I was crossing the bridge,» said the traitor.
In the evening, Mr Dressen was served a festive dinner with family and officials involved in the swap. In all likelihood, the man with relatives in Russia via wife will work at some FSB-related agency.
As for Mr Kohver, he will continue on security police payroll.
«Thankfully, it's over,» Postimees was told by an official involved in the operation. «The rescue operation went a lot better than when he fell in.»