Ministries swell with fresh vigour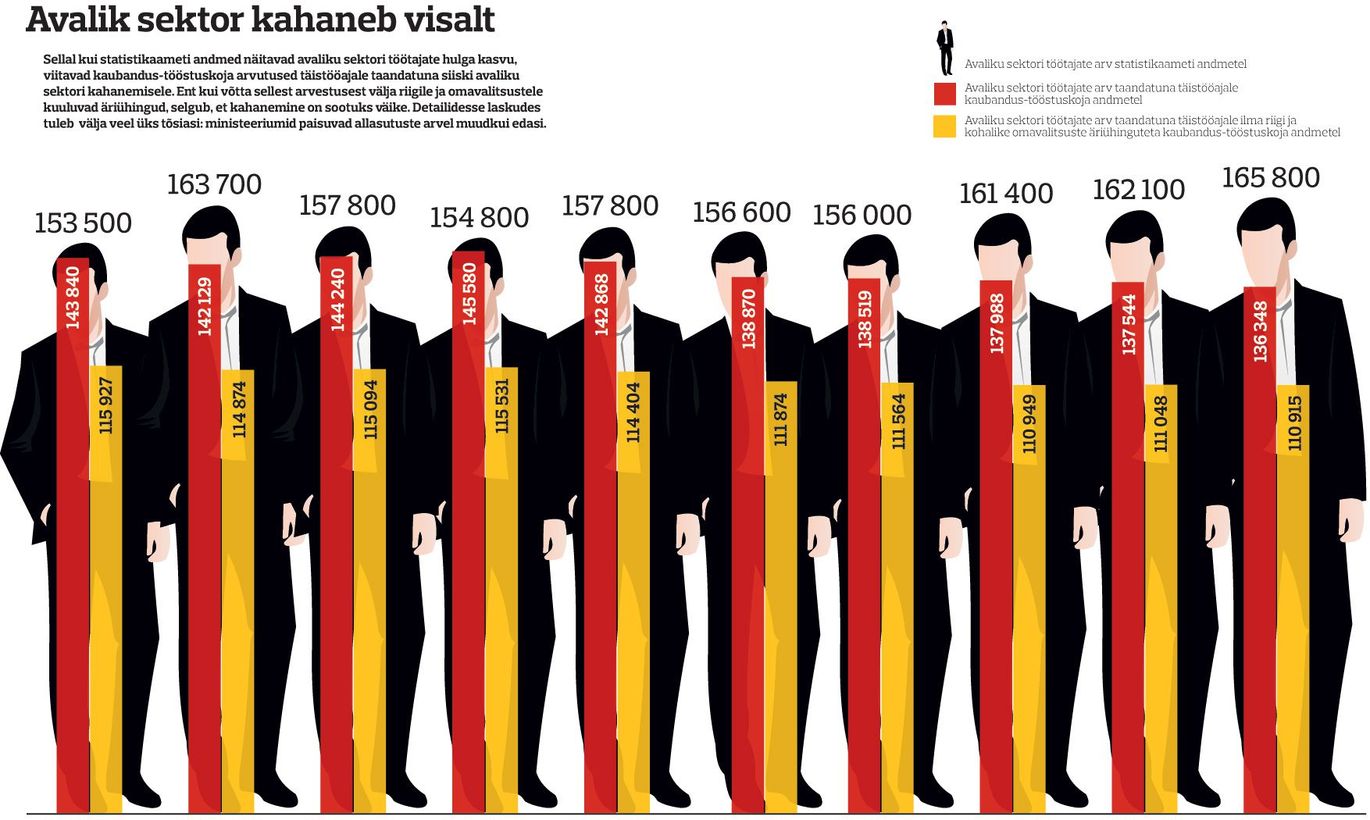 Analysis by Chamber of Commerce and Industry says Estonia's public officialdom is resistant to thinning and if the numbers do come down at all, then on account of police patrols and firefighters. Meanwhile, the ministries keep on ballooning. 
On basis of finance ministry data, commerce and industry chamber analysed amount of public sector officials during the ten years of 2005–2014. At that, they reduced numbers of individuals to full time employment – as an example of that, two officials working half-time accounted for one job. This is the best way to find out how much taxpayer money is actually spent on public sector officialdom.
Statistical Office, however, has separately counted all part-time officials and arrived at an even gloomier ten-year result: or all who are employed, their proportion has risen from 25 percent in 2005 to 26.5 last year. While in 2005 public sector had 153,500 people on payroll, in 2014 the number got close to 166,000.
Thus, the commerce/industry chamber methodology says the decade brought numbers from 144,000 down to 136,000 persons. However, let's delve into details to see where the cuts happened. Turns out that mostly not at the ministries, but rather in the institutions under them.
In interior ministry, for instance, the officialdom has swollen from 156 in 2005 to a half thousand. Meanwhile, Police and Border Guard Board is manned by a whopping 2,400 people less than a decade ago. Rescue Board and Alarm Centre are thinner by neatly 700. Ergo, central bureaucracy has swelled on account of those who keep order out there in the streets.
Or take the culture ministry which has 201 on staff while ten years ago 157 were enough. At the same time, personnel is shrinking in institutions in their domain such as museums, public broadcasting, cultural endowment, and national opera.  
Till 2013, staff at justice ministry, prosecutor's office and a few other institutions were reckoned separately from personnel at courts and prisons. During that time, courts and prisons kept bleeding people while the ministry grew in numbers. In 2005, justice ministry and prosecutor's office employed 686; by 2008 that rose to 761 and came down with the 691, to then swell to no less than 821 in 2013. Indeed, reading the ministries' payrolls, one notes that the end-of-2008 and 2009 downturn brought along the steepest decline till 2010. While divisions have continued in austerity, the ministries have returned to or rather exceeded the pre-crisis bureaucrat levels.
By 2012, finance ministry staff increased by a hundred, from 320 to 421; meanwhile, tax and customs board laid off half a thousand. Again: the money counting ministry shrunk during the downturn – only to proudly outdo the former numbers afterwards.
President and Riigikogu thinner
An exception is discovered at defence ministry where the staff is basically at 2005 level while Defence Forces are up from 3,400 to 3,900. The Defence League payroll, however, has multiplied from 370 to close to 1,100. At least partially, this is explained by the increased security threat and the larger national defence budget.
Economy and communication ministry has tightened belt impressively as well: of 1,865, only 1,345 remain. Meanwhile, Enterprise Estonia (EAS) has ballooned from 177 employees in 2005 to 284. True: in 2004, Estonia entered European Union and EAS is busy distributing the latter's support.  
Agriculture ministry got smaller in size also. Of other institutions of central power, Government Office has been tightened by more than twice, and Riigikogu support staff is also smaller, as well as Office of the President.  
But the public sector is not state agencies alone. Of local governments, cities have economised to a bit over 29,000 from 33,000 officials. Among the larger cities, Tallinn retains 12,400 employees out of 13,200 and there have been significant cuts to city district governments. Nowhere, except for Tartu and Sindi, has the officialdom grown. The very Tartu stands alone, having went from 3,400 to 3,600 employees.
Despite the fast thinning of rural population, however, parishes have totally failed to reduce staff: broadly, they still keep 20,000 on payroll.
When it comes to hospitals, despite the alleged shortage of doctors and nurses Tartu University Hospital has made a giant leap from 3,400 to nearly 4,400 – adding a thousand during the decade. By the way: it was only in 2005 that the other major hospital, North Estonian Regional Hospital (PERH) had a staff as big as Tartu. Today, PERH employs under 3,600 as reduced to full-time jobs.
Often, the entrepreneur Indrek Neivelt has spoken out about making the state more effective. «If regulations keep being added and Riigikogu keeps producing new laws, how then can the officialdom shrink?» he said this time. «Perhaps, as a new law is passed, an equal amount of legal texts characters should be deleted elsewhere.»
Mr Neivelt thinks the state is overregulated and for this it makes no sense to blame the officials, rather the politicians. «It would be easy to create a conflict between officials and entrepreneurs, that one is good and the other bad – not so. However, regulations keep being added. For ten years we have been governed by liberals, but would somebody count how much the law-related texts characters have increased over the decade.»
Though the laws are created by bureaucrats at ministries who like thus to create work and jobs for themselves, these are still passed by the Riigikogu, Mr Neivelt would remind us. «Would anything change in the world, if some year the Riigikogu would only pass the state budget law?»
As for the swelling of central apparatuses at ministries while the institutions around them are being diminished, Mr Neivelt says this is according to the bureaucratic logic. «In the same way, at the ministries they are talking about the administrative reform which somehow should begin at parish governments. How much will we save by closing down a parish government, without thinking about the central apparatus? A fish will rot starting from the head, but still the cleaning begins at the tail.»
According to commerce/industry chamber director-general Mait Palts, he rejoices not over the findings.
«The institutions distributing EU money have briskly increased,» he said. «Meanwhile, tax and customs board for instance has undergone significant cuts. In certain institutions people are indeed being laid off, but the overall officialdom is not substantially thinned.»
Mr Palts says the statistics lead to an understanding that jobs are mainly added in all kinds of agencies dealing with shaping of policies and with administration.  
------------------------------
Interior ministry denies weight gain
Interior ministry's personnel policy department head Aivi Sirp says there has not been the explosive growth that report above suggests.
-Why the 156 to nearly 500 growth at ministry while, during the same period, police and border guard has shed 2,400 and rescue board and alarm centre are smaller by 700?  
Interior ministry's staff surely isn't half thousand people as you claimed – as at end of August, the ministry featured 274 jobs. Meanwhile, it is not the numbers we ought to focus on but the people at work in reality, as the interior ministry's domain has had lots of vacancies which distorts the picture.
In 2012, an international auditing company performed management system analysis, as a result of which it was proposed to increase the ministry's role in shaping policy and its analysis capacity. In the name of boosting strategic management, policy shaping and development capacity, the amount of job posts at the ministry was increased. Meanwhile, police and border guard's (PPA) coordination bureau staff was thinned.
The 2013 increase was related to entry into force in April 2013 of Civil Service Act. The old act allowed hiring people non-staff and fixed-term. Meaning that these people were not reflected as staff. Now the non-staff jobs were dome away with and all such jobs became part of the staff.
-But why the dramatic shrinking, meanwhile, of policemen and rescuers?
The major PPA staff cut was in 2010 as three agencies – police board, border guard board and citizenship/migration board – were merged. All told, in 2009–2010 PPA staff shrunk by 565 or 9.6 percent but that was not on account of those in uniform alone – the support staff was also cut by 252.
In 2014, 223 people were laid off at PPA due to the need to raise salaries for the lower rank policemen.
In rescue, reforms have been behind the cuts. As an example of that, administrative services were mover under State Real Estate Ltd, and, in 2012, 174 people were separated from rescue board as alarm centre was created. Also, the state commandos structure was rearranged so as to ensure the fastest possible lifesaving service to as large a part of population as possible.
-What limits are set on personnel costs and their increase, at the interior ministry?
By January next year, the aim is to cut staff at ministry by five. On account of their salaries, the personnel costs of the ministry will diminish accordingly.