«Putin is as powerful as Estonia's president!»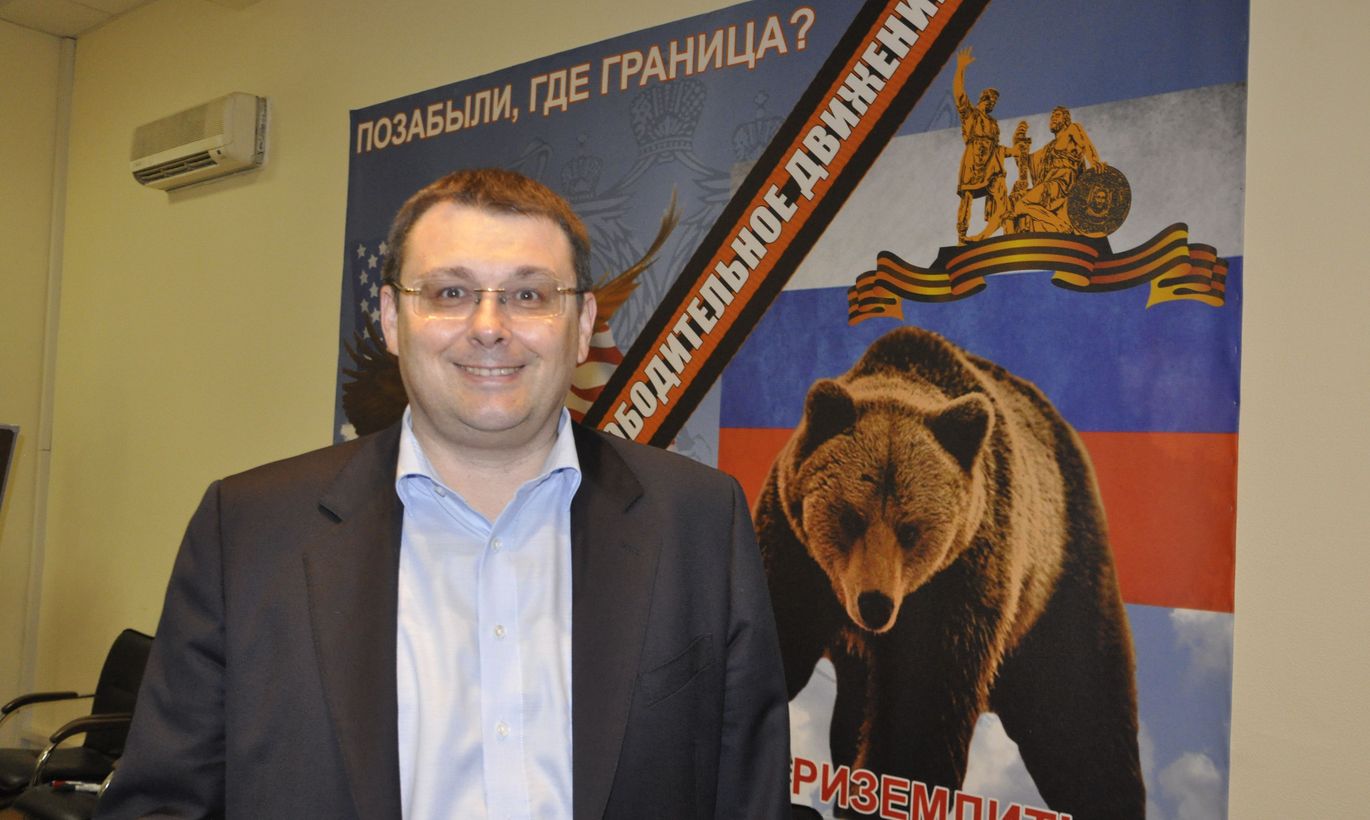 In Russia, things are bad. Judge for yourself: anti-Putin conspiracy is already underway! Liquidation of Russia is being attempted! Putin's orders aren't being obeyed! Russia isn't a sovereign state and needs to be saved!
Just some ideas from my midsummer interview, in Moscow, with State Duma deputy Yevgeny Fyodorov. The very man recently had recourse to Russian prosecutor general asking for investigations if it was lawful for Soviet Union to recognise independence of the Baltics in September 1991.
The application seemed so absurd – judging by statements even to Russian foreign ministry and public prosecutors – that I just had to find out about what else the deputy has to say about world affairs. The more so that in the Duma Mr Fyodorov does represent the power party United Russia and is at helm of a high-sounding Russian National Liberation Movement (NOD) which is increasing in popularity.
For me, a child of the Soviet era, national liberation movement immediately associates with stuff like FRELIMO (a left-wing Mozambique Liberation Front, still in power in the country – edit) and other such in the Africa of 1970ies and 1980ies.
But from whom must the Russia of today be delivered? I do understand deliverance from Russia, but to claim the opposite – sounds radical indeed!
In Russia, Mr Fyodorov is among the politicians who see a threat of a so-called coloured revolution behind every corner, and a conspiracy against Russia. The conspiracy is, of course, being organised by the US state department and CIA.
«Like in Georgia and Ukraine in 2014,» he said in reply to my question about how can there be a conspiracy in Russia. «The same Ambassador Tefft and the same methodology.»
Mr Fyodorov misses it with his opening sentences. By the «same ambassador», he means the current US Ambassador to Moscow John Tefft who has indeed been earlier posted as ambassador in Georgia and Ukraine. But Mr Tefft went to Georgia almost two years after the Rose Revolution, and he left Ukraine half year before the decisive events of the Maidan Revolution.
But who cares about details with a conspiracy all around!
The «methodology» is also plain and clear: Mr Fyodorov says this is USA negotiating with Russian big business, the oligarchs. «Their companies are all in foreign jurisdiction i.e. dependent therefore from US and its allies. They can be threatened with sanctions and arrests, including their family members living in London, New York and elsewhere abroad,» says Mr Fyodorov.
According to Duma member of 13 years running, the conspiracy has two goals: to force President Vladimir Putin to step down, and to abolish Russian Federation as a state. «For the past thousand years, our geopolitical foes are after the latter, but they will not succeed,» adds the deputy.
Should some readers now think Mr Fyodorov to be some paranoid politician, you don't know the Russia today too well.
«They (USA – J. P.) would very much like there to be no Russia at all. As a state.» This is quoting a most influential man in Russia after Mr Putin, secretary of security council Nikolai Patrushev (also a former FSB executive like Mr Putin) as interviewed in mid-June by the newspaper Kommersant. The Kremlin thinks like Mr Fyodorov, or vice versa.
While waiting for Mr Fyodorov at the «liberation movement» office, I strike a conversation with a female activist of theirs from Tula. Viktoria tells me that for years she lived and worked in the USA as physicist, but returned in 2008: «Already then I realised it was the goal of the US to attack Russia, and I could not live there any longer.»
The longer we talk, the more interesting it becomes: as it surfaced, the attack against Russia is plotted by a conspiracy of a narrow circle of bankers who decide globally where it would be in the interest of the Federal Reserve to have a war, and where an economic crisis must be triggered. President Kennedy did not agree with them and was assassinated, says Viktoria, to show the power of this «dark force». The US is Mordor, Russia is the kingdom of the elves, and Donbas is Dagorland.
A bit later, Mr Fyodorov assures me that the conspiracy process has already been launched in Russia. «Right now, it is stage one: negotiations are underway to change the architecture of power,» says he, citing recent proposal by Alexei Kudrin (Russia's former finance minister and long-time ally of Mr Putin – J. P.) to hold early presidential elections in Russia. «The halation of the conspiracy already shows!»
That's the word used – «halation»! Divine stuff, you see, with foes all around.
Actually, it's no kidding. The headquarters have seriously prepared to meet the Estonian journalist. Being from NATO etc. Before the interview begins, Mr Fyodorov's assistant Roman Zykov sets up a video camera. I have the honour of the entire interview being recorded. «As your article comes out, we will have a link at our website with the video of the interview,» explains Mr Zykov.
I tell him well done: with a conspiracy underway against fatherland, one must always watch and be diligent at all times!
By the way, the headquarters are in central Moscow, in immediate vicinity of the Kremlin. Nothing fancy. No smell of the money which has begun to accompany the patriotic projects and movements in Russia. 
Like a good crime movie, the interview with Mr Fyodorov keeps getting more exciting.
He tells me what needs to be done to save Russia from the conspiracy. In short: everything needs to be made more national and more independent from the rest of the world, starting with the economy.
Lately, Mr Putin has been saying the same. So, what's the problem?
«His orders are not being obeyed!» comes the bombshell from lips of Mr Fyodorov.
And we Europeans figured that every word by Mr Putin was law!
But that's not all: turns out, in his native land Mr Putin is a man just as tough, or as weak, as Toomas Hendrik Ilves is in Estonia.
«That's because Mr Putin does not have the powers to have his directives to be mandatory. He is not the power. Pursuant to Russian constitution, the president is not the power. In Estonia, does the president have power?» asks Mr Fyodorov.
I tell him that, pursuant to the constitution, the president's powers are rather limited.
From there, the following dialogue unfolded.
Fyodorov: «See! In Estonia, does the president sign the laws?»
Fyodorov: «Does he sign the appointment of ministers?»
Fyodorov: «See, he has the same powers that Putin has, but you said Estonian president has little power. The same with Putin. Pursuant to Russian constitution, Putin is the coordinator of various powers. His decrees are not mandatory for powers, just as those by Estonian president aren't. Why do you think it is otherwise here than in Estonia? I am not really getting it, why do they think in Estonia that in Russia the power vertical is built otherwise.»
This is no everyday talk: the powers of Russian president are being compared to those of Estonia's head of state!
So one thing is clear, at least. Without power, it is difficult to stand against the conspirators.
But why the liberation movement? From who or what must Russia be liberated?
As I ask about this, Mr Fyodorov listens to me with utmost seriousness, and answers with no delay: «The consequences of the 1991 capitulation needs to be altered, the most important of these being the external management.»
Mr Fyodorov believes that till today Russia is under foreign management and needs to be delivered from it.
Under external management, Mr Fyodorov means the article in Russian constitution pursuant to which «generally recognised principles and normative of international law and international treaties of Russian Federation are part of its legal system. If rules prescribed by an international treaty of Russian Federation differ from what is prescribed by law, the rules of international treaty shall be applied».*
«Tell me please, where in the world does any nation have a chapter like that, in their constitution,» says Mr Fyodorov, to corner me. And promptly replies: «Nowhere!»
Truth be told, there are, but – again – perhaps in the midst of the conspiracy there's not been time enough to find out. Take the Estonian constitution that Mr Fyodorov is so fond of, stating that «generally accepted principles and norms of international law are integral part of the Estonian legal system» and that «should Estonian laws or other acts contradict foreign treaties ratified by Riigikogu, the provisions of the foreign treaty shall apply».* The German constitution prescribes the same.
It is the goal of Mr Fyodorov's movement to alter the clause in the Russian constitution. 
«We want to alter the order of state management. And the principle needs to be that Russia is sovereign,» says Mr Fyodorov. «You do have the same problem, Estonia is also a state governed from the outside – from Brussels, but you do not have it as a constitutional norm.»
And now, important reading for those who still believe the Duma deputy Mr Fyodorov to be the usual political clown.
In mid-July, Russian constitutional court ruled that should a decision by European court of human rights contradict the Russian constitution, the decision will not be applied in Russia.
For supporters of Russian sovereignty like Mr Fyodorov, this an important initial win. One of many to follow.
Overall, Mr Fyodorov is satisfied with the direction the Russian society is taking.
«After Russia was attacked in February last year – with the war from Ukraine, and internationally with  sanctions –, the national liberation movement process has accelerated. We are satisfied, though the process is too slow,» he says. «This is the way it has always been: Russia needs to be attacked for it to change and win.»
What kind of a win does Mr Fyodorov imagine, I can't help but ask.
«We must go through this conspiracy. It must fail; then we need to go through the stage of mobilising the society, and from there we will already have a swift liberation movement and formation of the new direction!»
This spring, the Fyodorov-led «liberation movement» organised a mass meeting at the Kremlin walls, at the anniversary of unification of Crimea with Russia, where president Putin held a speech. In Russia today, Mr Fyodorov is already a mainstream man.
* unofficial translation of cited constitutions
Born in Leningrad (now St Petersburg)
A graduate from higher engineering-construction military school, in 1985–1988 warred in Afghanistan. Served in the military till 1997.
In 1997–1998, server at Russian presidential defence council.  
In 1999–2001, deputy nuclear energy minister.
Duma deputy since 2003, in United Russia list. For years, chairman of Duma economic policy and entrepreneurship committee.