Please note that the article is more than five years old and belongs to our archive. We do not update the content of the archives, so it may be necessary to consult newer sources.
Cashier drought demands desperate measures
Cashier drought demands desperate measures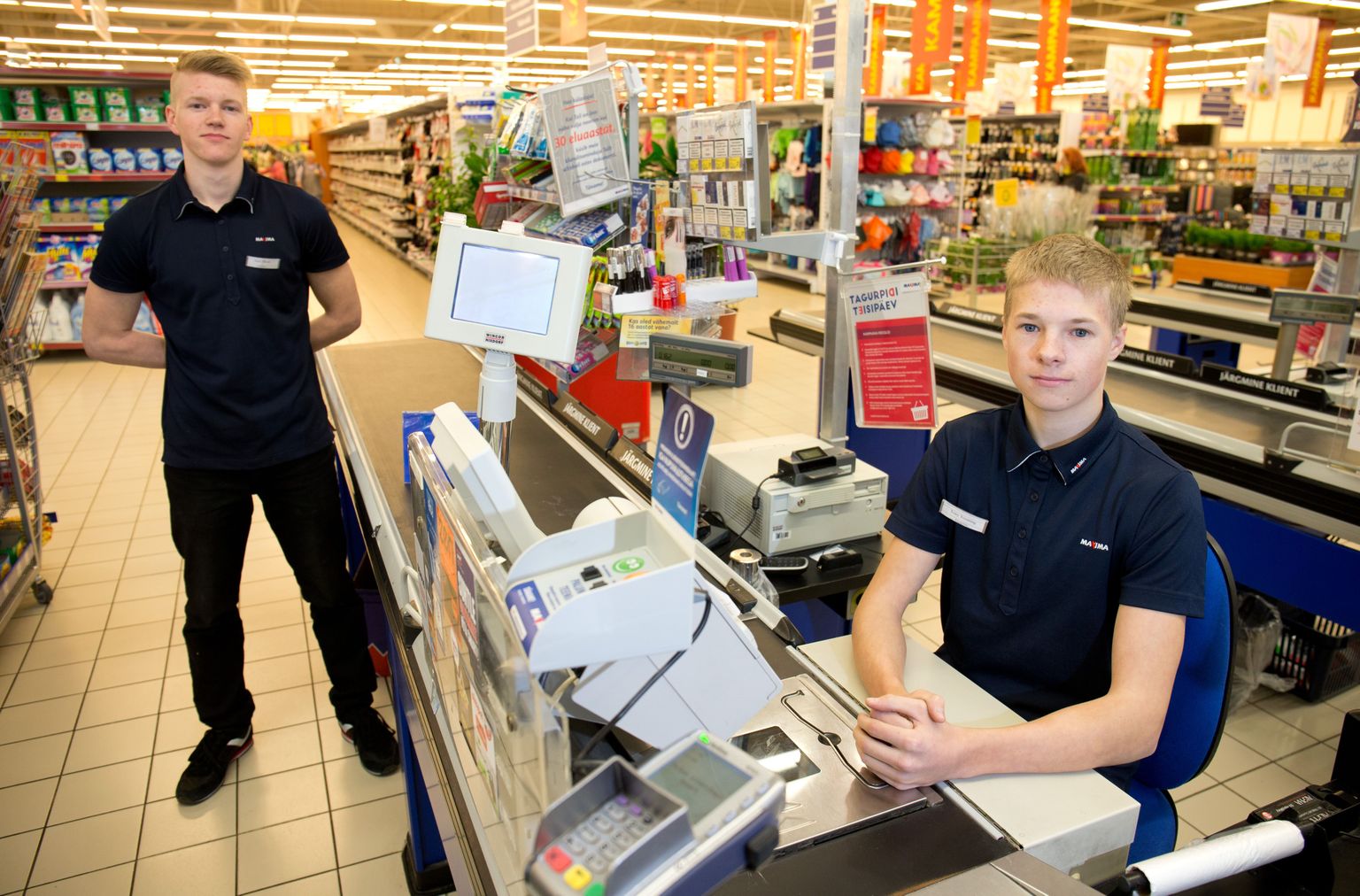 Estonia is hard pressed finding grocery store clerks – the land is lacking such individuals who would fit.
«The drought is worst in summers when people get the opportunity to make a bit more money at seasonal stints than the principal job,» related Kaire Tero, personnel chief at Rimi. Some go pick strawberries in Finland, and the younger ones head for cafes in Old Town, Tallinn where one gets tips. 
«And some want to take a rest in summer. They have a garden and they leave work at the end of May because in this profession it's not hard to find a job,» said Ms Tero.
She went on to say that it's been years since cashiers last had to worry about unemployment in Estonia, as vacancies outnumber the people who suit the position.
For Rimi, the toughest spots are Tallinn, Tartu and especially the summertime Pärnu. «We are forced to compromise with quality of service. The lines get longer as we have to do with the people we have got, and their working hours must stay within legal limits,» said Ms Tero.
While in major cities student working camps help alleviate the pain, in Pärnu this was no solution. «In Pärnu, the youth only go to cafes or hotels to earn money,» she observed.
At Rimi, half the staff works both at cash registers and sets stuff on shelves. Starting last spring, many opt to only work eight-to-five at the latter. «Given the staff shortage, all we can do is give them the option – so at least we get the goods out there on the shelves,» related Ms Tero. Among those, single parents dominate who can't do shifts.
«It's easy to find people to work on their own with the stuff, as it takes no education and many don't want the contact with customers,» said she. «For some reason, Estonians fear clients,» she added.
In their last recruitment campaign, Rimi called for people to work in stores near home. Ms Tero says in most areas this was a success. «But we have these elite neighbourhoods no with no simple working people around. For us, these would be Viimsi and Tabasalu,» she confided.
Ms Tero said she has no idea how to find people for the new store in Viimsi. They have pondered a special bus. «But with the option to go work next door in Mustamäe, who is motivated to ride across the city?» she asked rhetorically.
As a possible solution they are planning wages much higher – close to €700 – at the Viimsi and Tabasalu stores. «Up to now, we haven't failed to open a single shop due to not having the people, and we have our plan B just in case,» she promised.
The personnel chief said they are trying all the tricks in the book, and more, to find employees. And are sure there must be such as have not yet come to mind.
Their testimony is the best candidates come from among those recommended by friends, and then the friend is paid a bonus.
Also, the drought has helped them get busy hiring people with special needs. «We used to allow them to come, no we go hunting for them,» admitted Ms Tero.
Also, Rimi has hired those lacking the language skills prescribed by law. To improve the situation, the retail chain has hired an Estonian language teacher who gives classes in Tallinn and Ida-Virumaa.
Folk wisdom would dictate the drought would end the very day they raise the salaries. With this, Ms Tero agrees not. «We do know the state the economy is in at the moment, and the salary money should come from somewhere. It's not out of envy that pay is the way it is,» she assured.
They do raise salaries at Rimi every year, she said, and this year this was mostly for the cashiers whose raise was up to 18 percent.
At that, the Rimi policy is that the higher the qualification of cashiers, the fewer would be working at a store – they should to the more efficient job. «But there definitely is a minimal level, and a shop can't operate with fewer clerks than that,» noted Ms Tero.
Even the jobless not enough
«The labour market situation says there just are no people,» said Maxima's communication manager Ty Lehtmäe. She said Estonia is running 5.2 percent unemployment i.e. over 11,000 people. «But they won't all fit for stores, and we also have competitors looking for workers,» she observed.
Ms Lehtmäe said the chains in Estonia have made it a priority to keep the people they have, as the supermarkets are currently trying to lure people over from each other. Maxima has been raising wages these past three years running.
«This is a myth that Maxima has the lowest wages,» she said with passion, adding they aim at top three among supermarkets wage ranking. She said Selver and Prisma are the top generous at the moment, while Maxima is in the average bunch with several others.
Unwilling to disclose the precise amount, she assured the category is the same as a competitor's whose ads featured an income of €560.
Last year, Maxima raised wages by an average of 10 percent, this year it's been one to five percent depending where staff was most wanted.
The most wanted were the cashiers, so their salaries rose the most. «Working with people is very hard; you have to be able to smile for ten hours, you are financially responsible, and if the attitude in society is negative – this is why we find ourselves in the situation where cashiers are lacking,» noted Ms Lehtmäe.
Maxima personnel chief Kristina Jürgenson said it was easier to find people to put goods on the shelf – sufficient is an individual gas graduated from grade 9 in Russian school and passed the Estonian language exam. «But we can't have cashiers with no command of official language so lots of good people are declined for not speaking the language even is the paper says otherwise,» admitted Ms Jürgenson.
She said the chain needs to try hard to find new staff and ads in employment portals won't do it anymore. So the departments responsible have to do targeted search.
«So a while ago we needed a meat man and so we went to the Central Open Market and proposed to a guy who worked there, saying it's winter soon and it's warmer to come work for us. His eyes bulged real big initially, but he came,» she said. They also frequent the vocational schools seeking staff.
It's hardest for Maxima in the summer, especially so in Tallinn and Pärnu when part of staff heads for hotels and eateries for three months.
«They are very open about it with the manager, saying I'm going now and can I come back in the fall,» related Ms Lehtmäe.
Maxima is seeking to solve the problem by hiring temporary staff and covering their travel and accommodation. In Tallinn, they stay at G4S dormitory, in Pärnu they have rented a small house in Raeküla and some staff dwells in a motel close to the store.
Ms Jürgenson says such extra expenses pay off. «If you have 11 cash registers and only have four operating, then we rather pay than leave clients unserviced due to lack of staff,» she said.
To alleviate the situation, Maxima is turning to self-service registers. At the end of last year, the first six were launched at Smuuli Maxima, and in May six more stores got theirs. «It's a help to any company to have self-service where one person can see to six registers at a time,» said Ms Jürgenson.
While Selver, Prisma and Maxima have self-service available, Rimi is in planning stage only. «Regarding the costs, it won't make things cheaper as the apparatuses need maintenance and people to be present,» thinks Ms Tero. She did admit, though, that they will have some soon. Ms Tero remains convinced that, automaton or no automation, the traditional living human cashier will not go anywhere. «If we'd only have the people willing to do it,» she sighed.