Foreign students flipping burgers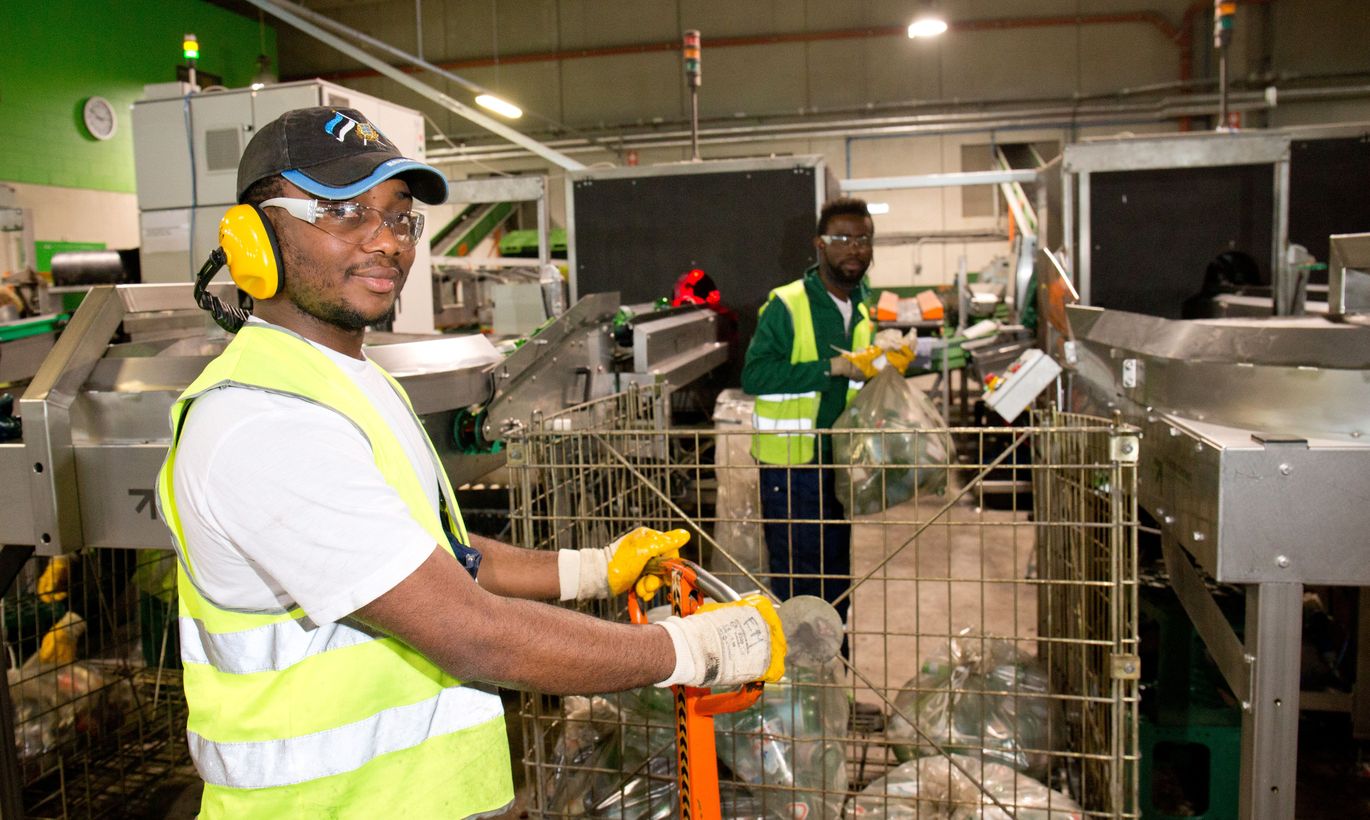 While at universities or preparing to enroll, youth in Estonia from abroad are willing to do the simple and less paid jobs. Though vacancies abound, they find it unexpectedly complex.
«It is difficult to find work in Estonia because though the official language is one, the country is in reality bilingual and to find work one needs to speak Estonian and Russian alike,» said Ogochukwu Bonny Sunday (23), a student of political sciences in Tallinn University.
The youth from Nigeria says job offers are rather numerous, for supermarkets for instance, but he cannot go for it because of insufficient language skills. Arriving in Tallinn to study, he signed up for courses of Estonian but as these were a daily thing, he had to quit due to shortage of time.
Now, Bonny is attempting to master Estonian via web courses. He says it's easiest to learn a language talking to people in the streets, so to say, but this has proven rather hard.
«I cannot tell the difference who is Estonian and who is Russian,» says the lad, having tried his Estonian on non-Estonians as it turned out. «If it would be one language only, I'd speak it already.»
Also, Bonny says finding work is further complicated because Estonians are poor in English. «You get a job offer from the university and you call them, but as the one who answers speaks no good English and has a hard time communicating, they just hand up,» he said, citing a real life experience.
He does understand it was because of the language, but admits it feels bad. They do not give up though, but find an Estonian who is willing to arrange things for them.
While it's popular in Estonia to seek work in internet job-portals, another Nigerian student Emmanuel Uzonna Arinzech (32) says this can't be counted on. «I had my CV up for four months and I got not one offer,» admitted the shy young man who is at Tallinn University getting his Master's in business management.
Though Bonny and Emmanuel describe job-seeking in Estonia as a tough thing to do, both have still succeeded – as have their countrymen. «All Nigerians that I know do work in Hesburger, hotels or Old Town restaurants where it is easy to get a job because language skills are nonissue,» said Bonny.
The Nigerians do have a success story to tell. A student who was into marketing at home was awarded professional occupation in Estonian on condition he would acquire Estonian.
As for their current jobs at Eesti Pandipakend (recycler of packages – edit), Bonny and Emmanuel got these thanks to connections. «At the beginning of the summer of 2013, we needed extra hands and sent ads to universities; that brought us the Nigerian student Umeh,» said Eesti Pandipakend's chief Rauno Raal.
As they again needed people the next summer, Umeh recommended his countrymen so six more joined the company for seasonal work. When the summer was over, Bonny and Emmanuel were proposed to continue, at a load fitting to them.
With the work by Bonny and Emmanuel, the company is satisfied, though Mr Raal admitted there was this student who was problematic. «He was constantly gone from his post, and usually we found him in the smoking corner, surfing away in his smartphone,» said CEO of Eesti Pandipakend.
Mr Raal won't deny that life at work is a bit difficult due to the multitude of tongues spoken. While Eesti Pandipakend's plant was in Maardu, the workers communicated in Russian as this was also spoken by the few Estonians present.
Having moved to Tallinn, ranks of Estonians increased and now the meetings are held in three languages – Estonian, Russian and English. «This makes life more difficult,» said Mr Raal.
Emmanuel says some colleagues do speak decent English, but others are at level zero. «But we are trying to understand what they are saying,» he underlined.
According to Bonny, he does the sign language when communicating to shift manager, as well as a smart app that translates what is being said. «I write, she reads and writes me back,» he explained.
«Hey now I understand why Tiina (the shift manager – edit) said she could do it without me, that she had Google,» Mr Raal related his revelation.
While Mr Raal claims their salaries are totally competitive in Harju County unskilled labour segment, it's not much when one considers the daily life in Estonia.
«The wages are quite okay, if compared to Hesburger which is considered rather good,» said Bonny.
Emmanuel says they pay basically the same elsewhere. «Before I came to Estonia, I was working in Nigeria and there I got less,» he added.
Though the shop-floor is noisy and no dream-job, Bonny is emphatic that he does not hide from others where he is working. «If they as what I'm doing there, I say I handle materials,» he said.
As a CEO, assures Bonny, he'd sack anyone who's ashamed of his job, as any job needs to be done with whole heart. «No job should be ashamed of,» he stated, emphatically.
Emmanuel said there are the jobs back in his home country that are considered inferior and shunned. «And we do have those that prefer to sit at home than to do the simpler jobs and earn money to pay the bills. Meanwhile, a simple, even part-time job may provide for a contact to find a better one,» was his pragmatic piece of advice.
According to Italian Simone Uggeri (20) who works at McDonald's, in Tartu Lõunakeskus, finding a job was not hard for him. 
The lad came to Estonia as early as in 2006, with his missionary parents – the year that Italy was crowned Champion of the World. «For me all times are tied to football matches,» he explained.
Last spring, having graduated from Kivilinna Gymnasium and narrowly left out of Romance studies at University of Tartu, he started to seek for work which would allow him to play football and also act as coach.
For starters, he got a job as youth coach at FC Tartu, but having time left to spare, Simone went on to find some extra.
Having sent out several CVs, not everyone got a reply. «Some asked if I knew Estonia because when writing I made mistakes,» said the lad who pocketed over 70 points at Estonian language state exam. Is Christian name also caused confusion. «So I explained that I was a man and from Italy,» he said.
Simone said a couple of offers came from shops, but these required full-time work and were thus unfitting – he'd never give up football.
«I had this friend, a Spaniard, who worked here (at McDonald's – edit) and he said if you don't find anything else try here,» related Simone. For him, the option to arrange schedule around training sessions and games is priority.
Simone admitted that, having begun working at McDonald's, friend started to tease him. «Some think this is for the stupid, but I don't know why they think like that,» he said, adding that a hamburger restaurant is an excellent place for those who want to work next to studying. «As they graduate from gymnasium, they will probably realise they can't live on their parents only, that they also need to work,» he said with conviction.
Simone said such part-time working is widespread among youth in Italy. Many work in family-owned companies or baby-sit. «We all have large families and know how to handle the babies,» he explained, underlying that young men do babysit as well. 
In a month, Simone works for some hundred hours and, depending on the schedule, his wages at McDonald's are a couple of hundred euros. The lad is satisfied with the income. «Living with my family, I can set this money aside, for later studies or travel,» he said.
Simone thinks knowing Estonian is what counts most when finding a job, though at McDonald's one could do without it. They'd just not be up front receiving the orders.
For foreigners, it is definitely easier to get a job at some eatery. «Coming to Estonia none years ago, my father found work in an Italian restaurant, though it is only now that he manages the Estonian language,» said Simone.
But then Simone knows a young Italian who studies IT. This one got a job according to profession, without knowing Estonian. «If the plans are right and you find the right people, you will get some job,» states Simone.