A noisy week of talks class. Enter Pencils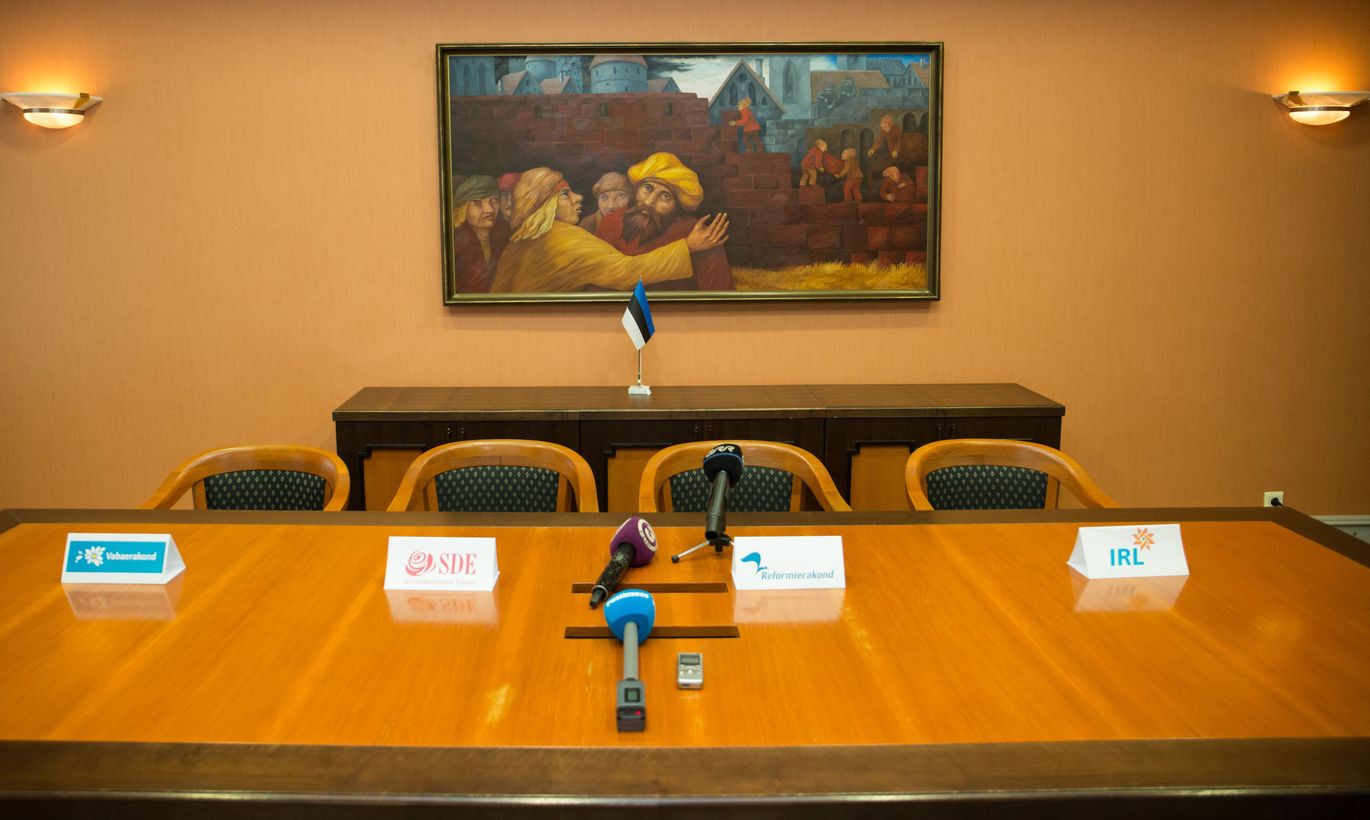 Monday, March 2nd. Reform Party (RE) opts to extend coalition talks invitation to four parties: Pro Patria and Res Publica Union (IRL), Social Democratic Party (SDE), Free Party (EVE) and Conservative People's Party (EKRE).
Tuesday, March 3rd. Kadriorg [the President – edit] calls for a meeting with Mart Helme (EKRE), Urmas Reinsalu (IRL) and Edgar Savisaar (Centre Party, KE) who is the only one to arrive with secretary-general (Priit Toobal).
Free Party board takes principal decision to attend coalition talks.
In Reform faction rooms at Toompea, Free Party and IRL attend preliminary meetings. In the evening, Reform announces that three partners are eligible for coalition and are invited to talks. The first new Riigikogu scandal hath erupted, main role played by EKRE. Soc dems say they will never be seen in same coalition with EKRE.
Wednesday, March 4th. Reform announces that EKRE is no longer invited to consultations. Reform board decides to launch consultations as early as 3 pm next day.
Soc Dems say they would firmly favour a three-party coalition and they are extremely cautious regarding four party talks (backdrop: suspecting Reform would trick them and, at opportune moment, send somebody out the door). Soc Dems announce they will not be attending at the time suggested. Free party also says they desire another time, having board meeting Thursday night.
Thursday, March 5th. Mr Rõivas and Mr Mikser meet and talk at the government. Mr Rõivas assures the latter that they are sincerely desirous to reach a four party coalition. So Mr Mikser says they will attend talks. Though Kadriorg cannot and is not directly interfering, signals are issued from there that a four party coalition would be the best variant to create a government.
On Friday, March 6th at 10 am talks start in Stenbock House, between representatives of four parties.
Reform, current prime minister Mr Rõivas leading the way, receives the others at Stenbock House as warmly welcome guests. From the composition of those arriving, one gets a grasp of who carries weight is which party. From Reform, we have Mr Rõivas, Urmas Paet, Jürgen Ligi, Keit Pentus-Rosimannus, Kristen Michal, and Remo Holsmer. Of soc dems, there arrive Mr Mikser, Jevgeni Ossinovski, Indrek Saar, Andres Anvelt, and Urve Palo. IRL has sent Urmas Reinsalu, Sven Sester, Kaia Iva, Jaak Aaviksoo, Helir-Valdor Seeder, and Marko Pomerants. Free Party is represented by Mr Herkel, Artur Talvik, Jüri Adams, Andres Ammas, and Margus Maidla.
Reform has an Excel-table prepared that every party should enter their three (magic) wishes for each topic. Soc Dems are unwilling to keep on governing according to Excel-table as it has been for years; they demand that future governing be approached by topics vital for the society. To this, IRL and the Free agree, so Reform has to put the table back into a drawer. They begin search for the big topics.
Thus the talks-meeting begins, probably to last for days and even weeks with pauses for the night. They arrive at the conclusion: everyone suggests three big topics. The task might seem easy, but it takes two long days to solve. Are these big topics problems, goals, pain spots, challenges? The semantic debate descends into deliberation regarding where to write «and» and «and also», to say nothing about buts, ifs, and ors. Or whether the word «poverty» fits at all with a diligent and decent small country like Estonia?
Quietly amazed, Free Party is watching the passion in soc dems and IRL – Reform's current and former government partners – to flare at each suggestion by Reform. Like in a family that divorced, threw the dishes, banged the doors, yelled...
A phenomenon in his own rights is Jürgen Ligi, a man with something to utter regarding almost everything. These days, every class features at least one hyperactive pupil who has to comment whatever teachers and classmates say. Talks are no different. The classroom comparison is getting stronger: everybody talks at the same time, the quiet ones are getting a headache. By the end of the school-day, half of class is stressed out. Class teacher Mr Rõivas is attempting to maintain order, occasionally, he succeeds.
Saturday, March 7th starts with a report read by finance ministry representatives regarding how the state is doing with money. And, for example, about that lowering income tax or social tax by one percent in each case equals an €80–90m hole in public purse.  
In the morning of the second day, as all the guys and the few ladies have taken their seats around the table, Rain Rosimannus makes a quiet entry and sits him down near a wall. Those around the table, surprised in various ways, get restless. What's Mr Rosimannus doing here? He did not run as candidate and, allegedly, for years he has nothing to do with governing Estonia other than via his wife.
The issue arises: how many may be taken along to the talks – the table is full, to the walls extra chairs are being hauled in. They argue about it and settle the issue: every delegation may have three main talkers and two additional members, depending on the topics. The smaller partners vociferously react as Reform casually offers that they (Mr Rosimannus) will copy from programmes of the parties all that has been suggested regarding each topic. Comfy, less work! Suspecting Reform in another attempt to assume sole role – two in the room have such painful memories from earlier talks and joint governing. The casual move gets blocked. Rather, by every night, everyone will send the others their next day topics, and of that Reform will create a separate file to be distributed by the morning.
By Saturday night, at long last, six main topics get written down – labelled Estonia's challenges.
On Monday March 9th the essential talks begin. In security issues, there ought to be no major differences. Or so we think. The table features former and current defence ministers, commanders of defence forces, and a former security police chief. The room gets permeated with generals' aura and thunderous speeches. 
As a new notion, «pencil» enters Estonian politics. «The pencil writes when it is told [to],» irritably reacts Mr Aaviksoo when one of the pencils, Remo Holsmer, seems to write too hard. The Pencil-in-Chief i.e. technical secretary is Mr Rosimannus, with Remo Holsmer under his direct command. Own Pencils have been brought forth by IRL and soc dems as well. One beholds close comrades of the missing main talker Juhan Parts – Aivo Vaske and Jüri Raatma. For soc dems, Pencil role is played by Rannar Vassiljev. At times, Külliki Kübarsepp enters as Pencil of the Free.
By Tuesday March 10th morning, security issues are finally heard. Lunch is served at an eatery organised in Stenbock House cellar, with mashed potatoes and steak (the house has a kitchen anyhow). Towards the evening, they come to domestic security.
On Wednesday, March 11th they tackle economic issue, known in advance to breed plenty of differences. The Pencils are busy as bees, nothing gets agreed. The ones to fight the hardest are current coalition buddies, soc dems and Reform. Before the cameras in the evening, chairmen of both parties do their traditional smiles. Of the content and the differences, the public is told not a thing, but the four remain around the table. The one to smile the hardest, at press conference, is Mr Mikser. Mr Rõivas plays his talk CD. Slumping ever lower on his chair, Mr Reinsalu still keeps smiling. The only one to thus hint, Mr Herkel mentions that time will tell if the talks finish as a quartet.
The week-ago rhetoric by Mr Rõivas – that the new governing coalition would be put together very quickly – is no longer heard. Now, the opposite is true: we have plenty of time.
Thursday March 12th is a time for the existing government. The counselling room is vacated for continued talks in the afternoon. On the table, there lies wage poverty. In the evening, the chief talkers again underlined that until all is agreed, nothing is agreed. The journalists, on this meaty diet for the sixth night in a row and having to wait for an hour, took the time to think of fresh questions to ask: Baltic herring (the räim) will remain Estonian national fish, will it not?
Today/tomorrow they should be talking about state reform and democracy. Are we at breaking point? For the Free, perhaps. They have felt most free at the talks anyway – not being burdened by the food chain used to Riigikogu menu.
On Monday children's poverty should be discussed.
Pure arithmetics: the four might emerge as the first coalition with a majority large indeed – a total of 67 deputies in the Riigikogu. A coalition of Reform, the Free and either IRL or Soc Dems, would mean votes of 52 or 53 deputies. With a narrow majority, difficult to get one's way in Riigikogu main hall. Also, it is then hard to secure a solid position in Riigikogu committees. A Reform, IRL and Soc Dems government would secure 59 votes and confidence in committees. Towards these numbers, there remains a long and winding road to walk – the decisions that a future coalition might take will only be weighed at negotiations next week.
The coalition talks big topics
1. Guaranteeing Estonia's security. That Estonia be protected
Domestic safety and military security
2. Faster economic growth and that of income
Competitiveness of labour force and business environment
Tax policy
Enhancing small business (investment support for small farms, lowering burned of company administration)
3. State reform (Estonian state apparatus is too clumsy and unaffordable)
Administrative-territorial organisation
Decentralising including Tallinn
State apparatus
Democracy package
Developing citizen society
4. Reducing wage poverty
Working people wages too low, reducing income inequality
5. Coping of families with children
6. Improving demographic situation, reducing peripherialization
Demographic challenges. To have more babies born, growing population
Regional politics