Tragic snow tube accident throws up questions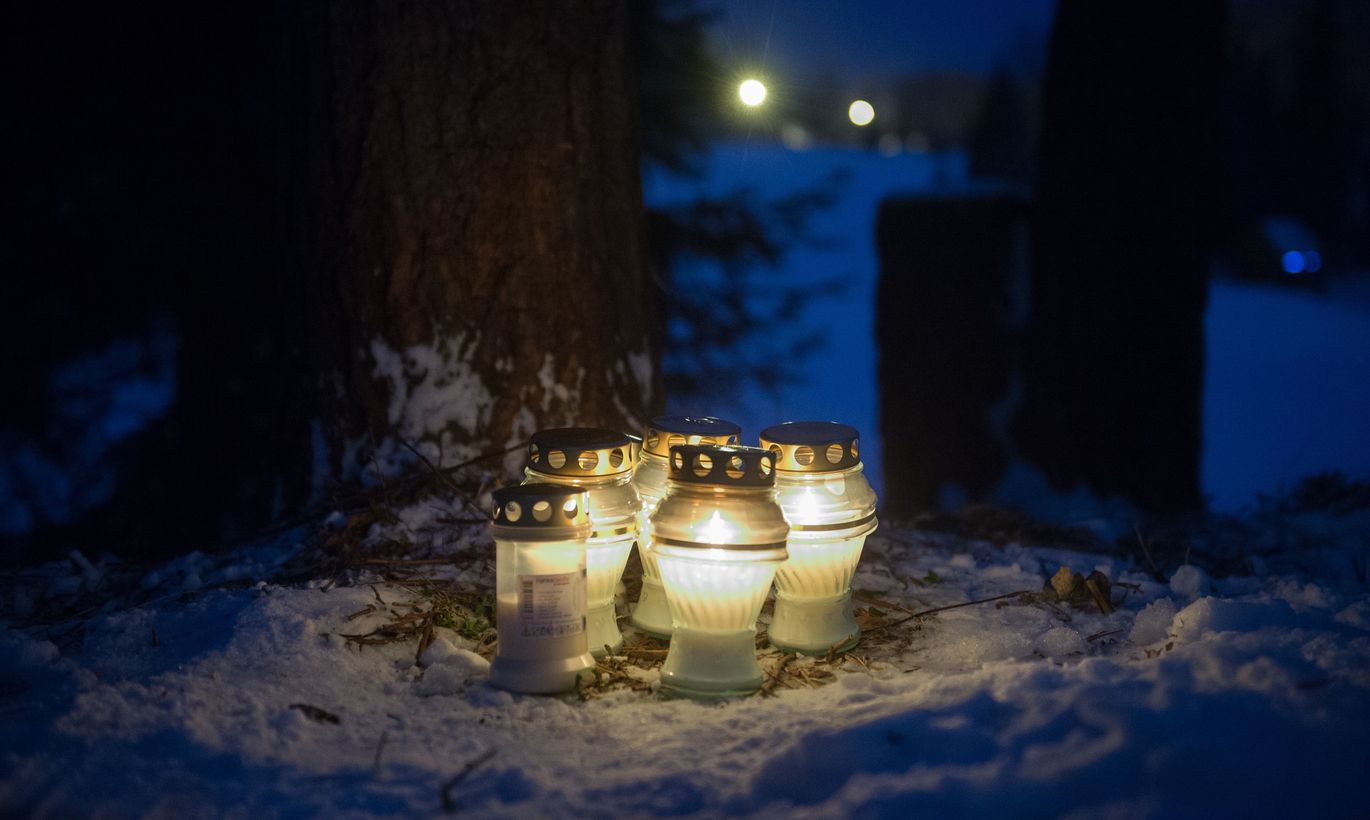 The deadly snowtubing accident at Ansomäe makes one wonder whether a sign «Slide at own risk!» frees owner of slope from responsibility.
According to Southern district prefecture representative, the issue was also discussed at prosecutor's office. At Ansomäe, such a sign is set right before one heads to the track. And, anyway: the accident throws up all kinds of questions like whether the owner planned a safe slope, and were the rules sufficient?
By putting on skis or skates, one assumes a risk as staying uninjured is up to his own skills. With a snow tube, things are quite different. The thing is absolutely uncontrollable and people will be at the mercy of the guiding rails. At Ansomäe, however, two ladies dashed across two snow barriers, ending up 120 metres from the track and in the trees.
At times, one wonders if Estonia ought to have at least one official who all winter long would haunt the various ski centres, checking security? Thus far, only Technical Surveillance Authority comes into contact with the centres, limited to check the lifts and other electrical installation. Liability for safety on the track lies on owner shoulders and he is inspected by no-one.
But then: as accidents happen, journalist are in the habit of demanding stronger control or, essentially, new officials installed. One day later, they enjoy writing about overregulation and overabundance of officials. A casualty is severe damage and punishment enough to any ski centre owner. Meanwhile, the snowtubing services are on a brisk increase – the places by now at least a dozen.
The deceased, aged 49, suffered a brain trauma and died immediately. Ambulance staff, arriving in four minutes, had nothing they could to and reviving proved fruitless. The other victim broke ribs and hips, still hospitalise yesterday. As assured by owner of the ski centre Aivar Kullamaa, both ladies joined the eight link train – that's the limit he says – at the last instant.  
The ski centre website, however, has nothing to say about the trains i.e. linked tubes. On top of that, head of the Otepää-located tubing park Winterplace told Postimees they never allow more than three-four to hook up: the mass will simply be too heavy and thus dangerous. In Winterplace, trains are only allowed on the straight track, and they have separate and safer tracks for children.
True: at least one of the ladies that joined the Ansomäe train was heavier than the usual, thereby boosting the throw-off factor. Even so, the tracks must be planned as safe irrespective of what the people weigh. Therefore, investigators have reason to ask how it was possible for the deceased and the injured with such ease to slide across two snow barriers – from the second track to the third, and then over the edge of the latter and onwards to the woods?
Even yesterday, the media was writing about the yells from the top for the ladies to hop off their tubes; this, however, may not be that easy. The tube goes at 30–40 km/h. According to Aare Tamme who had a snowtubing park at Otepää one time, they measured one to slide at 60 kilometres an hour.
Jumping tube at such speeds is rather like exiting a moving car. This way, serious injury is also an option. Also, for the overweight, to roll out on the move is a complex manoeuvre.
Surely, we must not forget the psychological state of these two thus carried away, ones without special forces crisis training. 
According to Tartu Ambulance CEO Ago Kõrgvee, there are more calls from slippery streets than ski centres. For the whole last year, they were only called thrice to the popular Kuutsemäe ski centre, and one to the Väike Munamäe Mountain. This year, there have been six calls to Otepää ski centres, in three cases people had to be taken to first-aid station.
«At sports centres, traumas are even fewer than in the streets,» said Mr Kõrgvee. «In extremely slippery conditions, much more people are hurt on the streets of Tartu than at Otepää or Haanja. For the most part, it is the trained people who go skiing, folks that know what they are doing. Still, snowtubing is different as those who ride the tubes are not sportsmen.»
Things are otherwise at Tartu University Hospital trauma reception, as for the most part people arrive to get help on their own.
According to emergency medicine department head Kuido Nõmm, they are kept busy by two phenomena – sport and alcohol. «If these did not exist, we'd have half the load,» he said. «During the day, there's definitely more of the sportsmen, but in the evenings and over weekends, the other contingent dominates.»
Mr Nõmm said the winter sports, at peak times, bring dozens a day to their door. «When this year they opened the Kuutsemäe ski centre, the fist patient cane in within two hours,» he noted. «For the most part, though, the accidents are not as tragic as the Ansomäe one, and it's mainly limbs that get hurt, more rarely the heads.»
According to Mr Nõmm, snowtubing as such is safer than going speed on skis, snowboard or sledge. «The tube is inflated rubber and as people collide it's not that bad,» he said. «Dangerously, however, the tube can't be guided as opposed to skis or snowboards.»
This December, Mr Nõmm himself went to Ansomäe to snow tube with the kids. At half slope they got stuck due to lack of snow. «It's very much up to the weather also,» he added. «In the distance, I remember seeing trees, but these looked quite far away.»
The former speed skier Aare Tamme claims to have been the first to bring snowtubing to Estonia, as early as 1999. Last year, he ceased leasing the park in Otepää and is now offering the same service in Ukraine.
Mr Tamme did have accidents on his slopes as well, as these cannot be totally avoided. The most  typical thing to happen was a kid coming out his tube, once the slide was over, and just stood there sharing his emotions. Then, the next one down the hill bumped into the little one.
According to Mr Tamme, every year someone dies in this world while snowtubing. «Meanwhile, they are trying to make cars safer, and planes, but still people die and fall down,» he said. At snowtubing parks, safety does come first, he underlines.
For Mr Tamme, the media coverage of words uttered by Ansomäe centre chief Aivar Kullamaa raised a string of questions. «If someone, for money, sells some product or service, he must secure basic safety,» said the former speed skier.
Also important is safety training of the staff. According to Mr Tamme, on the global market a ski centre is considered well organised if, for 5,000 visitors, there is one such accident as requires the more serious medical intervention.  
Before sliding down the Ansomäe slope, however, one will read the sign «Slide at own risk!» In the estimation of Mr Tamme, reading that a client ought to avoid the place.  «As snow tubes cannot be guided, people have to be guided by the tracks!» he said.
Mr Tamme said the qualities of snow is quite a science. «This so-called ski centre (Ansomäe – N. N.) has no snow cannon or snow making system, so how could they have barriers strong enough between the tracks!? Barriers with just natural snow heaped there will not hold a snow tube,» he observed.
At the Otepää Winterplace snowtubing centre, for instance, all such systems exist. According to its chief Siim Kalda, artificial snow allows for a slope more even. «Then, one can adjust the track profile and get it right,» he said. «With natural snow alone available, all depends on the ground surface.»
Yesterday, Ansomäe was closed as owner Aivar Kullamaa was busy boosting the safety measures. «Regrettably, I cannot give an interview – now it's the investigators dealing with if and how and what would have happened,» he said.
Mr Kullamaa thinks natural snow provides for a snowtubing track safer than an artificial one. This is the service he is offering since 2008. He assures us the barriers were not too low.