Prime Minister drags Defence Forces into politics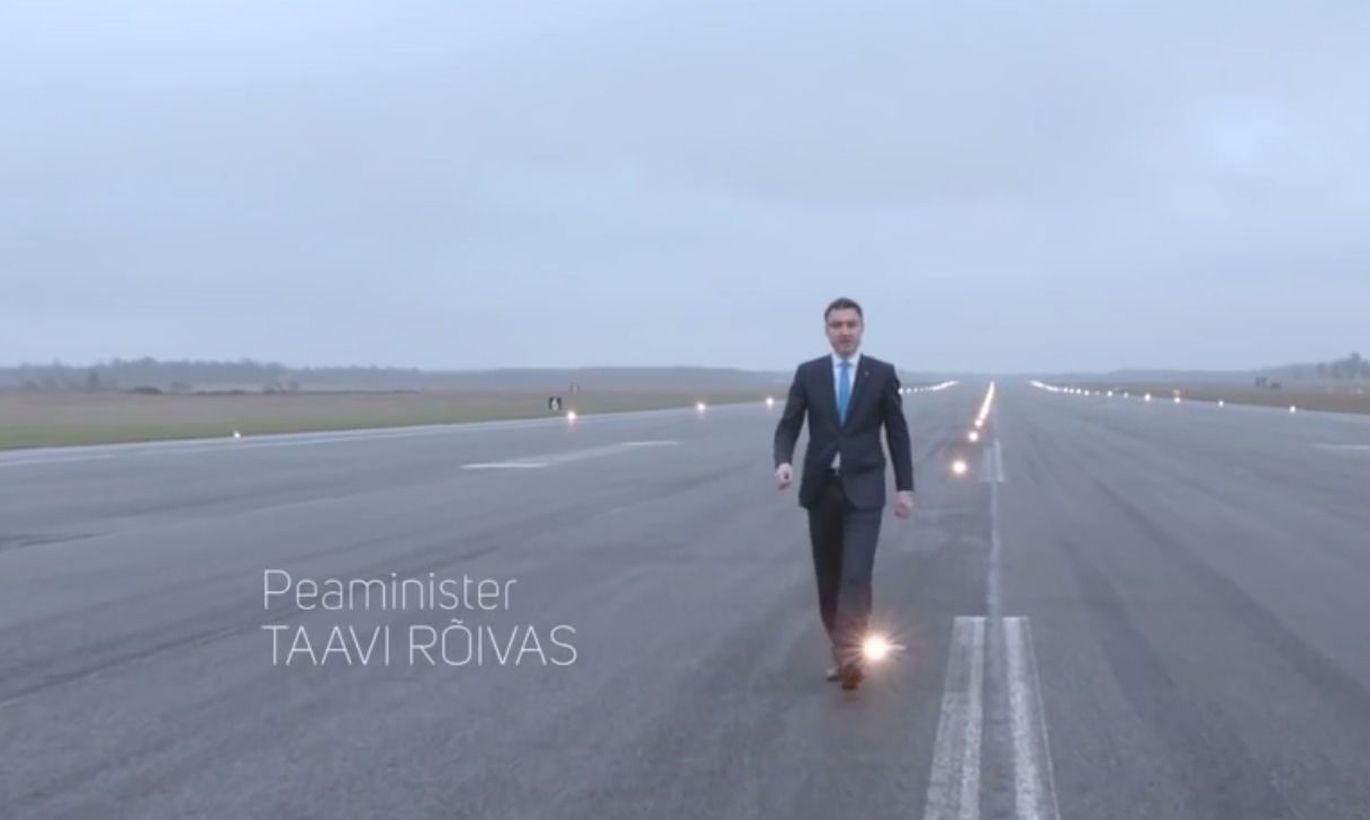 In Estonia yesterday, NATO secretary-general Jens Stoltenberg met at Ämari Air Base with local servicemen and Prime Minister Taavi Rõivas (Reform Party, RE), but defence minister Sven Mikser (soc dems, SDE) was not invited – due to opposition by prime minister and his team, we hear. Also, Mr Stoltenberg festively met with President Toomas Henrik Ilves and foreign minister Keit Pentus-Rosimannus (RE). The meeting with Mr Mikser got scheduled last of all.
For the prime minister, this wasn't the first media-provoking event at Ämari Air Base this month. If was there that he shot the elections clip «Kindlalt edasi!» (Firmly Forward!), in which he briskly steps along the airstrip with NATO fighters flying overhead. The latter was a montage, as even a prime minister would not be allowed a walk underneath fighters.
While a prime minister has full rights to visit the air base, what is questionable is pulling Defence Forces into politics. To this, the official policy of Defence Forces is strictly opposed, as also confirmed in the comment to Public Broadcasting this week: «Commander-in-Chief of the Defence Forces has always emphatically told his subordinates that servicemen must maintain impartiality nor take part in parties' election campaign.»
The announcement goes on to say that the Defence Forces are open and will cooperate with all who so desire, provided it does not damage security. «Even so, the Defence Forces requests that the openness be not used for political aims.»
The Defence Forces also confirm that the prime minister's office contacted the air force and the air force granted permission to film, while not specifying who exactly did that. Thus, it was probably an apolitical official agreeing with an apolitical organisation regarding making a political ad.
Though not prescribed by rules, and the Defence Forces could not prescribe who the public may communicate with, good practice demands that Headquarters be notified of use of Defence Forces territory (especially if for political purposes). This is the practice of most media outlets, film makers, third sector organisations and others interested in having Defence Forces participate in some project of theirs. Nevertheless, in no announcement has it been declared that Headquarters were contacted to shoot the campaign video – not even in the ones by people linked with Reform Party.
At the press conference yesterday, centred indeed on NATO and European security situation, I managed to ask the prime minister if it was true he may not have had the required permit to shoot his election campaign at Ämari Air Base (herewith, I probably erred with my wording – as I explained before, we cannot talk about requirements, rather of good practice), and whether or not he thinks he has damaged the Defence Forces' reputation by using them for propaganda purposes. Already at half-question, the prime minister was raising an eyebrow, letting it be known by smiling and other twists of the face that the question was not fitting.
He did answer, though: «As a Prime Minister, chairman of a party, a father, and an Estonian patriot I am proud of the Ämari Air Base. I am proud of the Estonian Defence Forces and I will do all in my power to help them defend us even more. I understand your interest to find an intrigue, but I find that Ämari has become a mighty symbol of Estonia's defence. As Prime Minister, as chairman of a party, I am always focussed at us doing all in the name of defending ourselves even more.»
Somewhere towards the end of the answer, the prime minister assured me he does highly esteem defence topics of which they talked with the NATO secretary-general; and this also he does as a father, Prime Minister and chairman of a party.
Just to be sure, I asked again if a suitable permission had been secured, as I was unable in his utterance to detect an answer to my question. 
«Of course we do have a permit to come and to film. We have a permit to come here today and I always do come here as a proud Estonian,» Mr Rõivas assured me.
I went after the answer once the press conference was over, eye to eye; however, the prime minister turned his head away, only saying let it be and do talk about this with someone else.
At the same time, the prime minister was walking out of the room, as if; even so, he turned around, halting almost at the exact spot he was at to begin with, waiting for questions by the next journalist.
Whoever I asked yesterday, an answer more straightforward proved elusive.
Indignant at the continued media attention towards the topic, Reform Party campaign manager Annika Arras took the floor over her Facebook page, yesterday. There, she explained that the idea to shoot at Ämari was by an advertisement agency, and in order to carry it out she had personally addressed an adviser to Prime Minister to find out who to talk to for booking a time at Ämari.
The advisor, she said, addressed the defence advisor currently at Ämari, and the latter found a contact person at the air base with whom production company Kuukulgur entered into an agreement. As also assured us by Ms Arras, it was thoroughly explained at Ämari what will be filmed and for which purpose, and no-one could have been ignorant.  
Neither does Ms Arras ever mention Headquarters. Thus, the information thus far published is not refuting the fact that with filming the campaign video, the bypassed all public relations people at the Defence Forces, never letting the Headquarters decide if filming a political campaign at Ämari is acceptable.
Last night, President Ilves weighed in, announcing that Defence Forces and security-related agencies must be kept separate from elections campaigns.
«Issues related to security of the Estonian state are obviously part of our political debate, but Defence Forces and other agencies related to security are depolitized, as befitting a democratic state, and thus they need to be kept separate from election campaign,» the President told Public Broadcasting.