Tallink guys buy national airline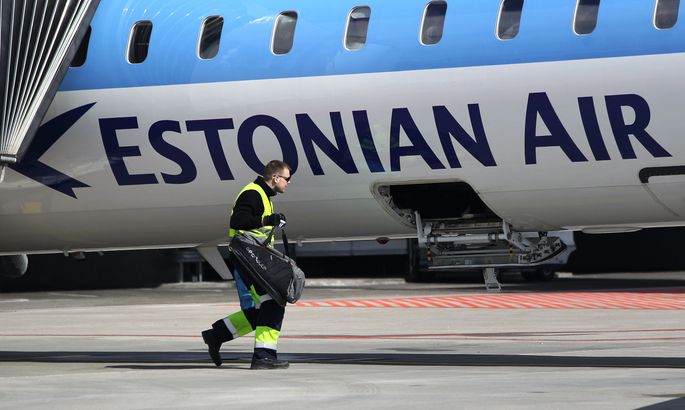 Infortar, majority owner of Tallink – the mightiest ship firm on Baltic Sea – will obtain main chunk of Estonian Air next spring should European Commission pronounce the near €25m of state aid granted the airline as lawful.
«We are interested in a hundred percent ownership to guarantee effective decision-making,» Infortar chief Ain Hanschmidt told the press conference yesterday.
Estonia's most influential tourism investor, Infortar is currently in talks to purchase minority shares belonging to SAS.
The state may be interested in maintaining a 10–20 percent shareholding in order to earn dividends from profits expected. «I deem it likely for Estonian Air to turn profitable by 2016,» said Estonian Air's chairman Ahti Kuningas. «For the European Commission, the entry of Infortar as an owner of Estonian Air will come as a strong statement that the aid given by the state was legal and corresponding to market conditions.»
According to Mr Hanschmidt, the new shareholder is satisfied with the activities of the management of the national carrier. The enterprise is intending to keep on operating according to current business plan as a regional airline, while flying to more destinations and engaging more planes in order to make more profit.
As the contracts regarding use of the current airplanes are up in next year already, negotiations are being prepared to acquire new planes.
In the next few years, Estonian Air need at least €20m for investments, but liquidity may be maintained with less than that as well.
The new owners aren't satisfied with current catering on board of the planes of Estonian Air. «The catering must improve,» noted Mr Hanschmidt. Unwilling to go into details, he said outsourcing the menu would not be expedient and the passengers will be fed by Tallink's cooks.
Infortar intends to boost Estonian Air's business by Tallink's sales network in several nations while offering combined ship/plane packages.
The parties to the deal were unwilling to publish a possible purchase sum.
While there had been the talk of Estonian Air merged with the Latvian airline Air Baltic, the latter says it makes no sense discussing that at the moment. As told Postimees by Air Baltic vice president Jānis Vanags, airlines are very important for the Baltic states but he would rather not speculate right now.   
In the fall of 2010, having acquired majority ownership in AS Estonian Air, the sate set it as its goal to increase the amount of destinations and become profitable. In June 2011, Tero Taskila became CEO of Estonian Air and started do draw the top state enterprise CEO  salary in Estonia amounting to €33,228 a month. Mr Taskila was dismissed by Estonian Air council on October 31st the next year; by the time he left, during the nine months of 2012 the company had made €70.4m of sales revenue and made €20.2m of losses. Thereafter, Jan Palmér came to lead the company.
Last April, European Commission decided to extend inquiries to state aid granted to Estonian Air. The commission chose to investigate governmental decision to increase an earlier rescue loan by extra €28.7m in February.
Since 2009, Estonian Air has received state aid several times, including three capital injections totalling €57m.
75 percent of Infortar belongs to Linandell owned by Enn Pant, Kalev Järvelill and the family of Ain Hanschmidt. The rest of the firm belongs to small investors. Last year, Linandell made €23.3m of profits; as at end of last year, its assets volume stood at €435m. In 2013, the company paid out a total of €12m in dividends.  
Economy minister (SDE, soc dems)
Since 2011 when Estonian Air started to seek a new owner, the state has communicated with five-six possible partners. Of these, Infortar had the best vision by far. Broadly, it coincides with Estonia's goals – for both of us, air traffic is strategically important. On it depend tourism, competitiveness, the freedom of movement of our own people. It is important to have a company operating on our market whose home airport is Tallinn.
It is very hard to predict governmental decision on how large a share of the airline will remain in state hands, as the deal will be confirmed by the new government after the elections.
secretary-general of Estonian Travel & Tourism Association
Aviation being central in tourism, the entire Estonian tourism sector is thumbs up to the possible new owner Estonian Air as on their success hangs the wellbeing of hundreds of enterprises and thousands of employees. In my estimation, Infortar's entry injects confidence in enterprises operation in tourism.
Also, the deal will probably add optimism to Estonian Air as an organisation – the involvement of a strong private owner might come as a second wind to them. Infortar is one of the most successful tourism enterprises in the region, owning both hotels and a ship and a taxi company, while an airline would bring added synergy.
chairman of Centre Party faction
Strategic companies need to be state owned. Steps taken by Estonian Air's former CEO Tero Taskila and by the IRL prime ministerial candidate Juhan Parts laid the foundation for the current situation where the national airline is now ending up in private hands. We know that Estonian Air is subjected to banned state aid proceedings with possible sanctions by European Commission pending. Now, the government has concluded that Estonian Air may be saved by private investors thus preventing the obligation to pay back the state aid so far plus interests. The question remains: with so many flights and such a small number of passengers, is it at all possible to keep a national carries without state aid.