Vahur calm after killing teacher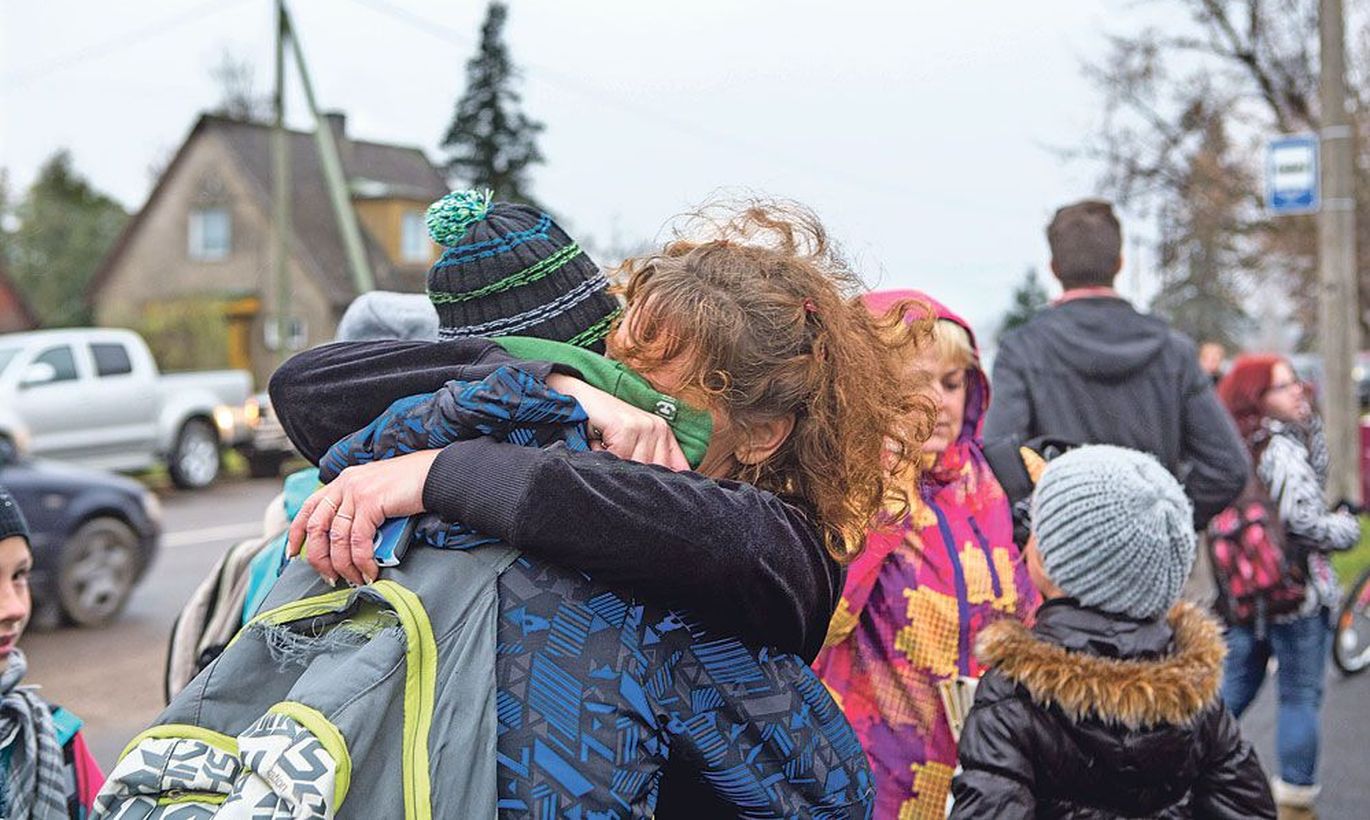 While firing shots at his teacher, Vahur – a 9th grader at Paalalinna School in Viljandi – was calm and composed. Felled by the bullets from a revolver belonging to boy's father, Ene Sarap who used to teach German died before the blackboard.
To Postimees' knowledge Vahur emptied the whole revolver full, obviously six bullets all in all. Even while the headmaster Aavo Palo entered classroom and put the revolver farther away from the Vahur, the lad remained at peace. «The class teacher came to my office and asked me to go to the classroom, upstairs,» said Mr Palo. «Arriving in the classroom, only the persons related to the incident remained (Vahur and the dead teacher – edit). After the shooting, the other four students left the room. The boy ran nowhere, just sit in the same place. Understandably, people were on edge, but there was no panic in this situation.»
Thus, Vahur had been aiming for the teacher, not classmates or the headmaster. «The gun was no longer in the lad's hands, he had laid it on the table. I lifted it to a safe distance,» added the headmaster. «Seeing the boy was calm enough, I thought I should put the gun safely away from him. I felt no fear.»
According to the headmaster, Vahur was a decent and ruly boy, with no obvious behavioural disturbances and getting grades rather above the average. His father, bearing the same forename, was an active parent involved in school life.
Led out of the class by the school information manager who talked with him, Vahur was handed over to police. The pupils were evacuated into the gym. Vahur attempted no escape.
As told Postimees by police chief Elmar Vaher, for them it was not the question is a thing like that would happen, just a matter of when. «We have been preparing for such an event for a longer time,» he said. «If impossible to prevent, we want to be there as fast as possible.» It took the police less than two minutes to show up. Again: there was no need to use force.
The topmost question – why? – still begs an answer. Yesterday, this was the talk of the town, in homes and cafes. Some in a lively manner, others sitting still, shocked and muttering the occasional rare word. Asking a lady at a newspaper stall the same why-question, she did probably give the standard reply: «Don't know ... awful!» In the afternoon, a dark cloud of drizzle engulfed Viljandi, putting out part of the candles lit for Ene Sarap at the schoolhouse.
During the hour of waiting while the police was inspecting the schoolhouse and the pupils sat in the gym, people were gathering around and growing worried. Several mothers who talked to Sakala [the local regional newspaper – edit] were puzzled as to why the policemen surrounding the house were under orders not to share information. Because of that, people had ample opportunity to interpret information gotten by phone, as well as via social media. For a while, for instance, rumours were that several people had been hurt in a shooting.
By the time the police came out with its first official info at the school gate at 3 pm, with the kids coming out in a neat line, many stood in tears – to be wiped away by those they hastened to hug.
Tatjana Sprung was standing there, waiting for her sister who went to the same German class with Vahur. She was supposed to have seen it. Ms Sprung was worried as her sister answered not the phone. «I graduated from the 9th class in this school myself, my other sisters have studied here; I could never have imagined anything like this happening in this school, in this town,» she said.
After the holidays, her sister had been longing to be back at school – but look what happened. «I simply can't believe it,» said Ms Sprung.
Even so, there could have been some serious concern regarding Vahur due to his killing-kind social media posts, as well as when the police did a springtime search in the school with a drug dog. In Vahur's schoolbag, they discovered a self-made knife.
In the local community, however, the reaction to the raid was rather that of displeasure, said Southern Prefecture's criminal bureau chief Meelis Saarepuu. Ten days back, there was a meeting between the police and the parents' body, with Vahur's father present. «We explained who such operations are needed, and why a knife at school is not a good idea.»
Not long ago, a Tartu county student threatened schoolmates with a weapon-like object; some years back, a pupil at a Tartu school issued a school shooting threat. Danger was in the air.
Obviously, Vahur used the holiday not to rest, but to polish the plan. How he got hold of his father's revolver is unclear as yet. By the way: just this past Friday, two people perished in a school shooting in USA, and four were wounded.
For the folks in Viljandi, this is a day they will never forget. Herewith, Estonia is on a map no-one wants to be – with Finland, USA, and Germany, to name some. According to Elmar Vaher, the society ought to ask itself: where have we come to. «How much do we know of our family, our relatives,» he asked. «Let me illustrate. Why it is possible to people do the fake police crimes in Estonia? The scheme does not work in Finland or Sweden. Alas, our people do not know too much of their close relatives. When a crook tells a mother that her son killed somebody in a car accident in Lithuania and please pay me now for covering up, this reveals the mother and son aren't communicating.»
According to Mr Vaher, family violence is on the rise as well. «This is surely a problem, with violence increasing in Estonia.»
In all probability, Vahur fits in the same pattern.
What is Aavo Palo thinking about his school now being the first in Estonia, and hopefully the last? «It's not the issue of whether it was Paalalinna School or some other school,» said Mr Palo. According to the headmaster, it's the people who do it – no matter the school they're it.
This day at Paalalinna School started with teachers gathering early for counselling, also with specialists. Thereafter, they went to their classes to talk to the students.
I asked Mr Palo how he'd characterise the teacher who died. «I'm not able to do that right now, not able to right now,» he said. «She was a good teacher in every way …»
As far as Mr Palo can say, there has been no conflict between Ms Sarap and Vahur.
According to education minister Jevgeni Ossinovski present in Viljandi, school shootings are a shock even in countries where it's repeatedly happened. «That it was the first time in Estonia only adds to the drama,» said Mr Ossinovski.
Mr Ossinovski said the state would do all it can for such incidents to never happen again. «To begin with, we need to secure peace in Paalalinna School and all other schools,» said the minister. «Understandably, the event came as a shock to Estonian public, but mostly so to Paalalinna School family.»
According to Mr Ossinovski, they will have a fresh look at schools' crisis safety plans: «Schools need to be ready to act in crisis situations.» Mr Ossinovski thinks in this case police and school staff cooperated very well. 
Vahur is in the jailhouse now, a suspect pursuant to the section which says minors face imprisonment of six to ten years for murder.
-------------------------------------------------------------------
Paalalinna School shooting
•    At 1.20 pm, 9th A grade at Viljandi Paalalinna School had B-language class. They split into three groups: two studied Russian, the third consisting of five students went to study German.
•    Twenty-some minutes into the lesson, the 15 years old Vahur stood up and shot teacher Ene Sarap (56). Then, he laid the gun on the table and waited.
•    A bit later, class teacher ran to notify school management. Headmaster Aavo Palo and information manager went to the scene, at the classroom door meeting the exiting students.
•    The shooter was still in the classroom. Headmaster pushed the gun to a safe distance. Just to be sure, information manager went to the corridor with Vahur.
•    At 1.55 pm, police was informed. Arriving at the scene in two minutes, in the corridor they found the alleged shooter held in arms of information manager.
•    At 2.01 pm ambulance arrived.
•    At 2.15 pm other pupils were evacuated into the gym.
•    At 2.17 pm Vahur was taken out of the schoolhouse.
•    At 2.32 pm witnesses were taken to police station to give testimonies.
•    By then, lots of parents had arrived at the schoolhouse, but they weren't let inside.
•    By about 3 pm all rooms had been checked and the kids were allowed out the building.
•    At 5 pm police proceeded with observations of the scene.
•    By 6 pm, people had begun to bring flowers and candles to the schoolhouse.
•    By the evening, investigators had heard all Vahur's classmates who witnessed the shooting.
•    The investigators did manage to talk to Vahur, but interrogations only started today. Though a minor, Vahur is still in criminal liability age and when convicted faces imprisonment up to ten years. Punishment also hovers over his father whose firearm should not have come into son's hands.
Sources: Police and Border Guard Board, Postimees