Drinking freedom applied as duty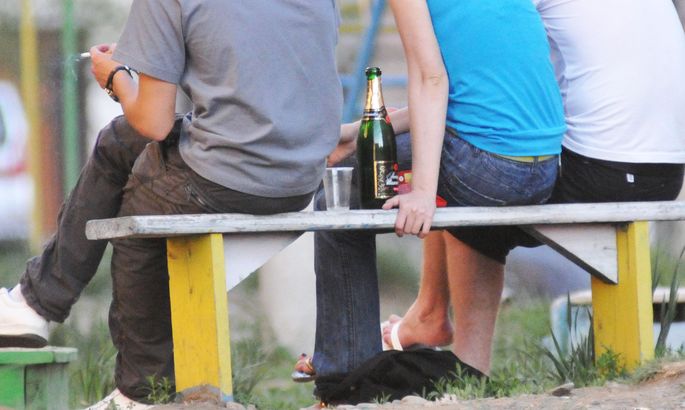 Justice minister Andres Anvelt is asking everybody to send their suggestions on how to tame those tippling in public space.
The new drink-publicly-regulation, sailing into societal headwinds, will be reviewed – one option is letting each city set its own rules.  
Justice minister Andres Anvelt, the question is increasingly being asked how a law like this got passed at all. Whence the mess?
Law Enforcement Act started to live a life of its own as early as 2007, and in 2011, right before the previous Riigikogu term ended, on the very final days, it also did pass. The law entered into force on July 1st this year. But an important distinction needs to be made – Law Enforcement Act as a whole is very bulky and the provision now causing problems is just like a button on a suit, you know.
The spirit of the Act was to move on, from the Soviet law and order towards a Western system with emphasis on the subjective rights and their protection. This also includes consumption of alcohol as a personal right. If the person does thereby disturb some others, it is the right of the others to put an end to that. Call the police, or call the troublemaker to order.
The Westerns mindset in mind, the law failed to work with us.
We developed a situation where a small part of the society felt like the shackles came off. Not the majority, definitely. This really is a handful of people and most of us do not approve the boastful public drinking. But I do believe that very many of us have, at the edge of a forest – also a public place – after chopping wood or making hay, treated themselves to a cold beer...
That has always been so, even before the law.
Yes, which essentially meant we were breaking the law. We need to realise that we all used to break the law, even the decent and proper people.
Because of the handful of noisy carousers, the entire law has developed a controversial backdrop. I dare say a very small part of the society interpreted the law to mean that now we have to consume alcohol in public places.
Like it's not a freedom but a duty?
Yep. Beholding the picture at the moment, as a lifelong democrat, I say I do believe in correctness of people and that most things get regulated by people themselves without any law, in their behaviour – out of respect towards the others.
But the reaction that happened in the society, well... It was not surprising, but it definitely went too far. Here, media played its role which is good in a way, as it brought the duty-not-freedom folks sharply into focus. And I realise that, as minister of justice, I am responsible for addressing the conflict once it surfaced in the society.
Basically I don't like it at all to have to restrict the freedoms of majority of people because if the irresponsibility of a very small contingent – but, nothing doing. We must think how to create a situation where the majority of the society would be satisfied.
Seven years ago, in a letter of explanation to the bill, justice ministry officials then under Rein Lang as minister had a great fun writing: «The widespread notion that drinking in public places or even being drunk publicly is forbidden, is hypocritical and totally incompatible with Western civilisation where moderate consumption of alcohol is socially adequate behaviour.» For that, we're still not ready.
Yes, regrettably it is obvious we are not. But we want to be ready. And a large part of the society is indeed ready. I think there is some Soviet heritage to this. We do remember how Mikhail Gorbachev tried so very hard to ban consumption of alcohol, and in reality people started to drink more.
The other issue is we are not used to notice drinking as a problem. While they used to drink behind the grocery store, now they do it in front of it. In reality, these people have not grown in numbers, they have just come out of, a bad word, from their dens.
And shall we now chase them back into their dens and get the problem out of our sight? That's not a solution. This is a social, not a juridical problem. No law will get drinking banned.
For a long time, the national alcohol policy «green book» has been in the works, pointing to anything but public binging...
The green book is fighting a social ill. This isn't solved by legal means. By revoking a law will not help in this battle. But we must do everything to achieve balance in society.
Legislation had a major breakthrough on that very year of 2011 when a good legislation plan was adopted. The duty was created to coordinate laws publicly, to publicly communicate with all interest groups.
In our ministry database, I have looked back at the story of this law and it is obvious that resistance used to be really strong. Association of Estonian Cities was against, Tallinn and Tartu were against, ministry of agriculture – fir instance – was against.
The opposition was strong indeed. But do we remember anything about it? No. Because there was no large-scale discussion. Actually, the discussion only started now, after July 1st.
By now, the discussion has turned into interpretations by each city or commune: Elva would ban drinking altogether, Tallinn and Pärnu would only allow it in certain places.
All these solutions are illegal as the law exists and has supremacy over local governments. The law also prescribes total ban in public transport, for instance, and in vicinity of child care institutions. The law also prescribes right of discretion where a local government may decide. This is regarding health paths and children's playgrounds, for example.
It has also been clearly defined where a ban may be considered. By the way, this clause was introduced in this February only, as the Riigikogu voted on administrative provisions before the law entered into force. At the 11th hour! Because, in the 2011 coordination round when the local governments suggested these restrictions, the ministry of justice said it was not needed. 
Even in February, couldn't anybody foresee the problem?
No. It seemed that reasonable restrictions had been set. But the situation changed.
What made me move now and to review the law were two things: firstly, lawlessness may abound. Because if a local government today says they do not like this law or another, at some point people in Tallinn or Võru may say they don't like to pay taxes either.
The law was over-politicised. A law is part of active policymaking even while it is still a bill where the opposition and the coalition can argue. Once a law is passed, it needs to be kept. We are not living in anarchy where anyone can say «I just don't like this law».
Tallinn does live in anarchy – city authorities decided drinking is only allowed in Kadriorg and Toompea. So, another political tussle with the state.
Tallinn is acting unlawfully and of course this is part of political battle. They said let those who passed the law now drink in Toompea and Kadriorg.
We have to consider that Tallinn is filled with open air cafes where alcohol is also consumed. The businessman Nossov may perhaps afford the €5 beer, but the poor student Juhan isn't allowed to down the one he got from a store for smaller money.
With Tallinn, business pays a large role: all these sales points lining the big city centre streets pay rent to the city. This is city land. And this involves totally different interests.
We will tackle this specific part of the law again. We had a round-table proclaimed for September 16th, but as for me I wish to do something right now, right away. Therefore, till September 10th I'm expecting opinions of all people to ministry of justice address info@just.ee so we can analyse these before the roundtable. Then we will see what to do. To revoke it entirely, or perhaps there's other options.
Such as granting local governments full powers to do the regulating locally. Or the state may further curb the area where alcohol may be consumed publicly.
Or an example from the world: alcohol may be consumed publicly, but the bottle needs to be in paper sack. Or only allowing low-alcohol beverages. Or allowing public drinking within a certain time limit only.
These are just some examples.
The law has also been labelled the embodiment of hypocrisy as no-one will be able to control or establish whether a person is disturbingly drunk or not.
But this is the very essence of a European society, for which we regrettably do not seem ready, that the citizens are the fist to see to public order. I.e. if needed they call the police. By the way, while for a large part of Estonia the law came as a surprise, police has been prepared regarding the topic for years.
But the main idea is granting people real control over everyday life and the surroundings. To be delivered from the Soviet time frames when one had to be told how one wakes up, where one lives, and how one goes to work. People need to be free.
Let me say again: the law has a good democratic goal, but the implementation is poor. The conflict needs to be solved. I will listen to all parties and if the majority wants changes, the further steps are for Riigikogu to decide.
One thing is certain – we must not panic nor become emotional so laws are passed and revoked at the snap of fingers.
I call upon people to follow this law, and the others. But while consuming alcohol, to not do that defiantly. And if disturbed and in danger, do not fear nor shy away from calling the police.
•    Prime Minister Taavi Rõivas: the law is not tolerant towards binge drinking in public places
•    Elva city decided to ban consumption of alcohol in the public space
•    Pärnu: blanket ban on public drinking to come with picnic areas
•    The law will neither forbid public drinking of eau de cologne
•    Member of parliament Tõnis Kõiv advises: talk to the drunkard!
•    Police Board Western prefect Priit Suve: instead of blanket ban, more power to the people
•    Abstinence Union: the law must be revoked
•    Tallinn sends public drinkers to Toompea and Kadriorg