Sanctions may spell fishing fleet standstill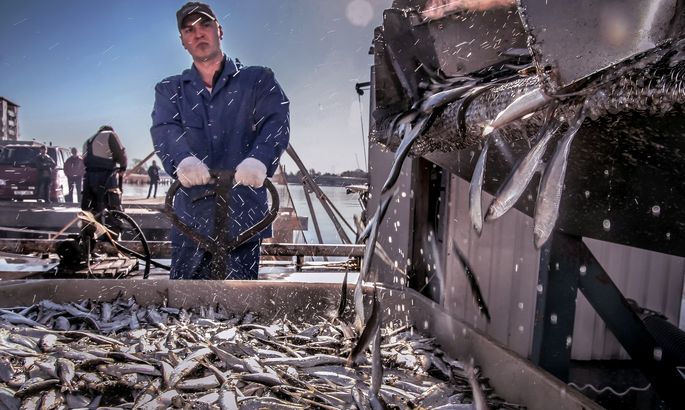 On Pärnu County fishing industries, Russia's EU food ban has varying effects. Even so, should the situation not normalise by autumn, the amount of fish caught may considerably diminish.
The heaviest blow in Pärnu County fell on AS Kihnu Kala which took all its Baltic herring and European sprat to Russia and Ukraine. At that, to add insult to injury, the Ukrainian partner of Kihnu Kala just happened to be based in Lugansk – now a war zone.
«For 20 years we have sold to Russia and Ukraine, that's the destination of hundred percent of our production,» said Kihnu Kala chief Sergei Kozlov. «In the best months, we sold a thousand tonnes of European sprat into Russia. But in Ukraine the situation is so bad that they were not even allowed to make advance payment for the fish.»
According to Mr Kozlov, the warehouse is empty at the moment but the new fish buying-in season is supposed to start at the beginning of October.
«If there is no market, we will not buy in and the fishing fleet will be standing still,» said Mr Kozlov. «At the moment, we are scrambling to find ways to sell into Russia. One way would be through Kazakhstan, but that's not settled yet.»
The CEO does not think they have an alternative to Russia. «In no other former Soviet republic do people consume such amounts of sprat as in Russia,» explained Mr Kozlov. «In Moldova, maybe they use up a hundred tonnes a month, but that's all.»
While Kihnu Kala is faced with a whale of a problem, AS Japs and AS Pärnu Laht are having it far rosier. Japs, being among the companies banned by Russia in spring already, has been swift to change direction.  
«The sanctions do have some small impact, but the main impact came and went, in the spring,» said Arved Soovik, at the wheel of Japs. «We had to figure something out and find fresh directions. When buying in fish in the spring, we already counted with no Russian market.»
According to Pärnu Laht chief Ott Sool, they also have drawn their conclusions from dealings with Russia. While five years ago Pärnu Laht used to sell 50 percent of its fish into Russia, this is now down to some 10–15 percent perhaps.
«We have some 200 tonnes of springtime herring in the storage, which was supposed to go to Russia, but that's no big deal,» said Mr Sool who was quite optimistic about finding a new buyer. «In the old days we used to sell some 1,500–2,000 tonnes of fish into Russia, but for certain reasons the sales languished and now we trade with other countries,» said Mr Sool. «Our main activity is selling fillet and it mostly goes to Europe.»