Maritime reforms run aground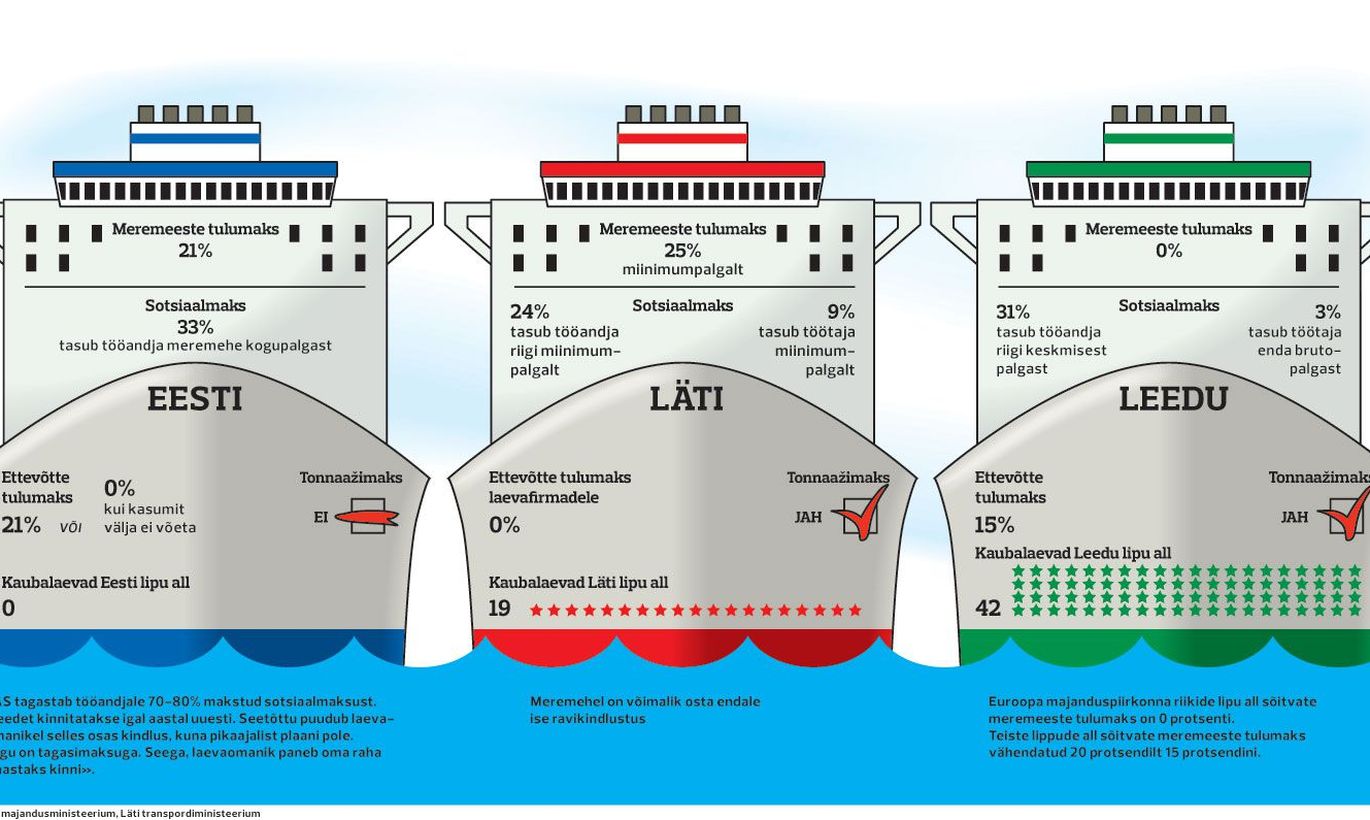 In 1993, close to 70 cargo ships sailed under Estonian flag. Since April, the number is zero. In cooperation with economy ministry, maritime council (Merendusnõukoda) has worked for reforms for years. They have come up with a 94-page base document, and its application plan. By some, tax policy by Reform Party is seen as headwind.
Latvia and Lithuania noticed as early as beginning of 2000ies that ships, en masse, were leaving the register. Latvians tackled the issue in 2001, helping cargo vessels with competitive conditions. Lithuania followed suit in 2004.
In Estonia, there are 50 to 60 ship owners, but the vessels sail in other countries' registers. Why? Because sailing under Estonian register would be business-suicide, said Allan Noor, the manager of several ships. Compared to other Baltic Sea states, Estonia's ship register is uncompetitive, and would burden ship owners with unnecessary legal issues.
Maritime policy reforms have been planned for years. Last year, expert assessment was obtained from the international nautical businessman Clemens Hillmer active in the field as financial adviser. Largely, his advice coincided with the maritime policy development plan principles. Among other things, the expert pointed out a high impact detail: at the beginning of last year, fewer than 500 cargo ships sailed in Germany's own register; 2,500 German vessels were in registers outside of EU.
According to Mr Hillmer, lion's share of these might as well have come under Estonian flag. Provided that the development plan and his own advice are heeded. The proposal is also remembered by former economy minister Juhan Parts. «They came with very serious words, to bring their vessels out from under Liberian flag,» said he.
The poor competitive conditions for Estonian cargo vessels were detected over ten years ago. Estonian presidents Arnold Rüütel and Lennart Meri understood out plight, says former head of Estonian Maritime Academy Jüri Lember.
In 2006, Tarmo Kõuts stepped down from Commander of the Defence Forces, desiring to run for Riigikogu within IRL ranks in 2007. He was elected and desired to make seamen woes heard on governmental level. Thus, he shared the nautical problems with Juhan Parts, the fresh economy minister.
Mr Parts took time out. In the words of Mr Kõuts, Mr Parts realised from the very start that maritime reforms would be hard to force. As time passed, Mr Kõuts became Mr Parts' adviser in maritime policy issues.
In 2008, at the initiative of Mr Kõuts, the maritime council was established, its initial aim being to establish a common base document to be signed by representatives of all parliamentary parties. Dozens of maritime specialists participated in working groups, and «Estonian Maritime Policy Development Plan 2012–2020» was completed in 2010. The document was approved by all ministries and political parties. The pressure by the council has an impact.
The development plan would make no sense without application program. Therefore, application issues were also debated and corresponding cabinet meetings became intense. At one such discussion, minister Parts left the room. He wanted to put definite working to the tax incentive part of the program, but Reform Party lacked the will for it. Thus, Mr Parts got irritated.
Riigikogu ratified the development plan in 2011, and the application agenda a year later. The documents contain the problem with current ship register, and the reform proposals. Also, the documents cover need for tax incentives, saying that hiring staff from third countries ought to be simplified. 
The never-forgotten question
Based on background info and sources, turns out the squirrel party is applying brakes to aspirations in economy ministry and hears of sailors.
At the opening session of Estonian Maritime Council, in 2008, Kristen Michal asked: why does Estonia need maritime [matters, the field as such], at all? Seamen were offended at a top politician unwilling to grasp their role. Kristen Michal does not clearly remember the incident. He says he has respect towards issues maritime, and if he did pop the question, it must have been benevolent. He was never invited back to the council sessions.
And the council never forgot the question. Some were deeply hurt. Afterwards, Reform Party was represented at council meetings by Tõnis Kõiv, who also expressed good will and talked about importance of pension and medical insurance for sailors.  
Thus, does he also support tax incentives laid down in base documents? No. How should Estonia fulfil its maritime policy application program so as to have at least 35 vessels sailing under Estonian flag by 2020? Both Mr Michal and Mr Kõiv fail to answer.
Sailors say that payment of the health-insurance part of social tax equally with those on land isn't fair. If a sailor falls ill, he is treated on the ship or in the port – for a single case of sickness, no-one will be driving a couple of hundred or thousand kilometres back to Estonia, to an Estonian hospital. Sicknesses inevitably do hit, and sometimes extra crew has to be hired. That points to the next Estonian-flag-problem.
Let's say the men fall ill close to Africa's shores. Where do they get extra men? The cargo needs to be delivered by due date, but it is dangerous to keep sailing with incomplete crew. For bureaucratic reasons, hiring non-EU people is complicated.
Last week, sailors trade union chief Jüri Lember was supposed to meet finance minister Jürgen Ligi. Mr Lember was planning to give the minister an overview, substantiating the need for tax incentives.
A practical proof of that is Holland, EU's top seafaring nation and host to a world leading port in Rotterdam. Jobs created on the shore are compensating tax incentives for ships sailing under Dutch flag. A job on sea creates three on dry land. Holland goes by that, and tries hard to keep cargo vessels in their register.
Two days before the meeting, aide to minister called over the phone and said Mr Ligi will not be able to come. The former Maritime Academy chief was disappointed, but not surprised. According to Mr Lember, the finance ministry foes not consider the tax incentives necessary, citing lack of research. Would the finance ministry order a study? «No,» relies Mr Lember. As explained by finance ministry, economy ministry deals with analysis.
Economy minister Urve Palo is in favour of incentives regarding income and social tax. Ms Palo is waiting for proposals by the working group that keeps gathering. She has promised to present the amendment proposals before 2015 elections.
Will the endeavours at economy ministry bear fruit? Maritime experts have not lost hope. The headwind, they think, is Reform Party and the finance ministry under Jürgen Ligi.