Last large cargo ship exits Estonian flag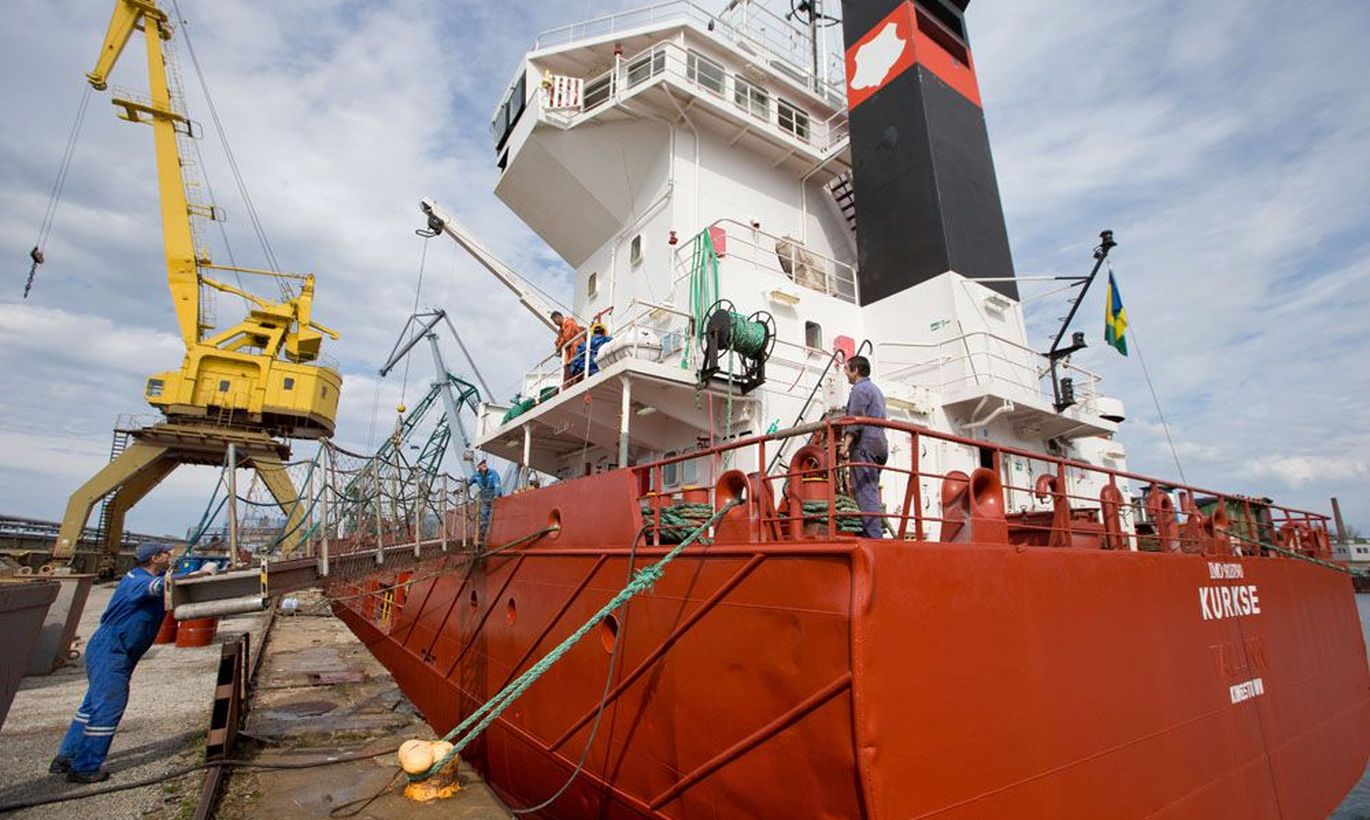 Kurkse, a break bulk container carrier owned by Estonian Shipping Company Ltd, was deleted from ship register in February. Its «sister» Kalana's turn came on April 16th. «No bona fide cargo ships left under the Estonian flag,» noted Tarmo Ots, department head at Maritime Administration.
Estonian Shipping Company Ltd, a member of the international shipping group Tschudi, sold both vessels to a shipping company with holdings by Estonians which will probably take them under Saint Vincent flag. «We sold the ships as the bank did not agree to refinance the loan,» explained Jaan Kalmus, board member of the shipping company. «Our remaining vessels will continue to sail under the Isle of Man flag, as Estonia's tax policy would render us uncompetitive with other mariners.»
While all other Baltic Sea states provide their shipping companies' sailors social and income tax incentives on their salaries, Estonian shipping companies pay labour taxes full blast. A Finnish or Swedish ship captain will get his €5,000–7,000 salary to the cent, and the shipping companies will not have to pay social tax on top of that. To hire the same seaman, an Estonian shipping company will spend a lot more, thus pushing up price of services: by income tax demand, wage costs increase by a fifth; social tax adds a third more.
Enterprise Estonia Foundation (EAS) returns social tax to Estonian vessels; for Kalana and Kurkse, this was close to €200,000 a year for the two of them put together. «The EAS subsidy is paid based on the year before, so for a year a shipping company will have a large sum stuck under tax,» explained Mr Kalmus. «An investor will opt for states with greater confidence offered, as the subsidy by a foundation does not feel like long-term policy.»
Also, vessels are scared away by an aliens policy unsuitable for shipping, as on ships the law of the flag state apply. «Should a sailor fall ill somewhere on the other side of the globe, then due to laws restricting free movement of labour in force in Estonia, we cannot hire a local employee to replace him,» explained Allan Noor, board member of shipping company Amisco. «If the state sees short time gain only, then it's not worth the trouble trying the vessels under Estonian flag; even so, as the vessels depart, Estonia is losing lots of related jobs and materials procurements by shipping companies.»
According to maritime experts, a single sailor working under the national flag creates three jobs on native shore – enough to compensate the state the gains lost due to tax exemption.
Finance ministry will not hear a word about granting special conditions to shipping. «In international competition, one needs not to go along with paying extra; rather, one needs to select sectors the success of which serves the society, also by tax income and fair rules of the game,» said finance minister Jürgen Ligi (Reform Party). «Flags of convenience is international business. Entrepreneurs who esteem not the colour of the flag, neither social guarantees for their employees in Estonia, cannot be categorised according to nationality. If Estonians find employment in shipping, the state will already have paid up their higher wages in the form of education. It isn't fair to also pay pension and health insurance to an employee of that sector, at the expense of those working in Estonia for lower wages.»
Economy minister Urve Palo (Social Democrats/ SDE), however, considers the benefits fitting and stands for their swift implementation. «Estonian capital leaving the Estonian flag shows that there are problems in the maritime sector, and rearranging tax regime for seamen sailing under the Estonian flag should very seriously be considered,» said Ms Palo. «It is important to maintain a connection to Estonian economic space through the flag; first and foremost, it means jobs for Estonian sailors and tax income for the Estonian state; therefore, the economic necessity goes without saying.»
•    Container carriers Kalana and Kurkse are identical twins
•    Type: multipurpose dry cargo vessel
•    Displacement with cargo: 4.7 million tonnes
•    Container holding capacity: 266 TEU
•    Travel range: 4,000 nautical miles
Source: Estonian Shipping Company Ltd
-----------------------------------------------------------
Rannar Vassiljev, head of finance committee at Riigikogu (SDE)
I have yet to receive credible reasons for tax exemptions for vessels. It's not prudent for Estonia to interfere with global maritime competition; even so, we ought to consider the existing conditions in neighbouring countries. 
Annely Akkermann, Riigikogu member (IRL)
Finance minister is clinging tooth and nail to an outdated tax system, which has deteriorated Estonian shipping. By its ship register, the state can set conditions bringing both investments and tax income to the shore. These will compensate for labour tax benefits.