VKG edges closer to diesel fuel production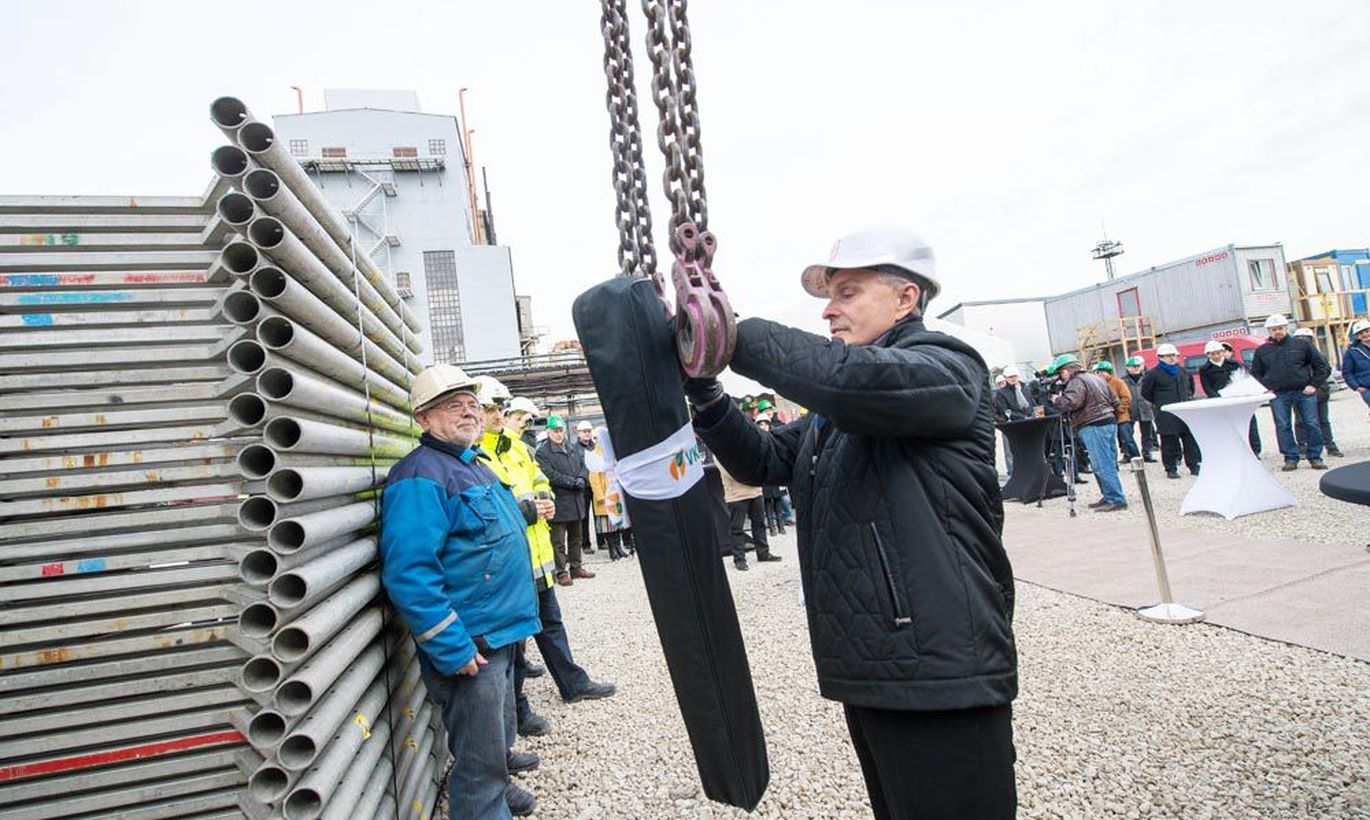 Last week saw groundbreaking ceremony at VKG (Viru Keemia Grupp) oil plant Petroter III. When launched in 2016, enough oil will be produced to start independent diesel fuel production.  
«If our new Petroter plants and the old Kiviter plant work without glitches, we'll be able to produce 550,000 tonnes of shale oil a year, which will be enough to effectively operate a refinery producing diesel fuel and ship fuel,» said VKG chief executive Priit Rohumaa.
«At the moment, the refinery project is almost totally shelved and, upon favourable conditions, we could re-launch it and start building a refinery as soon as in 2017.»
At the western edge of the company's production zone, a site has already been chosen for the refinery. In contrast to the state-owned Eesti Energia, the launch whose Enefit280 oil plant is being postponed year after year due to technical glitches, VKG is opening one production unit after another.
According to experts, the technical solution selected by VKG proved much more successful than that of Eesti Energia, as every Petroter plant is more than twice smaller than Enefit – therefore, solving technical problems is much easier.
It took a whole year to tune the Petroter I, completed in 2009; it is hoped that the Petroter II to be started this summer will get tuned much faster.  
The Petroter III oil plant, to be built in Kohtla-Järve, in VKG production zone, is an improved copy of the already functioning Petroter I oil plant and the Petroter II plant to be launched in a few months. Every such plant is capable of producing 100,000 tonnes of shale oil a year, as well as 27 million square metres of gas and 170 MWh of heat energy as steam.
«The two initial Petroter plants cost close to €70m each. We saved significantly, as we were able to place these next to each other – in the same building as if – and to use the same infrastructure,» explained VKG technical director Meelis Eldermann. «The third plant will cost €80m, because, due to the specifics of the lot, we had to install new infrastructure.»
Currently, VKG exports a significant share of its oil production to terminals at the Rotterdam port, where shale oil is added to ship oil sold to global market, improving its quality.
The planned VKG refinery with 750,000 yearly capacity would produce diesel fuel suitable for cars; the residue would be sold as ship fuel.
In VKG estimation, producing diesel fuel from oil shale would be profitable while global crude oil prices remain at 90 dollars minimum, per barrel.
To build the refinery, VKG views Kiviõli Chemical Plant as its ally with estimated oil production capacity of 200,000 tonnes a year.
Kiviõli Chemical Plant's parent company Alexela Energia thinks refining shale oil into motor fuel only has a future of the three producers – VKG, Eesti Energia, and Kiviõli Chemical Plant – would cooperate. «In this business sector, economy of scale is vital; if capacities of the three producers were summarised, investments and global market risks related to such refinement could be acceptable,» said Alexela Energia board member Marti Hääl.
Eesti Energia, however, announced it has no plans for joint refinery. «We do not see building a refinery as a profitable project for us, today,» explained the company's press representative Eliis Vennik. «In its strategy, Eesti Energia is first and foremost concentrated on increasing its oil production volumes, and producing energy of its side products. In near future, building a refinery is not on the agenda.»
The biggest obstacle for Estonia to produce its own diesel fuel may be the decision to apply EU fuel directive. Allegedly, its fist variant has banned sales of shale diesel in Europe due to its «overly large» ecological footprint. «We have had lots of meetings to explain and demonstrate that, both environmentally and climate-policy wise, it is important for us to use oil shale in a manner less polluting and more profitable than burning it in ovens,» said environment minister Keit Pentus-Rosimannus.
When and in what form the important document would emerge from the cabinets in Brussels, the minister could not tell.
Name of plant: Petroter III