Seeder sticks skeleton in closet of Padar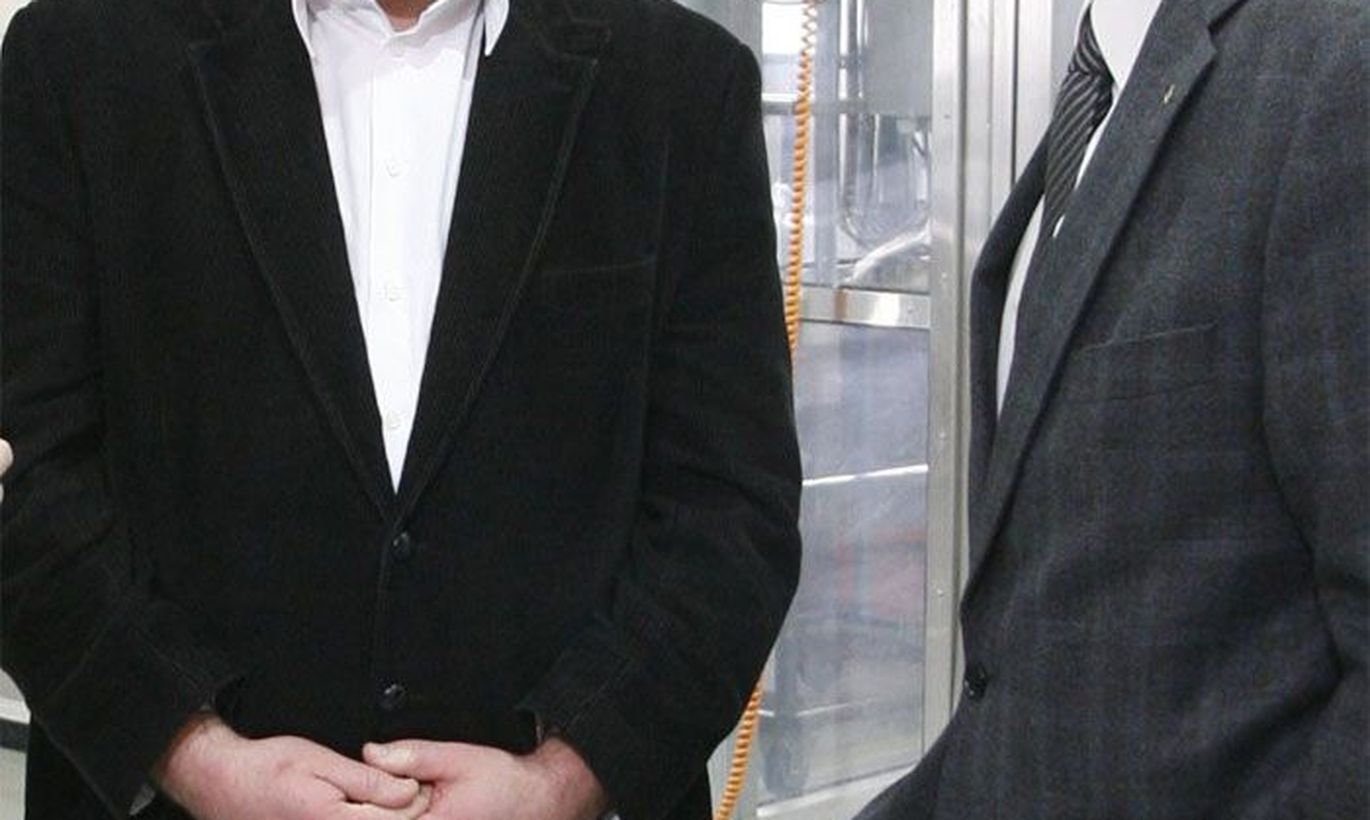 Helir-Valdor Seeder, Estonia's until-recently agriculture minister convened a working group delving into one time (and incoming) colleague Ivari Padar era decisions, in September of 2013.
Its report, however, came out on March 7th 2014 i.e. the very day Postimees wrote of the demise of current coalition. The working group was lead by Toomas Kevvai, vice-chancellor at the ministry. In addition to officials of agriculture ministry, the team also included people from Tartu County Government, education and research ministry, and Land Board. No ordinary business that a minister proposes to overturn a decision by his predecessor dating 15 years back. But that's exactly what Mr Seeder did.
The committee sought to find out how a one-time Tartu state farm fell, as facilitated by ministers of agriculture, into the hands of its former cadre. To begin with, a state agricultural holding was created, which then evolved into a limited state company; thereafter, a way was devised to not return land to its former rightful owners with some legal successors convinced to agree to compensation. The next step: the land was leased to a limited state company for marginal money, then promptly proceeding to privatize Tartu Agro – in violation of law and at high speeds – to a company linked to leaders of the limited company.
The initial step to let the state keep the lands was taken by then agriculture minister and former state farm director Andres Varik, who, by his directive dating a few days before the Coalition Party (Koonderakond) government left office left 90 hectares of land into state ownership. According to the directive issued in 1999, the land was needed to preserve an academic base of agricultural university.
Ivari Padar, succeeding Mr Varik as agriculture minister in the next government (the Mart Laar govt No 2), proceeded to carry out the initiative. It is worth mentioning that Aavo Mölder, head of Tartu Agro both in its limited state company era and now, has been in the habit of explaining how Mr Laar's government sunk Estonia's agriculture. True: Mr Mölder got Tartu Agro cheap from the state during Mr Laar's government; even so, the key figure still was then Moderates (Mõõdukad) and now soc dem government member Ivari Padar.
Thus, Mr Padar decided that the state keep 3,000 hectares of land, a large part of which was given up by legal successors as urged by Tähtvere Commune officials. Thereafter, Mr Padar forced through the rental of said land to state company at a ridiculous price, and, finally, the «discount privatisation» of Tartu Agro, user of said lands, at the cost of trespassing the law. Government of the Republic ratified the deal despite the glaring mistakes (read chronology below) being pointed out by both National Audit Office and finance ministry. Ergo, somebody must have desired privatisation of Tartu Agro real bad.
On November 16th 1999, Mr Padar rented the land left in state ownership to Tartu Agro for 25 years for 10,000 Estonian kroons a year. For each hectare, the one-time state enterprise had to pay the state a bit over 3 kroons.
Now, Mr Padar will have to decide what to do with the decision by his predecessor Andres Varik of 1999, which first and foremost concerned the legal successors of the land who desired to fight for their rights till the end. «The working group convened by me has finished its activity, and the rest ought to be the job of internal audit and legal departments,» said Mr Seeder. «Still, the decision can only be taken by the minister – only the corresponding administrative authority i.e. minister of agriculture can annul decisions taken by him or his predecessors.» Thus, Mr Padar can cancel directive by Andres Varik; however, then the genie gets out of the bottle. Dozens of legal successors will be asking: why were we so foolish as to let the Tähtvere officialdom convince us to give up the lands of our forefathers. We are talking about thousands of hectares, the retaining of which in state hands was sealed by none other than the very person of Ivari Padar.
According to Mr Seeder, it is possible that some stubborn ones will still get the land back. «Even if the new agriculture minister decides not to cancel the legal instrument keeping the land in state hands, it can again be contested in court,» he said.
In addition to the idea to bite some hundred hectares off the land rented to Tartu Agro and returning it to the courageous legal successors, the working group had another proposition to make. As written above, the Tartu Agro land was retained in state hands as if needed by Estonian University of Life Sciences (as the higher educational institution is now called). As it is, the university is unable to use the land, as it is in the «business hands» of Tartu Agro. The committee hereby proposes that a 325 hectare plot used by Tartu Agro be handed to pilot holding of the university. «The University wants to do academic and research work; however, they lack a fodder base for Märja farm – the problem needs to be solved,» added Mr Seeder.
According to Ivari Padar, he has not seen the conclusions drawn by the working group. «I only now that the working group has been gathering and that a public letter has been written concerning that,» said Mr Padar. «Well you know by 1999 these processes had come to a phase where the final decisions came when I came.» Mr Padar claims that as early as in 1992 the Supreme Council decided regarding legal successors and Tartu Agro. «All that was left for me to do was to execute what was decided in 1992,» Mr Padar claimed yesterday. The claim by Mr Padar that he was in zugzwang – a forced situation with no good outcome – is definitely not true. 
Toomas Marga, one of the most stubborn among legal successors, has renewed hopes that a miracle will happen and the lands will be returned. «While the People's Union (Rahvaliit) still existed (the party which also included the Tartu Agro chief Aavo Mölder), having recourse to agriculture ministry was a hopeless case,» said Mr Marga. «Now, they convened a committee, which, instead of the planned two months worked for half a year; but the results do flush Tartu Agro privatisation down the toilet, to put it mildly .»
According to Mr Marga, the one-time decision smells of corruption, which would be impossible to prove retrospectively. As assessed by Mr Marga, Ivari Padar is unfit to be minister. «Padar made a string of decisions in favour of Tartu Agro and its head Aavo Mölder; decisions which may be called partial or even illegal,» said the man. «This is all now proven by documents and written down in standpoints by layers employed by the ministry itself. Padar systematically acted in the interests of Mölder, and the question arises: why.»
The Chronology: privatisation of Tartu Agro lands
•    By 1992 decision of Supreme Council of the Republic of Estonia, domains of six state farms were determined; five of these were privatised of liquidated.
•    The only one remaining was the Tartu state farm, founded in 1992 Aavo Mölder, then minister of agriculture, later the head of Tartu Agro.
•    In 1996, minister of agriculture Ilmar Mändmets explained that the state farm guaranteed seed material conformable to OECD requirements and is therefore much needed. Since July 2001 to end of June 2002, Tartu Agro produced 13 percent of seeds in Estonia.
•    In 1997, the state farm turned into limited state company Tartu Agro; the same former agriculture minister Aavo Mölder takes a seat in its council.
•    Just before the Coalition Party government leaves office in 1999, minister Andres Varik decided to leave 90 hectares in state ownership, allegedly for Agricultural University academic purposes. In reality, the land went to Tartu Agro.
•    In 1999, the government tasked the new agriculture minister Ivari Padar to find out if it was prudent to keep Tartu Agro as state enterprise. Mr Padar stated it would be prudent to register the lands into state ownership, prior to privatisation.
•    In December of 1999, Mr Padar decided to leave some 3,000 extra hectares in state ownership – a large part thereof being given up by legal successors as pressurised by Tähtvere Commune officials. 
•    In April of 2000, Mr Padar left 34 more hectares in state ownership, referring to the need to maintain an academic base for University of Agriculture.
•    In July of 2000, Ametlikud Teadaanded published notice of offer, by which 3,089 hectares of state land were leased out – the rental condition being the continuation of Tartu Agro activities. The notice lacked the rental contract date. Only three weeks were given to make an offer.
•    In addition to Tartu Agro, an offer was submitted by Aiu Põllumajanduse OÜ; the offer was disqualified. Among other things, they cited absence of the card of the company being registered in commercial register; actually, the card was not required. For the lands, Aiu offered 617,834 kroons a year, Tartu Agro offered 95,000 kroons (adding to that investment obligation up to five million kroons – back then, one of the most used instruments to muddy up privatisations). Already then, Land Board rented out state land at higher prices than was offered by Aiu Põllumajanduse OÜ, to say nothing about Tartu Agro which won the competition. Tartu Agro obtained long-term lease for ridiculous price.
•    In August 2001, the government decided to sell Tartu Agro shares, at tender with preliminary negotiations, with starting price of 14.9 million kroons. To those participating, lots of additional conditions were laid, favouring the coterie linked with Tartu Agro. The starting price of shares were based on assessment by Ühispank ( now SEB); at the same time, said bank's council included Mart Avarmaa, an old friend of Aavo Mölder's and also a one-time state farm chief.
•    Indeed: at the competition of Tartu Agro, there participated the company OÜ Tartland, belonging to Mart Avarmaa and the Tartu Agro head Aavo Mölder. The purchase by Tartland was also guaranteed by Ühispank. An offer was made by four companies and E-Piim's offer was better by two million kroons; even so, Tartland again won by obligation to invest.
•    To make an offer, participants at competition were given 13 days since the notice was published in Ametlikud Teadaanded – in violation of law.
•    Finance ministry pointed out that the share price wasn't fair. Also, the ministry underlined that the current leadership of Tartu Agro, participating at the competition, was not acting in the interests of the owner i.e. the state.
•    In 2001, the government of Mart Laar unanimously decided to proclaim the Tartland offer the best, even though National Audit Office advised the government not to ratify the decision. The best price was offered by E-Piim.
•    Pursuant to conditions of competition, an offeror was required prior experience in agricultural activity; Tartland had none.
•    Last year, Heldur Tõnisson (represented by Peeter Schneider) and Hilja Valk (represented by her son Toomas Marga) had recourse to minister of agriculture, desiring that the 1999 directive Andres Varik – which robbed them of land – be declared null and void.
•    The working group called together by the minister Helir-Valdor Seeder, last year, proceeded to propose that the administrative proceeding be amended.
•    Following that, University of Life Sciences announced being interested in the 325 hectares currently in hands of Tartu Agro. The working group proposes to hand the plot over to be used by university, citing public interest.
•    Thus: when it comes to state land left in the hands of Mr Mölder and Tartu Agro, it was the former Coalition Party government's agriculture minister Andres Varik who took the initial step. From then on, all key decisions were taken under leadership of Ivari Padar.