Eesti Gaas: building LNG terminal in Estonia would badly postpone construction of pipeline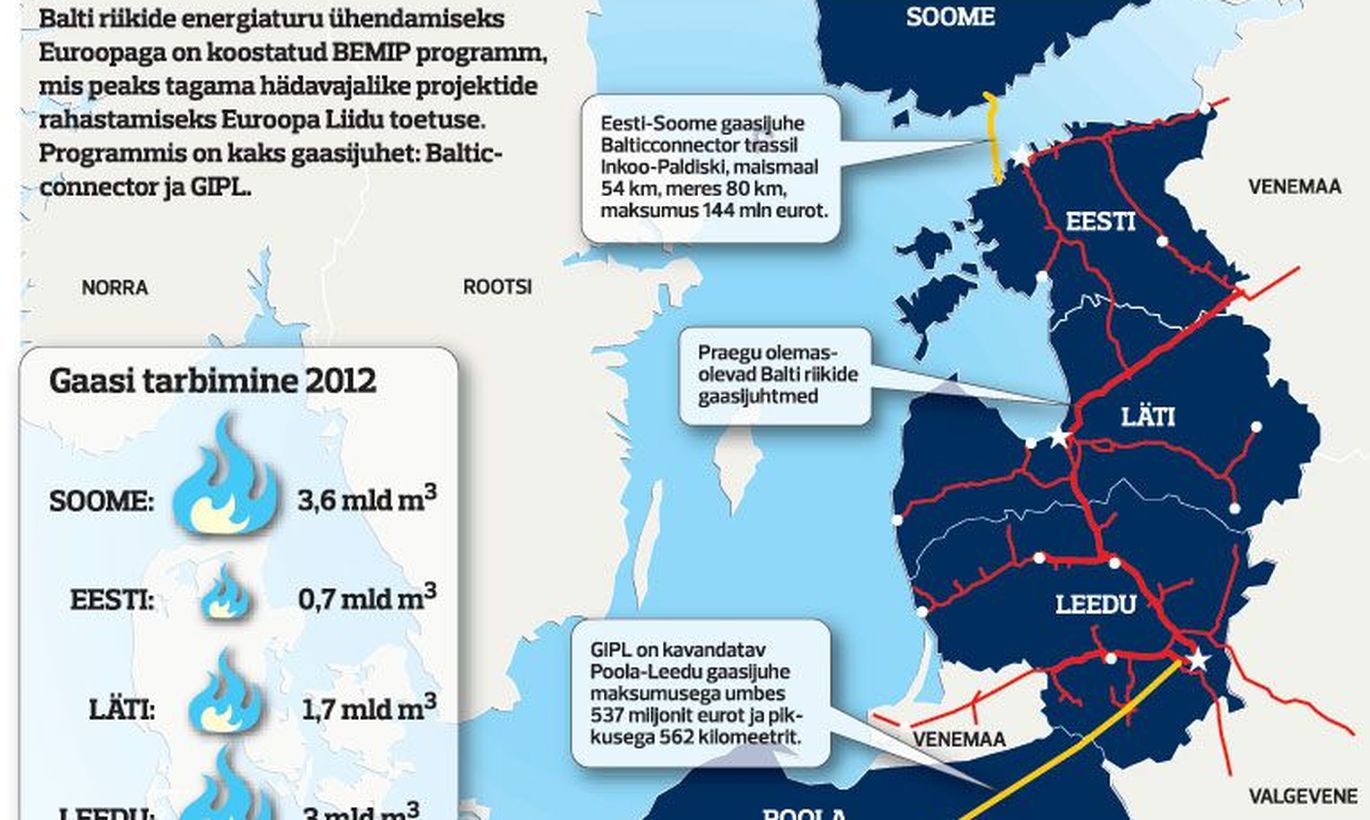 Sergei Jefimov, head of the gas transmission system operator EG Võrguteenus, thinks maintenance of a liquefied natural gas (LNG) terminal would be expensive for Estonia, due to low local consumption. Therefore, it is better to build it in Finland.
«Government thinks politically, for LNG terminal is investment and jobs. However, a terminal has to be maintained 30-40 years. I think the Hääl brothers (owners of Alexela Group, Heiti and Marti Hääl – editor) don't have such money, and the consumer is not strong enough,» said Mr Jefimov. «Without Finland, an LNG terminal is economically not feasible. Therefore, like it or not, we have to reach an agreement with Finns. Otherwise the danger is that there'll be no LNG terminal in the region.»
Right now, Estonia and Finland are in consultations concerning location of the regional LNG terminal. Estonian decision-makers lead by Juhan Parts were irritated by Eesti Gaas' and Gasum's estimate, that Inkoo in Finland is the best spot.
«I see no advantages in Estonia. We look at pragmatic arguments, the state looks at political ones,» said Mr Jefimov. According to him, maintaining the terminal costs 5 per cent of the terminal's cost, reaching millions of euros a year. All that money ought to be paid by Estonian gas consumers, via transmission network tariff rate. 
Mr Jefimov said that if terminal were built in Estonia, a large quantity of it should be pumped to Finland through a pipeline, daily. However, if the terminal is in Finland, the amount to be pumped into Estonia would be many times smaller. According to him, EG Võrguteenus and Gasum have agreed that, if terminal is built in Finland, the Finnish side will cover four fifths of Estonian-Finnish gas pipeline costs. Which also means less pressure on tariff rates, later. As the gas pipe investment will have to be paid by consumers, via tariff.
«If the terminal is built in Estonia, there's a great danger that Estonian-Finnish gas pipeline – Balticconnector – will not happen at all. Or the building of it is considerably postponed,» said Mr Jefimov, adding another argument in favour of Finland.
Mr Jefimov also refuted the claim that Gasum only wants the terminal in order to overthrow the project, in the end. «Yes, Gasum has the Gazprom contract till 2025. However, this doesn't mean that Gasum cannot sell gas from LNG terminal,» claimed Mr Jefimov.
Parliament member Arto Aas said last week that Gazprom wants to freeze the terminal project for years, therefore favouring Finland. Mr Jefimov says however, that as the terminal is financed by European Union, Finland will have to dismantle Gasum and create a seller independent from gas TSO. Estonia has decided to change the structure in 2015, Eesti Gaas currently preparing to sell EG Võrguteenus. «Gazprom is not pressuring location of terminal,» affirmed Mr Jefimov.
Last week, Gasum's chief Antero Jännes told News2biz that Gasum wants to build the terminal by 2018 or 2019 and doesn't intend to delay till 2025, when their Gazprom contract runs out.
Unlike Estonia, where the largest stake of gas sales monopoly Eesti Gaas is owned by Gazprom, Finland's Gasum is majority owned by Finnish government. The gas itself, however, comes from the same source for both.
European Commission's energy representative Günther Oettinger is urging the Baltic Stated to hurry up and pick the terminal location. In his letter to Gasum and EG Võrguteenus, he praised them for steps taken in that direction. Mr Oettinger said that merging Baltic gas market with EL has, so far, been unsuccessful. He affirmed that the location will be decided by governments, while praising the TSO's initiative.
In Estonia, two developers have been in preparations for the construction: Alexela in Paldiski and Elering/Port of Tallinn in Muuga. In Finland, it is Gasum's Inkoo project waiting for the financial decision. Thus – three projects. The main issue being, which side of the Gulf of Finland will the terminal be.
In the two TSO's opinion, Inkoo in Finland is best, for Finland consumes as much gas as the Baltic trio put together. Even the report ordered by European Commission, by a consultancy named Booz, favours Finland.
The main issue being: both terminal and gas pipe between Estonia and Finland will only happen with costs shared by EU. To get financed within the upcoming budget, location needs to be picked quite fast.