Fatal question to the prime minister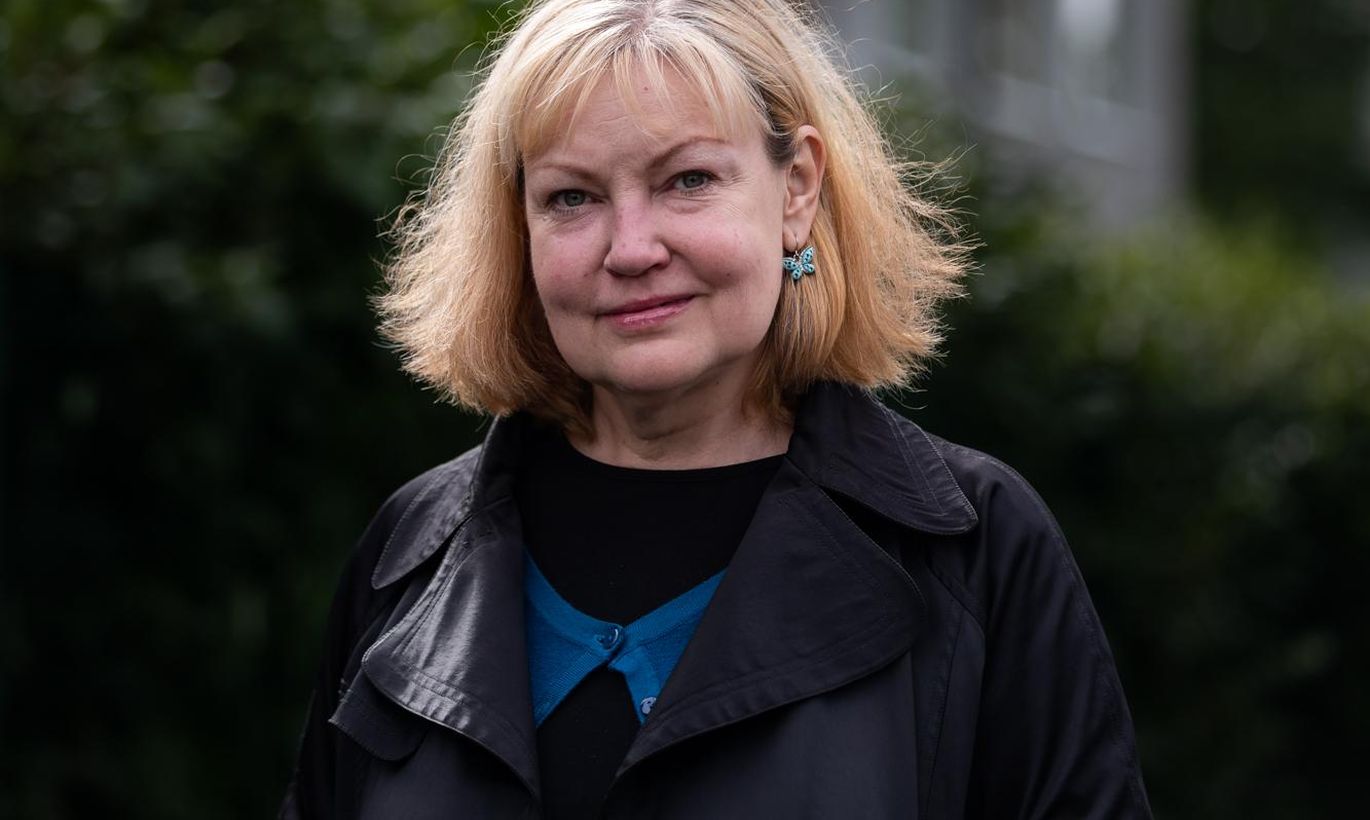 A kindergarten teacher suffering from cancer is facing unemployment because of a question she publicly asked the prime minister regarding the huge salary of Ulla Ilisson, the future director general of the Education and Youth Board.
Kadri Tennosaar leaves the Õunake kindergarten on a warn summer evening. She is well dressed, made up, carried a large pink handbag. One could not guess that this smiling woman has been diagnosed with breast cancer two months ago. The surgery will "hopefully" take place in December, but she will face unemployment already in a couple of weeks.
The summer began in a promising manner: early in June she managed to apply for work at the Pallipõnn kindergarten only a few minutes walk away from Õunake, also under the pine trees of Mustamäe. Having worked for years as a teacher's assistant, she would have become a fulltime teacher who could concentrate on working with children rather than changing diapers and cleaning up.
At her meeting with Maire Kaljuveer, the director of Pallipõnn, they agreed orally and via text messages on her new salary and the date of concluding her labor contract – August 10. Tennosaar handed in her resignation to her former employer Õunake (Dear kindergarten, I see no prospects for the future…"). Why not, if she had already agreed with the new job? The pay was some twice as high as in the previous place, almost an average salary.
But in a curious twist of fate, it is the 9600-euro salary of the new head of the Education and Youth Board Ulla Ilisson that threatens to leave Tennosaar without means of subsistence.
The trouble begins to brew in the evening of July 27 (evenings are her favorite time when she can have time for herself and the internet). Worn out from her daily work she sits in her kitchen, thinks of Ulla Ilissons salary and picks up her smartphone ("I have no computer") to post several pointed questions on Prime Minister Jüri Ratas' website. "I have a question – first, who is Ulla Ilisson? What is her background in education and youth work?" Tennosaar asks. "Why she, coming from the financial sector? What does she know about education or youth?"
The woman, who earns ten times less, can feel the injustice: "Monthly salary of 6900? In think that we all have the right to know who she is and what will she do on her new post to earn such a salary? /---/ what is happening is absurd, putting it mildly. I expect an explanation to the public. A detailed one."
Tennosaar's phone rings the next day. But this is not the prime minister but her new employer, director of Pallipõnn Maire Kaljuveer. The director has become a Facebook friend of Tennosaar for some time ago, but she does not yet suspect anything. She even takes along a box of berries to present to the new director. "What have you done? What did you post?" the director demands.
Tennosaar does not understand that she has made any mistake. Estonia respects the freedom of expression and her post was in no way indecent. But the new employer explains that she had been inciting hatred and behaving publicly in a manner unsuitable to a kindergarten teacher. What would the children's parents think if they make a thorough internet search about the teachers? Shocked and stricken, Tennosaar deletes her message from her website via the director's computer. Kaljuveer also orders Tennosaar to apologize to the prime minister. And she refuses to take the berries – that would be "corruption".
On July 28 at 15.06. Tennosaar sends her letter of apology to the Government office. She is shocked and nervous and that causes some spelling errors. ""How do you do, Prime Minister Jüri Ratas! Since I publicly posted on my Facebook page some questions about the appointment of Ulla Ilisson the head of the Education and Youth Board and expressed my great amazement at her monthly salary, it led to a major trouble. I really expressed my opinion and wished for more information. I certainly meant no inciting of hatred;" the kindergarten teacher explained. The apology ended with a peal that Jüri Ratas delete her post from his Facebook page: "I sincerely apologize if I insulted or offended anyone."
Tennosaar sent a copy of her apology to her new employer. "I very much reckoned with working at Pallipõnn. This today thing was a blow below the belt. I do he we can overcome it."
Tennosaar spend July 29 under the chemical treatment drip and keeps thinking that her post had been "adequate". Why did she agree to delete it and apologize to the premier? "These were justified questions," she writes to director Kaljuveer. "I wrote the apology you demanded reluctantly because I had nothing to apologize for."
Messages keep coming and going; perceived injustice flows through the keyboard and it is soon another evening. "So you will hire me as teacher? Id it certain?" Tennosaar asks. "No, I won't," Kaljuveer answers. Tension keeps mounting; Tennosaar hears next that her behavior had not met the professional ethics and standards of teachers; she in turn threatens to appeal to a lawyer, the labor inspectorate and the press. Messages rattle in the phone like hailstones.
Tennosaar comes to a panicky idea of retracting her letter of resignation in the old kindergarten, but she had announced her resigning several weeks ago and they have found a new employee and already signed a contract. Tallinn is suddenly buried in law-flying wet clouds.
"Come one, she is not coming to work as a cook or a charlady, she applied for a teacher's position," Maire Kaljuveer comments the conflict like an experienced manager. "I referred to the professional standards of teachers, explained her that a teacher must cooperate." But this demanding post on the prime minister's website – "bad-mouthing", "judgmental" – Kaljuveer says condemningly – would not meet teacher's professional standards. She hints that there had been other posts and comments, which Kaljuveer is unable to recall. But the morale is simple: "A teacher is a public figure. Demanding explanation from the prime minister should take another form." And the endless messaging late at night, which kept coming, demanding and touchy. Finally the ultimatum and accusation of being "stabbed in the back". "I always had the impression that she is mild and nice and capable of cooperation," Kaljuveer explains and wonders what had happened to Tennosaar. "She was so nice and calm back in June."
But that was before the diagnosis of cancer.
Kaljuveer says that she meant to offer Tennosaar a preliminary contract ("I would see if she can keep from threatening me for a week.") But if the story should reach the press, "she certainly will not get the job."
The troublesome post on the webpage of Jüri Ratas is still there. No one has responded to it.