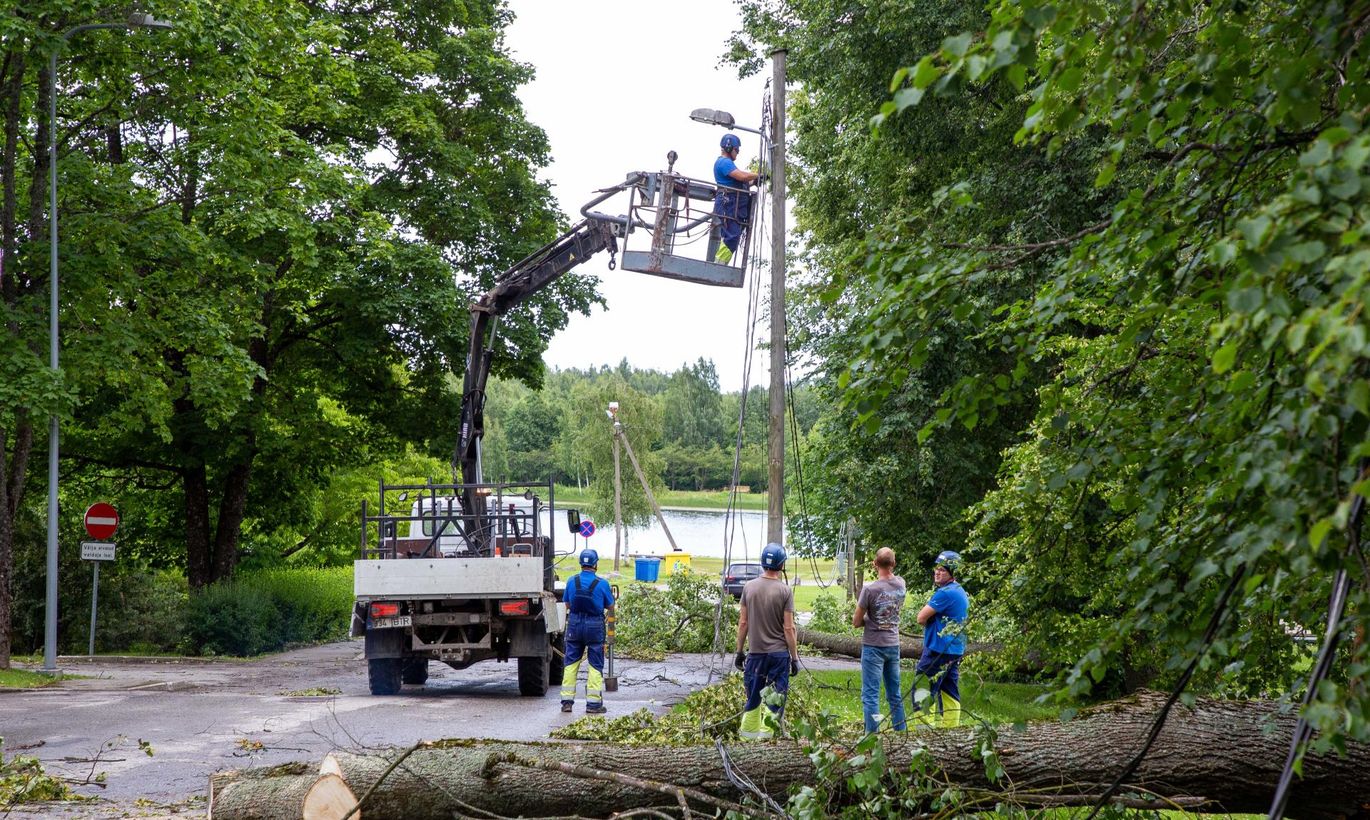 A storm that ravaged Estonia on Saturday left thousands of households without power. To make sure storms couldn't leave a part of Estonia in the dark, power lines would have to be moved underground, however, that would cost around €2 billion for the entire country. Power transmission network operator Elektrilevi invests around €80 million a year and has cut the number of outages threefold over the past decade.
Even though Connecto electrician Jürgen Sillaste first started work on fixing power lines on Saturday morning, he was still in high spirits working in Türi on Monday afternoon. "It's what we do," he said.
His day ended around midnight on both Saturday and Sunday. "It doesn't really get dark in the summer and we could basically work even longer, but you run out of juice. You need to get a couple of hours of sleep in," the electrician said.
Sillaste said it is likely the team will not catch a breather before Wednesday evening. "We are used to it and there have been worse storms."
Elektrilevi the network of which covers 93 percent of Estonia invests €80 million in it annually. "Sixty-nine percent of our network is weatherproof, while we aim to reach 76 percent by 2025. We are modernizing 300 substations and 1,600 kilometers of power lines every year, said member of the board Andres Tõnissaar.
Ida-Viru County network operator VKG Grupp has weatherproofed 81 percent of its ground cables and overhead power lines. "We are moving toward a more weatherproof network step by step but have not planned for major investments," said Irina Bojenko, head of communications for the company. VKG already has more of its cables underground in the city than other network operators.
Imatra Elekter that operates in Lääne County, Pärnu County and Viimsi Municipality has 91 percent weatherproof overhead or underground low voltage lines. The company's network services chief Kaupo Kuurberg said that when it comes to medium voltage lines, 26 percent of the company's overhead and ground lines are insulated.
"No overhead line can be rendered completely weatherproof, while they can be made more weatherproof. When a big tree falls on a power line, the wires will snap and the masts will fall over," Kuurberg said.
A power line is made more weatherproof by a layer of insulation, the specialist explained. "Insulated cables and power lines can withstand smaller and medium-sized trees. When insulated wires touch, there will not be a short-circuit and consumers will not lose power."
"We plan to replace naked lines with insulated ones and ground cables in wooded sections. It is a very long process that will take years," Kuurberg said, suggesting the work could cost as much as €8 million.
Andres Tõnissaar said that moving all of Elektrilevi's power lines underground would cost around €2 billion. "However, investments are clearly having an effect today – looking at the past five years, the number of outages has fallen over two times. Going further back, we had 30,000 faults in 2011, while we had fewer than 12,000 last year – an almost threefold decrease.
When planning network maintenance, geographical location is not the most important thing. "Important keywords include the age of the power line, number of clients depending on it, how prone the line is to failures, its general condition, location in terms of nearby trees etc. There are dozens of factors. All of it comes together in an index based on which lines are updated," Tõnissaar explained.
Electrician Jürgen Sillaste said that while his colleagues do their best after a storm, they are often forced to take calls from unhappy customers while in the process of repairing power lines.
Sillaste said that while he understands everyone wants power to be restored for them first, work usually starts in areas with the most consumers.
But he also remembers an elderly man whom electricians reached a week after a storm had caused him to lose power. The man was very glad to see the electricians and said he has been without power for longer in the past and wasn't even expecting them yet.
Even though electricians had to work in the rain on Sunday and Monday, Sillaste said it does not affect their work to any serious degree. "There is no such thing as bad weather, just unsuitable outfits. Our equipment is top-notch."
Repair work following the Saturday storm is believed to last into the middle of the week.