Vegetables saved, too late for strawberries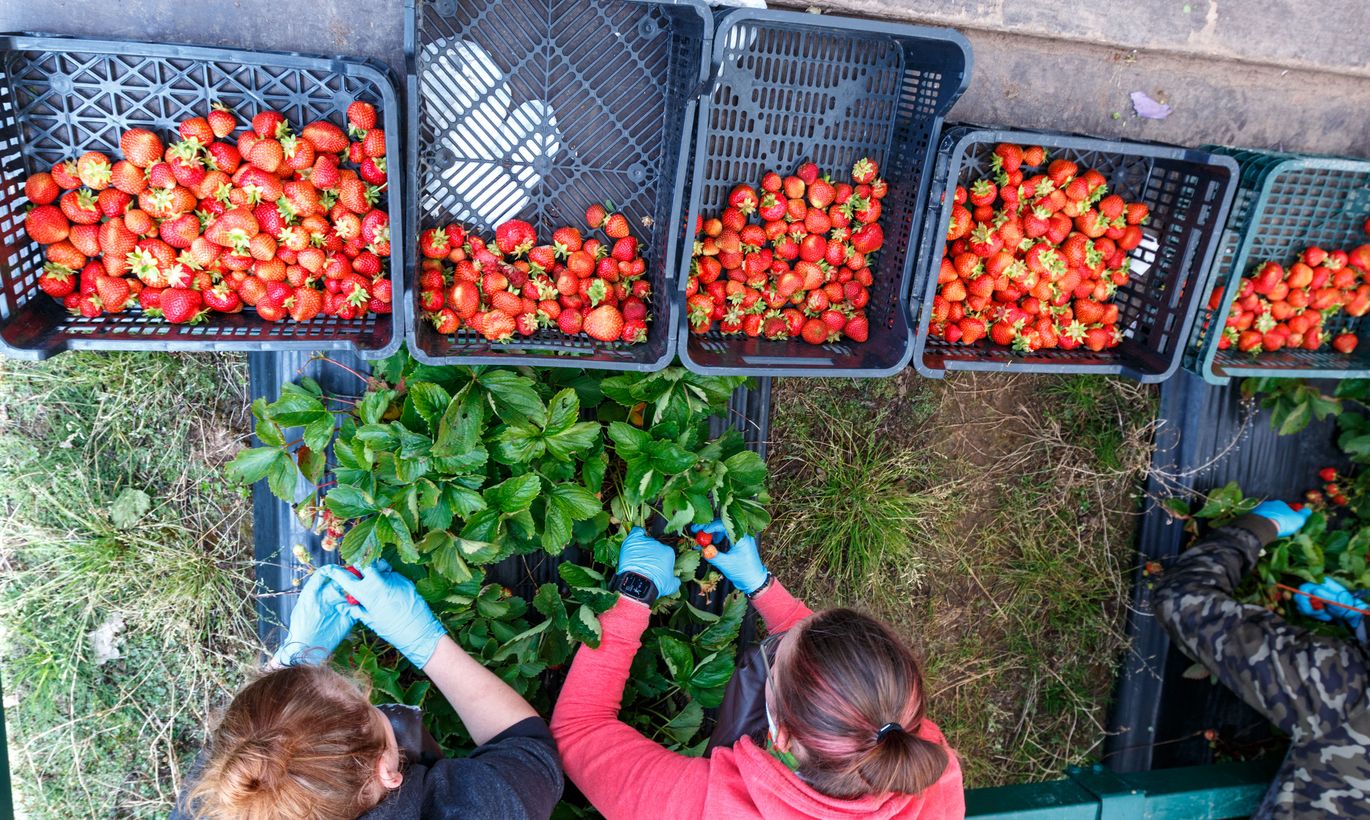 The agriculture rescue package the government agreed on Monday morning leaves farmers feeling conflicted. Even though its necessity is beyond doubt, changes come too late for strawberry farmers. Producers also cannot understand the plan of shortening the seasonal work period to six months of which Minister of Finance Martin Helme (EKRE) was especially proud.
The government's decision will see borders opened and a return to roughly the pre-crisis situation, with the exception of countries where the coronavirus is still at large and that have a basic reproduction rate of 16 or higher. People from such countries will have to spend 14 days in isolation upon arriving in Estonia. Such countries also include Ukraine that is the main source of foreign labor in Estonia.
Member of the board of the Estonian Chamber of Agriculture and Commerce Vahur Tõnissoo said that the quarantine requirement is not a problem for farmers. "The most serious deadline is July 31. Now, foreign workers can come to Estonia again, spend two weeks in isolation – hopefully remain healthy – before getting to work in August. Those whose permits were previously extended to July 31 will have to return home. There will be a rotation. Everything is just fine now."
"For strawberry farmers, the train has left the station, with berries left to rot in the fields," Toomas Lillo, owner of Tasuja Farm, said upon hearing of the rescue package. That decision could have been made three weeks ago. But vegetable growers are saved, I believe."
Lillo said that labor shortage meant he managed to harvest 60-70 percent fewer strawberries this year compared to the last.
Lenno Koddala in Põlva County has the same problem. "Labor is in very short supply today. I'm trying to keep on top of strawberries. Some fields are already beyond rescue, while cucumbers have been in need of harvesting for a week," he complained.
While Tõnissoo was very satisfied in his initial comments, the fate of strawberry farmers also weighed heavy on his heart. He has not heard of compensation for strawberry farmers.
"It is true that the decision came too late for strawberry growers. June 25 was the real deadline – the weather still held and had we 500 workers, we could have picked a lot of berries. But because they didn't come, because we were too late, that ship has sailed now. And it is truly a great shame," he said.
Wasted strawberries are not the only cost for farmers. Toomas Lillo said they also had to pay the registration fees of foreign workers who were registered in Estonia but couldn't cross the border. "It's €50-55 per person. I do not believe it is fair – that they register people, but keep borders closed when we need them; an exception could have been made. Who is going to pay for it? Registering 50 people costs a fair amount of money. We have to write it off, with no compensation in sight."
Government feeding migration
What really rubs Vahur Tõnissoo the wrong way, however, is the new six-month rule decided alongside the rescue package. The government has agreed that seasonal workers will be issued work permits for six months instead of the recent nine in the future. Tõnissoo said that it is not part of the regulation from Monday but instead the government has made a proposal to the Riigikogu to amend the Aliens Act. Proposals also include an obligation to pay foreign laborers the sector's average salary in the county.
The chamber said it plans to fight for the existing nine-month period as six months is not enough time to get the work done.
"First of all, having to replace staff every six months adds to red tape," Tõnissoo said. "Secondly, changing workers more often entails a greater health risk. Having a single person on for nine months instead of six decreases the risk of infection. Nine months is imperative when it comes to farm work, while companies in the horticulture sector could perhaps make do with six."
Toomas Lillo described the planned amendment as harebrained. "They are manufacturing migration. Brining in different people more often and doing the exact opposite of what they've said."