Lihula shooter apologizes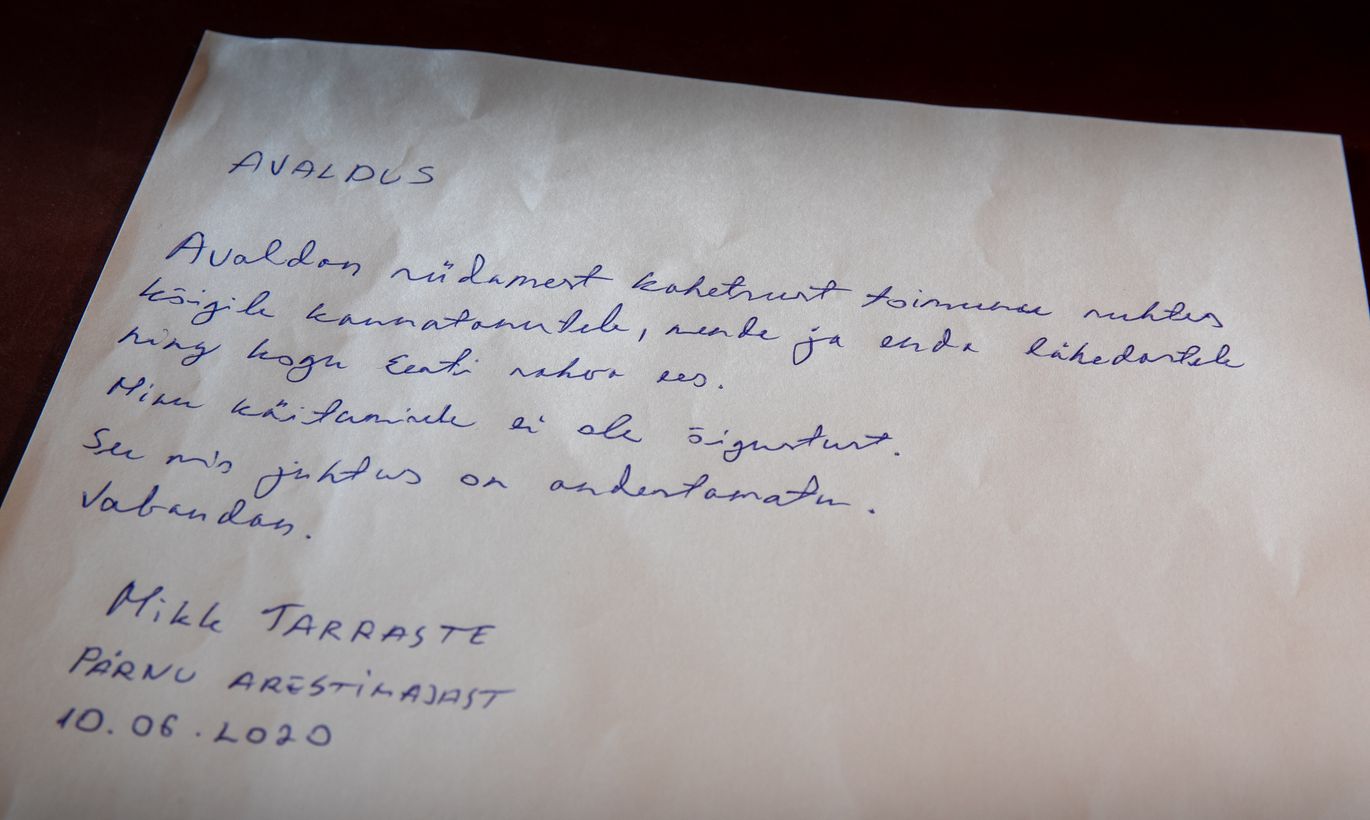 Rünno Roosmaa, defender of Lihula shooter Mikk Tarraste, entered the Pärnu police department at 3 p.m. on Wednesday for a meeting with his client. The lawyer came out of the meeting with a handwritten statement by Tarraste.
"Statement. I express heartfelt remorse for what happened to all the victims, their and my own loved ones and the entire Estonian people. There is no justification for what I did. It is unforgivable. I apologize. Mikk Tarraste. Pärnu detention house on June 10, 2020."
The meeting between Roosmaa and Tarraste lasted for about an hour. Even though Roosmaa had planned on 90 minutes, procedural acts cut the meeting short.
"I can assure you he did not wish to cause harm, kill anyone or injure children," the defender said after reading aloud his client's statement. Roosmaa added that the question of whether Tarraste could or had to anticipate his behavior is another matter.
The lawyer said that circumstances have become clearer over three meetings between Sunday and Wednesday, while many things are still surprising.
He gave the example of having read claims that Tarraste tested positive for narcotic substances, while the origin of these claims and which substances were used remains unclear. "The man has so far denied having any connection to drugs," Roosmaa said.
Narcotic substances were mentioned by Director General of the Police and Border Guard Board (PPA) Elmar Vaher on the "Aktuaalne kaamera" news program on Sunday. "We now know that he had consumed alcohol and a quick test showed substance abuse," Vaher said on Sunday.
Tarraste's defender said that rapid tests used by the police could be unreliable as combinations of over the counter drugs could produce false positives.
Roosmaa described his defense tactic as developing.
32-year-old Mikk Tarraste crashed his Subaru SUV into two vehicles and the wall of the Lihula Olerex gas station at 9.45 p.m. on Saturday. 40-year-old biker Virgot Rägastik who witnessed the incident started following Tarraste. People heard shots on the Tuudi-Raudtee Road at around 10 p.m.
The police arrived at the scene at 10.30 p.m. and found the biker's body. Tarraste also opened fire at a Zhiguli passenger car that was passing by carrying five. A 61-year-old woman later died in the ambulance, a 58-year-old man and two young children were injured. The only passenger to escape unharmed was a 9-year-old child.
Several gunfights erupted between Tarraste and the police at around 11 p.m., with the man taken into custody at approximately 12.40 a.m.