Stopping Rail Baltic would bring damages claims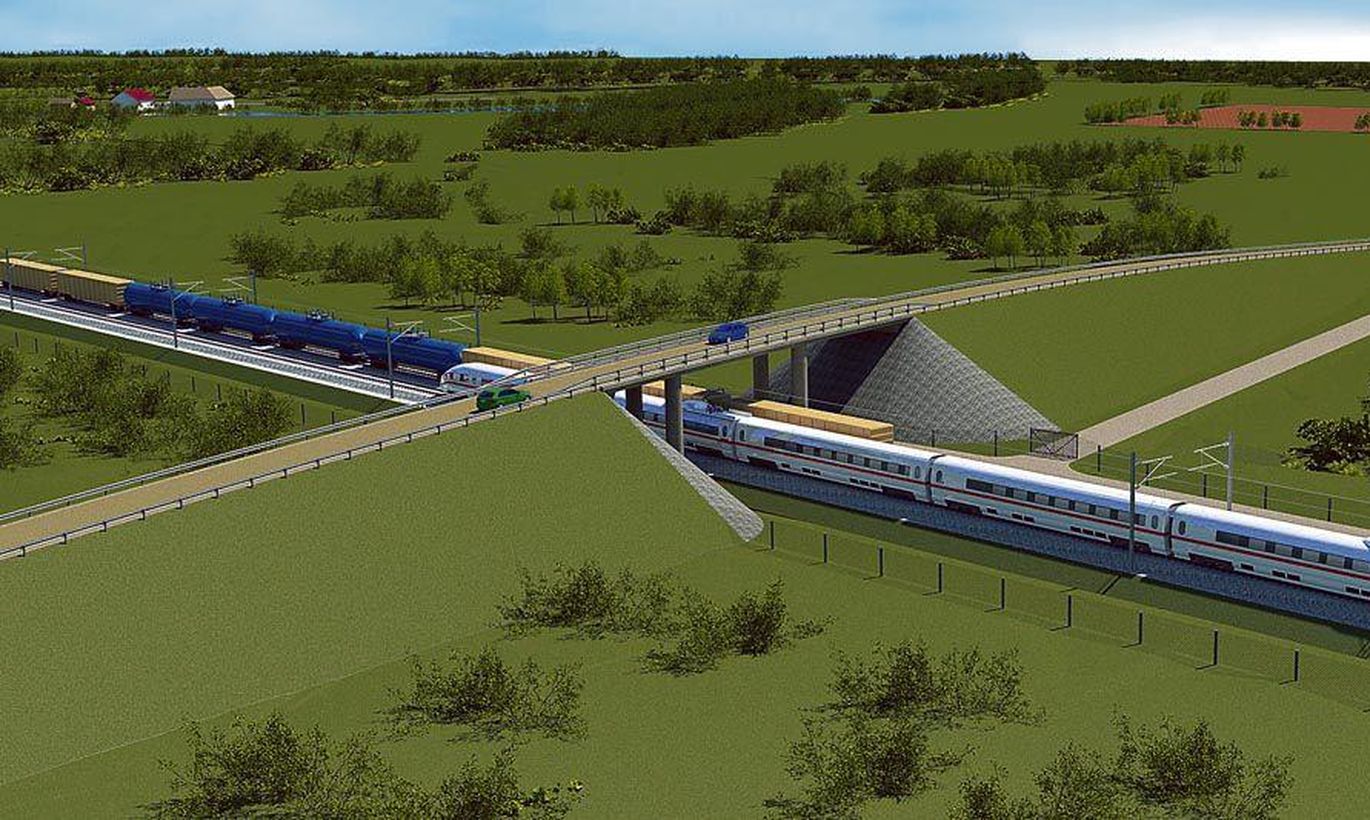 Minister of Economic Affairs and Infrastructure Taavi Aas (Center) said that there is no indication of Rail Baltic stopping. Rather, the project is building momentum, with the planning stage almost completed. The next stage of the project is full-scale construction work. Paralyzing the project would result in claims for damages from the European Union and Estonia's southern neighbors over early termination of valid employment contracts.
If Minister of the Interior Mart Helme (EKRE) and Minister of Finance Martin Helme (EKRE) said on Tre Radio on Sunday that while the party is promoting investments to benefit Estonia – such as overpasses and a tram line – it is not helping to build the railroad, Aas said that all existing and future Rail Baltic investments are directly tied to the high-speed railroad.
"Spending on separate things under the aegis of Rail Baltic simply isn't effective, clashes with the principles of public use of funds and is not eligible for EU support or state aid, meaning that sums would have to be returned," Aas said.
Should Estonia back out of its obligations to the European Commission and Latvia and Lithuania, it would certainly mean having to return sums that have already been spent and received. Estonia dropping out of Rail Baltic would almost certainly bring damages claims from Latvia and Lithuania should it affect the project in those countries.
"Halting the project, impossibility of meeting deadlines and goals fixed in European Union regulation or their postponement by several years would likely result in Connecting Europe Facility (CEF) support being denied also for Latvia and Lithuania," Aas said, which would mean writing off €42 million already spent.
Premature termination of valid employment contracts (for Rail Baltic main route planning and construction) would bring contractual penalties.
The economy and infrastructure minister explained that should Estonia decline over €1 billion in European support earmarked for Rail Baltic, in which case the money would be  spent on projects in other EU member states, the country would find itself in a weakened position also as regards future subsidies.
"The European Union pursues successful cooperation on every front. Who wants to work with a partner that might suddenly give up on everything that has been achieved?" the minister asked, rhetorically.
The governments of the three Baltic countries will continue developing Rail Baltic based on an agreement ratified by the Estonian, Latvian and Lithuanian parliaments that prescribes its completion in 2026. The railroad and all major objects, such as goods and passenger terminals, are already being designed or will be in the near future.
For example, design work is underway for a Rail Baltic cargo terminal at the Muuga Harbor in Harju County. Construction of Rail Baltic has been launched and is building momentum. Construction work will begin on 50 objects (bridges, overpasses, ecoducts, terminals) in 2020-2021.
Before construction will become apparent to all, the railroad needs to be designed. As with every major thoroughfare, spatial plans need to be followed by design work before construction can begin.
The Rail Baltic route was laid down in early 2018, which is also when the preliminary plan was completed.
"I would not worry about Rail Baltic progress. The coalition agreement is clear in that we will move forward with construction. The Rail Baltic investments plan that bears the signature of Martin Helme lists nearly 50 objects tied to the construction of the international railroad. The government's boss – the Riigikogu that has a mandate from the people of Estonia – has ratified an agreement for the completion of Rail Baltic with Latvia and Lithuania," Aas said. "Together with the transport ministers of Latvia and Lithuania, I have concentrated on streamlining the project in recent years, so we could finish the railroad in 2026. I can say with confidence today that if we proceed based on the expedited plan, the 2026 deadline remains realistic. There are no signs of this train stopping today and we are rather picking up speed in the highly technical and time-consuming design phase, with full-scale construction our next stop."