Crisis budget to be passed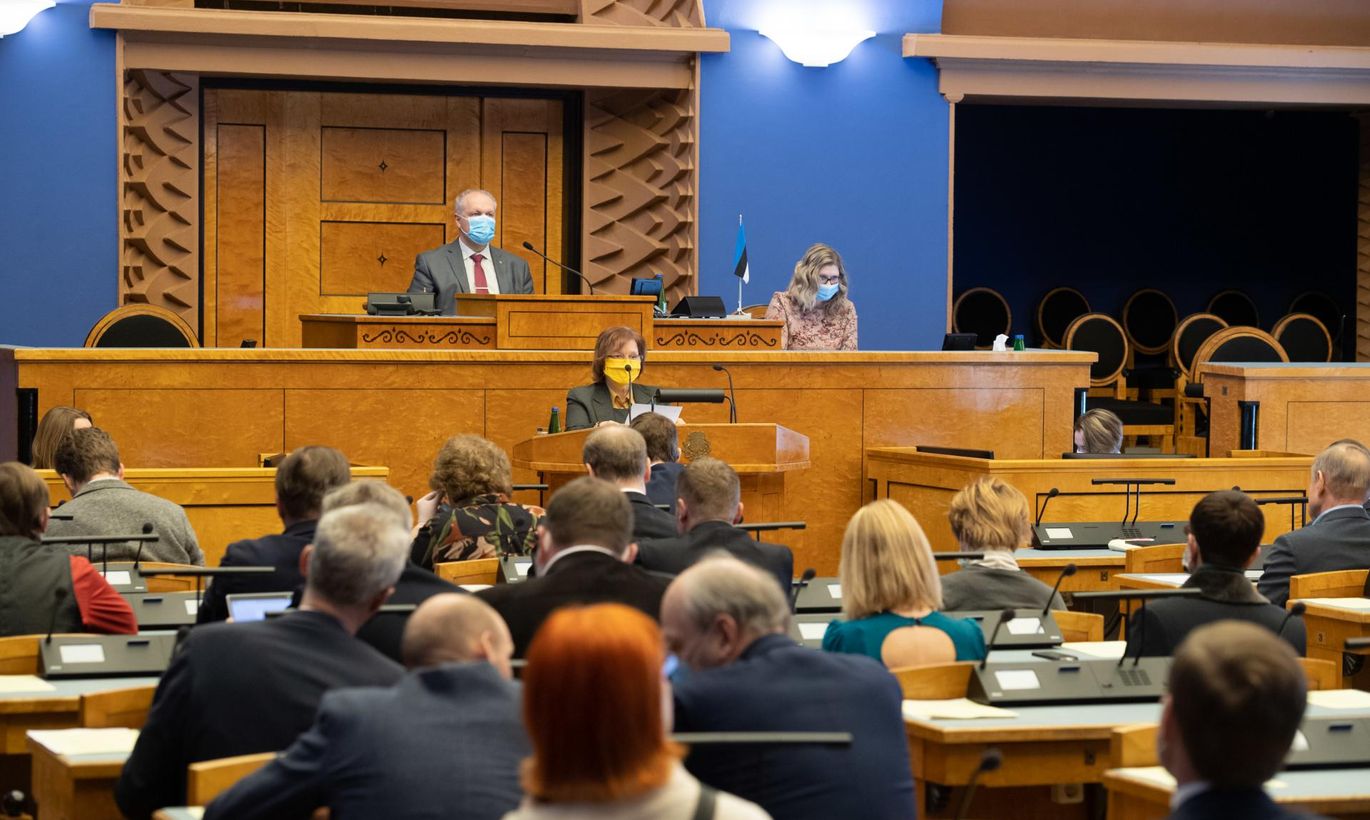 The Riigikogu is set to pass the government's first coronavirus crisis measures package at its sitting on Wednesday.
The supplementary budget concentrates on supporting companies, local governments, healthcare and the labor market. A number of laws will be amended, alongside other changes that critics say are not connected to the emergency situation at all.
EXCISE DUTIES
The election promise of the Conservative People's Party (EKRE) to lower excise duties on gas, electricity and motor fuel will be fulfilled at least partially and temporarily for two years between May 1 and April 30, 2022. The opposition Reform Party believes excise duty cuts are a far cry from measures to alleviate the coronavirus crisis, robbing the state of important revenue that could be used to help those in need. "I'm sure the voter likes cheap fuel, but the move is downright underhanded from the point of view of crisis management, MP Jürgen Ligi said.
Cutting the duty on liquid gas would lower the price of bottled gas by 5 percent for private consumers and cut the price on industrial liquid gas by 12 percent. The impact on the state budget of a gas excise duty cut for a period of two years would be €2.6 million. Lowering the duty on diesel fuel to the Lithuanian level (around 15 cents per liter) will have a considerable effect for fuel retailers and wholesalers as well as transport companies. Its impact on the state budget would be €158.3 million euros.
A lower duty on gas would help households save an average of €46 a year and leave industrial companies with a total of €2.7 million per annum.
PENSION
The state will be suspending payments into people's second pension pillar from December 1 this year until August 31, 2021. The end date is based on the coalition Isamaa party's election promise of rendering funded pension voluntary being passed and people who apply for leaving the second pillar in March 2021 being able to withdraw sums in September of that year. People will be compensated for frozen payments. The suspending of second pillar payments means that 4 percent of people's social tax contribution that used to go toward their pension will now be paid into the state budget to help cover crisis expenses.
Minister of Finance Martin Helme has said that suspending second pillar payments will reduce the state's expenses during the period in question by €345 million. "Freezing the pillar makes no sense, especially in a situation where compensation could later end up costing the taxpayer more than is gained now," Reform MP Urmas Kruuse said.
RURAL ENTERPRISE
Rural economy will be given €200 million through the Rural Development Foundation (MES). The opposition has said regarding this measure that it is not associated with the crisis. "When we were deliberating on the 2020 state budget, the rural affairs minister was denied a number of things because there were insufficient funds, while we now seem to be drowning in loan money and operating without fiscal rules, meaning that the crisis is used to pay for things that were previously left out of the state budget for lack of resources," Aivar Sõerd (Reform) said.
WAGE COMPENSATION
The Unemployment Insurance Fund will compensate salaried workers for 70 percent of their previous income but no more than €1,000 a month before taxes and no less than the average salary. The employer is obligated to pay employees at least €150 euros before taxes to qualify for the instrument.
HEALTHCARE PACKAGE
The Health Insurance Fund will be allocated €206.1 million for extraordinary expenses. These include, due to the emergency situation, first contact care, nursing care, specialist care, ambulance and expenses of hospitals, on medicines and regarding sick leave.
CULTURE, EDUCATION, SPORT
The culture and sports crisis package totals €25 million. Creative persons will receive €4.2 million in support. Amendments to the Basic Schools and Upper Secondary Schools Act will allow the government to alter the procedure of state examinations.
SOCIAL BENEFITS
During the emergency situation, people's degree of disability evaluation period, permanent incapacity for work expert analysis deadlines and incapacity for work evaluation deadlines for those who need it to retain social security will be extended. Health insurance will cover people who have no social tax contribution, while companies will be exempt from having to pay social tax in March, April and May of this year.
ASSISTANT POLICE OFFICERS
Assistant police officers will be given broader powers for the duration of the emergency situation. Their health checks can be performed by Police and Border Guard Board (PPA) occupational health doctors. The requirement of 100 hours of practical training between first and second stage of study of a police officer will be canceled. Assistant police officers will be given access to databases for identification purposes, allowed to pull over vehicles when ordered to by the police and prohibit people from staying in certain areas when working independently.
PERMITS AND CERTIFICATES
An expired health certificate will not be grounds for revocation of a person's driver's license for 90 days. Driver's licenses can be replaced or renewed without a health certificate.
Employers are not obligated to require health certificates from workers in the food sector, animal husbandry etc. The employee must assure the employer they are healthy. Health checks will need to be performed inside 90 days after the emergency situation ends.
Weapon's permits and activity licenses that expire during the emergency situation will remain in effect for the duration of the emergency and 60 days after it ends. Weapons will not have to be surrendered to the police during the emergency situation.
DATA
The range of persons whose location data can be processed by communication services providers to notify them of life-threatening events and forward guidelines will be expanded.
Managers of the emergency situation will be given the right to process information in state databases if it is necessary for resolving the emergency situation. In the current emergency situation, this will allow the Health Board and the PPA to react sooner to try and contain the spread of the virus and check whether people are complying with restrictions.
DEFENSE LEAGUE
Defense Forces members and active Defense League members will be given the same rights as assistant police officers when working under orders from police officers. Defense League members will quality for remuneration if they have no other source of income.
PRISONS, COURTS
An exception in the procedure of placing people in closed institutions will be introduced, with deadline expiration suspended for placing people in closed institutions and regarding preliminary legal protection.
FOREIGN LABOR IN ESTONIA
The government will be given the right to extend a short-term work permit by two years instead of one in an emergency situation. Registered short-term work permits are automatically terminated if the foreigner is refused a visa and has no legal grounds for staying in the country or if their employer registers them as no longer employed.