Jan Palmer: Aviation will not be the same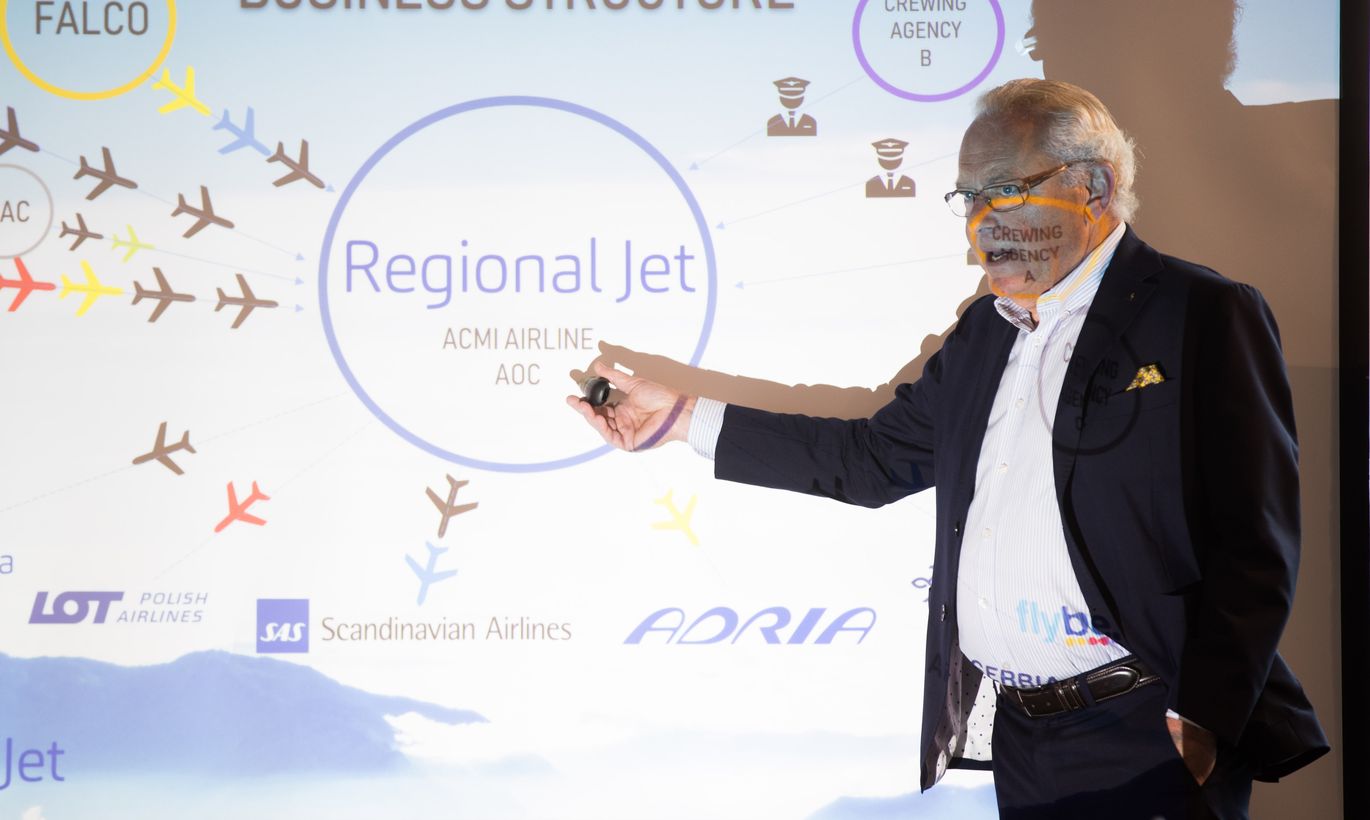 CEO of ACMI services provider Regional Jet, subsidiary of state-owned Nordica, Jan Palmer (69) says in an interview that the company can hold out for a few months before requiring support from the owner to survive. The experienced CEO says that the current crisis in aviation is unprecedented.
Have you ever seen anything like the coronavirus crisis during your years in aviation?
I have not. Yes, I've worked in the sector for long years and seen crises, but never on this scale. We had SARS and 9/11 that both affected passenger figures for a time, but neither crisis was even close to what we have today.
I have worked for several airlines where my tasks have usually included restructuration and helping airlines find their footing again. The most drastic decision I have had to make was splitting a company in two because the market was in such a poor state.
What we have today is going from 100 percent capacity to zero in a matter of two weeks. It cannot be compared to anything.
Regional Jet's business is operating aircraft and crews for foreign airlines, the company does not sell tickets. Does that make the current situation easier on you?
Yes, in a way. Airlines' cash flow usually comes from ticket sales and they've lost it now. Their situation is more difficult.
Our problems are different. Fixed costs, or planes and crews, make up 90 percent of our expenses. If an airline says they don't have any work for us, they can give force majeure as the reason. This allows them not to perform contracts.
For us, the biggest problem is adjusting to the situation and cutting costs, especially labor costs. The governments of Estonia, Sweden and Denmark can help us here as they have created support measures for labor expenses. That takes a lot of the burden off our shoulders and is very welcome indeed.
Our other major expense is our fleet as it is not really ours. We are in talks with leasing providers to secure payment holidays. We can hold out for a few months with the buffer we have but will need financial support from the owner should the crisis linger. If the crisis lasts for another three to five months, we will need state aid.
Can't you use the force majeure argument with leasing providers?
Not directly. They understand the situation, of course, but they are bankers and it does not apply to them. We are in talks with them and have found a good solution for now.
Does help from countries in terms of labor costs mean that you can avoid layoffs? Or will it be necessary to some extent?
We have decided to send employees on short-term leave. They will continue to get paid in part for three months. Labor support systems also differ from country to country.
However, we cannot lay people off because our clients have said they would like to return to us two to four months from now. We would not be able to start offering the service again so soon if we laid people off today.
What is the best-case scenario for Regional Jet today?
SAS is one of our biggest clients as they have a contract in place for the use of 15 aircraft. They have said they want to move forward with us as soon as possible. They are also giving us financial aid to make sure we will be able to start flying for them as soon as the crisis ends. This gives us a good base for weathering the situation.
We have asked governments for help with cash flow to manage the next two to four months. We have a plan for surviving in 2020. Things will start to normalize in 2021, but they will not be the same.
How much support would Regional Jet need to survive the crisis?
I cannot give you a figure. We have different scenarios. We were in a good place – we were making money and would have had a nice profit by the end of 2020. We need to survive this year to make a comeback in 2021.
How long will European aviation survive without state aid?
That is an excellent question. I am the chairman of the European Regional Airline Association and we are meeting regularly as everyone is facing the same problem. Some say they can only last a few weeks, while the average seems to be two or three months. The European Commission has relaxed state aid rules and given countries the green light for supporting aviation.
If an airline is owned by the state and has been given specific strategic goals, it is in a relatively stronger position. Smaller private airlines will find it very difficult to qualify for support. A lot of countries on the fringes of Europe, like Estonia, have strategic stakes in airlines and prioritize air traffic.
That said, we have already heard of government plans to support airlines. Denmark and Sweden are supporting SAS.
The Finnish government has also decided to support Finnair with a €600 million state guarantee.
Yes, they cannot survive without connections. Aviation is important for the economy. The situation is the same in the United States where airlines are also receiving support.
How many bankruptcies will we see in aviation during and after this crisis?
There will be quite a few bankruptcies in Europe. I believe that all strategic airlines will be given support, while many smaller companies are truly afraid they won't be able to pull through. I cannot tell you the exact figure, but I believe it will be in the double digits.
It is clear that airlines will not be able to offer the recent number of connections once the crisis ends. How long will it take for Tallinn to have as many destinations as it did before the crisis? Will it ever recover in recent capacity?
It will take time. I have lived in Estonia for seven years and the market here is small. Most airlines that operated flights out of Tallinn have suspended them and it will take a long time for them to return to Estonia as they have a lot of other things to do. They will need to take baby steps to rebuild themselves and their networks.
What do you mean when you say the market will not recover in recent capacity?
In a situation where aviation is largely made up of tourism and business flights, the latter will not recover to pre-crisis levels. Companies have learned to use other ways of staying in touch during the crisis and seen that it works well.
Talking to clients, it is believed we will see more one-day business trips. Business trips used to see the person spend the night, but companies will become more effective.
It will take a long time for holiday travel to recover. It will not happen in 2020, and we will rather return to recent volumes in 2021.
How many airlines will fly out of Tallinn after the crisis? Will airBaltic still be here?
I cannot tell you. It is possible they will return, but airBaltic has a lot of capacity in Riga and will have to rebuild their network. They had a strong foothold in Tallinn, so perhaps they will return. But they also have a lot of other problems to concentrate on.
AirBaltic had become the leading airline flying out of Tallinn Airport. It seems the coronavirus crisis has washed all their hard work away.
Exactly. These things are difficult to forecast. Should our parent company Nordica find that there are not enough connections out of Tallinn, they can start flying again and we can work for them.
I personally believe that it is vital to maintain a successful airline for the future. Especially from the point of view of the Estonian state. I believe Latvia and other countries in the periphery feel the same.
Will the crisis affect the price of airline tickets and how? What will happen after the crisis?
Rebuilding one's flights network takes money, but it also requires one to boost sales. You can always lower prices to boost sales, while airlines are also trying to make money. I believe prices will go down for a while, so airlines can get off the ground again.
Is there anything positive about the crisis?
Firstly, it demonstrates that airlines do not have sufficient buffers to manage such crises. We are very vulnerable to market changes. How to maintain such buffers is a difficult question to answer. Airlines' profit margins are a few percentage points during the best of times. It is not enough.
Competition is fierce in aviation, meaning that companies lack economic strength and reserves. The entire sector being able to hold on for just a few months is not a good sign.
I believe that a lot of airlines will be looking at their fixed costs and thinking about how to cut back. I believe there will be more dynamic contracts, so costs could be brought down in crisis situations.
The market will grow for Regional Jet as a flights operator. While it doesn't sound right today, it could be very positive for our future because there will be less competition and more demand. Major airlines are increasingly having ACMI lessors operate small aircraft for them and concentrating on major flights themselves. We are already the largest service provider in Europe, meaning we could do very well for ourselves once this crisis ends.