Commander of the Lithuanian Armed Forces: Abolition of compulsory military service big mistake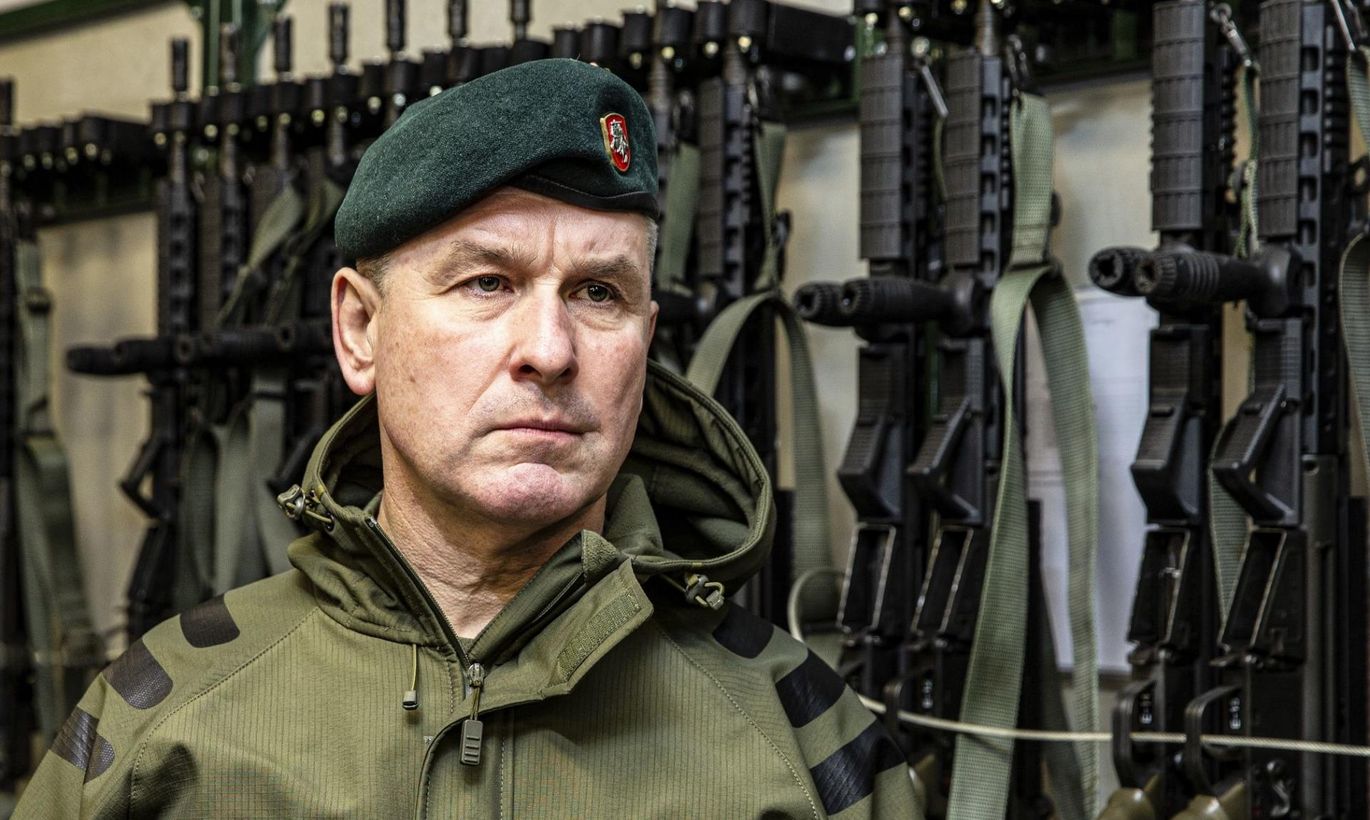 Estonia was lucky not to waste time on temporarily abolishing compulsory military service or maintaining a modest defense spending for years, Lt. Gen. Valdemaras Rupšys, commander of the Lithuanian Armed Forces, says in an interview.
You recently toured the Estonian Defense Forces with your colleague Maj. Gen. Martin Herem. What could he want that Lithuania has and what would you like to have that Estonia already possesses?
It was the purpose of my visit to get acquainted with your defense system and Defense Forces, with emphasis on ground forces.
I visited the Defense League and was greatly impressed. I noticed several aspects we could implement regarding our voluntary units, things we could include in training and the defense of Lithuania. I also realized that the Defense League and our volunteers are very similar and close.
Next, I visited Tapa to familiarize myself with your 1st Infantry Brigade, how its organized and its equipment. I also saw the British NATO enhanced forward presence battlegroup that also gave me new ideas. You have an additional group of officers in Tallinn helping to maintain direct contact between the Ministry of Defense and Defense Forces Headquarters. Our forward battlegroup led by Germany lacks such a link.
I believe it is something we should consider. But it also depends on the Germans; they might like having such a staff in Vilnius.
I saw a lot of good things. For example, the organization of your reserve system.
When I interviewed NATO Deputy Supreme Allied Commander Europe Gen. James Everard this summer, he said that the battlegroups in the Baltic region have developed like individual puddles, each going its own way. How much of a challenge do you consider this?
When it comes to Lithuania, the Germans have a slightly different approach from that of the Brits [in charge of the Estonian battlegroup]. Our battlegroup has a lot more countries – at least five in every rotation. Estonia only has the leading country [UK] and the Danes who will later be relieved by the French. It says a lot.
Prepositioned units depend heavily on political decisions in capitals. London and Berlin see some things differently that is reflected in military decisions concerning enhanced forward presence. Politicians could have limitations for the military. Even looking at just the battlegroup in Lithuania, different countries have different rules.
For example, the Dutch treat it like an actual mission, like Afghanistan; the Germans have a slightly more relaxed understanding of it and the Norwegians are simply on a business trip. While they engage in military training, their soldiers have no restrictions – they can spend their weekends touring Lithuania. It all depends on political decisions.
Keeping it all together might be quite a challenge for the Lithuanian commander.
The Germans are in charge of the battalion. I believe they are doing a good job and trust them. I'm glad our battlegroup serves under Germany and that we have units from the Netherlands, Norway and the Czech Republic, with the latter soon to be replaced by the Croatians. They are excellent soldiers.
However, looking at interoperability from a purely military perspective, it is difficult to achieve with several countries making up the battalion. It is perhaps easier in Estonia.
Are you happy with how compulsory military service is doing in Lithuania after it was restored?
Yes. I am very happy. Suspending compulsory military service in 2008 was a big mistake. Thank God Estonia didn't make that mistake. We lost some capabilities, skills to train young citizens. The connection between the armed forces and civilian society weakened.
When we set about restoring military service in 2015, we faced great problems. We had lost the ability to offer certain training in six years. It was not easy to restore military service in a situation where we were short on junior instructors, squad and platoon commanders. It took us almost two years to reach a certain level of training.
We are conscripting nearly 4,000 soldiers annually now, and 25 percent of people who complete military training sign a contract to become professionals. I'm very happy with that.
It seems to me that our Defense Forces are a little jealous of Lithuania deciding to boost defense spending after it was kept well below the NATO recommended 2 percent of GDP for years. Of the Lithuanians having more money now. How will you spend it? What are your main investments?
Just like it was with compulsory military service, we lost ground during years defense spending was modest. We are jealous of Estonians because you had funding and could develop your capabilities stably.
Our budget exploded immediately after the events in Crimea in 2014. It is growing rapidly, and we're close to 2 percent of GDP at nearly €1 billion.
Additional funding is very welcome. However, investing it and organizing procurements is not easy. We need to monitor compliance with tender laws etc.
We are trying to explain to our politicians that arms and other military equipment cannot be bought off a store shelf. Defense industries are having trouble manufacturing certain things fast enough as the previous decade also hindered their production capacity, even as concerns ammunition.
We have four main projects. The first is motorized infantry, meaning that we are buying Boxer armored fighting vehicles we call Vilkas (wolf – ed.). The second project is medium-range anti-aircraft capacity that is very important for the entire Baltic region.
The third is the general-purpose armored vehicles tender. We have signed an agreement with the Americans that will see us procure 200 Oshkosh trucks in the first stage. Fourthly, we have the helicopters project where we are buying Black Hawks from USA.
We will also be replacing one of our old minehunters, procuring ammunition for the artillery and are about to finalize a howitzer tender from Germany. We are set to take delivery of the latter this year, have already launched training, and the unit will be in full combat readiness by 2021.
Medium-range anti-aircraft capacity and the Black Hawk tender suggests you are already ahead of Estonia.
Time will tell what will prove useful. It will be good if it will add new or complement existing capabilities or contribute to allied cooperation. Every call has its pros and cons. Time will tell which will prevail.
To be honest, I always think Estonians are doing well and making wise decisions. We always see the good when looking from afar; the neighbors always have it better.
I saw your biathletes come second on Eurosport on Saturday. I was very happy for you but also a little jealous. On the military front, I'm always glad to see you achieve things. I know that Lithuania is safer when Estonia and Latvia are doing things right.
A press release by the Lithuanian Armed Forces suggests you came to Estonia to strengthen Baltic defense cooperation. How strong is that cooperation today and where could notable headway be made?
All three Baltic countries and Poland must think about defense on the regional rather than national level.
I'm glad I was chosen to command the armed forces last July because I see very positive attitudes when it comes to cooperation. My Estonian and Latvian colleagues and I are in the same boat, want to move in the same direction and share a similar cast of mind and perceived threats.
We need to think about how to further procurement cooperation – buying things separately means paying more for less. Perhaps we could cooperate here. If we can agree that all three countries need the same capacity, why not try and procure it together.
To start, we should discuss what is needed. If we find that all three need the same thing, we can decide to buy the same thing.
Operations planning is another thing; we should at least coordinate it and talk to allies in a united voice, not individually.
Gen. Herem will be going to Washington next month. He will meet with the U.S. chief of defense – a good opportunity to express not only Estonia's point of view but to speak for the entire region. I would not hold it against Martin if he said that we need permanent U.S. troop presence in the Baltics, not specifically in Estonia, Latvia or Lithuania. We are very interested in that.
When meeting with allied defense chiefs, I always try to address everyone's problems. I cannot say that Estonians need this or that, but I can say it would benefit the region.