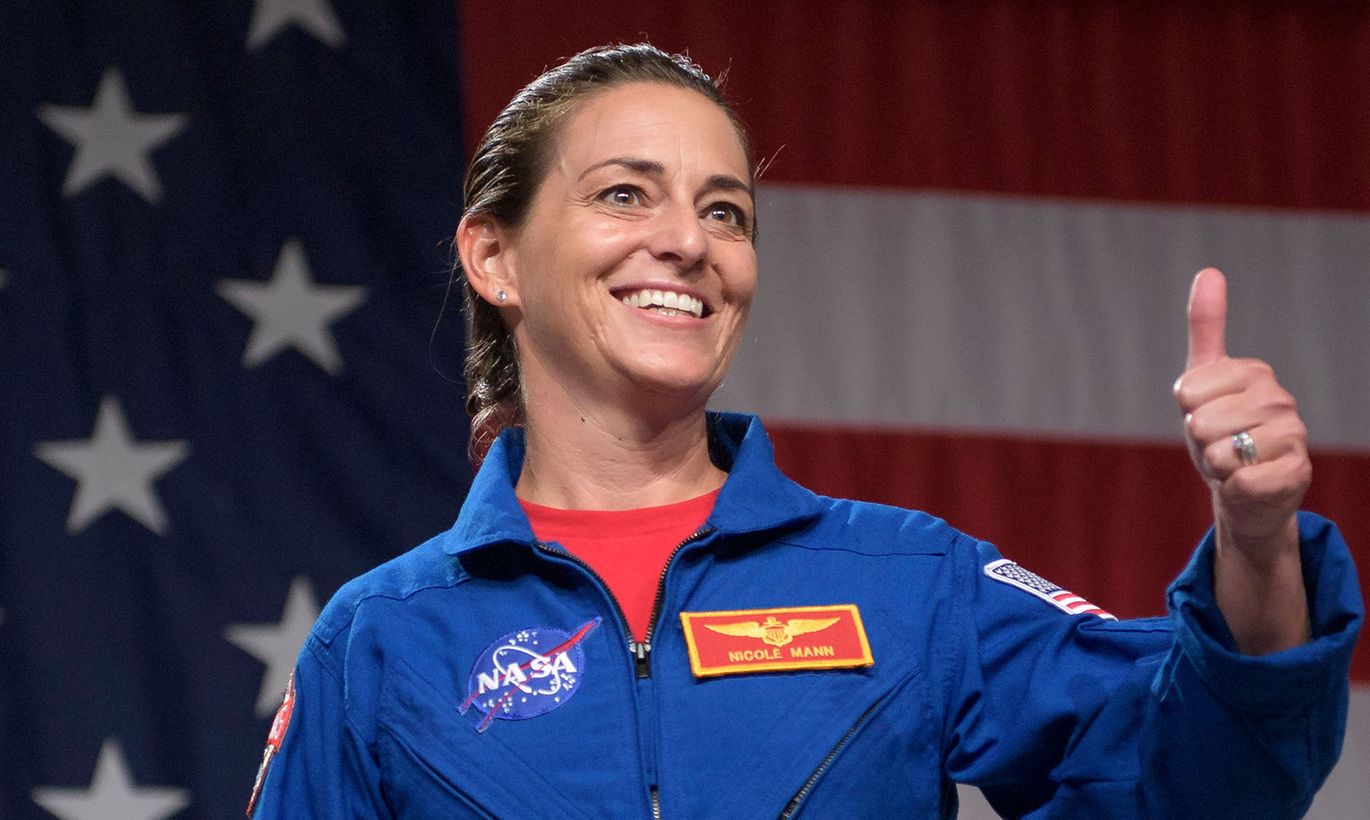 If everything goes to plan, Nicole Aunapu Mann (42), who has Estonian roots, might become the first woman to walk on the moon. However, she will first fly to the International Space Station as a test pilot of a new space capsule being developed by Boeing. Postimees visited Nicole Mann in NASA's Lyndon Johnson Space Center where she is undergoing training before the mission.
"Darling, we're moving to Houston!" Nicole told her husband Travis in a short phone call seven years ago. Travis realized it was time to put the champagne on ice. And sure enough, when Nicole got home from work that evening – she was working at the Pax River naval air station in Maryland at the time – the champagne was waiting for her.
Houston, Texas is home to the Lyndon B. Johnson Space Center that with its over 3,000 employees makes up a virtual city in a city. They have their own power station, police, communications and even a clinic. Its wide streets lined with parks often see herds of deer made up of several dozen animals.
Of NASA's ten space centers across the United States, it is the one in Houston that trains astronauts, runs space missions and studies moon rocks and dust. Nicole's phone call to her husband meant that she had just been selected to the recent astronaut training group. There were 6,100 initial candidates, while eight were selected in the end, including Nicole.
Nicole has completed her astronaut training by now and is preparing for her first spaceflight. She is part of a three-member team set to fly the new Boeing Starliner spacecraft to the International Space Station (ISS). NASA paid Boeing €4.2 billion for the development of the Starliner. Nicole and her team will be the first to fly it. If everything goes to plan, Starliner will become a kind of space taxi for both NASA astronauts and space tourists.
"It will be my first spaceflight, and I'm very excited," Nicole says in an interview to Postimees. Nicole is joined on the mission by commander Chris Ferguson and mission specialist Mike Fincke. Ferguson is responsible for the Starliner reaching its destination and getting back to Earth safely. The team will stay at the station for six months where Fincke will be in charge. Nicole is the Starliner's pilot. Both men are experienced astronauts.
"Naturally, being the rookie in the team comes with pressure, but I believe it will be healthy. It's the "train and don't screw up" kind of pressure," Nicole says, laughing. There are a million things one can screw up on a mission such as this one. "But our training is excellent, and I'm confident. I know that we'll be ready by the time we launch."
Nicole is one quarter Estonian. Her grandfather Helmuth Aunapu emigrated as a young man in the 1920s and finally moved to USA. He joined the Army and took part in World War II as a military engineer, earning the rank of lieutenant colonel. The war claimed the house of Helmuth's relatives in Estonia. The family escaped to Sweden before Helmuth's mother and sister also moved to the States. His brother joined the Red Army to save his family from Siberia.
Helmuth died when Nicole was just 11. "Unfortunately, I never met him and have very little direct knowledge of my family history in Estonia," she says. Nicole has not visited Estonia yet but it could happen after she returns from space. "I know we have relatives in Estonia. My older sister is just as excited about our Estonian roots than I am. I hope we can take the trip together."
Until then, Nicole promises to keep an eye on Estonia from the ISS. "I'm going to take a few good photographs for you!"
The launch date has not been set yet but will likely be in the next few months. By the time Postimees met with Nicole in Houston, two critical tests remained before the manned test flight. Both have taken place by today.
The first was to test the launch abort engines. "If something goes wrong during the launch, we have to quickly get away from the booster rocket. That is when the launch abort engines kick in, our capsule detaches from the booster and we parachute back down to Earth," Nicole explains.
The test was a success. The Starliner's engines accelerated the capsule to 1,046 kilometer per hour in five seconds – enough to escape the danger zone in time.
Boeing and NASA performed the second unmanned test flight immediately before Christmas. The aim was to send the capsule to the ISS and bring it back. Everything did not go according to plan this time. The Starliner experienced an anomaly causing it to use too much fuel immediately after detaching from the booster rocket. The mission was aborted, while the capsule was kept on a low orbit for two days to run as many tests as possible.
It later turned out to have been a problem of having the wrong time so to speak. When the Starliner detached from the booster, the mission timer thought the mission had already lasted for 11 hours and automatically switched on the regime for that stage of the mission. It remains unclear to what extent the mishap will affect the manned test flight. Head of NASA James Bridenstine said at a press conference following the test that the decision of whether to move on to the manned test flight or repeat the unmanned test will be made after a thorough data analysis. Both Bridenstine and Vice President of Boeing Jim Chilton said that the test proved largely a success, despite the timer error. "We nailed the landing, Bridenstine said. It is important because the Starliner is to become a reusable spacecraft. A single capsule must be able to make 10 trips.
Boeing and NASA created a special committee to investigate the timer error in January. The work will take approximately two months. "Right now, it seems we only need to change the way we fly. The hardware does not need changing," Chilton said.
The crew of the Starliner will continue their training in Houston in the meantime. When Postimees visited Nicole, she and Ferguson were practicing returning the Starliner to Earth in a special simulator. "We train different things every day, but I like all of it," Nicole says.
For example, the crew is practicing operating the Starliner, spending hours in an exact replica of the spacecraft. The flight to the space station takes a minimum of six hours. Every team member has a 3D-printed seat to fit their body to make the flight as comfortable as possible.
"We go through small scenarios, spend hours in classrooms. Then we have massive simulations prepared specifically for the Starliner by mission control. And then we have ISS training. We are learning to use the equipment there, how to service and repair it. There are also emergency situation trainings and research trainings because a lot of scientific experiments take place on the ISS."
Next come robotics trainings, spacewalk training and learning how to use the gigantic Canadarm robotic arm. Nicole is most looking forward to going on a spacewalk. "You put on your space suit and you're taken to the airlock that opens directly toward the Earth. Everyone says you feel like you're about to fall out because you're looking at our beautiful planet. But, of course, you won't fall but have to climb out yourself."
A single spacewalk usually lasts for six hours. They are used to repair or maintain the space station and its equipment. Nicole's classmate and good friend Jessica Meir and Christina Koch made history as the first women to go on a duo spacewalk just three months ago.
Nicole could also go down in the annals of space. Even though the U.S. media has reported Nicole could become the first member of the Mars mission, the astronaut does not believe that. The U.S. president has ordered man to set foot on Mars by 2033. Nicole believes her space years will be behind her by then. "One very important factor is radiation. It will depend on how many times I will have gone to space, but it is possible I will have filled my radiation quota by then."
However, Nicole is working toward becoming the first woman on the moon. "We want to go to the moon in 2024 and take the first woman there. The program at hand will definitely contribute to the moon mission happening. Once commercial operators take over low orbit flights, NASA can dedicate itself to the moon and next to Mars," Nicole says.
Before being appointed to the crew of the Starliner, Nicole worked on developing the Orion space capsule for the NASA Artemis program. The Orion spacecraft will take the next team of astronauts to the moon.
"But if they told you they wanted you for Mars, would you be willing to go?"
"Even considering how long and dangerous it is?"
"It would be the longest mission any astronaut has been on. As concerns safety, it is just as dangerous as any other spaceflight. I'm sure all the safety precautions will be taken and the mission will be safe and successful. The goal easily justifies the length of the trip. A sacrifice worth the effort."
Even though the crew of the Starliner was to spend just two weeks on the ISS initially, NASA recently extended the mission to six months. Nicole says there is a lot of work on the station. "Most of it has to do with research. The ISS is a floating microgravity lab. The tests run there couldn't be replicated on Earth," she explains. During their astronaut training, the trainees study gene technology and geology.
During their six months in space, the astronauts can have a video conference with family and friends once a week. Awaiting Nicole's return on Earth will be husband Travis and their eight-year-old son. Travis also has a U.S. military background and has gone on missions. "We are used to long missions. It is a new experience for our son as I have not gone on missions since he was born. He is at an age where he is just beginning to understand how important all of this is and is very excited – not because I will be away for six months, but the idea of space exploration," she says.
Every astronaut can take two shoeboxes full of personal items to the ISS. Nicole has already packed some of them. Nicole was the captain of the soccer team when studying at the naval academy. A soccer shirt with her name and number on it will be making the trip.
"I'm making a small talisman for my mother and sister to take with me. And I have still not decided what to take with me for my son and husband. I want it to be something special. My son wanted me to take Clifford the Big Red Dog (cartoon character – ed.), while he recently told me one evening that Clifford might be staying after all," Nicole laughs.