Estonian taxpayer subsidizing Chinese deliveries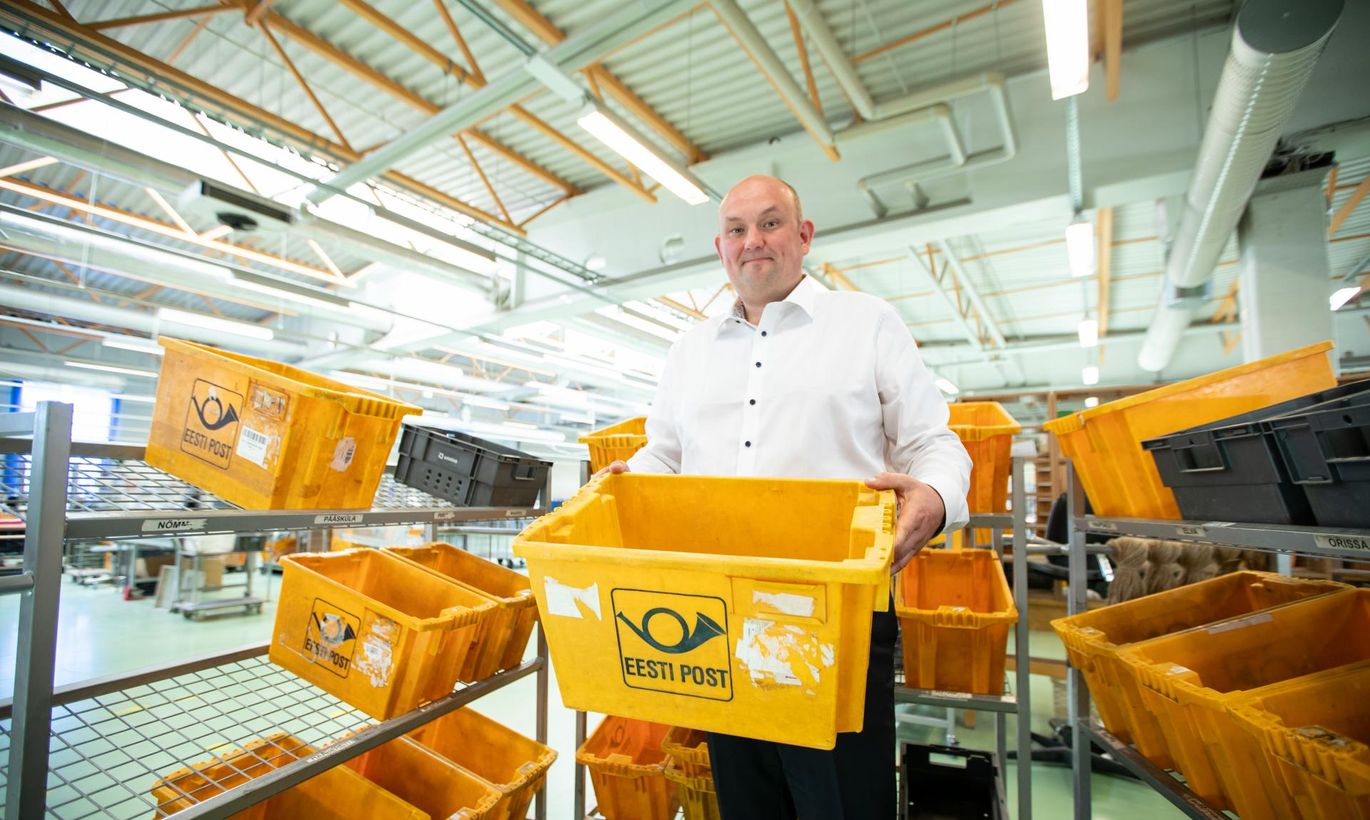 CEO of Eesti Post Ansi Arumeel says that the traditional national postal service is drying up so quickly that the entire system needs a complete overhaul.
Eesti Post is a major group. Please explain what it is you do.
The group is indeed made up of a number of businesses. Our strategy lists four major fields. First of all, we offer postal services to the Estonian people that is our historical main business. Our second major business is e-commerce or package delivery in Estonia, Latvia and Lithuania. That is where most of our turnover comes from.
The third business is similar to the second – global e-commerce services, including packages from China for example. Fourthly, we are in the information business as we offer companies digital exchange of date services. We have several faces.
How is Eesti Post doing financially? What were your results for last year?
I cannot reveal that yet. We have published our financials for three quarters – we made a slight loss (€700,000 – editor), while group turnover is growing. I can say that Q4 was somewhat weaker than we expected. This means that we made a loss last year. The last time that happened was a decade ago (€2.2 million in 2007 – editor).
Why did you close with a loss after all this time?
A challenge we've been facing in recent years is falling demand for traditional mail services – we simply send fewer letters. Estonia is a successful digital country which is something we're proud of, but for a traditional postal company, this means one fewer source of income. The rate at which physical letters are disappearing is among the fastest in the world in Estonia. We made a loss of €2.5 million on universal mail services in 2018 and another €2.4 million on home delivery of periodicals. That is a total loss of €4.9 million that tends to grow by around €1 billion every year. We have managed to compensate for this loss through other businesses in the past, but no longer.
You are still obligated by law to deliver mail to every county. How to solve this problem?
Allow me to give a few more examples. Estonians send fewer than two million stamped letters every year more than half of which get mailed around Christmas. If we divide that by number of people, we get 1.3 letters per average person. That is almost nothing. At the same time, we are operating a major network that works six days a week and must be able to reach all Estonian addresses. It takes 1,000 people and 650 cars. We drive 40,000 kilometers every day. Those are the conditions in which we operate.
How to remedy the situation? One thing we are constantly doing is adjusting the network by introducing shorter routes for couriers and merging routes. We are also contracting our network of post offices. However, these are but cosmetic changes on the backdrop of how quickly demand is falling. We need to fundamentally rework the entire postal system – consider people's needs and rebuild the system from scratch.
Why hasn't this been done?
We have managed to compensate for the loss with the help of free market services, mainly package delivery, so far. That has been the owner's expectation, for us to cover losses through other business. But it is no longer possible. Therefore, as I said, we need to reevaluate what it is we want. One option is to drastically reduce the number of post offices and mail carriers. The other would see the state pay for the losses.
The government has asked us for an analysis of how we believe things should be in the future. We want to present it to them in April. I would not go into further detail at this time, but we will offer a number of solutions.
While postal services are in decline, the package delivery business offers new sources of income. How do you plan to benefit from e-commerce and new technology?
We do have a lot of options before us. Technology has created e-commerce or the possibility of buying things online. Our package delivery business is growing by a few dozen percent every year. It is the most important area we're investing in. That said, it has its own problems.
Let us take for example goods from China. Omniva delivered over 11 million packages last year, while shipments from China accounted for six million of those. While this reflects people's desire and willingness to buy things online, it is a headache for Omniva because we are not being paid what it costs to deliver these packages.
Chinese goods arrive in Estonia based on universal mail service, meaning that the price of a delivery is determined by the national price of a stamp that is wholly outdated. Other countries are having similar problems. For example, the United States Postal Service lost $10 million a day last year! Donald Trump threatened to take the U.S. out of the Universal Postal Union provided there would not be changes. That would have collapsed the entire system. Luckily, it was decided to make changes.
Does this basically mean that the Estonian taxpayer is subsidizing people ordering stuff from China?
That is one way of putting it. Like I said, the price we can charge for Chinese deliveries does not begin to cover our costs. It also places local traders at a disadvantage. While an Estonian trader has to pay around €2.5 to send a package, delivery of a package from China costs less than one euro. It is unfair both for the taxpayer and Estonian traders.
Why on earth do they not change the system?
That would require an entirely new universal postal service price list, including what it costs to mail a letter. We have made a corresponding proposal to the minister and the government and are awaiting their reply.
We have talked about two businesses that are costing you money. Where do you make money?
We are making money in Latvia and Lithuania where we offer automated parcel terminal services. We grew by 30 percent in Latvia and 40 percent in Lithuania last year. We are profitable there. It was a bold move back in the day to expand to the southern markets, but it is working. We also have very high client satisfaction rates there. A Latvian study placed us as the eighth most loved brand, ahead of a lot of global brands. We also have an e-commerce payment's company called Maksekeskus that is also making a profit.
There are other package delivery companies. Why do we need a state company in that business?
Always a fair question. The parcel delivery market is booming and competition is very close in the entire Baltic region. It is up to the owner to decide whether we participate or not.
Could Eesti Post be listed?
Again, a question for the owner. But first we should untangle the postal service knot. The other question is whether and how many new businesses we should engage.
How do you manage in such a situation? You have to make the company money on the one hand and basically offer social services on the other.
Yes, we play a major public role – offering universal postal service all over Estonia. We need to keep it in mind. A large company always has a lot of interest groups to consider, Eesti Post doubly so. It adds complexity and clumsiness to the business, but it is something every executive must handle.
Politicians have set about politicizing the Appointment Committee that picks state company supervisory board members. Does that worry you?
We'll see. I believe the new committee will go about its work responsibly and find good people to serve on supervisory boards. I have to get along with the public and politicians in my work anyway. I'm not too worried about it at the moment. Rather, I'm concentrating on my work.
What should an ordinary person keep in mind when sending letters or parcels this year?
There are no significant changes. All services are working as per usual. However, I would like to urge people to always write the recipient's information on the package in a clearly legible manner and take care wrapping the package. It goes a long way.