PM: I have never been one to cling to a position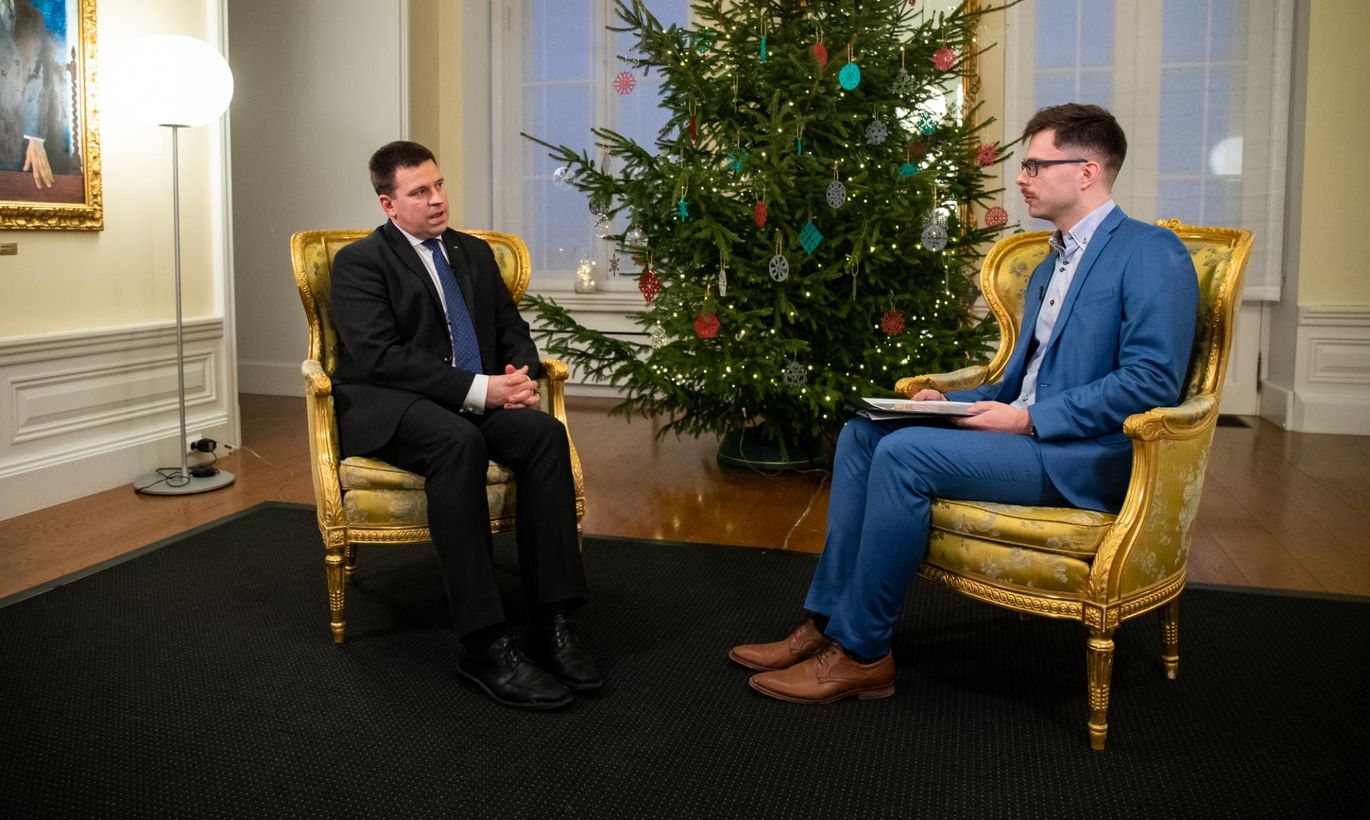 Prime Minister Jüri Ratas talks about economic growth and results of PISA tests that outweigh the government's shortcomings in an end-of-year interview to Postimees. Ratas also says that drawing lines in the sand will not go far.
Mr. prime minister, have you read today's (December 20) Postimees?
Is it commonplace not to have time to read the major dailies when one serves as PM?
It happens quite often on busy days. I visited Postimees offices this morning, what more is there to read. I gave a very interesting interview to Kuku radio (shares offices with Postimees – ed.). You have a beautiful new building and offices. It was a treat.
It seems that your attitude toward the press has changed this year. You used to have great respect for journalists, while you have been quite surly on several occasions recently. Which has changed, you or the press?
I still have great respect for the press and usually try to read the day's first newspaper overviews in the small hours. I respect the unspoken rule of the press serving as the fourth estate and believe it is highly professional in its work in Estonia.
The prime minister gives many interviews that have different makeups. Some are fast-paced, while others are more philosophical.
That said, I believe journalists can easily understand why it might be difficult for you to read the papers. We can't seem to get through a fortnight without someone demanding an end to the coalition. Critics say the coalition is virtually bulletproof because the PM is willing to do anything, no matter how immoral or destructive, to keep the government together. What is your reply?
I believe I have time to read the papers on most days. It happens very seldom when I do not read print newspapers. I also read the papers online. And we get all the major papers here (Stenbock House – ed.).
As concerns the coalition and my main motivation for serving as prime minister and head of the government it is to serve Estonia and its people. I have never been one to cling to a position or elbow my way ahead, but the supreme power vested in the people has elected the Riigikogu where political competition takes place and from which governments and oppositions are born. Looking at the government and opposition today, one change that has happened or is happening is that all parties can find themselves in one or the other.
I remember well how for ten years the Center Party was told we are not fit for government. And yet, people voted for Center to include it in consecutive compositions of the Riigikogu. I believe exclusion is not right. Perhaps that is my political creed, that you cannot go far in politics by drawing lines in the sand or excluding people.
Do you have any red lines? If I offered you the chance to silence your loudest critics by putting your foot down and describing a hypothetical situation where you would have no other moral option than to disband the government. What would that be?
That line in the sand, if it exists in Estonian politics, is when someone says Estonia should no longer be independent, democratic…
What about a member of the EU?
Should someone in my government propose Estonia leave the European Union?
Or at least voice support for such calls.
I would never support Estonia leaving the EU in the government.
In 2019, Estonia can say that we have been in the EU and NATO for 15 years. We can say they have been among the most successful years for us, economically speaking, while peace is even more important. Both international organizations have served us brilliantly.
You hinted that the government has given the Conservative People's Party (EKRE) the chance to share in the responsibility. However, it cannot be the main reason for the current coalition. Yes, politics is the art of compromise and there is no such thing as an ideal coalition, but what is greater than you and the Center Party that can be achieved with EKRE and Isamaa? And that can, at the same time, outweigh all the resentment the utterances and actions of members of the government have caused this year?
I believe no one can have the ideal coalition, and it is rather a good thing Estonia only has coalition governments. That is why coalitions need to be as broad-based as possible. The current government is made up of two conservative parties and a center-left party. I believe it has potential to represent a big part of society.
Concerning major things the government has changed in Estonia, the number one global change in 2019 is the environment. Reducing mankind's footprint. We are talking about major change. Estonia's energy portfolio is changing in a matter of days, not even weeks anymore. We need to switch from oil shale to other sources, primarily wind power in Estonia.
We have taken considerable steps when it comes to transport, electrification of the railroad and new trains.
I believe the Estonian society has managed good results this year. We have seen strong economic growth and our teachers have made sure Estonia can say it is on top in Europe and fifth in the world in PISA tests.
You like to talk about climate change and PISA test results a lot lately. Starting with the former, EKRE is the most skeptical of all parliament parties when it comes to climate change. If combating climate change is so important, shouldn't you make different decisions when choosing coalition partners?
I know the interviewee is not supposed to answer by asking questions, so I will not ask which government decided that Estonia will support the European Union's goal of achieving climate neutrality by 2050.
It was this government, made up of EKRE, Isamaa and the Center Party. And to think about who is responsible for the environment in this government, it is EKRE Minister of the Environment Rene Kokk.
You are suggesting EKRE have questioned the extent of man-made climate change and its effects. That is precisely what we asked at this spring's European Council meeting – time for an analysis. And we got one. We worked closely with the Estonian Academy of Sciences and its president. We organized a climate conference together with the Government Office.
President Kersti Kaljulaid recently told Postimees that she feels the government is a threat to constitutional order and national security. This criticism is mainly aimed at the prime minister. No president has said anything of the sort in the past. How do you comment?
I completely disagree with what the president said. The government today is acting as a guarantor of constitutional order and is doing everything in its power to reinforce national security and defense.
The president is the lighthouse that must do everything humanly possible – no matter how difficult the task – to keep society united. Naturally, I respect our president and her right to speak her mind, but facts speak a different language, looking at how Estonia has reinforced its position on the international arena in 2019.
Let us look at Estonia becoming a non-permanent member of the UN Security Council. A brilliant achievement by diplomats, the foreign service and many MPs. The president also contributed. There was strong competition from Romania in the last round, but Estonia prevailed.
I had the opportunity to visit USA a few weeks ago. There are great expectations and interest there for the Three Seas Initiative to be successful. This shows that great expectations are placed on Estonia in transatlantic relations.
You know very well that Estonia's security largely depends on our image that was undoubtedly delivered a blow by what Minister of the Interior Mart Helme (EKRE) said about the new Finnish PM. Do you maintain that the president's words were empty?
I believe that what Mart Helme said about Finland and their prime minister was inappropriate, unfortunate. And I cannot say it did not leave a mark on Estonia. Of course, it did.
Can a minister who behaves inappropriately be allowed to remain in office?
I had a serious conversation about it with the interior minister and he told the Estonian press that he apologizes to the Finnish PM. During our phone call (with Prime Minister of Finland Sanna Marin – ed.) we found that Estonia and Finland are very close partners and that this is what we will proceed from.
2019 marks your third consecutive year as PM. In addition to accumulating experience, I'm sure you've developed a feel for how the PM of Estonia should act in certain situations. How should a PM act when they realize that a risk taken by including a certain party in the coalition has not paid off as the latter simply cannot rise to the occasion?
The office of the prime minister comes with risks and responsibility every single day. There are no risk-free moments in this office. These could be risks in Estonia, the European Union…
Whether someone can rise to the occasion or not… Of what is that an assessment?
I meet with a lot of Estonian people who say the current government is the best possible option and needs to be maintained. Looking at ratings, many suggest the coalition is more popular than the opposition. Although, they also show the opposite from time to time.
Therefore, assessments depend on one's point of view.
However, at the end of the day, the decision is yours based on your sense of morality.
Next year will see an extraordinary pensions hike alongside annual indexation. The highest in the past 12 years – an average of €45 a month. For 12 years, the state has not found the means or the will to additionally hike pensions.
Looking at the economy, our companies have done a good job. We have undertaken major investments: the National Library, public broadcaster, National Archives.
We are fixing up police and rescue departments.
Adoption of the digital prescriptions system.
Continued salary advance for teachers – while it will be slower than in the three previous years, we will be able to give teachers an extra €65 a month. These are major changes.
They are indeed important things, but can you say that economic growth, a real additional pension hike of €7 etc. can only be achieved by the current government?
The government today was born out of an agreement between three parties. It became possible in political competition following recent Riigikogu elections where the three forces in question saw the most common ground.