Third of economic growth built on tears of Ukrainians in Estonia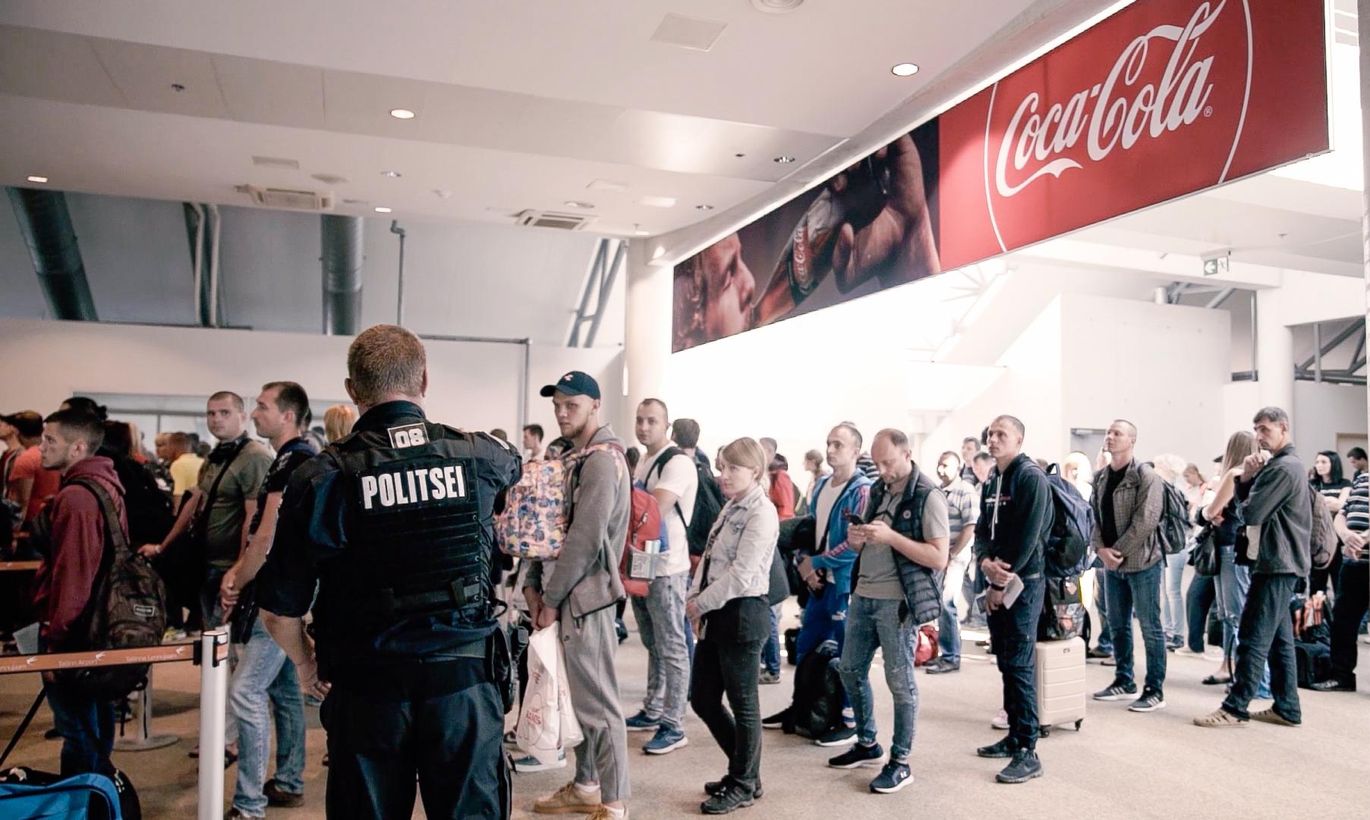 Ruslan Batovskyi (37) arrived in Estonia on August 6 last year. Batovskyi's road brought him here from the war in Donbas where he defended Ukraine from Russian aggression. Now, he needed to make money. There are few opportunities in a country where the average salary is just €400. Batovskyi – like thousands of his fellow Ukrainians – found an online ad offering work in Estonia. 
Batovskyi got a long-term Polish work visa (so-called D-visa) and arrived in Estonia through Poland. He met with brokers from OÜ Goodstaff who sent him to work in a muffler factory in the town of Tapa. "We signed an employment contract, but I still started working here illegally," Batovskyi says. The contract was null and void as it is impossible to work directly for an Estonian company with another country's visa. 
Owner of the Tapa muffler factory, OÜ Universal Industries, Jüri Vellerand says that 30-40 percent of his workers have been found using labor brokers. Vellerand refuses to name the brokers or answer whether his workers are paid fair and square. "I've heard there are different companies. Supposedly, the rule of thumb sees rental workers make €1,000 after taxes. That is what they get to send home. It's good money," Vellerand says. 
Postimees' investigation comes across over 1,000 active wanted ads almost all of which are looking for several people to work in Estonia. Most promise 250 or even 300 hours of work every week. While job seekers might be drawn to this because they are usually paid hourly, the hours are almost double what Estonian law permits. This translates into missed tax revenue for the state and health and occupational risks for the worker. 
This year has already broken all foreign labor records in Estonia. If in summer, the Ministry of Internal Affairs forecast 25,000-30,000 short-term workers for the entire year, over 32,000 had arrived by late November. Schemes described by many as "half-legal" often fleece both the Ukrainian workers and the Estonian state. 
600 sad calls a year
"I have never before seen so many men cry as I have recently," Sirle Blumberg says. Having run nonprofit Living for Tomorrow for years, Blumberg operates a counseling hotline for victims of human trafficking. When she first started, her callers were mostly Estonian workers caught in the gears of life in Scandinavia. Next came women who had fallen victim to the sex trade. 
Today, when Blumberg operates the hotline for the Estonian Social Insurance Board, most of the 600 calls she receives every year come from Ukrainians, Moldavians and Belarusians working in Estonia. Their concerns are similar to those of Estonians who first went to make their fortune in Finland. "They usually call on Friday evenings when they have not been paid for a long time and are no longer convinced by the employer's endless promises. They are starving and usually living in terrible conditions by then," she says. 
Blumberg has made it her mission to help people like that. She says that people are willing to put up with inhuman treatment for an amazingly long time. Almost every person she helps tells her that they have shared her contact information with someone else. "First, they just need someone to listen to them. Next, we can start collecting evidence on where they worked and under what kind of conditions." Only then can disputes be taken to the labor inspectorate. 
That is how it was for Ruslan Batovskyi. Goodstaff signed a contract with him that listed him as a construction worker. Batovskyi really worked at a factory. The contract suggested he worked eight hours a day from Monday to Friday. In reality, Batovskyi usually worked 12 hours a day and six days a week. The contract had a confidentiality clause, including a penalty of 12 months' pay. Batovskyi signed the contract, even though it was only written up in Estonian. 
Working long hours was not a problem for him because he was being paid hourly – €5 an hour. Longer days meant more money. He even got an Estonian D-visa in last December that made his working in Estonia slightly more legal. Problems appeared this spring when Goodstaff stopped paying him. The company ended up owing Batovskyi over €4,000. 
When he asked the tax board for a tax certificate, he was given a blank paper. Goodstaff had not paid a single cent in taxes. This also meant that Batovskyi didn't have social insurance. 
Postimees found another five Ukrainian workers stiffed by Goodstaff. One of them, Dmitri Matvichuk, was saving up to pay for his wife's cancer treatments. "We need the money for injections and pills, while you have decided you need it more than we do. I hope you will make the right decision and pay my husband what you owe him," Matvichuk's wife wrote to Tarko Tamman who runs Goodstaff. Unsuccessfully. 
Tarko Tamman is a man sporting a colorful past. He was sentenced to seven years in prison in 2004 for blackmail, robbery, threatening a person's life and several other serious crimes. His last name was still Meringo at the time. 
Meeting with Postimees, Tamman says he didn't pay Batovskyi and a few other men because they were not willing to wait and went to the inspectorate. "They knew the factory had not paid me, but they just couldn't wait. Had they waited [they would have gotten their money]." 
Tamman's handwriting is all over Goodstaff activities. The company sported sales revenue of over €500,000 last year while having had just 0-6 registered employees from one quarter to another. The company received a tax claim for €73,000 from the Tax and Customs Board last year, suggesting that simply not paying taxes was part of its business plan. Turnover took a nosedive from there. 
"Bailiffs are seizing my accounts. I believe the company will be shelved," Tamman said in September. And sure enough, three months later, Goodstaff's holding had been transferred to bankrupt taxi company OÜ Alantakso run solely by Lauri Hansberg – a man in whose lap such companies often land. 
The labor inspectorate did not keep tabs on complaints from foreign workers until recently because there simply was no need. However, it started this year and counted 157 applications in 11 months. That makes up 6 percent of all complaints, worth over half a million euros in all. 
Foreign workers usually turn to the inspectorate when employers refuse to pay them over allegedly shoddy work, Liis Naaber-Kalm, chief attorney for the agency, says. At the same time, foreign workers usually do not have legitimate contracts, while quality of work penalties must be agreed with the worker and documented. The allegedly shoddy work is not demolished and the building goes up. 
Employers often try to claim they are seeing the worker for the first time – as there is no written employment contract. 
The inspectorate has also seen cases where a foreign worker was paid the required average salary of €1,310, while they were told to withdraw half of the sum in cash and return it to the employer for "food and board." 
Estonia does not know how many illegal workers there are in the country. An estimate by the Ministry of Internal Affairs puts the figure at 1,000-5,000. No one could say what such a wide-ranging estimate is based on. The short-term workers register had over 32,000 people by late November. While that constitutes a record for Estonia, it does not include everyone working with Polish D-visas or people who only receive payment under the table. 
The effect of foreign labor on the Estonian economy has also not been studied in great detail. The Bank of Estonia's summer fiscal policy report suggested up to 8 percent of workers could be from third countries in the construction sector. The same report attributes a third of last year's economic growth of 3.9 percent to foreign labor. "Tougher immigration rules would have meant greater obstacles for hiring foreign labor that would have increased salary pressure and affected competitive ability of exporters," the document reads. 
University of Tartu Dean of Economics Raul Eamets described the central bank's analysis as simplified. "Bringing in masses of foreign labor will benefit us in the short term but cost us in the long one," Eamets says. "At the heart of the matter is lower salary that allows entrepreneurs to keep costs down artificially. It is a negative phenomenon in terms of innovation." 
Business trips from Poland 
Belarusian Andrei Tsishko (38) arrived in Estonia in November of last year. He is one of many who come to work in Estonia with a Polish D-visa. This means that he officially worked for a Polish company called Belos Revel that dispatched him to Estonia. It is a legal trick used by many firms. If foreigners who come to work in Estonia with a local D-visa need to be paid the national average salary of €1,310 a month, "Poles" can be paid that country's minimum wage of €510 plus tax-free daily allowance. Every such worker costs the Estonian state €600 in taxes every month. 
Belos Revel is owned by Estonians Oleg and Aksana Nurme. "Oleg told me that when crossing the [Belarus-Lithuania] border, I must tell the border guards I'm going to work in Poland. That I would be taken off the bus were I to tell them I was headed for Tallinn," Tsishko told Postimees. 
Poland opened its doors to Ukrainian workers back in 2006 when it felt local labor was in short supply. "The problem back then was agriculture," said professor of economics Pawel Kaczmarczyk from the University of Warsaw. "At first, permits were issued to 100,000-200,000 people a year. But the numbers skyrocketed once the Ukraine conflict began." 
Poland's national audit office published a report last year demonstrating the system's terrible weakness, according to which 72 percent of people who applied for a Polish D-visa never worked a day for companies that invited them. Two out of five companies that sought foreign labor lacked real business activity of any kind. One such company was registered to a bus stop. 
The number of visa applications grew by 200,000 ever year. Consular officers were drowning in paperwork. The audit revealed that an officer had 2-4 minutes to review a single application – hardly enough time to make sure all the boxed had been ticked but not enough to verify whether the information was correct. Staff didn't even have access to relevant databases to check the data against. 
Kaczmarczyk believes every fifth Ukrainian working in Poland is doing so illegally. The number of D-visas issued is growing and is estimated to hit 900,000 this year. 
No taxes paid 
Tsishko worked as a construction site plumber in Tallinn. He worked ten hours a day, six days a week for €5 an hour. Tsishko told Postimees he did not know he was working illegally until his salary started coming late and he took up the matter with Oleg Nurme. "When I demanded they hire our brigade [of six men] officially, they invited me to the office and fired me. They said I was too clever." 
Tsishko says that Nurme's companies in Poland have at least 100 Belarusians and Ukrainians working in Estonia. "Nurme's company is the first place for many. They come with a Polish visa. Then they start to look around for better pay and more legal employment." 
Just like Tarko Tamman, Nurme says he did not pay Tsishko because he had not been paid himself and because the Belarusian went on strike instead of waiting. In the altercations that followed, Tsishko allegedly broke down the door of a rental apartment and verbally abused Nurme. "You are protecting an asshole," Nurme tells the Postimees journalist. 
Nurme makes no secret of the fact that a lot of companies in this business do not pay taxes on employees' salaries. "A salary of €1,310 would see one pay €650 in taxes. Who wants to pay that?" he asks. He says that he pays his workers a combination of a salary in Poland and a daily allowance. "I do not think my actions harm the Estonian state. And if the state does, it's better for me to leave and spare my health." 
Postimees found nearly 20 Polish companies that have sent workers to Estonia in the past six months. Several were founded in the past two years and belong to Estonian businessmen. 
The first six months of 2019 saw 367 workers sent to Estonia from Poland officially. Experts of the Estonian Police and Border Guard Board (PPA) say that not all "business travelers" are registered. "While a Polish D-visa gives a worker from a third country the right to travel the Schengen area, they are only allowed to work in a different country for 90 days," said Emeri Põld, deputy head of the border and migration monitoring service of the North Prefecture. 
After 90 days, the worker should return to Poland for at least 90 days before they can be sent back. This means that it might be more useful not to start the clock. For example, the labor inspectorate's database has nothing on Tsishko being sent to work in Estonia. 
Over a thousand ads 
"Cement work, fixtures, shuttering. Pay: €1,500 a month. Living costs €100-150 a month. Working time: 250 hours a month," a wanted ad on popular job portal eurorabota.ua reads. 
Postimees found 1,019 such ads offering Ukrainians work in Estonia. Most have no expiry date and are looking for several people, an entire brigade for example. The majority of ads offer pay from €4 an hour and 250 or even 300 hours of work a month. Estonian legislation allows working up to 210 hours depending on the month. 
Postimees posed as a job seeker and contacted ten advertisers. All wanted €50-300 just for the chance to apply. While Ukrainian legislation requires citizens to have a contract in Ukrainian even if they want to go work abroad, brokers do not offer them. No advertiser agreed to reveal the name of the company that would offer the contract. 
"The employer will evaluate you. You will work without a visa for three months. If you can work, the paperwork will be taken care of and you can stay longer," said Jevgenya, spokesperson for job agency Nikiloz-job that is looking for forklift drivers for Estonia. She did not reveal her last name. 
"What if I can't do the work?" 
"Then you'll go back to Ukraine!" 
"Will the employer pay for the return journey?" 
Most foreign workers come to Estonia with a local D-visa. According to the law, they need to be paid the average salary that is €1,310 a month this year. Having them work 250 or more hours for the money is one way to avoid paying taxes. 
"There are people who work an insane number of hours to earn that money, while they are registered as working regular hours. Then you have people whose contracts suggest they are working part-time, making it possible to pay them less. And you also have people who are officially paid €1,310 and on whom taxes have been paid but who do not get to keep all of the money," Emeri Põld said. 
Short-term workers arriving in Estonia need to be registered with both the PPA and the tax board. When the latter compared their data to that of the PPA, they found the state has missed tax revenue of €16.5 million between October 2018 and September 2019. 
"Our analysis showed that two out of three foreign workers belong to the tax avoidance risk group," senior tax auditor Jevgeni Shoron tells Postimees. 
He admits the figure is conditional as it counts all those registered in the PPA database as full-time workers and fails to take into account if some of them never arrived in Estonia or spent time on sick leave. It also does not include people who never make it to the PPA's register – there could be around 5,000 of the latter. The state loses over €600 a month on every such worker that could amount to a monthly tax gap of €3 million. 
A new trend is for Ukrainian construction workers to come to Estonia as e-resident businessmen. In that case, they do not have a traditional employee-employer relationship but will be subcontractors to an Estonian client. They are their own employers and obligations pursuant to the Foreigners Act now rest on their shoulders and not those of the contractors they actually depend on. Ukrainian e-residents have created the most companies in Estonia. How many of them could belong to construction workers for the purpose of tricking the system is unknown. 
"I've seen a company of Ukrainian e-residents where the board is made up of a brigade of construction workers," Shoron says. 
Ihor Kozatchok (51) and his friends Rostislav and Sergei took a direct flight from Kiev to Tallinn on July 24. The men who are from Kherson in southern Ukraine had worked in Estonia before, but their visas expired and they went on holiday back home. 
The Estonian border guard was not convinced by their claims that they came here to extend their holiday. While they had a tennis racket and flippers with them, they did not have enough money for a holiday. The border guard also did not like the men staying with their old boss. 
The men were not allowed to enter the country and had to spend the night in the airport's international zone where they ate bread and baloney they had brought with them from Ukraine. They were forced to take the returning flight to Kiev two days later. 
The number of Ukrainians with Estonian entry bans is growing constantly. It was just 84 in 2017, while it was 574 after 11 months this year. "We suspect they are posing as tourists to come and work here," Põld said. 
The spike in entry bans is a sign of how quickly the number of Ukrainians coming to work in Estonia is growing. "This (airport entry bans – ed.) is just a drop in the ocean, because most people do not fly to Estonia. They come by coach or car," Liis Valk from the PPA's identity and status bureau says. "We have no credible data on the number of workers in Estonia. They usually do not cross the Schengen border in Estonia. We do not have a single solid metric for keeping tabs." 
And so it went for Kozatchok and his friends. They flew back to Kiev. Their Estonian boss drove there to meet them. They crossed the Schengen border in Poland and were in Maardu 24 hours later. "We are here! Just arrived in Maardu," Kozachok told Postimees in a text message at midnight on July 30. He said they were waiting for the boss to take care of paperwork before going to work in Finland on assignment from Estonia. 
Businessmen who tend to leave workers without pay often have several companies they use to offer Ukrainians work. If one shows up on the police or tax board's radar, it can simply be abandoned. 
Ihor Bolilyi and Oleksandr Pidvortchanskyi worked as welders for OÜ Flincona. The company ended up owing the former over €4,600 and the latter over €5,500. The men took the matter to the labor inspectorate that ruled in their favor. They handed the claim over to a bailiff but have still received nothing six months later. 
"The bailiff said that going to court is the only option left, but we cannot afford that," Bolilyi says four months later. Andrei Babulin who is behind Flincona has long since left the company's board and is taking out ads in Ukraine under new company OÜ Amfacon. 
Ruslan Batovskyi started working for another Estonian company after leaving Goodstaff. He went home to Ukraine when his visa expired on December 4. He says that he might be back next year. He has not heard from Tarko Tamman in six months. The bailiff says there is not much hope for getting the money. The next step would be to sue Tamman. 
The man came to work in Estonia to realize several dreams with the money he hoped to make. "I want to buy an apartment in Kiev and pay for programming and English classes." Going to court is a matter of principle for him. 
"I want to see this thing through. I feel I have been wronged as I was forced to work without pay for two months."