Aeg to 43 judges: concentrate, do not be emotional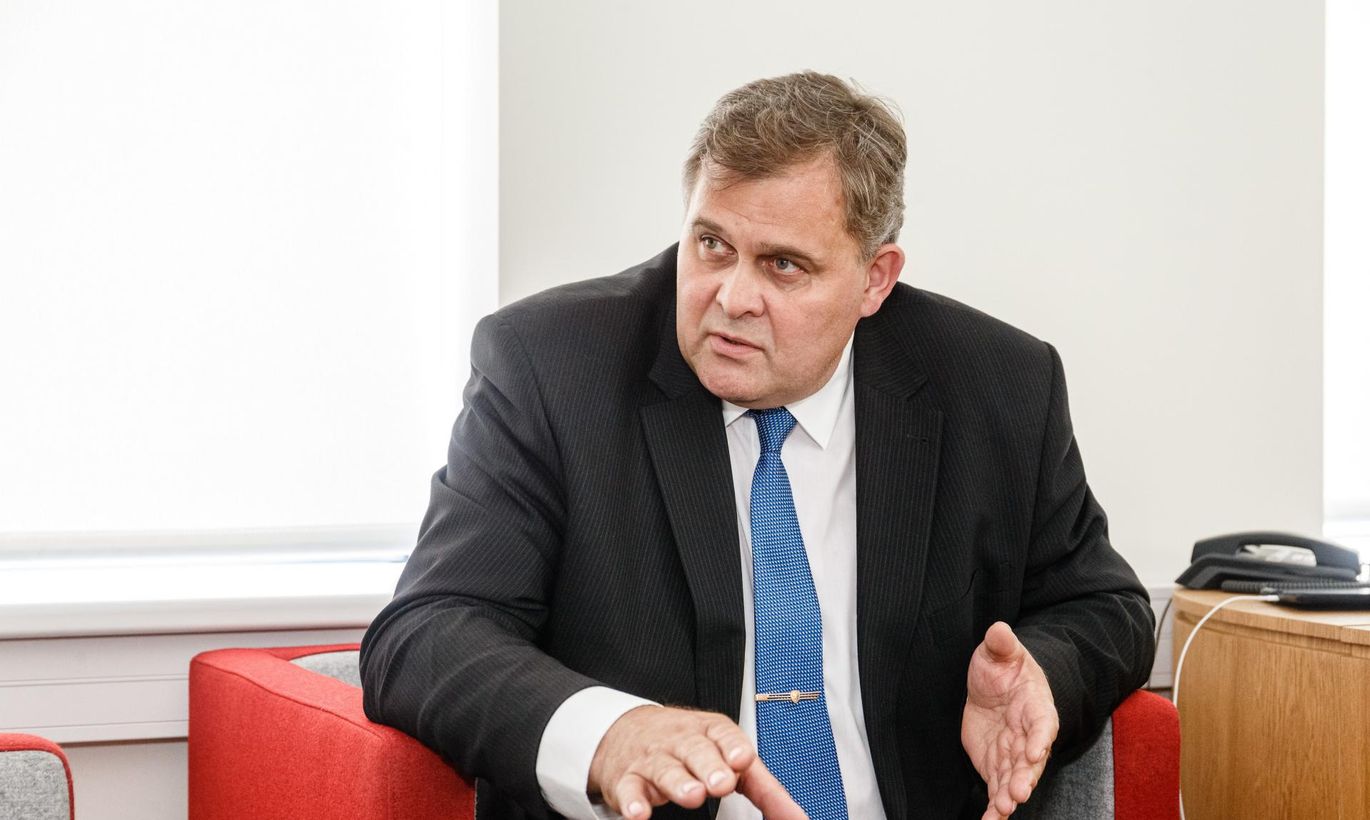 Minister of Justice Raivo Aeg finds that 43 judges' concerns over whether the minister's supervision proceedings are leading Estonia down the path chosen by Poland and Hungary is unfounded and judges have not taken the time to analyze the heart of the matter.
The concerned letter sent to the justice minister on Friday was signed by 43 justices of the Harju County Court that has a total of a little over 60 judges. A group of judges that were on holiday together could not sign the address.
Let it be said that the Ministry of Justice decided to restrict access to the letter for a period of 75 years.
An extraordinary meeting of judges held last Wednesday concluded that Aeg's plan to bring supervision proceedings in the form he has previously detailed in the media is contrary to laws and might constitute an attempt to subject judicial power to its executive counterpart.
"It was neither justified nor reasoned. Judges have obviously failed to analyze the matter in depth. Perhaps the meeting took a turn for the emotional," Raivo Aeg said when asked whether the judges' reaction seemed appropriate. "I cannot fathom how anyone could even come up with accusations that we want to somehow control or affect administration of justice in specific cases," he added.
The judges emphasize in their letter that the courts are not subject to the justice minister and there is no law that gives the ministry the right to exercise supervision over materials pertaining to individual court cases and collect data in the process. "Meddling in the independence of judges and the court as a separate branch of power is inadmissible based on both domestic and international law," they wrote.
Disputed figures
Chief Justice of Harju County Court Meelis Eerik said that he did not initiate the letter or help write it, nor does it bear his signature. It was purely the judges' own initiative as they cannot understand on what basis the justice minister plans to bring publicly announced supervision proceedings against the court.
Statistics previously referenced by Aeg did not reveal any reasonable grounds for it. The minister pointed out that in general criminal procedure – where the workload is heaviest and the cases lengthy and complicated – it takes the court on average 241 days to make a decision. However, the minister did not add a point of reference: the average for all Estonian courts is 244 days.
"I clearly indicated in the initial statement that we would be looking for answers to the question of why some isolated cases have been dragged out, while the average adjudication time of Estonian courts is on par with their European counterparts. Since 2015, the Harju County Court has seen the number of cases it hears fall by a third, while the average number of days it takes to adjudicate a matter has grown. Why is that? The court's resources are the same they were in 2015. With the number of cases falling, judges should have more time to concentrate on complicated cases," Aeg said.
Judges gave examples of statistics that puts the court on par with others. Harju County Courts handles 41 percent of all criminal cases in Estonia. 31 percent of its cases take over 100 days to solve, with the figure 35 percent for Tartu and 26 percent for Viru – while 27 percent of cases take longer than a year – 34 and 30 percent in Tartu and Viru respectively.
Raivo Aeg explained that there are individual pain spots that draw fire from society and the media. "If the criticism here is that we're following the path of Poland and Hungary and the justice minister has placed rule of law in jeopardy, allow me to ask in return whether a situation where cases take years during which the people involved are held in custody might be construed as being at odds with the principles of rule of law?"
Even though Eerik did not send the letter, he took comfort from Aeg's reply that same day where the minister assured the court chairman that he is not following the path of Poland or Hungary. Eerik wondered, however, why Aeg did not opt for a softer approach than public supervision proceedings the results of which could cost the chairman his position.
Aeg's decision from two weeks ago to summon Meelis Eerik to the ministry and notify him of supervision proceedings was preceded by a worried letter to Aeg from Chief Justice of the Supreme Court Villu Kõve regarding a protruded case where the accused has been held in custody awaiting trial for four years.
"I do not have enough information to claim that how Harju County Court is managed is the main problem, but I believe that an external and impartial assessment in terms of whether there have been efforts to ensure sensible time-limits on proceedings have been observed would be sensible," Kõve wrote to the minister.
Kõve explained in a written reply to Postimees that he did not deem it necessary to bring supervision proceedings against the chairman of Harju County Court but simply wanted the ministry to determine the reason for insensible delays in major cases and propose solutions. There is no other legal extrajudicial mechanism in place.
"An external evaluation would provide clear grounds for demanding additional resources or making proposals to render criminal law more effective. I perceived a problem in terms of major criminal cases piling up, nothing else," Kõve said.
Eerik said that the entire subject matter boils down to the fact the court needs a few more judges as judges who started their careers in the 1990s have begun to retire, with the trend set to deepen in the near future.
No more money
Aeg was reluctant to agree. "Suggesting more money is the solution is largely inaccurate. Resources don't grow on trees. We need to go over other options first. We do not have a big old pile of money in the corner, nor do we have a line of qualified judges outside the door," he said.
The justice minister did not give a clear answer of whether he was suggesting Tallinn could have more judges at the expense of other regions when talking about resource management.
"We are working on amendments to the Courts Act that would allow the forwarding of written proceedings to other courts. We are intensively thinking about how to normalize the situation.
Eerik said that moving judges between courts would require the approval of the Council for Administration of Courts that is made up primarily of judges and that no court would agree to give up judges willingly.