Oligarch and 860 million dollars – Swedbank's risky secret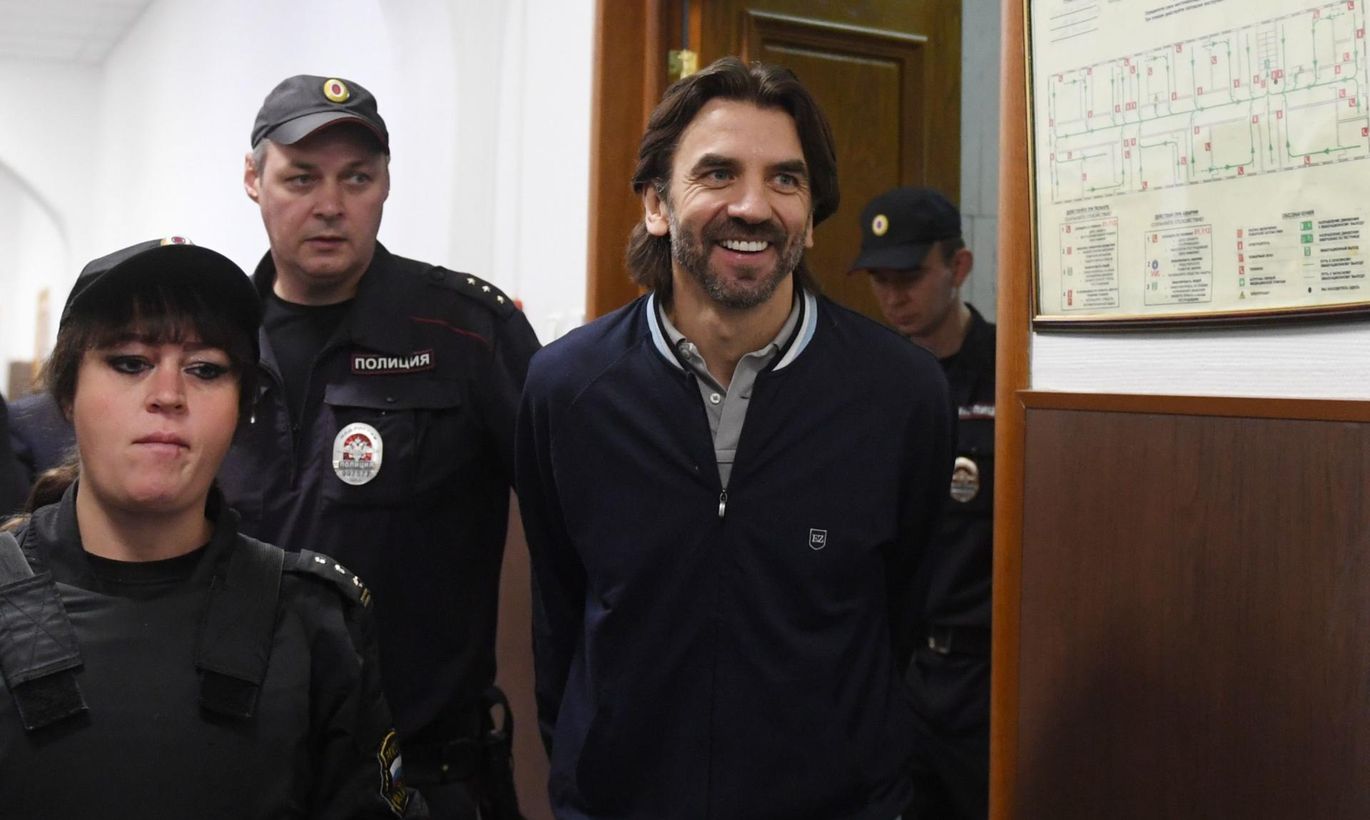 Swedbank Estonia catered to Russian oligarch and former minister Mikhail Abyzov for years. Over a relatively short period of time, Abyzov brought to the bank 70 offshore accounts with ties to the oligarch that received a total of $860 million.
Around $770 million was moved out of the accounts in over 3,300 transactions. As a minister for the Russian government at the time, Abyzov was prohibited from doing business, while a Swedbank in-house report suggests the bank hid beneficial owners of high-risk nonresident clients (HRNR) from the Russian authorities and tax board.
Swedbank's clients include companies that lie at the heart of Abyzov's (who has now been arrested and stands suspected of large-scale fraud, money laundering and forming a criminal organization) criminal case in Russia, an investigation by Postimees, Swedish public broadcaster SVT, Novaya Gazeta and OCCRP shows.
Accounts of Abyzov's companies in Swedbank were managed by Estonian Aleksei Averson. The report commissioned by the bank found signs suggesting illegal activity in Averson's work and recommended Swedbank notify the authorities immediately. The report suggests Averson was found to be in possession of a PIN calculator used to make transfers for one of Abyzov's enterprises.
"Several employees [of Swedbank Estonia], including client managers and members of the high-risk clients admission committee and the management board decided to take on HRNR clients despite the fact they did not meet basic standards of the 'know your client' principle. A part of HRNR clients were protected from the Russian authorities, including the tax board," Norwegian money laundering expert Erling Grimstad wrote in the report commissioned by the bank's headquarters.
Grimstad added that "said employees agreed to hide beneficial owners when registering them with the bank that created the risk people subject to sanctions could not be identified." The report has led to a heated relationship between the Swedish prosecution and Swedbank as the bank refused to hand over the document in spring. Next, Swedbank did not allow investigators to question Grimstad, pointing to attorney-client privilege. The bank only agreed to Grimstad being questioned in September.
Everything points to Abyzov having had a person working for him at the bank. "A client manager was found to be in possession of a PIN calculator of one of Abyzov's companies. The same PIN calculator was used to make transfers from the account of a company owned or controlled by Abyzov," Grimstad's report reads.
In the world of banking, politicians and their family members are known as politically exposed persons (PEP). Banks are expected to keep an especially sharp eye on clients associated with PEPs to identify potentially corrupt transactions. Grimstad's report suggests Swedbank didn't. "Swedbank Estonia offered and mediated services, including suspicious transfers and activities, to high-risk nonresident clients."
Client manager becomes director
The Swedbank employee in possession of Abyzov's company's PIN calculator was Estonian Aleksei Averson. He was the client manager of several other noteworthy nonresident clients and their companies.
Averson left the bank in early 2017 by which time all of Abyzov's accounts had been closed. He became the director of Anduril Enterprises Ltd. in Cyprus two months later. Grimstad's report and documents from the Cypriot business register tie Anduril to Abyzov.
Averson pops up in another Swedbank in-house report. "Discussing a transfer with a colleague, Averson said 'it is not the cleanest transaction'," the report reads.
"In a separate discussion, Averson tells his colleague that a transfer received by an unidentifiable company was reported as for the purpose of gas transport services. It left [the same company's account] as a 'down payment for stationary goods.' Averson described the transfer as a fairy tale.
Postimees asked Averson, who lives in Viimsi, for an interview several times but was turned down. The former Swedbank employee agreed to answer in writing after being given access to documents that concern his person. Averson agreed to come to Postimees to read the documents but demanded not to be met by journalists.
The editorial desk's assistant gave him the documents in a closed envelope, with Averson allowed to read the documents on location and only take written notes. Averson later described the documents' contents as fiction.
Averson did not answer individual questions in subsequent correspondence but only formulated a general comment, saying he doubts such reports even really exist.
"I am absolutely convinced that the authors of these reports – whoever they are – have absolutely no proof to substantiate these allegations. They also lack knowledge or simply do not care about applicable laws and regulations [banking secrecy and duty of confidentiality]," Averson wrote in an email to Postimees.
He said he attended several job interviews when it became clear by late 2016 that Swedbank would close its nonresident business. I was made one of the two directors of Anduril Enterprises Ltd. two months after I left Swedbank. I worked for the company until I left in July of 2019."
Averson denied having made transfers for clients using their PIN calculator. "The accusation is false and has been rejected," he said, adding that it is a fairy tale dreamt up by the report's author.
Anduril Enterprises is registered in Cyprus and is one of 70 companies directly associated with Abyzov in Grimstad's report. The company's primary asset is its Italian subsidiary Villa Il Tesoro Societa' Agricola. Even though the Italian company lists agriculture as its main activity, in reality, it owns a luxury villa in Toscana. The name of both the company and the villa translates as "the treasure."
When Abyzov became minister in 2012, Il Tesoro was valued at €9 million in its annual report. Several million euros were invested in the villa every year Abyzov served as minister, with the latest report from 2016 showing it to be worth €20.6 million.
Two years ago, Russian opposition politician Aleksei Navalny published a drone video of the villa on YouTube. The video shows a helicopter landing pad, golf and tennis courts, fountains, an artificial lake and olive orchards and vineyards next to the buildings.
Documents suggest Anduril has changed hands several times. Every new owner is listed as a Swedbank client in Grimstad's report.
Lecho paved the way
Mikhail Abyzov's (47) career is rather characteristic of the turbulent early 1990s in Russia. He went to study at the mechanics-mathematics faculty of the Moscow State University in 1989, but it quickly became clear Abyzov would not be graduating. Instead, the young man plunged into the world of business.
Abyzov started his first company called Intershops that traded in Turkish consumer and stationary goods in his freshman year. He made $500,000 as a broker on the commodities market in 1991. A year later, Abyzov and his schoolmate started importing lecho, cigarettes and brandy from Bulgaria. The company's revenue quickly grew to several million euros.
From lecho and brandy, Abyzov quickly moved to where the real gold-mine lied: the fuel and energy business. In 1996, he founded fuel and energy company ORTEK the sales revenue of which quickly exceeded $100 million.
Not everyone was able to pay ORTEK on time. One such client was the Novosibirsk Oblast that faced a fuel shortage before seeding season. Abyzov offered a deal: he would supply the farmers with fuel if the oblast put up its stake in Novosibirskenergo as collateral.
The latter company owned five combined heat and power plants in the region. The company is called SIBEKO (Siberian Energy Company) today. The oblast leaders took the deal, hoping to pay ORTEK back after the fall harvest. But they couldn't and shares went to Abyzov who quickly proceeded to acquire the majority holding from small shareholders.
Novosibirsk energy companies became the heart of Abyzov's rapidly growing business empire and soon propelled him onto Forbes' wealthiest Russians list. At the height of his business career in 2012, Forbes estimated Abyzov to be worth $1.3 billion that was good enough for 68th place. President Dmitri Medvedev appointed Abyzov as minister of open governance in May of the same year. He served as minister for six years.
Immediately after going into politics, Abyzov started opening accounts for his offshore companies at Swedbank Estonia. Twenty-seven accounts tied to Abyzov's companies in Cyprus, British Virgin Islands, Singapore and Belize were opened between December 2011 and the day Abyzov took office. Another 42 accounts were brought to Swedbank after he became minister on May 21, 2012, Erling Grimstad's report shows.
The investigation by Postimees and project partners shows that at least half of the 70 companies in question owned or still own assets in Russia, including in the energy, food, medical and computer technology sectors.
Busy covering tracks
Abyzov hid his interests behind imaginary transactions. For example, several firms registered in Cyprus exchanged shares of OAO Elsibi in Novosibirsk. Elsibi is among the largest power plant equipment manufacturers in Russia.
In 2014, Tekina Consulting Ltd sold its stake in Elsibi to Vramirca Trading Limited. A year later, another Cypriot company, Tefaro Commercial Ltd, increased its stake in the factory. Zerel Investment Limited, registered in the British Virgin Islands, and Nimerkenti Holdings Limited from Cyprus sold their stakes in Elsibi to Sibeko (Cyprus) in 2016. Another year on, four Cypriot companies bought 94.98 percent of the plant. All of these companies were clients of Swedbank tied to Abyzov by Grimstad.
Deputy head of Transparency International Russia Ilya Shumanov said that Russian businessmen use offshore companies to reduce tax obligations, hide business activity from the public or take advantage of other countries' justice systems that tend to be more predictable.
"In this case, a part of offshore transactions could have served the purpose of moving assets out of the country and hiding the fact their real owner and manager was a public servant," Shumanov said.
"During the time Mikhail Abyzov served as minister, he was prohibited from doing business either personally or through straw men, including offshore companies. It is likely he was behind moving all of these assets abroad and supplied the initiative."
"The reason why someone would have so many accounts is to hide the location of the money. Both from Western and the Russian government; to be able to move money around as smoothly as possible and have it governed by another country's laws," security and Russia expert Mark Galeotti told Swedish SVT.
Mikhail Abyzov's luck started turning in 2015. First, he got into an argument with Russia's leading commercial bank Alfa-Bank over debts owed by his energy holding company E4. A year later, Abyzov's Sibeko wanted to hike the price of electricity by 15 percent in Novosibirsk. This resulted in seven mass protests in five months, with the authorities finally agreeing to a 4-percent hike. That was the reason for Navalny's drone video of the villa in Italia on YouTube – showing where the money from the price hikes was ending up.
Next, Abyzov fell out with one of Russia's most influential businessmen Viktor Vekselberg. The latter sued Abyzov for around $500 million. Abyzov filed a counterclaim.
Russian publication RBC wrote that it was Abyzov's conflict with Alfa-Bank that caused President Vladimir Putin to leave him out of the government in 2018. Abyzov fell from grace and was arrested on suspicions of forming a criminal organization and large-scale fraud worth $60 million on March 26 of this year. Suspicions of money laundering followed in summer.
One of the companies central to the criminal investigation is Blacksiris Trading Limited, another Swedbank client in Estonia. According to the investigation's version of events, Abyzov used Blacksiris to move around $60 million out of Russia.
Detectives believe Abyzov ordered the shares of four energy companies to be put up for auction as minister. They were valued at 156.1 million rubles in total. Abyzov then had agents create an offshore in Cyprus. Enter Blacksiris Trading that won the auction with a bid of 186.23 million rubles. In the months that followed, Blacksiris merged the businesses with four shelf companies and sold the whole set to SIBEKO and RES for over 20 times what he had paid for them at auction. The investigation suggests the prices were seeming and that energy supply security was placed at risk by taking four billion rubles out of the regional energy supplier.
No comment from Swedbank
The first recommendation of Erling Grimstad's report was to immediately notify Estonian and Swedish authorities of its findings. The Estonian prosecution said it has not received a single report of criminal offense from Swedbank since December last, which is when the report was finished.
Swedbank Estonia refused to answer a single question, pointing to outstanding proceedings in Estonia and Sweden. Former Swedbank Estonia CEO Robert Kitt, in charge of the Estonian branch in 2018, said he has not been shown the report.
Kitt claims he learned of the report's conclusions from the press. "I repeatedly asked [the Swedish headquarters] for the report, but it was never given to me. I concluded that had it been important, the supervisory board or shareholders would have shared the report with me."
CEO of Swedbank Group Jens Henriksson did not wish to comment on matters tied to specific clients or employees in an interview to SVT but said that all information would be added to the ongoing internal audit.