Storm disrupts vital services in south of country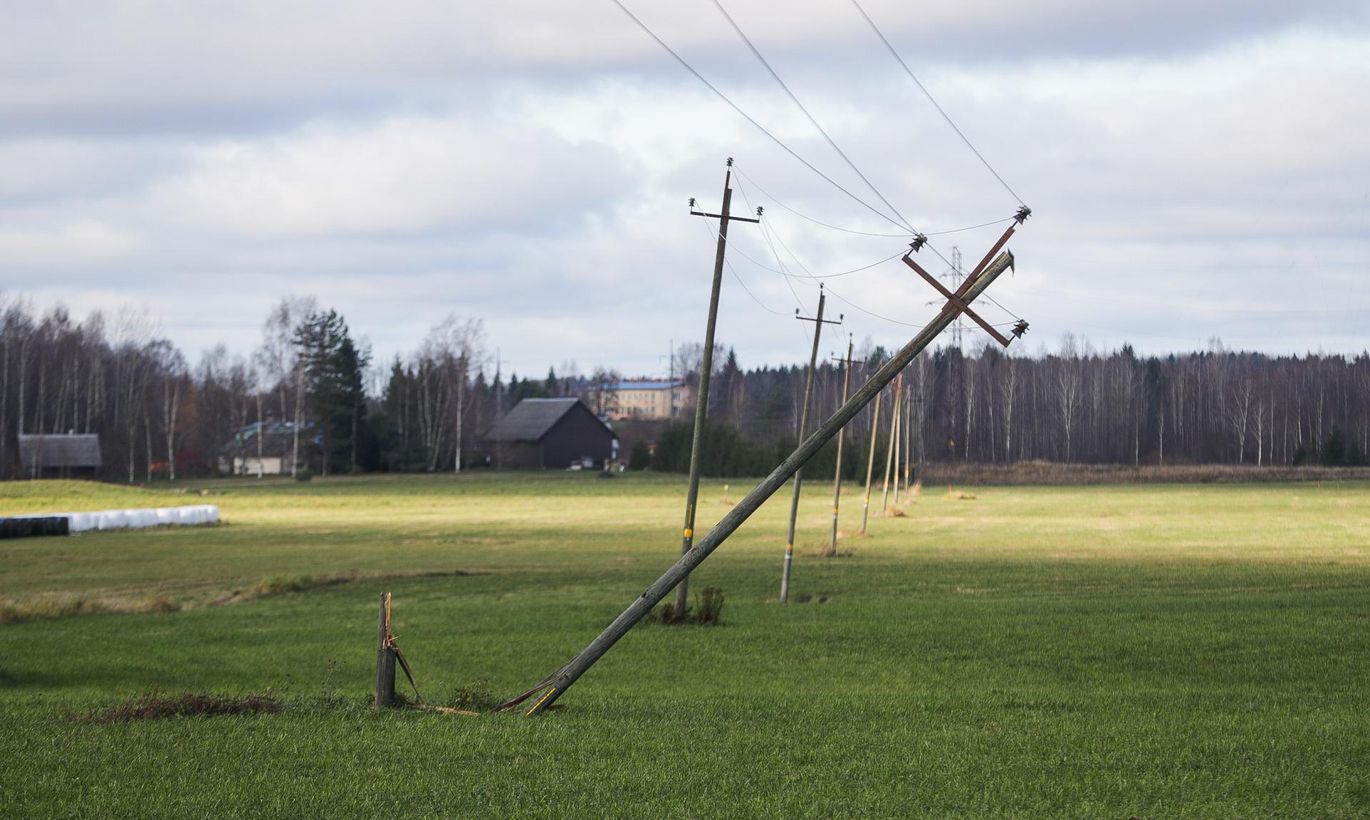 The National Audit Office warned as recently as in August that state institutions are not prepared for emergency situations. More than one vital service was unexpectedly hit over this weekend.
Transmission network operator Elektrilevi reported the largest blackout in years that left over 61,000 households without power on Sunday. The storm that swept across the south of Estonia robbed key institutions of motor fuel, mobile service, heating, internet access and water. The storm also claimed a life when a man was hit and killed by a falling tree in Räpina.
Elektrilevi: Exceptional storm
The Sunday storm was ordinary in some ways and extraordinary in others. While such tempests are commonplace on the coast, winds hit landlocked South Estonia the hardest this time.
It seems that this extreme weather was not anticipated by Võru roofers as the local switching station's tin roof was torn off and landed in a nearby cooling device that fried the entire network.
The result was a complete blackout in the city, including the local hospital. But the power also went out in other places and there were plenty of tense and absurd situations all over.
Border guard officers working at the Luhamaa border point discovered they had no internet connection yesterday morning. It turned out networks operated by the State Information System's Authority (RIA) had failed. While communication nodes have backups, the latter were also offline. This meant the border point had to be temporarily closed. It constitutes a serious problem that affects the entire country and its security in the 21st century. Queues of people looking to cross the border were formed. Hospitals and schools also lost internet access.
"Data communication is disrupted or down in around 30 locations," RIA communicated at noon yesterday.
The agency's specialists had no way of bringing systems back online without Elektrilevi restoring power first. Spokesperson for the Ministry of Economic Affairs and Communications Laura Laaster said that generators' batteries will fail after two or three hours if there is a power outage that affects state network nodes. She said that more capable backup systems would require additional investments.
Jaanis Otsla, head of the Ministry of Internal Affairs' rescue and crisis regulation policy department, said that power companies are the most vulnerable link in the chain.
The grid could be rendered stormproof if all power lines were installed underground. That is something the consumer could likely not afford, especially in sparsely populated areas. The choice is whether to have an immensely expensive grid or risk losing power if there is a storm.
Could we do better? CEO of Elektrilevi Jaanus Tiisvend emphasized that the Sunday storm was exceptional and difficult to prepare for. He does not see how more could be done.
"The last time we had a storm like that was in 2010," he said. Tiisvend added that the Elering substation accident in Võru County was also very rare. The incident caused a delay in repair work as it was initially difficult to understand what exactly had happened.
Tiisvend said the situation is improving. Elektrilevi constructs over 1,000 kilometers of weatherproof grid every year, which has cut the number of outages three times in the past eight years.
"That said, it will never be 100 percent foolproof. Storms like these serve to illustrate that fact."
Jaanis Otsla explained that duplicated networks would make it possible to use backup switching stations. Such a solution was installed in Kõpu village recently but was not yet operational due to delays, meaning the village also lost power.
Rescue workers tasked with clearing up storm damages were also waiting for the power to be restored. They had to solve nearly 500 situations on Sunday. The Rescue Board had trouble refueling its trucks in Viljandi County as gas stations had also lost power.
Local paper Sakala writes how a rescue truck from Mustla drove to an Olerex filling station in Mustivere only to discover it could not refuel because there was no power. Rescue vehicles need to be kept topped up for emergencies. Mustla rescuer Tõnu Voltein said they wasted an hour on the empty trip. "It's a disaster," he said.
Effects of climate change
Director General of the Rescue Board Kuno Tammearu believes Estonians need to get used to increasingly extreme weather. "Extreme circumstances, like what we saw this Sunday, will become more frequent – long dry or very wet spells, extreme cold and storms. We need to count on them and be better prepared. You cannot reverse climate change and the only way to deal with it is to adjust," Tammearu said.
Medical institutions that were the focus of the recent National Audit Office report were also affected. The South Estonia Hospital was powered by backup generators yesterday, which meant that the hospital could not admit new patients.
The Health Board estimates that hospitals would need a total of €21 million to be fully ready for crisis situations.
Major hospitals can weather a crisis independently for three days, while smaller ones can hold out for 16 hours. The South Estonia Hospital was without power for eight hours this time.
"The conclusion we need to draw here is that disruptions to vital services are real and directly affect hospitals' work," said Martin Kadai, head of the emergency medicine department of the board.
The previous major storm that hit Estonia in January was also described as a cautionary example of internal security and local government preparedness (or lack thereof) for crises. Back then, 10,000 households were left without power in Saaremaa. Gas stations could not pump fuel, mobile service was patchy, kids were sent home from school, card payments did not go through in shops, business was done in candlelight – just like this time. Agencies concluded it was a cautionary example. "It was a light warning but a universal one," Otsla said back in January.
The January storm was used as study material for local governments, while conclusions drawn from the Sunday storm will likely be turned into lessons as well.