Budget logic: a single euro better than nothing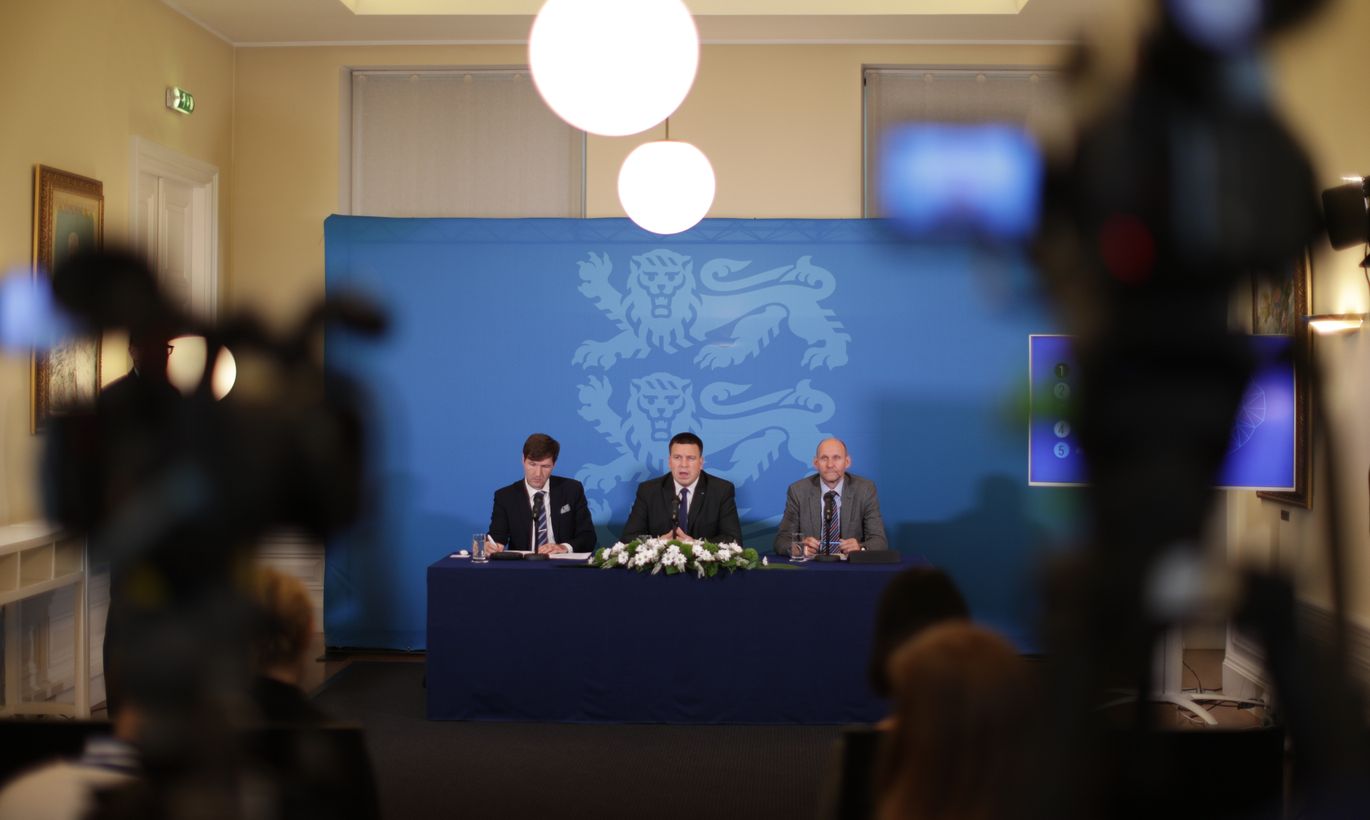 The government is set to present next year's state budget bill to the Riigikogu today that should bring higher salaries for police officers, rescuers and teachers but cut transitional support for farmers from €15.3 million to just €5 million. Expenses will grow by around €250 million compared to last year, while revenue will grow by €760 million for a total of €11.6 billion in costs and €11.8 million in income.
Prime Minister Jüri Ratas said that while the Estonian economy is doing well, avenues for cost-cutting had to be found and some activities postponed. Ratas said that fiscal policy is aimed at ensuring continued development and curbing social inequality. One example of this is Center's extraordinary pensions hike.
"We have not been able to make good on our promises in the volume we wanted. But we've made sure Estonia has more than one priority area," Minister of Finance Martin Helme said.
How €7 will melt down to €1.4 or what will happen with pensions?
The base pension amount will be hiked by an additional €7 on April 1, 2020 for a total pension advance of €45 after annual indexation that will add €38. This will hike the average old age pension to €528 a month.
Because basic exemption will remain at €500 for next year, those extra €28 are subject to 20 percent income tax or €5.6.
This means that the Center Party's extraordinary pensions hike of €7 will net pensioners just €1.4 a month. Simple arithmetic suggests that without Center's €7 extraordinary hike, the part of average pension subject to income tax would be €21 and the tax sum €4.2. Those whose monthly income is greater will have to to pay more.
The base amount hike will contribute to all old age, incapacity for work and loss of a provider pensions. Center's €7 extra pension hike promise will cost €20.8 million in the 2020 budget and concern some 330,000 people.
Investments cut by €100 million
To find money for political priorities, the government postponed investments and reshuffled funds inside the budget.
If in the final 2020 fiscal strategy paper compiled in spring the state planned to invest and distribute in investment support over a billion euros, the recent one has seen over €100 million cut from it. Investments from state revenue were left untouched, with cuts concerning EU support and CO2 quota revenue.
For example, Ministry of Economic Affairs and Communications investments were cut by nearly €40 million, while €10 million disappeared from stage two construction of the Tallinn Ring Road. Housing fund investments for local governments lost €15 million and Rail Baltic development €8 million.
At the same time, state highways were allocated an additional €9 million.
Defense investments have been reduced by €15 million over the summer, mostly at the expense of special defense equipment.
The environment ministry's budget has also been raided, with projects funded through sale of CO2 quota proceeds scrapped. As recently as spring, €66 million were allocated for the latter.
Finance ministry investments are set to grow by €10 million, mainly based on sale of CO2 quota-funded projects.
Investments will also go up for the Ministry of Internal Affairs by a total of €8 million. Funding for the development of the eastern border has been left unchanged at €15.5 million for next year. IT and means of transport investments will grow by €2 million.
State Real Estate AS investments into construction and renovation of buildings will grow by around €6 million.
Postponed investments will not disappear, meaning that money will have to be found for them in upcoming budgets. "This is where we need to be rational," Minister of Finance Martin Helme said. "Postponing investments or saving on them might look like a simple solution at first glance, but we are creating investment arrears. Something will give eventually, Helme said. The minister added that the same thing goes for salaries. "Were we to freeze salaries for several years, public sector wages would at one point be so far behind others that necessary compensation would cost an arm and a leg," Helme said.
Farmers to get €5 million instead of €15.3 million
As if sensing danger, farmers reminded the government during budget deliberations of the role of transitional support in reinforcing the competitiveness of the Estonian food industry, as well as that according to EU rules, the agricultural sector needs to be given €15.3 million in transitional support. The Conservative People's Party (EKRE) that holds the rural affairs portfolio promised to support continued EU and state agricultural support and equal treatment of Estonian farmers in Europe as the very first item of its rural affairs program.
The coalition agreement also promises to ensure Estonian agricultural and food producers have equal conditions in the EU and to make available transitional support, while volumes have not been specified. Minister of Rural Affairs Mart Järvik said in midsummer that transitional benefits must be retained in maximum volume. The latter would have seen €15.3 million made available to farmers, while transitional support will amount to just €5 million in 2020. "We had nothing for it in spring, and €5 million is more than nothing," Martin Helme said.
Transitional support forms an important part of EU common agricultural policy agreements for 2014-2020. The government of the Reform Party did not make support available in 2014-2016. The Center Party's previous government with the social democrats and Isamaa restored transitional support.
Wages and R&D funding hikes
The government hiked public salary funds by an average of 2.5 percent, with teachers to see the greatest increase. The government suggests minimum wage for general education schoolteachers should grow to €1,315 and the average to €1,540. The Center Party talked about an average salary of €2,000 during elections.
The internal security or police and rescue salary fund will be given an additional €7 million. Culture and sports workers will get an extra €2.3 million, while social workers will get a million. Environmental and rural affairs ministries' salary funds will also see a slight increase.
"Sums depend primarily on number of employees. We have the most teachers, followed by police officers and rescue workers," Helme said.
Research and development funding will see a cosmetic increase from 0.71 percent of GDP to 0.74 percent, with financing still way off the 1 percent of GDP mark most parties agreed on last year.
Where will the money come from?
Greater expenses require greater revenue. The government's hopes lie mainly on tax receipt. The state budget bill's explanatory memo forecasts income tax receipt to grow by 25 percent next year.
The bold estimate is based on salary advance in several fields and bigger pensions. The higher one's salary, the more money one contributes as taxes. The fact a lot of pensioners will have to start paying income tax following the €45 pension hike is believed to further contribute to receipt of tax.
A part of the government's plans will be paid for using dividend from Eesti Energia. The state company paid the government a dividend of €57 million this year. Minister of Finance Martin Helme said that while the company wanted to reduce the sum for next year, the government did not agree. "We looked at Eesti Energia's plans and cash flow and found they have been too cautious and that we can retain recent years' dividends," Helme explained.