Estonian ruling an area greater than Estonia in Siberia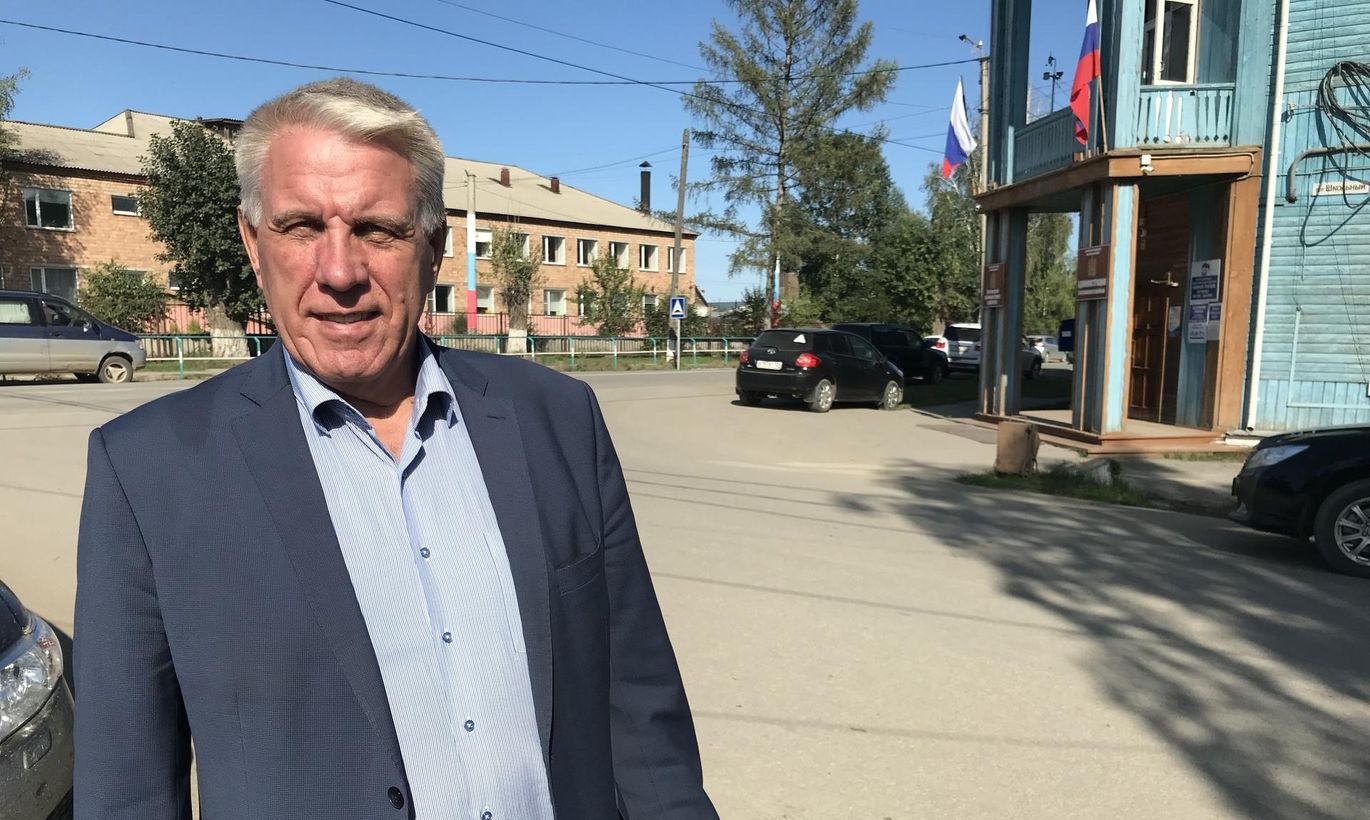 Estonian Vladimir Saar governs an area 25 percent larger than Estonia in Siberia where powerful factories are being built. 24 hours a day are not enough, Saar admits.
"There is no such river in Estonia," 56-year-old Saar says in fluent Estonian, standing on the banks of the Angara River. The river is known from school textbooks as the only one to flow out of Lake Baikal that is the deepest in the world. Near the city of Boguchany, the river is around two kilometers wide. Here, in the heart of Siberia, where everything is massive compared to Estonia, Estonian Vladimir Saar is responsible for how people live on 55,000 square kilometers.
In the early morning of May 9 – Victory Day – last year, a helicopter landed in the Boguchany region center of the Krasnoyarsk Krai, carrying FSB and investigative committee officials. They handcuffed head of the district Aleksandr Bakhtin who was later charged with accepting a bribe of a million rubles (€14,000).
A new and trustworthy district manager had to be found quickly as Boguchany is an important industrial and forestry district for the Krasnoyarsk Krai. Governor Aleksandr Uss picked Vladimir Saar who at the time was running a district of the city of Krasnoyarsk that is home to 150,000 people. Uss, who has been governing the Krasnoyarsk Krai (the area of which is just shy of that of the world's tenth largest country Algeria) for the past three years, has also been said to be from Estonia. In truth, his father hails from Belarus where Uss is a common family name.
An area the size of Croatia
Vladimir Saar bursts into laughter when I compare heads of districts the size of European countries in Siberia to little Tsars. "They're not, no one has that much power in Russia." The district Saar is responsible for is the size of Croatia, while it only has 45,000 residents, fewer than one person per square kilometer. Actual population density is even lower as almost half the population lives in two major settlements.
Concerning running this vast forested country, Saar says it depends on how badly you want and know how to do the work. "The governor wants us to be responsible for everything going on in the district," Saar says. "There is nothing regarding which you can say it is none of your business. I could work 24 hours a day and still not have enough time." Because his predecessor has not been tried yet, Saar officially works as deputy district chief.
Vladimir is expected to attend gubernatorial government meetings in Krasnoyarsk almost every week. The drive from Boguchany to Krasnoyarsk is around 700 kilometers, like going from Tallinn to the Polish border, and takes roughly eight hours. But Saar considers himself lucky. It takes the head of the neighboring district (home to the Evenks and over twice the size of Germany) almost 24 hours to drive to meetings in Krasnoyarsk on winter roads. C'est la vie a la Siberia.
"Roads!" is Vladimir's answer when I ask him about his district's biggest problem. "You saw our roads for yourself. Such roads call for very patient people." The district has villages where no permanent roads lead, only those created in winter.
The other major problem is also typical of Siberia: hefty utility costs, especially heating. The reason is Soviet-era coal boiler plants and opaque price formation.
"If he gives everyone an apartment in Krasnoyarsk and manages to hold back heating price advance, then we'll love him!" the administrator at a Boguchany hotel says when asked about Vladimir Saar. If the first part of the administrator's reply was meant as a joke, the second was dead serious. "Utilities are more expensive here than they are in Krasnoyarsk. I could be paying up to 12,000 rubles (€170) a month for my three-room apartment in wintertime." To compare, 12,000 rubles a month is the average pension, with the average salary hovering around 18,000-30,000 rubles (€250-410).
Saar says it is possible to live anywhere if there is work. That is one thing his district is not short on, locals say.
An aluminum factory owned by one of Russia's wealthiest men Oleg Deripaska with an annual production of 600,000 tons has been operating on maximum capacity near Boguchany since the end of last year. The factory employs over 3,000 people. The plant's firefighting depot alone always has ten or more trucks and at least 60 firefighters on standby.
The Boguchany forest industry with its 1,000 employees is one of the largest and most modern in all of Siberia, processing close to a million tons of timber every year. A new production line was recently opened that produces 100,000 tons of wood pellets a year.
There are plans for a pulp mill to complement the forestry industry. It is a project of national importance which it has been written that the Kremlin wants Gennady Timchenko to personally oversee.
The location is perfect for major industry as in addition to water (Angara), it has plenty of power, courtesy of one of Russia's largest hydroelectric plants called Boguchany, even though it is in the district over. Another hydroelectric plant is scheduled to be constructed on the Angara in Boguchansky District in the coming years.
There are vast oil fields some 600-800 kilometers north of Boguchany most of which are owned by Rosneft. The fields give work to many local men. They spend between two and six months working the fields after which they are sent home for a time.
Because there is enough work to be found, people are not quick to leave the district for city life. "I believe people stay because every village has a school, kindergarten and hospital. It means a lot," Saar said. "People are born here and like it here: there's woods, the river, fishing. Nature is what's keeping many people here.
Hospital has a CT scanner
A new hospital with 200 beds was opened this year in the district center Boguchany. Saar is especially proud of the faraway district hospital's ability to perform CT scans. Finding doctors is apparently not a problem as the district can afford their salaries.
Saar's primary concern for this summer was fighting forest fires in Eastern Siberia. It did not rain a drop for a month and a half before the fires. It took a month to put them out. At their peak, firefighting efforts saw ten Mi-8 helicopters combat the flames. In the end, the forest fires were put out by rain. "There were damages, but it never got very bad for us," Saar said.
The fires ravaged much of the taiga in the neighboring Evenks district, while distances are different there. "The fires were so far from everything there – over 500 kilometers – that the helicopters didn't have enough fuel for round trips.
The people of Boguchany told Postimees that Saar has a good head for business and is fair.
It is likely these qualities have allowed Saar, born in the village of Upper Bulanka in the southern part of the Krasnoyarsk Krai, to be a local government head in that economically significant part of Russia for over 20 years. He started out as deputy head of his local Karatuzsky District in 1997, after working as head of a holding. He was elected district head in 2003 and worked as such for a decade. After that, the local governor invited him to serve as special representative to the central districts of the krai from where Saar was promoted to Krasnoyarsk where he ran two districts. As head of the Sverdlovsk urban district, he was responsible for the construction of the main stadium for the 2019 Winter Universiade. Now, as a representative of the state, he must ensure the construction and successful operation of strategic industrial complexes.
Saar is a difficult man to catch off guard. Asked whether being Estonian has made his career more difficult, he says: "If you're not ashamed yourself, there are no obstacles."
"Well, we have Anton Vaino in the Kremlin now; Estonians in Siberia should find themselves in favor these days," I try again. Saar laughs and counters: "Why Estonians in Siberia, Estonians in general!"
Saar could also be successful in Estonia today as he planned to move here 30 years ago. In 1989, he arrived in Estonia, dead set on moving here. Head of the Saduküla kolkhoz in Jõgeva County Mart Toming was looking for a new chief agronomist and was glad to hire Saar. He managed to work at Saduküla for four months before returning to Siberia on family matters. He ended up proving himself in Siberia instead, based on the local saying: "You are most useful were you were born."