Trojan panda. The heavy hand of Chinese soft power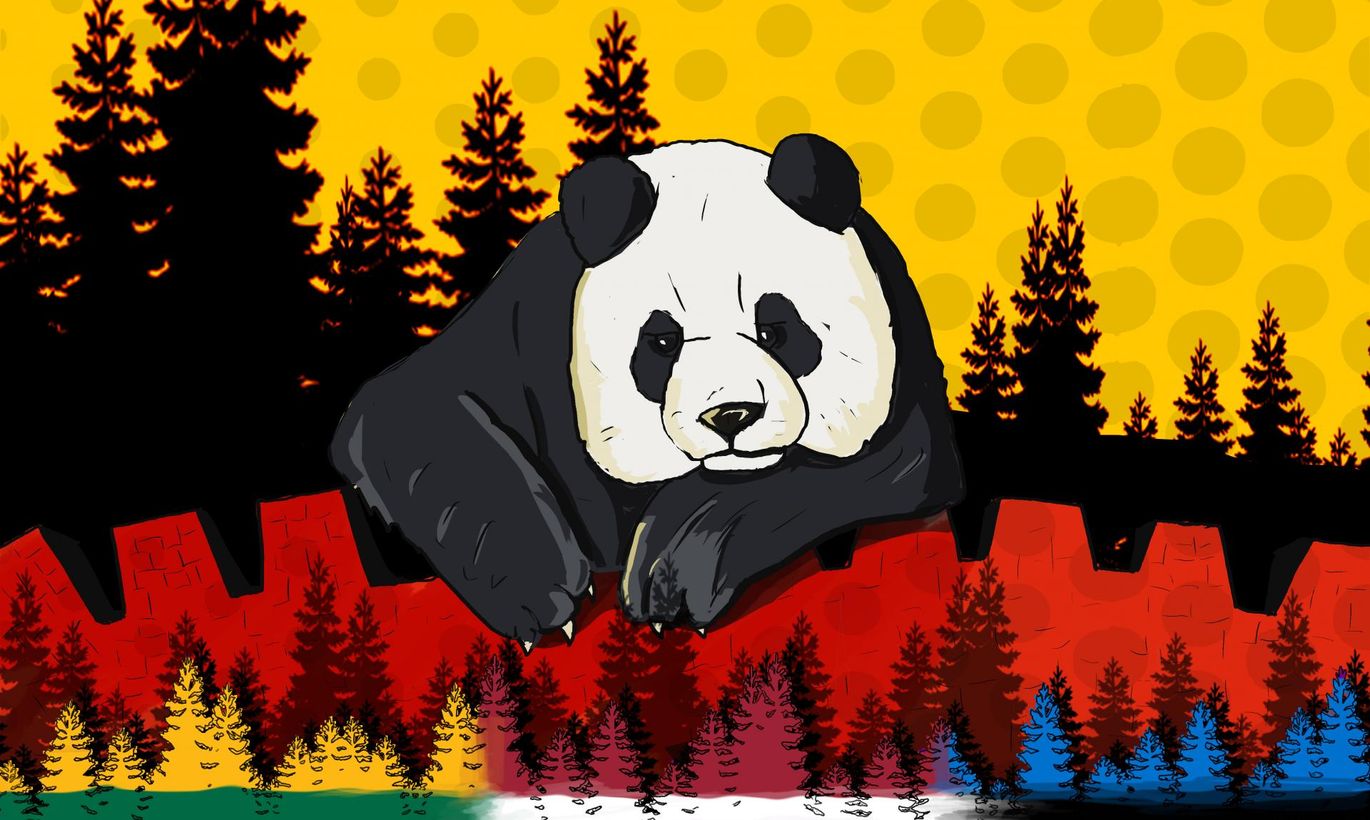 This May, MPs from all around the world gathered in Latvia to meet with the Tibetan government and parliament in exile. Chairman of the Riigikogu Tibetan support group Yoko Alender considered taking part. Only two people were aware of her plan and she had not yet asked Riigikogu officials to organize her trip.
All of a sudden, Alender was pulled aside by now chairman of the Riigikogu Foreign Affairs Committee Enn Eesmaa and asked about her plans to attend. "He asked whether I already went to Riga and whether I'm the only one. At first, I didn't even understand what he was talking about," Alender recalled. It turned out the Chinese ambassador had broached the subject with Eesmaa.
The conversation left Alender feeling uneasy. She didn't understand how the Chinese could possibly have known about her plans. Alender did not attend the event in Riga in the end, not because of Chinese pressure but looming European Parliament elections. No Estonian politician attended.
"It is definitely the work of Chinese soft power," member of the Tibetan parliament in exile Youdon Aukatsang told Postimees.
China's "one country, two systems" policy recognizes neither sovereign Tibet nor sovereign Taiwan. That is why China does not hesitate to bring diplomatic power to bear to stop politicians meeting with the Dalai Lama or Taiwanese statesmen.
The incident is one of at least four to have taken place over the past two years where the Chinese embassy has protested Estonian politicians meeting with the Dalai Lama, members of the government in exile of Tibet or Taiwanese politicians. Last year, the Chinese ambassador to Estonia Li Chao turned to the Riigikogu Foreign Affairs Committee, claiming that Alender's conduct constituted meddling in China's domestic affairs.
Ambassador: pass on our strong displeasure
Alender had returned from a trip to India a few days prior where she had met with the Dalai Lama and heads of the government in exile. The Chinese ambassador emphasized in his letter of protest that Estonia is obligated to observe the one country policy.
"Meetings between Yoko Alender, the Dalai Lama and separatists send the wrong signal to the world. They do not agree with good relations between Estonia and China and are having a negative effect on Estonia's attempts to advertise itself to the Chinese people," the ambassador wrote and asked his "strong displeasure" to be passed on to Alender.
When Urmas Paet visited Taiwan as part of a European Parliament delegation and met with the president, members of the security council and the opposition last year, the Chinese embassy filed a protest with the Estonian foreign ministry. "Whereas the foreign ministry had nothing to do with it as I visited Taiwan in the capacity of a MEP," Paet said.
Both Paet and Alender admit that the embassy's aggressive reactions are disturbing. "Tibetan culture has given so much to the world; we are obligated to give back. We are not even demanding independence but the right to preserve their culture," Alender said. The Chinese embassy did not answer Postimees' questions for a week.
Other Baltic countries are under similar pressure. In 2015, then chairman of the foreign affairs committee of the Latvian Saeima Ojars Eriks Kalnins received a phone call from the Chinese ambassador in Latvia. The ambassador was bothered by an upcoming visit of representatives of Tibet. As a result, Kalnins tried to convince his colleagues not to meet with the guests in the Saeima building.
Kalnins told Re:Baltica the ambassador's call was not a threat but diplomacy, even though he has not received similar calls from any other ambassador. Renowned Latvian diplomacy expert Vita Matisa disagrees. "If you are told that behaving in a certain manner heralds problems, that is the very definition of a threat."
The Chinese notice even the most minute details if they clash with the country's goals. In 2013, Riga Airport removed a poster advertising an open lecture by the Dalai Lama. The order came from on high, the airport's spokesperson Laura Karnite said without going into any more detail. A portrait of the Dalai Lama disappeared from Tallinn Airport in 2015. "Perhaps someone stole it," was the airport's only explanation.
Even though the Baltic states have generally been friendly toward Tibetan politicians in exile, Chinese pressure and business opportunities offered by its vast market have taken precedent and brought about self-censorship in recent years.
When the Dalai Lama visited Latvia in 2001, he met with the country's highest representatives – both then president Vaira Vike-Freiberga and PM Andris Berzins. Ten years on, the Dalai Lama was received in Tallinn by then president Toomas Hendrik Ilves and defense minister Mart Laar. In 2013, his excellency took a picture with the iron lady of Lithuania Dalia Grybauskaite.
That was the last time a Baltic president or minister met with the spiritual leader of Tibet.
The Latvian foreign ministry recommends high-ranking representatives of the state not to meet with those for Tibet. The ministry also warns against offering representatives of Tibet procedural services, such as state security, Minister of Foreign Affairs Edgars Rinkevics said.
The turnaround stems from when relations between Estonia and China cooled in 2011. Estonian dairy companies had hoped to reach the Chinese market, while it became all but inaccessible after Ilves' meeting with the Dalai Lama. Soon after, Chinese authorities canceled the official visit of then agriculture minister Helir-Valdor Seeder and companies were left in limbo behind bureaucratic hurdles.
"Thawing relations and securing access to the Chinese market took years and a series of meetings with Chinese officials. Our officials worked tirelessly to get relations back on track," Anne Sulling, who served as foreign trade minister in 2014-2015, said. The Chinese market finally opened up to Estonian dairy in 2016.
The cold spell in relations affected not only private companies. Estonia was in the middle of constructing a new embassy building in Beijing at the time. When the government wanted to hold a grand opening in 2014, China did not allow then foreign minister Urmas Paet to attend. Paet was made to understand that no high-ranking Chinese official or politician would attend the event if he did. "This kind of petty attitude bothers me greatly," the politician said.
More refined tactics: influence through education
More subtle tactics by the Chinese are handled through the Confucius Institute. This government-controlled body finds partners in universities around the world and disseminates a state-mandated view of China through language and culture studies. Critics say that Confucius institutes teach Chinese culture and history in a way that avoids human rights issues and treats Tibet and Taiwan as inalienable parts of the country.
"The Confucius Institute is a tempting brand for spreading our culture abroad. It has contributed greatly to our soft power. Using teaching the language as a pretext, everything comes off natural and logical." The quote is from a 2011 speech by member of the Chinese politburo Li Changchum.
There is a Confucius institute in each of the Baltic countries. It was opened in Tallinn University and Vilnius University in 2010 and in the University of Latvia a year later. There are also Confucius classes – Chinese language programs in 14 Latvian, eight Estonia and ten Lithuanian schools.
Even though the institutes have been active in the Baltic countries for nearly ten years, they entered the spotlight in February when Lithuanian intelligence agencies pointed to them in their annual threat assessment report.
The report reads that Chinese intelligence activities have become more aggressive. "The Chinese intelligence operates under the umbrella of diplomacy in foreign countries, using, among other tools, state-funded Confucius institutes, Chinese companies and Chinese students studying abroad." Chinese intelligence interest in Lithuania are said to be aimed primarily at so-called domestic issues. "The aim is for Lithuania not to support Tibetan and Taiwanese independence or raise these issues on the international arena."
Latvian security services have also kept their eye on the local Confucius Institute for years. "The institute's goals sound noble, while its activities pose an intelligence risk," VDD told Re:Baltica. "Its goal is not just to popularize China in other countries but also the spread of ideological messages that suit the communist party."
The Estonian Internal Security Service (ISS) is much gentler in its assessment, saying only that while the Confucius Institute is an important tool of Chinese soft power, collection of information and mapping of mentality, it is virtually the only opportunity in Estonia to learn the Chinese language and culture.
Head of the Confucius Institute at Tallinn University Jekaterina Koort said as much. She claims the university is over a barrel in that it does not have money to offer language classes, while the country needs people who can speak Chinese. And here is where the Chinese state-funded institute steps in. Koort added that because the Chinese issue is causing allergies and Confucius institutes are looked upon with suspicion everywhere in the world, she avoids organizing events on sensitive subjects.
In Estonia, Latvia and Lithuania, the local university only hires the institute's director and secretary. The teachers are chosen and paid by Hanban – an NGO working under the Chinese education ministry. Teachers report to Hanban.
A student of the Confucius Institute in Latvia who asked to remain anonymous told Re:Baltica that teachers were loathe to discuss matters that were sensitive for China. When the student wanted to know how and why the model of government in Hong Kong is different from that in China, the teacher simply told them it was irrelevant.
Vita Matisa pointed out that Confucius institutes are not independent and need to be seen as Trojan horses as they are part of an organization created by the communist government of China and have infiltrated foreign universities.
A piece of China for €100,000 a year
Former rector of the University of Latvia Marcis Auzins found dinners at the Chinese ambassador's residence a normal part of professional relations. At times, he was given hints concerning the university's work. "You know, rector, lector so and so is working with the Taipei mission… You know our government supports you, but my government might not be thrilled to learn of this," Auzins recalled a particular conversation.
China is generous in supporting the Confucius institutes. Of the three Baltic countries, the institute in Estonia receives the most generous funding. This year's budget of €226,000 is made up of €124,000 from Tallinn University and a little over €100,000 from Hanban. Support from China is used to organize events, such as the Chinese culture seminar, a visit of education workers to Shanghai or the Chinese week in Pärnu.
Policy director at US think tank the National Association of Scholars Rachelle Peterson said that Confucius institutes are "pieces of the Chinese government on university campuses." She believes they should be closed as they might lead to academic censorship.
Universities hosting Confucius institutes have exhibited signs of self-censorship. For example, it has been impossible to hold pro-Tibetan rallies on campus. US universities have shut down 24 branches of the institute in the past five years. Several European universities are also shutting the institutes down.
Data collected on students
Re:Baltica questioned three students of the Confucius Institute in Latvia who all said teachers often took photos of them, saying they needed to file reports. Head of the institute Peteris Pildegovics confirmed such reports are made but could not say anything about their contents as he claimed never to have seen one.
Tallinn University's five-year contract with the institute expires in December. While the university does not want to terminate the contract, it wants to add an item obligating the institute to observe the data protection act.
The need arose when the Chinese wanted to create a database of people who have participated in Chinese classes. The database would have included details of training but also students' professional history. Koort said she refused to go along. "Of course, it is a form of soft power trying to paint China as better and more beautiful and create a positive image," she admitted.
Peterson said it would be naive to believe the Chinese are funding Confucius institutes out of kindness. "The Chinese government knows the institutes are tempting for universities. They know the value of native Chinese-speakers and the possibility of scholarships for studying abroad. The Chinese government is benefitting."
Vita Matisa warns that it is a slippery slope. "At first, the possibility of funding seems tempting. But the further you go down that road, the more dangers you encounter. People have come to realize this in several places."