President of Latvia: Integration based on official language and culture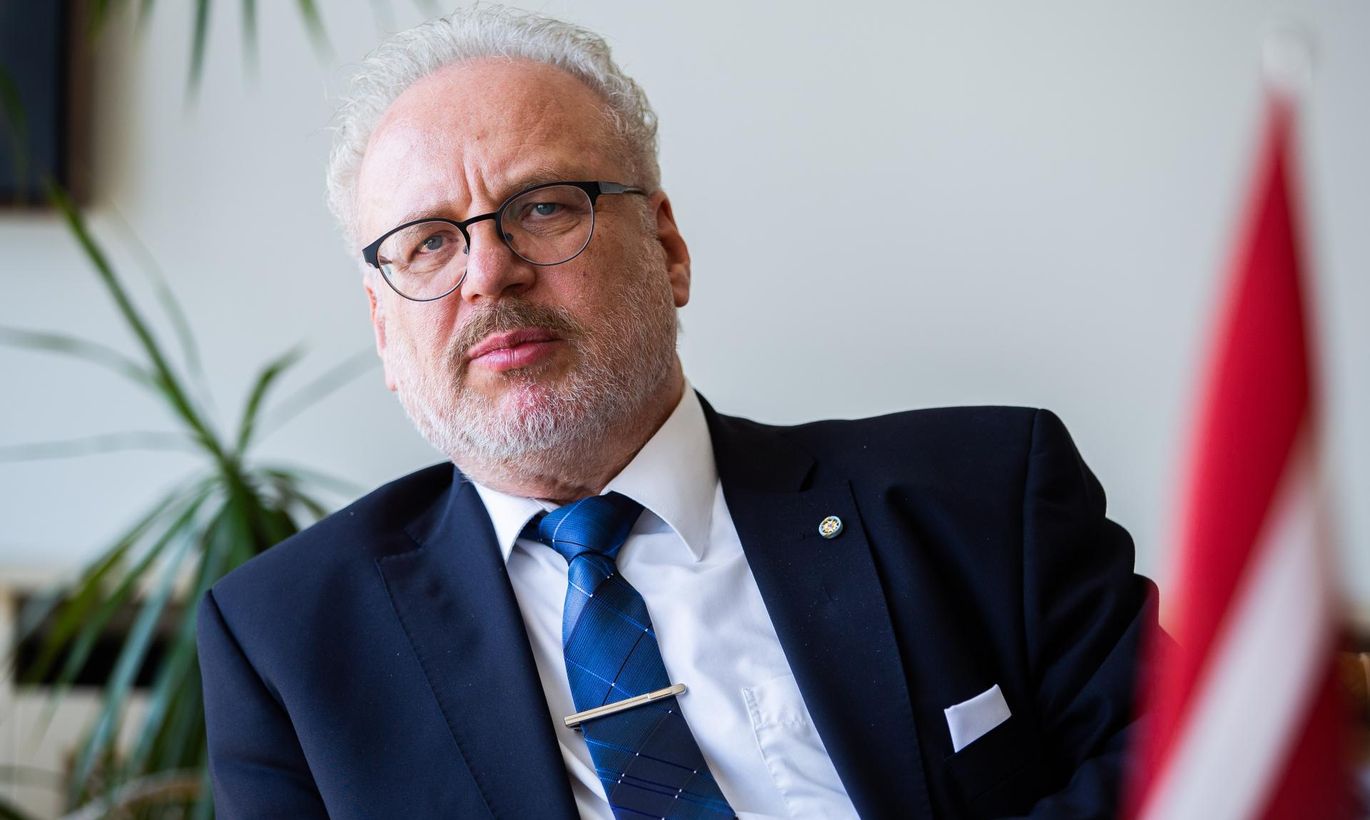 If the first visit of the Estonian president usually takes them to Finland and the president of Lithuania usually visits Poland first, Latvian heads of state are in the habit of visiting their northern neighbors before others.
That is precisely what President of Latvia Egils Levits did after being sworn in on Monday when he was received by President Kersti Kaljulaid in Kadriorg yesterday morning. The meeting of the presidents was a reunion as Kaljulaid and Levits have known each other for a long time: both used to work in Luxembourg; Kaljulaid at the European Court of Auditors and Levits at the Court of Justice.
The new president says that Baltic identity is first and foremost built on a common past and future. Levits also finds that political will to solve the excise duty dispute between Estonia and Latvia exists.
You are visiting Estonia as the new president of Latvia. What have been your previous contacts with Estonia?
I first visited Estonia in the second half of the 1980s. A dissident friend of mine from when we went to school together was not well-liked in Latvia during the Soviet period and moved to Valga because no one knew him there. I visited him in Valga seven or eight times, and I also visited Tallinn.
Valga is a very interesting city from a historical and political point of view. Among other things, from the aspect of learning how to manage two communities that belong to different countries on the municipal level.
Speeches you gave during your first day in office included a few of your goals. For example, you plan to combat inequality and corruption and create unity. Talking about the latter, Latvia has quite a large Russian community. What steps are you planning to better ingrate them?
I believe that the country we live in is a political one. A political country has a common language, shared culture and historical memory. In Latvia's case, they are the Latvian culture, Latvian language and Latvia's historical experience.
We are an open country; everyone is welcome to join us. If a person comes from a different background, whether it's from Poland, Russia or Germany, they also need to take care of their own language and culture as it makes our common Latvia wealthier. But the language of communication is Latvian, and everyone is welcome to join us.
I believe it is integration policy. It is not separation policy the aim of which would be to separate people from different backgrounds. The goal is to integrate based on our common national language and culture. Another starting point is our joint historical experience that differs from that of others.
That said, certain days that create conflict and differences between people, like May 9 or in Latvia's case the remembrance day of legionnaires on March 16, will persist. (Day to remember Latvians who fought on the banks of the river Velikaya in German uniforms – editor.) It is no longer a national holiday, but should it be?
It is not a holiday, but it is a day when veterans come together to remember their brothers in arms from the days of WWII. It is very important to note that the formation of the Latvian Legion was at odds with international law. Even so, many Latvians share that tragic experience, which we shouldn't forget.
You positioned Latvia very clearly in your first speech – you said that Latvia is not a bridge between the West and East but clearly a Western country. Talking about Baltic identity, does it exist?
Baltic identity is not based on language as all three are different. There are more similarities in culture. While our three cultures are also different, they have affected one another over the ages. What we share is history. The identity is created through historical memory. We must also not forget our common future.
We are three European Union member states participating in the European project by being a part of it. We often have common interests in terms of what that future could be. This common path and future create identity. It is not identity in the traditional sense, like Latvian or Estonian identity, but it is a political and regional identity.
There has been discord between Estonia and Latvia over alcohol excise duties recently. Do we find ourselves in an excise war?
No. It is quite normal that we have different positions regarding certain matters now and again. We have seen that such situations always end up being solved, and I believe the matter should be solved by seeking consensus between Estonia and Latvia. I would also include Lithuania as the matter concerns them too. It is up to finance ministers to meet and find a solution.
Can you see political will to that effect?
Yes, it is there, absolutely. I broached the subject with your PM Jüri Ratas and with our PM Krišjanis Karinš two days ago, and I can tell you with certainty that political will to find a mutually acceptable solution is there.
Security is one topic bringing the Baltic countries together as we all find ourselves in a similar situation. Some say that the Baltics could pursue even closer defense cooperation. I have heard some very ambitious ideas, from a joint Baltic navy to common procurements. How could we improve cooperation, and should it be our goal?
Latvia and Estonia are part of six countries spending the required 2 percent of GDP on defense. Our will to defend ourselves is reflected in that fact. It is also a signal to other NATO members to improve the security situation in the region.
There are various ideas and plans. I believe we should be realistic, and Estonia, Latvia and Lithuania should work together to consistently contribute to security and make our safety a matter of utmost importance.
Let us also talk about at the reason why we need to invest in defense – Russia. President Kersti Kaljulaid recently visited Moscow where she met with Vladimir Putin. Would you go to Moscow as the president of Latvia?
It would have to be a situation where it would be possible to improve relations and solve certain matters by going to Moscow. If such a situation were to develop, I would naturally visit Russia or meet my colleague somewhere else.
However, it would have to be preceded by a lot of hard work by foreign ministries. They would have to consider whether such a visit could really be successful and productive. If so, then I would definitely go.
We should remember that Latvia needs good relations with Russia as part of the common EU foreign policy. I find a common European position to be very important when it comes to Russia policy. We can participate in shaping that policy.
Therefore, Latvia will not make any original moves regarding this matter?
That is what I would prefer.
Even though the Baltics stood united in defense of Ukraine and European values, the Parliamentary Assembly of the Council of Europe (PACE) recently supported the restoration of the voting rights of Russia's delegation. Can we say that the economic ambitions of major European players have begun to stifle the screams of the Baltics?
Latvia and seven other countries that voted against find the decision regrettable. It is not a good signal to send to Ukraine or Russia for that matter. It is also not a good signal for international law. The latter is a very valuable thing, and policy should always be shaped with this value in mind. Failure to respect international law must be met with a painful reaction lest it is devalued.
International law is the foundation of peace in Europe and the world. It is also the very reason it exists and should be taken seriously. That is why Latvia and several other countries are not satisfied with the decision. We will consult likeminded countries in terms of our reaction.
Is Latvia leaving the organization or suspending its membership an option?
We cannot talk about the nature of this reaction yet. I would prefer it if countries that find the decision unacceptable would coordinate their reaction.
President Kaljulaid said this morning that Estonia and Latvia are allies in defending liberal democracy. What can the Baltics do together to defend liberal democracy during a time its illiberal counterpart is rearing its head?
Liberal democratic values form the core of the Latvian constitution. Just as it is in other EU member states, including with Estonia's 1992 constitution. I read the Estonian constitution very thoroughly at the time.
Because these values form the core of the constitutions of EU member states, it is important for member states to observe them. While there are generally no concerns with this, problematic decisions have been made in some countries.
The EU has political and legal levers with which to address such situations. We have common political and legal environment home to 27 member states after Brexit. This environment cannot function properly if one member state decides to break away from these values. That is why member states are interested in keeping others respecting these values.
Looking at it more closely, it is not a problem that cannot be overcome. A solution could be found with enough political will. I see that will both in European institutions and the member states in question. Latvia is in favor of a consensual solution.
Would you characterize these EU levers as sufficient?
I would say so. These instruments are rather strong. The best policy is one where we do not need to use them.
We can see examples of situation where they may be needed. Wouldn't using them just cause more anger and defiance?
I believe we need to strive for consensus instead of creating new tensions. We need consensus so these instruments would never be used.
Vaira Vike-Freiberga was the last Latvian president to serve two terms (1999-2007). Why are single-term presidents becoming the norm in Latvia? Do you plan to serve for two terms?
I am thinking about the next four years today. We will see what comes next. My three predecessors all had different reasons for only serving for a single term. There is no rule of thumb here. We will see about me. I do not know whether I would like to have a second term as I have been in office for just two days. I'm not thinking about the end yet. (Laughs.)