Song Festival Grounds sold out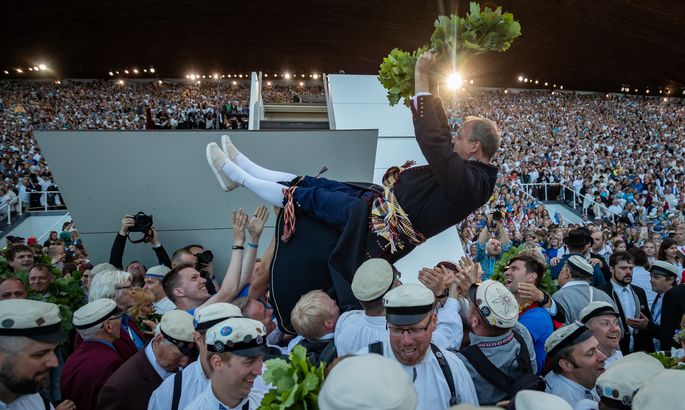 Yesterday afternoon, when the number of people attending the song festival had grown to over 100,000, the organizers made a historical decision to stop selling tickets.
"We apologize to everyone who could not get a ticket because we are dealing with a very difficult situation. We are trying to create conditions for as many people as possible to be able to attend the celebration," the song festival's PR chief Sten Weidebaum said.
Information that ticket sales had soared reached the festival's headquarters yesterday morning, an hour before the grounds were opened. The team assembled and decided to suspend ticket sales and notify the public.
People who had showed up for the start of the concert were sold tickets for another hour and a half. Representatives of medical services, rescue and police said that the grounds can fit a maximum of 100,000 people as anything beyond that figure would make it impossible for emergency services to respond effectively.
Head of the Kesklinn police department of the North Prefecture Kaido Saarniit explained that ticket sales need to be restricted to ensure the safety of the approximately 70,000 people who bought tickets in advance.
"Emergency services need to respond as quickly as possible. Calling for aid and administering it is made more difficult in crowds, which is why it was decided to restrict ticket sales following security considerations," he said.
Sten Weidebaum said that the decision leaned on experience from the previous festival in 2014 where organizers came close to ordering an end to ticket sales.
"The 2014 festival showed that once the concert began, people were constantly moving in and out of the gates. We did not halt ticket sales in 2014 as monitoring the gates provided us with information on how many people we had in the grounds," Weidebaum explained yesterday. If organizers initially hoped to resume ticket sales yesterday, it became clear a few hours after sales were halted that good weather meant not enough people would be leaving the festival.
"We anticipated great interest. That is why we set up a number of screens in different places all over Estonia so people could watch the festival. In Tallinn, the song festival can be viewed in Freedom Square," Weidebaum said yesterday.