«Entrepreneurs can bugger off out of passenger transport»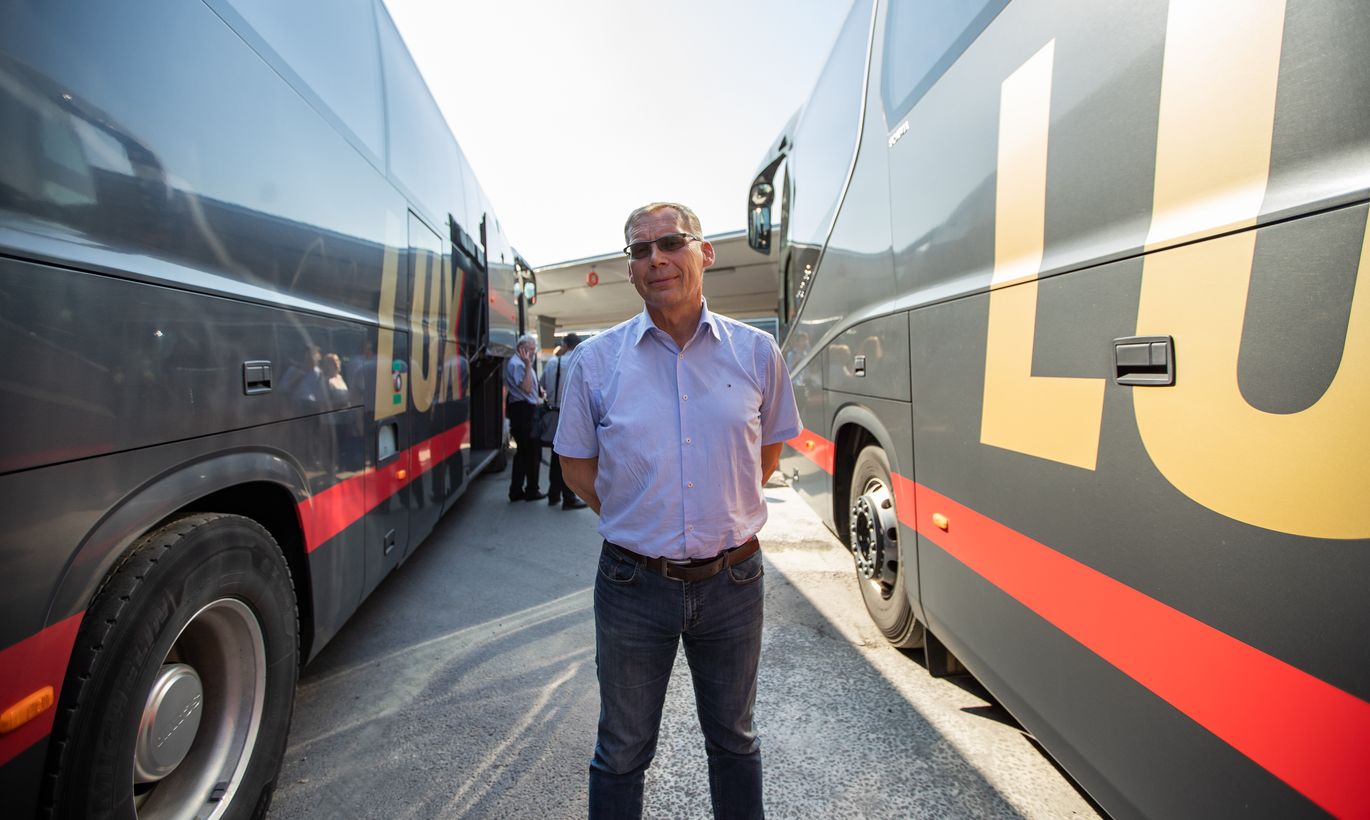 Legendary bus operator, owner of Lux Express Hugo Osula is concerned that the government's decision to subsidize county coaches in full and give passenger train operator Elron millions will kill enterprise in Estonia.
How do you see the state's decision to procure four new trains for Elron that will compete with your coaches on the Narva and Tartu lines?
It's unnerving, and not just for us. Estonia has 25 ticket-based coach operators.
The market has been dynamically shaped over decades, and it is one where entrepreneurs plan products, invest, put up their assets, forecast proceeds by improving the product and developing a complete route network without any support from the state.
I dare say a balance existed before free public transport: there was free county-level traffic, ticket-based traffic between cities, heavily subsidized passenger trains and our common competitor – the private car.
The biggest problems in bus traffic include how to convince people to trade their car for the bus and how to compete with trains in the conditions of considerable state subsidies and direct investments into trains. The transport market has become state-heavy in recent years.
You need to compete with more subsidized trips?
Lux Express is an Estonian company, but we operate on three major markets. The largest and most important is the Baltic countries: from Tallinn to Warsaw, through Riga and Vilnius, with a bus leaving for another country's capital every hour. This makes up a third of our volume. The second third is made up of Estonian traffic, and finally we have coaches from St. Petersburg to Finland, Latvia and Estonia. The latter market grew by 26 percent last year.
Estonia has decided to employ generous subsidies to intervene in an area where ticket revenue-based entrepreneurs have been doing just fine. Businesses cannot sail against the wind for long.
We have heard a lot of messages from politicians that leave us cautious: from free public transport to Elron refusing to transport people's bicycles if they are not given new trains, which is immediately followed by the economy minister announcing a tender for four new trains. How should an entrepreneur developing their services in the same sector react? The state has sent a clear message that private businesses can bugger off because it wants to be in charge of demand and supply in passenger traffic.
It has been a long time coming, which is why we are already looking to Latvia. The government tried to offer public transport there. Now, they are looking toward businesses again as they can no longer afford recent long-distance subsidies (40 percent).
Years ago, you organized a campaign where you transported Latvians for free for a month.
We tried to show Latvians that intercity coach traffic is viable without subsidies.
How did passengers react?
They were delighted; Lux Express operates world-class coaches.
It has culminated in things changing in Latvia: their recently subsidized and closed market is beginning to open up to enterprise. Lux Express perceives an opportunity there and can make use of its experience from Estonia.
Estonia is promising to invest over €450 million into rail infrastructure in four years.
The areas that are most attractive for passenger trains are Tallinn and Harju County. There are enough people here for frequent departures. It is not very sensible to invest hundreds of millions of euros into passenger rail traffic all over Estonia in the conditions of dwindling population; while at the same time, we are looking at a major and entirely justified salary hike demand from bus drivers.
The transport union is demanding a minimum salary of €1,200 a month for bus drivers.
They should open higher! I support bus drivers in this. For decades, tenders have given contracts to the lowest bidder whose aim is to tick all the boxes as cheaply as possible. There are considerable differences in what bus drivers have to do. You have city, local, long-distance lines and charters, all with different expectations and tasks for drivers.
Lux Express has been paying drivers more than the minimum for years as the level of responsibility and expectations are higher. Areas where bus traffic is free will soon see an abrupt salary hike demand, and it is something the state needs to be prepared for.
Drivers are paid a pittance on county lines?
Hence the poor level of service. The real problem is that most Estonian bus drivers have reached an age where they have just a few years to go until retirement. Soon, we will have no one to put in the driver's seat. There have been several minimum salary agreements over the years, but they have not been observed.
Without a more dynamic model for tender-based local bus traffic, we will soon have to hike subsidies by leaps and bounds to keep coaches running. Cost per kilometer is set to go up due to several circumstances.
Bus drivers will not have to worry about finding work?
Bus drivers can breathe easy as demand for their skills is only set to grow – shortage of drivers has reached a critical level.
I suppose that means you do not begrudge GoBus getting Tartu inner city lines?
No, we do not. We had a great group of people over at Sebe that allowed us to offer a great service in Tartu. We respect our drivers. Sebe did not dare take the salary risk with the last tender.
It seems GoBus managed to find better opportunities and cheaper solutions. Whether the latter concern drivers' salaries or something else is not for me to say. Perhaps they have stumbled across a magic wand, such as bringing drivers from Ukraine? Or perhaps they are hoping to negotiate bigger subsidies at some point.
How much market share has Elron taken from you?
I would have to know Elron's passenger figures to tell you that. (Average of 25,250 on the Tallinn-Tartu line in May – editor).
We put the number of passengers on the Tallinn-Tartu express train at 8,000 +/- 500.
Lux Express has 17,000-18,000 weekly passengers on the same line. The average ticket price is €7 to €7.5, concessions included, sometimes less.
The Tallinn-Tartu train is definitely cheaper. I dare say there is no other country in Europe where taking the train is cheaper than taking the bus.
Are you also competing with trains on the St. Petersburg-Helsinki line?
All markets are different. On the Petersburg-Helsinki line, the train is mainly competing with air traffic, as will likely be the case with Rail Baltic. The Rail Baltic passenger train will compete with airlines.
We have five daily departures between Helsinki and Petersburg, and the buses are largely full. We will add another departure in June – the number of passengers grew by 26 percent last year.
A train ticket from Petersburg to Helsinki is far more expensive, with plane tickets costing even more. Time flies when you're on a Lux coach. As many passengers say: a movie before the border and another one on the other side of the border, and you're in Helsinki.
Lux Express is the absolute pinnacle of coach traffic in Russia. Not just in terms of service but also technology: our ticket system, internet, onboard entertainment and services – it is space age stuff in Russia.
There has been talk of inner Russian lines. Why haven't we seen Petersburg-Moscow and Petersburg-Pskov lines?
There is major red tape involved. Officials want to regulate; local governments want to be in control. As a foreign company, we have weighed several options, developed logistics and still applied the brakes at the last minute. And I'm glad we did.
Bureaucracy on one side of the border, politics on the other?
There are fewer rules in international bus traffic; there, the market is free on principle. Just as it is with the Petersburg-Helsinki line, the Tallinn-Riga and Vilnius-Warsaw lines are on the free market that no one can regulate arbitrarily. It is different when it comes to domestic traffic.
If politicians go nuts for trains and this enthusiasm is sold to the people as a major gift, it is a sign of danger. A single Lux Express bus costs €350,000, making it a huge and very risky investment in a situation where there is desire to overregulate the market. The state should not use big bucks to break apart something that is working fine and that entrepreneurs have spent a long time building.
To what extent can you accommodate passengers with bicycles?
If there is room in the trunk and the bicycle is not very dirty, we will find a way. The luggage compartment fits 12 cubic meters; I believe two or three bikes shouldn't be a problem. We try to be flexible and meet the customer's needs.
We are happy that there are a lot of people in Estonia who value high-quality services and are prepared to pay what a good thing is worth.