La Muu wants to do great things abroad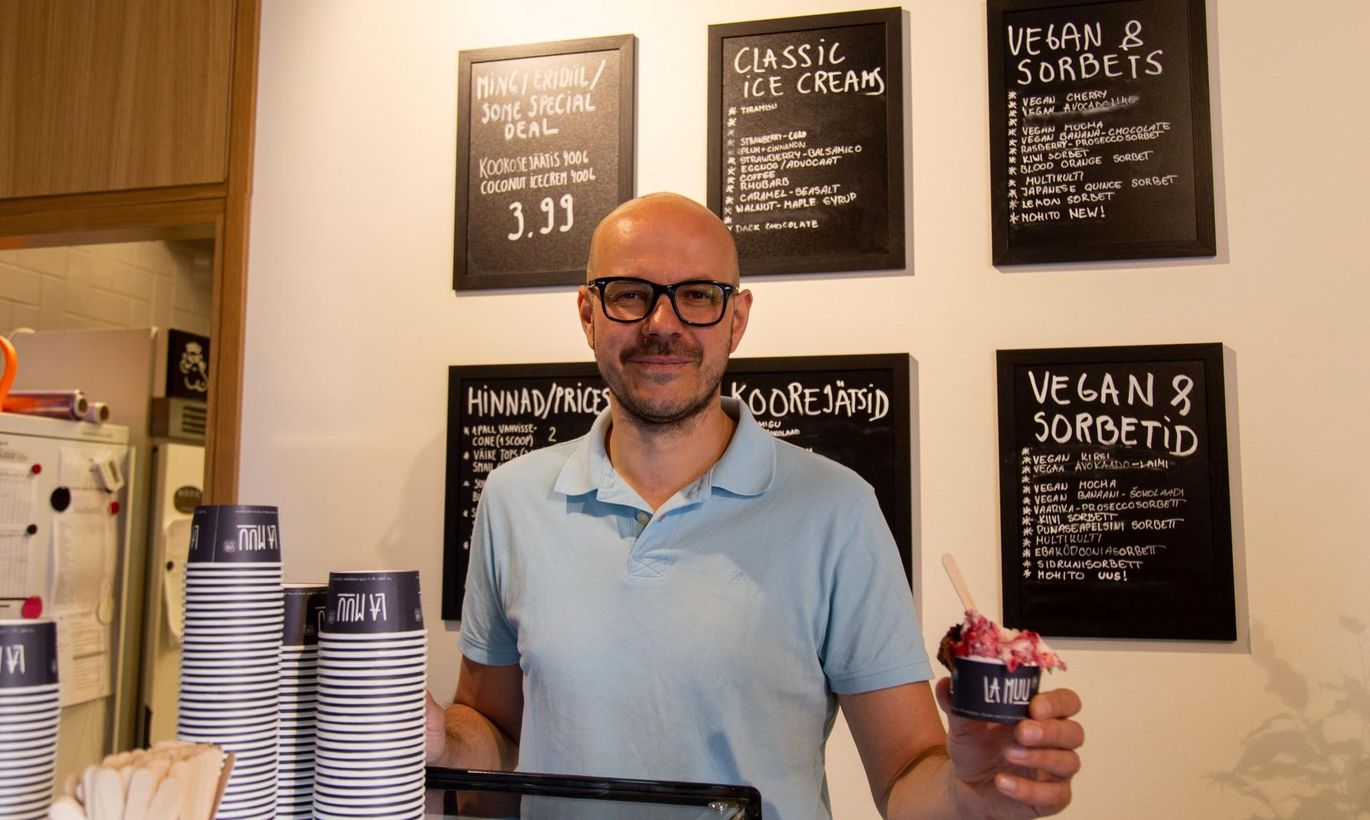 According to Rasmus Rask, the founder and partner of La Muu ice cream firm, which completed a recent crowdfunding campaign with huge success, the people wanted to invest 4.6 million euros even though the initial target was 200,000 – 400,000 thousand. The investors' interest was unexpected, since Rask did not rule out that he would have to borrow the money from a bank.
They say that the ice cream business depends on the season. How bad is the situation in the summer?
The first mental image is a shop all sold out. When a heatwave comes up, the one thing which  always happens to a small-scale producer is that the output capacity is insufficient, even if you produce stock in advance. Shops order more ice cream than you can make. And this is what we have now.
You are now planning to expand the range of products and that is why you tried crowdfunding. Tell me more about what you will do with the money?
We have two ideas. One is that we shall need more powerful equipment to produce more with the season coming up. The second one is that we have been essentially making a single type of ice cream for six years. We have achieved an impressive market share with it, some 20 percent, and further growth is unlikely. In the Estonian context the next move would be to start making different types of ice cream: cones, sticks, family size buckets, etc. This was the cause of making the investment for which we involved the money of the clients and fans via the Funderbeam platform.
Why did you prefer crowdfunding?
Close connection with clients, especially via the social media, has always been a part of the La Muu identity. Our postings receive a lot of feedback and we receive many new ideas. It seems that people care about our brand and the Funderbeam platform where small enterprises can raise funds fits us perfectly. On the one hand we receive money for growth and on the other hand out clients have more opportunities to support us.
But what happened with the crowdfunding that you are called a popular stock?
Yes, we had a total of 1,875 investors. I may be wrong, but when the Premia ice cream firm entered the stock market, the number of shareholders was 1,200 – 1,300. Indeed, there were many investors and we are very happy about it. We could not foresee that. We reckoned with the option that we have to borrow 600,000 euros from the bank or contribute more money as the owners. In was a highly positive and wonderful surprise.
The initial crowdfunding target was 200,000 – 400,000 euros, but then you raised it to 600,000. How high was the interest of the funders?
Yes, we asked 200,000 – 400,000 euros from the investors. The 400,000 euros sum was reached very quickly, within ten hours, Within 24 hours the interest reached a million euros. We had to react very quickly at that moment to decide what to do. Should we increase the goal of the investment? But once you have made the strategic plan for using the money, you cannot invent in a moment an extra plan for using the funding.
We could say that we shall increase the target to 600,000 euros to achieve which we should have made a loan. Now that money came from the investors. The campaign was intended to last 40 days initially, but we had to close it within a week. The total interest in it amounted to 4.6 million euros.
When will the big profit come? Or are you on a mission?
 I believe that no business can last long without making profit. With the exception of the Baltika dressmaker (laughs). But we do not have as strong nerves as the Baltika shareholders. I fear that our shareholders would not forgive a long take-off. We shall not pay dividends within the next 2-3 years. If we make profit, we shall invest it in growth and export.
Let us see how far a small Estonian organic ice cream maker can fly.
We would like to spread outside Estonia and do something great. We have promised the investors that the firm could grow, the volumes could grow and the value of the investment as well. Fortunately Funderbeam is like the real stock market in that respect that the stockholders can trade, buy or sell La Muu shares.
You have been a success in the Estonia  market and now you are targeting foreign countries?
I can say that we managed to get a foothold in Germany. It took a lot of time, but we shipped the first loads in April to the German Globus retail chain. They have 47 shops and they included us in their  range.  We are very happy about it but cannot yet tell how it will work out. This is the first export move. We know better the Estonian, Finnish and Swedish markets. We have a greater potential there to win a significant market share and the export plans have been made.
How do you charm the foreign buyers?
This is a challenge. We are supported by the brand, which incudes the product, the package as well as the way we communicate with the clients.  It is natural in Estonia and in the Estonian environment, but we lose the advantage if we do it in Latvian, Finnish or Swedish. It takes more objective arguments to stand out there. One trend which has come to stay in the consuming habits is veganism. There are more and more buyers who prefer completely or partially vegetarian products to milk, meat and eggs. When looking at export this is one of the niches where we would like to be strong and develop our products.
What is the cost difference between regular and vegan products?
Vegan products are more expensive. Largely because it is less costly to use the raw materials which grow nearby and are abundant. If you take a cow to the meadow, it eats and gives you milk. It has its own cost, of course, but the cost of milk for us is some 60 cents per liter. Vegan products would require almond or oats milk as alternatives.
Thus would have to be imported from a distant country, meaning the cost of transport and would make it significantly more expensive for us. The raw material cost difference is two or three times. Using local raw materials is the most reasonable option for us and we have been doing it – we want to ad value to the Estonian organic milk, cream, eggs, etc. Now we want to do vegan products as well.
It is often complained that the consumers' wishes differ on paper and in reality. They claim to prefer one thing, but actually buy another. Have you noticed it?
The retailers have worked hard to fill their shelves with vegan products, but the share, as far as sales go, are microscopic. In our case the main challenge is when they want sugar-free ice cream. We can see that the less sugar you add, the more meaningless the ice cream becomes. Ice cream is a dessert. We use pure organic raw materials, but if you replace fat and sugar in ice cream, the result is a white brick of ice, which has no taste.
You were very frank about your failures in the latest annual report. What were the worst mistakes and hardest lessons?
There are a lot. How should I begin? We have been lucky and successful in general, considering that most enterprises close down within the first 2–3 years. We have stayed in the market for six years; we have a realistic growth plan and a capable team after Katre Kõvask and the Premia management as shareholders have joined us.
One lesson was the opening of a café in the Viru shopping center in 2014, which turned out to be very exhaustive. It claimed a lot of resources we should have directed into sales and product development. We had to plan daily meals for clients – soup and pasta with salmon. This is not our business.  The lesson was that you should focus on your main product whenever possible. Have patience and your time will come. As soon as you begin expanding your scope, it brings the threat of fragmenting or dissolving.
We learned that lesson yet three years later we opened a café next to our production facility in the Telliskivi creative hub and it works well. We sell only ice cream, this is an organic part of our production, We produce it there and sell it there. We managed to have patience, we made a mistake, but learned from it. The other lesson was that as a small-scale producer we must keep in mind that we cannot compete with the large firms in marketing – buying TV commercials or ad space in the street.
Our advertising budget is much smaller. We took a chance in 2017 and invested 20,000 euros in an advertising campaign in 2017. It did influence the sales but not as much as to earn back the 20,000 euros. We must be smarter. Social media has helped us a lot.