Budget: deficit versus broken promises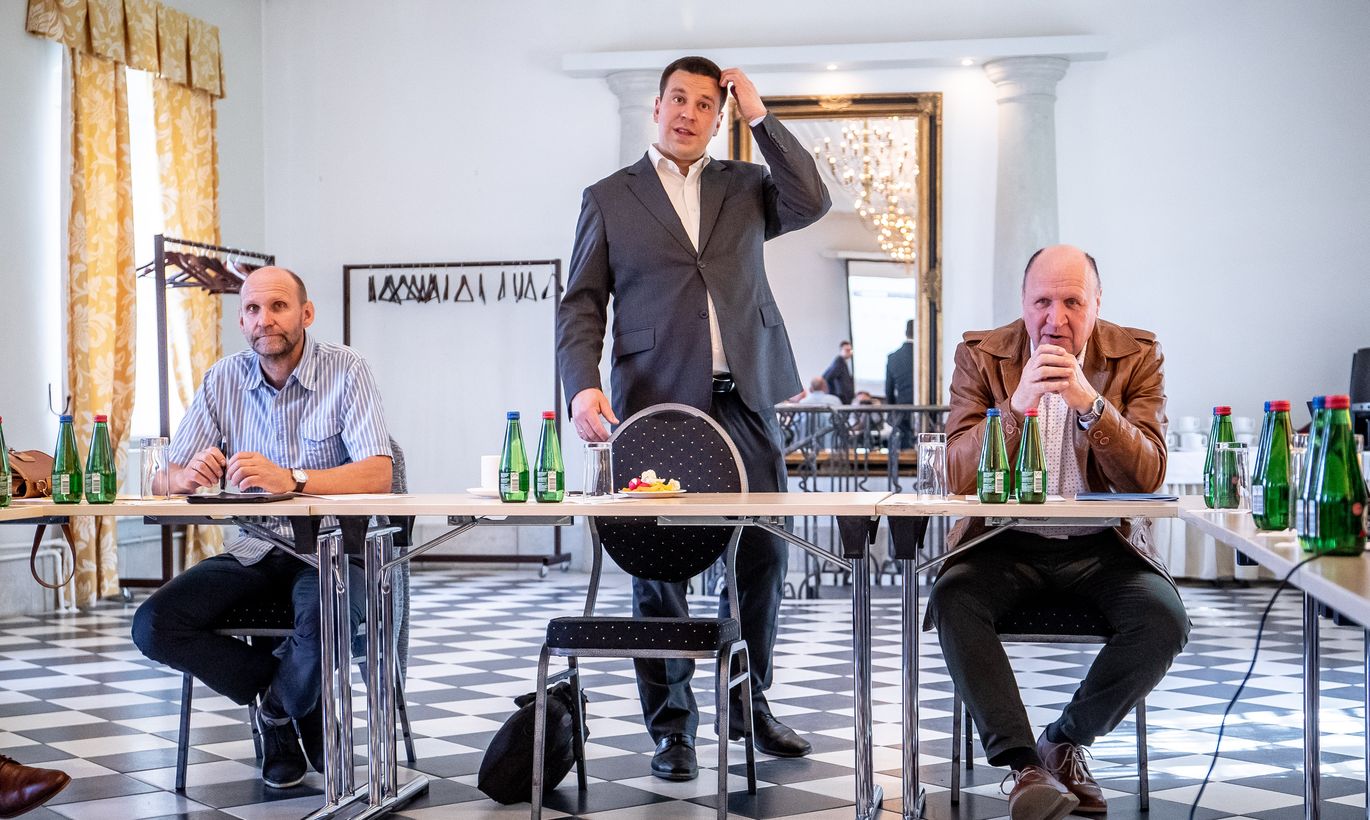 Yesterday morning saw the parking lot of the Vihula Manor slowly fill with dark cars from the back seats of which members of the government entered the manor's palm house to discuss Estonia's fiscal strategy for the next four years and next year's state budget. Ministers will only get to take a little for their administrative areas from the metaphorical bag of five billion euros in the middle of the room. It is likely parties will have to postpone making good on major election promises.
But perhaps not. A certain "if" has also been proposed.
That potential step and the future of excise duties on alcohol will be the main topics of discussion in Vihula. The sides did not get as far as detailed discussion regarding these matters yesterday. Chairmen each brought along a member of their party for a six-way private meeting before the government deliberations kicked off yesterday.
At the heart of plans to find more money for fulfilling promises lies a proposal for amending the state budget act. Leading Conservative People's Party (EKRE) politicians have already said how they plan to "upend" the recent concept of a state budget. Party leader Mart Helme said during a recent EKRE council meeting that the coalition has reached an agreement in principle for amending the state budget act and redefining structural fiscal balance.
Amending the law would make it possible to have a greater deficit still. Current legislation does not allow for an annual fiscal deficit of more than 0.5 percent. European Union rules allow for a deficit of up to 1 percent.
The state budget act requires the budget to be in structural balance as a three-year average, making it possible to reduce expenses during good times with the aim of setting aside reserves. Abolishing this principle has also been proposed.
Isamaa communicated before the Vihula meeting that the party believes it is important to retain the fiscal balance principle. Isamaa has agreed to a so-called zero budget where the government would go over existing expenses and consider whether they are necessary, while allowing greater deficit is something else entirely. That said, the party realizes that current rules make it impossible for the coalition partners to realize election promises.
"We will try to proceed based on what the coalition agreement says (it says: "We consider appropriate fiscal policy that is based on rules of structural balance" – U. J.)," Isamaa leader Helir-Valdor Seeder said in Vihula yesterday. "The goal is not to live beyond our means. Fiscal policy will not be turned on its head as it must be consistent – transferrable obligations, prior obligations, decisions already made, investments etc. There is no room to turn it all around overnight."
Minister of State Administration Jaak Aab (Center) remained more diplomatic when he said amending the state budget act needs to be discussed. "We have not gotten that far yet. Rather, we would like to go over the state's expenses and seek efficiency and saving there," he said. We really want to tackle state reform. This also means a zero budget; we need to take it apart and go back to the drawing board. Therefore, next year's budget will definitely be the most complicated."
Minister of Finance Martin Helme (EKRE) laid down an even more particular landmark last week when he said that alcohol excise duties need to be slashed already in July. Isamaa found the duties should be lowered already as part of the previous government (having previously agreed to hikes) and basically shares EKRE's view on the matter.
But there is one key difference: if EKRE is after any kind of excise duty reduction with the potential to curb border trade with Latvia, Isamaa wants to see the proportion in different duties on light and strong beverages retained. The two are difficult to achieve simultaneously.
Information available to Postimees suggests the finance ministry has several options for slashing the duties that would also impact the budget differently, including options the effect of which on the 2020 budget at least would be neutral.
Seeder said that various options would produce different effects and that parties disagree on which option is best. "Most times, people go to the border for beer but end up buying spirits as well," he reasoned. "At the same time, the effect on the budget of the duty on strong alcohol is more significant. It is a complicated matrix that we need to agree on."
While EKRE would consider any reduction a win, the change should not be merely cosmetic. Cheaper beer would be a clear sign. Lowering the duty by only a few percentage points could be swallowed up by increased profit margins, with the prices remaining the same.
Deliberations were done by 8 p.m. yesterday by which time ministers had already crossed some things out. The budget does not have €5 billion for ministries, not to mention delivering on expensive election promises. The cash that is available will be distributed based on how sorely things are needed of which a list will be made. How high on that list access to funding will begin will depend on whether and how the coalition plans to change the state budget act.