Secret Russian web orgies business in Tallinn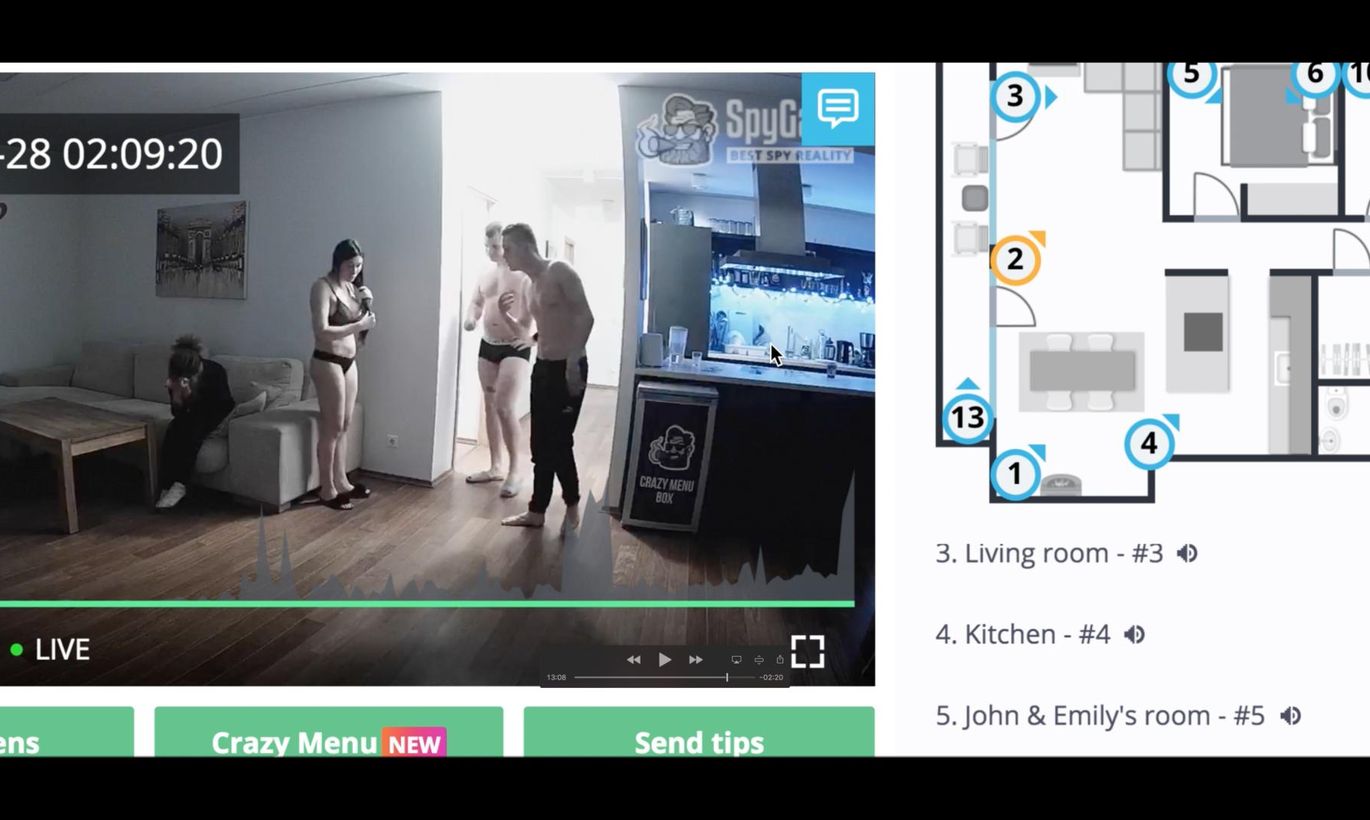 Alleged violence against young women, shocked property owners, disturbed neighbors, expensive rental apartments thrashed and suspicions of human trafficking all hit Estonia when a well-known Russian company set up its secret online orgies business in Tallinn six months ago.
The first days of May were a moment of panic for dozens of Tallinn apartments and houses. Rental properties were rid of hundreds of web cameras, washing machines were loaded to the brim, every surface washed and rewashed and scores of plane tickets booked. For the past six months, every move of the inhabitants of these properties had been recorded. Especially when they were having sex. Something had happened that brought the whole operation to an abrupt end.
Panic and anger took hold on online forums. There was talk of the Russians disappearing and only the Columbians remaining. No one yet realized that what had happened was the abrupt end to an important part of Russian porn industry in the capital of EU member state Estonia.
Postimees, working with several foreign journalists and online activists, has learned that just a day before, there were at least eight rental apartments in Tallinn retrofitted for the purpose of filming the sex life of their young inhabitants to be sold either as live coverage of porn films.
The famous sixth floor of the Fahle House on Tartu rd., a fancy apartment in the Foorum Center on Narva rd., a brilliantly located apartment at Liivaoja 10 in Kadriorg and a luxury condo at Tuvi 22/2 are only a few examples… The rent of such apartments – at least €1,500 a month as evidenced by online ads.
The apartments' young inhabitants had been brought to Estonia from Ukraine, Belarus and Russia – a total of 26 people on Schengen tourist visas.
Complete dependence
The inhabitants were fully dependent on the organizers: they were given a place to live, their food and drink were delivered and they were paid based on donations from online viewers. They were expected to have sex on camera twice a day – oral, anal and vaginal sex – and were given just a few hours off camera.
The entire business was coordinated from Russia by well-known online environment Bongacams, registered in Nicosia, Cyprus as Proweb Progressive Development Ltd. A local Estonian IT company was used to find apartments in Tallinn and rent them as office space for "programmers". Everything was to take place in secret, and the site was blocked for web users from Estonia – so no one would recognize the locations and performers.
If only owners of apartments knew what "programming" really stood for…
"We have a group of programmers moving out next month," the owner of the apartment on Tuvi street told Postimees earlier in the week (last week – ed.) when we asked why the apartment was available for rent again.
When we sent the owner a link with images depicting the true activities of the inhabitants, shock follows. "It came as a total shock. I will ask them for an explanation tomorrow!" the owner said.
In addition to the eight apartments in Tallinn, five similar abodes had been set up in Columbia. Tallinn and Bogota – an interesting choice.
Production of online pornography is not a crime in itself as we were told also by the Estonian police. For as long as it does not involve minors and is voluntary. In the case of foreigners, there is the question of work permits.
Problems hit the recently finished business in Estonia from a different angle. The first signs of trouble appeared on October 5 last year when apartments in Estonia had just gone live.
It turned out that three people inhabiting one of the apartments were so prone to alcohol, fights and partying that neighbors soon found it impossible to share a building with them. It was reported that someone tried to jump out of a third-floor window while screaming for a total of three times that night. It was the company's first contact with the police and ambulance. The former discovered a lot of cameras all over the apartment and took down the personal information of those involved.
Things took a turn for the worse on the night of February 28 events of which led to allegations of violence. A video at Postimees' disposal shows a 22-year-old woman who appears under the name Emily being subjected to severe violence.
Emily quarreled with her partner called John who eventually hit the woman square in the face on camera. The girl burst out in tears and tried to protect herself, but John did not stop beating her. She first went to the balcony for a smoke and then to the bathroom from where John dragged her out by her hair. Emily spent several days in bed after the incident.
The incident was too much for some online activists who decided to find out where the beating had taken place. Turning to the website's customer support or the Russian police was of no use. The participants were forbidden to reveal their location under pain of a €50,000 penalty.
Eventually, the matter was picked up by a women's support foundation from Ukraine who brought professional hackers on board. The camera feed was studied day and night to find anything to shed light on the location.
In the end, a frame depicting a 1-liter juice box sold only in Estonia proved decisive – the box of Aura cranberry juice gave the investigators the lead they needed.
The house in Tallinn's Kadriorg district was identified using IP addresses, image processing and map solutions. Next, activists turned to the Estonian gender equality commissioner and police.
Leading detective with the North Prefecture's criminal bureau Ardo Ranne confirmed that the police received a report of violence from abroad in April.
Police: no one was forced
"Our operatives went to the apartment and spoke to the two married couples who were there at the time. The couples from Ukraine and Belarus assured us that they are living in the view of the cameras voluntarily and have given permission for their lives, including sex lives, to be filmed round the clock. To spice things up, the couples stage violence and violent sex in the course of which no one has been hurt. Police officers were convinced no one was being forced to act against their will," Ranne said.
This did not cool the enthusiasm of activists. It is likely the porn business in Tallinn came to an end following forum posts on 2ch.hk that had for a long time kept tabs on porn stars brought to Estonia and finally revealed their identities and location in Estonia. Modern face recognition software was employed.
Postimees online wrote about an online porn industry having been set up in the Fahle House for the first time on the same day.
That drove the final nail into the coffin of the Russian porn industry in Tallinn – property owners terminated all activities in question before the day was done, led by an owner who had rented out their apartment using real estate agents Uus Maa.
Apartment damaged
"That apartment's history has been a disappointment for both the owner and the bureau. The company that rented the apartment said it wanted to turn it into an office. All documentation and the business register listed information technology as the company's field, and it sported decent turnover. We had no reason to turn them down based on that information," a spokesperson for Uus Maa, Risto Vähi, told Postimees. He added that the apartment had also suffered damage.
"As soon as information of unethical activities of which we had no knowledge reached us, we terminated the rental contract and asked the inhabitants to leave immediately. The apartment suffered minor damage, and talks are underway for full compensation," Vähi said.
There was another incident that is now being investigated by the police. A user wrote on May 4 that a scandal between participants Lana and Travis had taken place a few days prior. The customer support page of Spygasm was filled with reports of Travis having raped Lana in front of the cameras. Many users did not accept the site's explanation that it had been an S&M game and turned to the police. Lana and Travis have both left the site for good.
One branch of Estonian eastern neighbor's secret porn industry in Tallinn came to an end last week.  Some of the leading characters were quickly sent to Columbia. But the Estonian company that rented the premises still has a lot of explaining to do.