Luik: state's reputation depends on every minister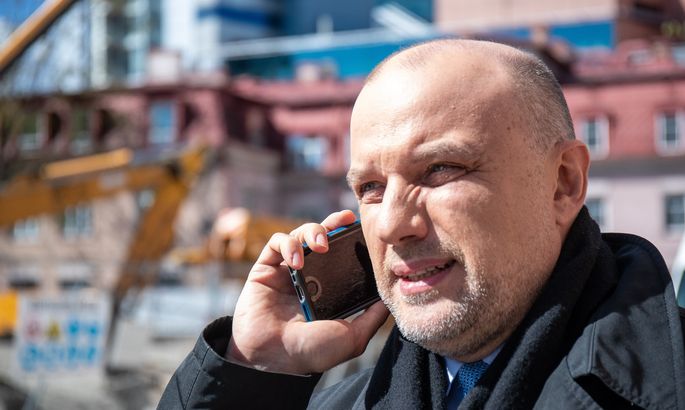 Minister of Defense Jüri Luik (Isamaa) says that first of all, members of government should stop making gestures that carry a negative meaning for Estonia's allies. There are no signs of damaged relations at this time, and everyone can sleep safe and sound.
You stayed on as defense minister in Jüri Ratas' second government with a heavy heart. Where does your heart stand now: has it become lighter or heavier still?
It would not be suitable to provide such assessments now that I am a member of the government. But it is true that I did not plan to join this government, did not take part in coalition negotiations. However, I decided at the very last minute, when it was certain this would be Estonia's next government, that protecting the interests of national defense and Estonia's ties to its allies to ensure stable contact is important no matter the government.
Who convinced you to change your mind and how?
I would refrain from going into detail because at the end of the day, you always decide for yourself. But indeed, there were quite a few people who felt that it would be in the interests of national defense if I stayed on; that I can ensure some measure of stability. I hope it will prove possible. It is a field I have intimate knowledge of and where I can serve Estonia.
You've said that the logic behind this coalition stands on hopes of EKRE altering its rhetoric. We cannot see any signs of that happening – was the logic faulty or does the dog lie buried elsewhere?
I was not among the architects of this coalition. As concerns EKRE (Conservative People's Party – ed.) rhetoric, it is mostly up to the party themselves. EKRE leader Mart Helme has now said they do not plan to change their rhetoric. It is difficult for me to say how this will turn out in the long run. It is clear that a state's international reputation depends directly on how its ministers act and speak. Every Estonian minister is seen as a representative of the country. I have immense respect for the office that I hold, and I approach it cautiously and calmly as opposed to taking risks or testing the limits in terms of my rhetoric, behavior or something else.
The case of minister Marti Kuusik and EKRE utterances have made news in the English-speaking media. What is the effect on Estonia's reputation and allied relations?
The first thing would be to stop making all manner of hand gestures. If we have even the slightest doubt these gestures signify something negative for our allies, USA for example, then we should stop making them. It has no doubt hit Estonia's international prestige.
To what extent does Jüri Ratas realize his responsibility to Estonia and Europe as the PM of this government?
I'm sure he realizes it full well.
A British battalion is currently stationed at Tapa only because we share common values. How to explain to allies why they should remain here in a situation where those common values are questioned?
It cannot all be painted in such dramatic colors. I have received no signs from allies that defense cooperation and our long-time allied relations with the UK have suffered damage.
To what extent do you understand concern over NATO Article Five in light of the new government's first steps.
People saying such things no nothing about Article Five. I'm pretty confident when I say that Estonian democracy is not in jeopardy, which is something members of the government will make sure of, among others. Our allied relations are not in jeopardy. We are a NATO member. We can all sleep peacefully at night.
When will allies be fed up and tell us to take a hike?
Estonia's prestige is, of course, a government responsibility. It is important to proceed based on European values. We all know what they are. I hope all ministers keep in mind the importance of their role internationally.
Who could embody these values the government seems to be drifting away from in Estonia?
They need to be upheld by the government, but also the Riigikogu, president and media. It is important for the media to do its duty, work honestly and reliably. The media is an important element of democracy.
What is your opinion of the idea of a European army?
I'm skeptical. Our primary opponent is Russia – a huge country with a massive army. European armies are not enough to deter that force; they are too small, and Europe does not spend enough on defense. Effective deterrence against Russia can only work through transatlantic cooperation that means NATO. The creation of a European army is unlikely and is causing confusion, especially for people who do not know the field. There are no political, economic or military preconditions for it.
How far can you relate with Eero Epner who has written that Isamaa that once stood for freedoms more fiercely than anyone has now legitimized a political force that aims to limit those freedoms?
I liked the article. For me, the story of Isamaa starts with Mart Laar, Lennart Meri. Naturally, Isamaa must uphold the tasks it performed of old. Times have changed, circumstances are different, but European values need to be represented still.
And yet, Isamaa has clearly stepped down from the liberal platform. Why has that happened?
What matters is liberal democracy. Liberalism has many meanings in modern Europe, while liberal democracy is clear. There is no such thing as illiberal democracy; I strongly disagree with the leaders of Hungary.
But that is exactly where we are headed?
Estonian democracy can be protected and maintained; it is our common task.
What about your plans for the long run?
I was sworn in last week, even though so much has happened since then that I feel it was months ago. I am concentrating on my work for now.