What Europe lacks the most is confidence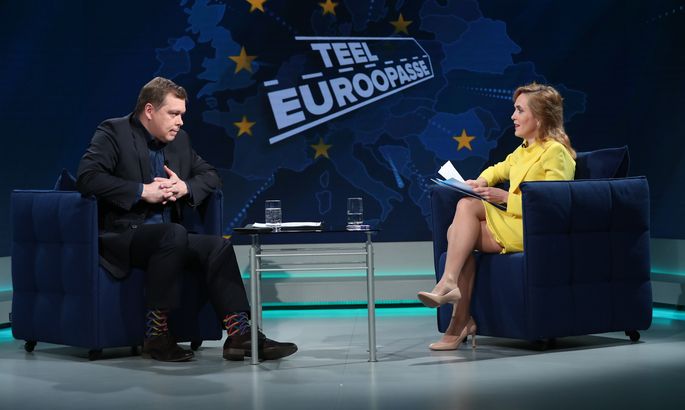 Frontrunner for Estonia 200 at European Parliament elections Lauri Hussar is considering joining the European People's Party (EPP) if elected. While Isamaa is a member of the same parliamentary group, Hussar is deeply disappointed in the party he used to vote for.
Your chances of being elected to the European Parliament are minute to say the least. Why have you decided to run?
The aim of every campaign is to get elected. Another goal is to get my message across. Estonia 200 has decided to continue as a political party. In addition to participating in European Parliament elections, we are also setting up regional organizations.
My question is why are you running?
And Estonia 200 will definitely participate in Riigikogu elections in four years. I'm running because I do not want to wake up in a Europe run by right-wing radicals after May 27 (election day for European Parliament elections – V. K.). Europe is soul-searching and needs a strong message that could help it move forward.
Igor Taro writes on your wall: "Why should anyone take an interest in Brussels? What interests you and I is what will become of Estonia." He goes on to talk about harebrained EU directives. It sounds like you could join the group pursued by EKRE. What are we talking here?
We go to Europe to make it stronger, and the stronger Europe, the better for Estonia. Europe has a lot to learn when it comes to directives: more effort needs to be put toward explaining why they are necessary. There are examples of excessive regulation. What Europe lacks the most is confidence. It can be found in setting common goals. Regulation cannot be a goal in itself.
You have already said you plan to join the European People's Party (EPP) group.
I said I would like that.
It is the group that is home to Isamaa and recently suspended the membership of Orban's Fidesz. What could you have in common with Fidesz and the group in general?
If Fidesz is about to lose its membership status in the EPP, it shows democratic forces have the upper hand in the group. Isamaa's flirtations with EKRE are not welcome, and many of the former's voters are deeply disappointed with the party. It should not be the program of a conservative party to defend right-radical positions. As a former voter of Isamaaliit, I am also disappointed.
Orban's Hungary recently orchestrated a campaign against Juncker.
Isamaa chairman has also taken a picture with Orban. However, the EPP is also the group of Germany's CDU that is a pro-reform party with a brilliant platform. The EPP is a very large party, and Estonia must be represented there.
What do you think of Juncker?
Juncker should have been more forceful.
Who would you like to see as European Parliament president?
Former president of Poland, President of the European Council Donald Tusk has done very good work. He has authority and could be president. But it would be difficult for him to get the position as he does not have support in his own country, his party is part of the opposition. However, if he managed to become council president, then I don't see why he couldn't become president of the European Commission.
Still, your plan of joining the EPP clashes with Estonia 200's liberal image to some extent. I had Estonia 200 pegged for Macron.
Macron is looking at ALDE. Our decision has not been set in stone yet. Macron cannot be ruled out. But if most Estonian delegates will belong to ALDE, Estonia's voice will be weak in many other groups.
Which aspects of Macron's letter to European citizens spoke to you the most?
As a former journalist, I was intrigued by the aspect of fighting fake news. That we must do something about fake news and hate speech. However, I do not subscribe to many of his positions: I believe moving forward with the European army could be difficult. Macron is also talking about an EU-level minimum wage. I believe Europe is not ready for that as differences in wages and standard of living are too great. It could hit poorer countries and their businesses hard.
In as few words as possible: why do we need the EU?
It has been said it is a peace project. The power struggle of 19th century nation states culminated in the First and Second World War. Today, these countries are working together, share common elements and principles. We have a single economic area, free movement that can only benefit Europe.
Where should cooperation be closer and where should we leave member states more freedom to decide?
The EU must find its confidence, overcome this split. Perhaps we should not look for places for closer cooperation. The EU must reach the digital age. What we in Estonia describe as the personal state could reach Europe. The EU must also pay attention to physical and intellectual protection of borders so we could continue building Europe in a calm and safe manner.
What could be one or two projects deserving of European funds?
We must definitely contribute more toward digital development; for instance, through better funding for technology centers. The periphery needs to be given more money, its infrastructure developed to help less developed regions catch up. However, the most important thing is education as Europe finds itself in fierce competition with USA, China and others.
When you decided to go into politics, you played it safe: analyses at the time suggested Estonia 200 would make the Riigikogu, and you were number two on their list. How many times have you regretted your miscalculation?
There was no miscalculation. I went it knowing things were not brilliant for Estonia 200, that the entire political landscape was against us, and knowing that Estonia needed a party like Estonia 200. Three months ago, I said standing in front of the editorial of Postimees that I'm going because I don't want to wake up in an Estonia that's hardly recognizable. Unfortunately, that is exactly the kind of Estonia we all woke up in.
Let's get down to brass tacks. Back then, you didn't reveal the true reason for your decision to leave. Perhaps you would like to take this opportunity to set the record straight?
I left when Estonia 200 offered me a chance to run in their list because I was sincerely concerned for developments in Estonia. I really hoped I could bring something to Estonia 200. I managed to bring quite a lot, including the third best election result in the party, but it was not enough to help us get into the parliament.
What would be your personal goal in the European Parliament?
My concern is for freedom of speech and the future of journalism. Neither the EU, Estonia nor the G20 have managed to make a decision regarding digital taxation. A lot of advertising money is moving out of Estonia free of tax, and it is hurting Estonian publications. It curbs content creation. If journalistic organizations are not doing well, they lose confidence. Poorer journalism will give us a poorer society and democracy.