Government to start with lowest support in decade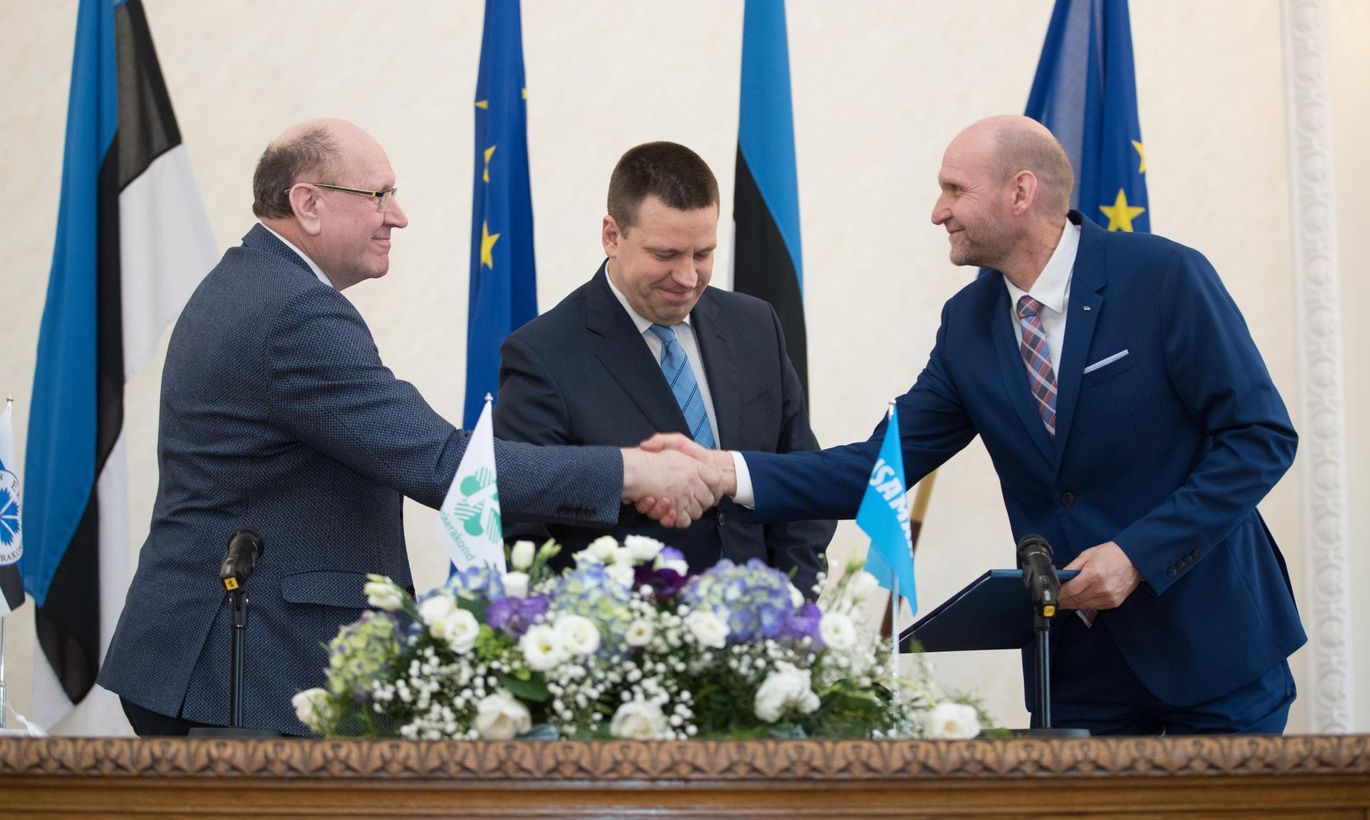 After answering an avalanche of questions by opposition politicians, leader of the Center Party Jüri Ratas was given powers to form a coalition government with the Conservative People's Party (EKRE) and Isamaa by the Riigikogu yesterday evening. The coalition was supported by 55 MPs, with 44 voting against, including Isamaa member Viktoria Ladõnskaja-Kubits. Whether the president will appoint Ratas' cabinet in full will become clear over coming weeks. What is certain is that no other government has started lower in terms of popular support in the past decade.
The party ratings poll ordered by Postimees and carried out by Kantar Emor reveals that the three coalition partners have just 41 percent of the vote between them. All five governments Estonia has had since 2007, including that of PM Jüri Ratas, have started higher.
The Reform Party and the Social Democratic Party (SDE) pulled all the stunts in their arsenal to drag support down further at the Riigikogu sitting yesterday. Almost all Reform and SDE MPs used the two questions per delegate rule to probe Ratas concerning the incoming government's plans. The answers did not satisfy opposition politicians and the new Chairman of the Riigikogu Henn Põlluaas (EKRE) had to explain on numerous occasions that questions and answers are up to MPs who ask or answer them, which fact was keenly observed by Ratas.
In the speech he gave before question time, Ratas quoted President Kersti Kaljulaid's speech from the inaugural sitting of the Riigikogu by turning upside down one of its points: why is it that a month after elections a lot of people feel something in our society has been broken? If Kaljulaid was referring to reactions to news of coalition talks between Center, EKRE and Isamaa, Ratas blamed them on inequality in society.
"We have done well since we restored our independence. That said, during this period, something has been broken for a lot of people around us," Ratas said. "We have not always been able to help the most defenseless members of society – children, elderly, disabled persons or still others. A second honest glance in the mirror has helped us realize integration has not been a complete success, and people who speak Estonian and those who don't have often remained strangers."
Ratas said society has a lot of different values, while they and the people who represent them should not be at odds. "We need to rely on what unites us – the people of Estonia – not emphasize differences," he found. "Life in Estonia will develop much better based on kind words and sentences than sharp slogans and venomous remarks. We all can and must make efforts in our political activity to assuage the fears of our people and calm society."
Ratings suggest Ratas has not found love among Center's voters by forming the government at hand.
Centrist politicians have been troubled by support for the party dwindling among non-Estonian-speakers and residents of the capital since the Riigikogu elections in March and even before that. Support for Center among Russian-speakers that dipped below the 50 percent mark between now and elections has bounced back to a still modest 52 percent. But the downward trend persists among citizens of Tallinn. Opposition leader the Reform Party is by far the most popular force in the capital (33.7 percent), while Center has to settle for a rating of 19.8 percent, down from 23 percent as recently as in March.
The Reform Party is also the most popular political force countrywide on 32 percent, with the rating of Center hovering around 17 percent for the second consecutive month. For the latter, even a deceleration of the process of losing voters could be seen as a positive development.
Other trends in terms of ratings have more or less persisted: Isamaa have managed to find new supporters, as have Estonia 200, while EKRE have lost points, coming down from 18 percent in March to 15 percent in April.