«Kõigi Eesti» concert brought together 10,000 people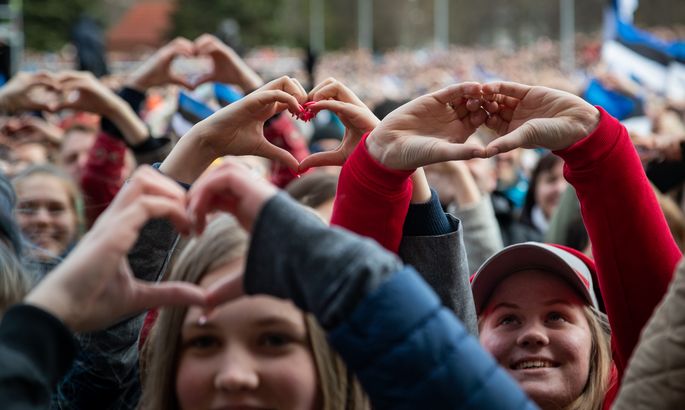 The motto of the «Kõigi Eesti Laul» (Everyone's Estonia's Song) concert that organizers say brought over 10,000 people to the Song Festival Grounds on Sunday was: «We are not afraid. We stand together for freedoms!». While politics should not have found a place at the concert, it did in the statement of the last speaker, Principal of Rocca al Mare School Hannes Tamjärv.
«We have all been forced to hear unexpected and somewhat starling statements lately: first journalists, then judges, followed by theater people and now doctors. Yes, indeed, as if overnight, some have become murderers and others traitors – it is quite wild,» Tamjärv said.
The headmaster said he had initially listened to such statements calmly – «ordinary political circus put on wearing serious faces but not wielding serious intentions» – but when he was told by his daughter that her foreign friends in Estonia are greatly troubled by such utterances and are making preparations to leave, he was startled and started seeing the situation in a new light.
Musician Ewert Sundja who also performed at the concert said he is troubled by a new mode of speaking. «People have been given freedom to once again use expressions and messages I believed we had long since agreed not to use,» he said in terms of why he agreed to play the free concert. «Those words have spread like wildfire. People come to believe this is how we communicate now. It has to change up there. It is the duty of the people to tell them to talk to each other in a normal way. The people have the right to say how they want their country run and how their leaders talk to each other and the people.»
One of the organizers of the event Hedi Mardisoo said that anger, conflict and recently abnormal rhetoric have become increasingly visible in Estonian society. She said that the Kõigi Eesti movement should have convened five years ago. «Nothing is created as a result of what a few people or parties do. I'm sure the underlying reasons go much deeper,» she said.
Mardisoo said the aim of the movement is to remember values that have brought us where we are over the past 30 years. «We can achieve much more together, as an Estonia united. This newfound antagonism and scission will get us nowhere,» she believes.
Mardisoo said that the initiative will not develop into a political party.
Among the audience was politician Peeter Ernits who joined the Conservative People's Party (EKRE) last year and said he turned up out of curiosity.
«Nice spring weather we're having. I should be in the countryside, but I'm a little worried about this hysteria that has been whipped up in society. And it is not good. Those preaching tolerance are the least tolerant themselves. This avalanche of hate speech and orchestration against the incoming coalition…» Ernits said.
Ernits summed up the event on social media as follows: «So much hate at the empty hearts' song festival. In the short time that I've been here, five people have called me a Nazi. /…/ A lot of social democrats, Russian heard everywhere. Right now, at our holy Song Festival Grounds.»
Leader of the Social Democratic Party (SDE) Jevgeni Ossinovski was present at the concert, as where outgoing ministers Riina Sikkut, Rene Tammist, Indrek Saar, Sven Mikser, but also head of the Reform Party Kaja Kallas. Russian could be heard and seen on stage as subtitles of video clips shown in between performances and translated speeches, next to sign language.
Could we not stop labeling people and make peace with those we have insulted? «Of course we could,» said Ernits, «but this event here is tied to events on Monday when Kaja Kallas and the social democrats tired desperately to come to power.»
The thoughts of most people attending the concert seemed to be elsewhere than what took place on Toompea Hill on Monday. As put by writer and poet Leelo Tungal at the concert, using the words of Anton Hansen Tammsaare: «But to come together and play together from time to time, is there anything more beautiful or even more useful a people could do? To come, see each other, look each other in the eye, feel you belong together in work, play, life and death – what else would you have?»