Poll: voters prefer other coalitions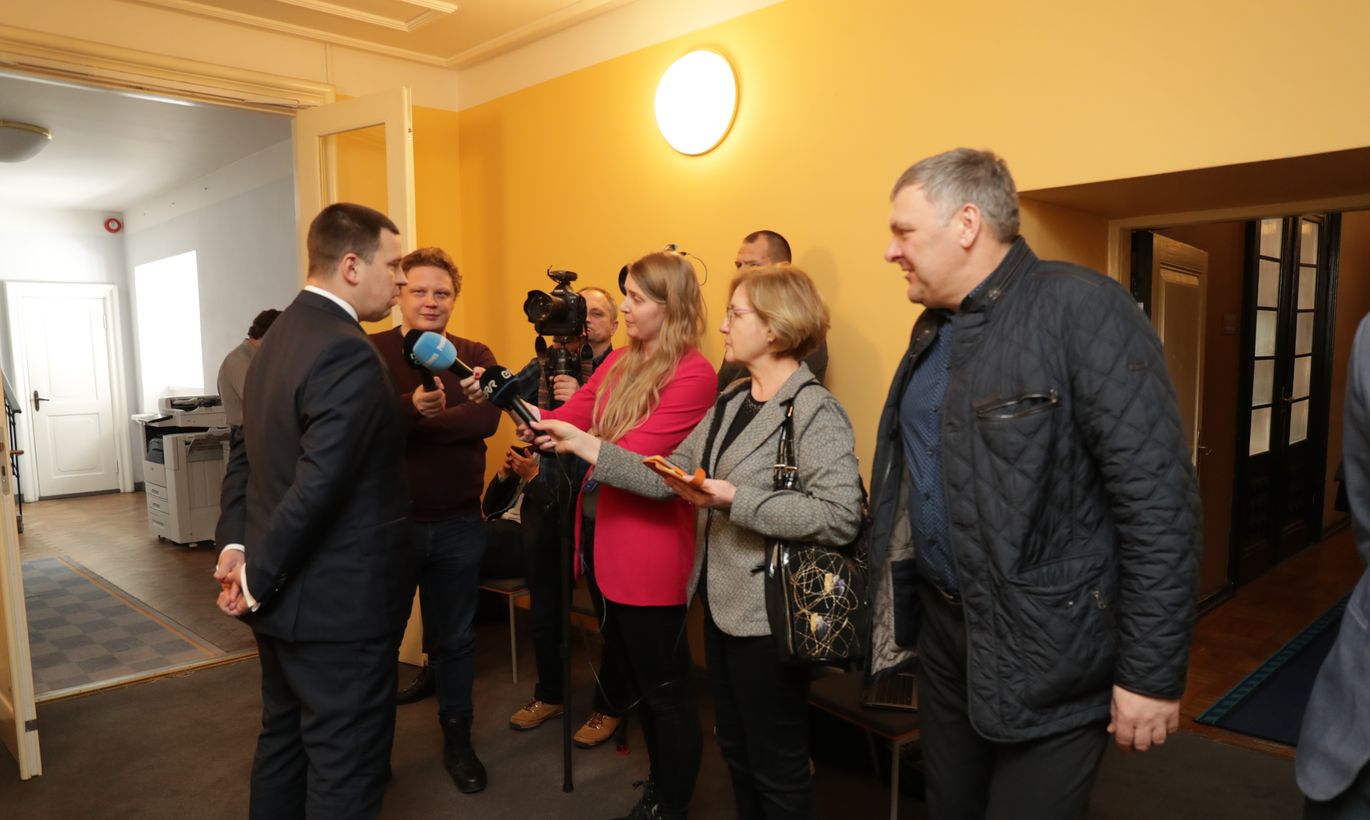 Just a week and a half after Riigikogu elections, parties' support ratings have undergone major change. Were the Riigikogu elected today, the Reform Party would take an even more convincing win, the Center Party would have to settle for fewer than one-fifth of all votes and Estonia 200 would comfortably make it to the parliament. Those are the conclusions of a special poll ordered by Postimees and carried out by Kantar Emor.
The online questionnaire was put to 752 people yesterday and the day before – in other words, in the days immediately following Center's decision to launch coalition talks with the Conservative People's Party (EKRE) and Isamaa. The results suggest that the coalition currently being negotiated is the least popular out of all possibilities. EKRE voters are the only group satisfied with developments.
A three-way coalition between the Center Party, EKRE and Isamaa had the support of 24 percent of those questioned. A coalition of the Reform Party, Social Democrat Party (SDE) and Isamaa was the most popular choice (30 percent), with a marriage of Reform and Center not far behind (29 percent).
It can be concluded that nearly 59 percent of people would prefer a coalition one of the participants of which would be the Reform Party. Options including the Center Party are supported by 53 percent of people and those sporting Isamaa 54 percent.
EKRE voters fine with things
Looking at the coalition preferences of supporters of individual parties, it turns out voters of Center and Isamaa would much rather see a different coalition from what their parties are currently negotiating. The only group that would be happy with a Center-EKRE-Isamaa coalition are voters of the national conservatives. No fewer than 87 percent of EKRE voters picked it as the best option.
Supporters of the Center Party would prefer an alliance with the Reform Party, while Isamaa backers would like to see a three-way coalition with Reform and SDE. The currently negotiated coalition clearly benefits EKRE the most as it would cater to the wishes of most of their voters.
"The coalition being formed by [PM] Jüri Ratas has the support of just 24 percent of voting-age citizens," said Aivar Voog, head of marketing strategies at the pollster. "A coalition between Center, EKRE and Isamaa is clearly supported only by EKRE voters. Support for this option is somewhat higher than average (30 percent) among men, elderly and residents of rural areas."
Center's biggest risk in working with the two conservative parties lies in the reaction of their Russian-speaking voters who have so far made up the foundation of Center's supporter base. In the Kantar Emor poll, non-Estonian-speakers rate the coalition very low.
Citizens of other nationalities clearly prefer a coalition between Center and Reform (44 percent), wile only 8 percent of non-Estonian-speakers support a Center-EKRE-Isamaa union.
MEP Yana Toom (Center), who is critical of her party forming a coalition with EKRE, said that on the one hand, she should be glad her gut feeling did not deceive her. "However, considering the sample and the general media atmosphere, the result was to be expected," she commented. "No one knows the marrow of the coalition agreement today. There is no talk of content, just behavior and disappointment."
The discrepancy between people's expectations and preferences is clearly reflected in parties' support ratings ten days since elections.
Center has taken the biggest hit as a result of ongoing coalition talks. The party's election result of 23 percent has dropped to a rating of 19 percent in just ten days. The already waning support of Russian-speakers has taken a nosedive. "Center has clearly lost supporters, mainly among non-Estonians," Voog said.
Before elections, in the second half of February, Center had the support of 67 percent of Russian-speakers. Their modest turnout in East Viru County and Tallinn was one of the reasons for Center's below-expectations elections result. The recent poll suggests support for Center in the voter group has fallen to 48.9 percent.
Yana Toom said it was entirely predictable the move would slash support among Russian-speaking people. "I thought the figure would be worse. It is probably the most vocal part that disappeared," she said.
First signs of sharp disappointment
Editor of the Poliitika.guru portal Tõnis Leht found that warnings, according to which the emerging coalition would be risky, have merit. "If Center's modest result in Tallinn and East Viru County was the result of Russian voters' increased indifference toward elections and Center's messages, we are now seeing the first signs of more acute disappointment," he said. "A drop from 67 percent to 49 is not a statistical error, but a strong sign of danger. The main reason is Center's unexpected convergence with EKRE.
Considering the wave of bafflement and puzzlement that is still gaining momentum and, Leht believes, has not left Russian-speakers unaffected, there is reason to believe feelings of disappointment will deepen and support for Center will continue to fall.
Who are Russian-speaking voters backing now? Potential future votes have moved the way of the social democrats and Estonia 200. Support for SDE among non-Estonian-speakers has jumped from 8 percent in February to 20 percent, while that for Estonia 200 has climbed from 9 percent to 18.
That is not the end of Center's troubles. They have traditionally been the first choice among residents of Tallinn. The party had the support of 35 percent of residents in the second half of February, while its recent rating of 24 percent falls behind that of the Reform Party's 28 percent in the capital.
Yana Toom feels Center should tie up the current talks as quickly as possible and move on to better options. "A coalition with EKRE is definitely not what I supported or asked my voters to provide a mandate for," the MEP said.
Support for Isamaa wavering
Isamaa is not doing particularly well either as its rating has also taken a hit since elections, from a result of 11 percent to a rating of 7 percent now. Tõnis Leht said that the downward spike is a sign their support remaining above the election threshold is by no means a given. "It is to be believed that the party's voters included quite a lot of people who do not support closer integration with EKRE and for whom the nascent coalition is of questionable worth.
Ratings of other major parties have inched upward, with Estonia 200 managing to turn its 4.4 percent election result into a rating of 7.3 percent ten days on. "Now, unfortunately after elections, Estonia 200 would make the threshold and is more popular than Isamaa that has clearly lost supporters," Aivar Voog said. The Reform Party, SDE and EKRE have also managed to gain supporters.
It is worth noting that were another potential coalition being negotiated, it would also take more flak from competitors. "However, the wave of criticism that is rising in society today is taking on unprecedent dimensions," Tõnis Leht said.
Ratings taking a dive even before a coalition has been officially agreed begs the question of how to maintain such a government in a situation where some partners must immediately set about regaining supporters. The best way to do that is to stand firm for one's priorities in the coalition. That can cause tensions.
Kantar Emor carried out its online interviews on March 12-13, questioning 752 voting-age citizens. "Cannot say" answers made up 16.7 percent of responses.