Reform takes convincing win over Center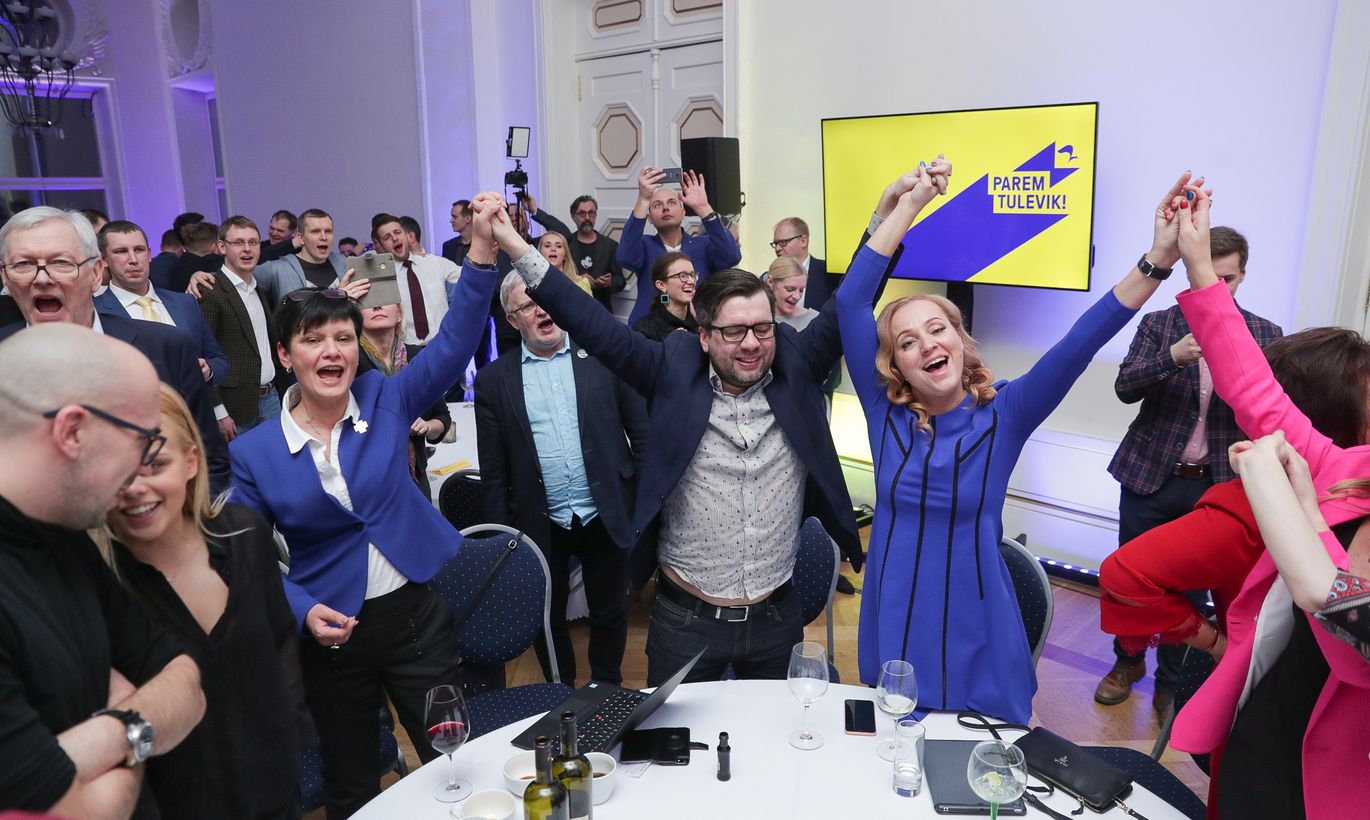 It is possible to pinpoint the minute the Reform Party won the 2019 Riigikogu elections. It happened when results of e-voting came in at 8.35 p.m. The Reform Party took 40 percent of the electronic vote against Center's 12 percent. More experienced politicians knew then that the Reform Party had walked away with victory.
The mathematics is rather simple. Reform led Center by 70,000 votes after e-voting. Looking at voter turnout, it was clear fewer than 200,000 votes were cast on Election Day – Center would have had to get 70,000 of those 200,000 votes to defeat its rival, presuming Reform would not receive any traditionally cast votes. Since the latter is impossible, Center would have needed half of all votes cast using ballot papers. Another virtual impossibility. This means that the winner was decided as soon as e-votes were counted.
Leading centrists managed to get themselves together by the time most votes had been counted, which is when party leader Jüri Ratas phrased one of the reasons for Center's failure – e-voters and the need to address them. While it is clear people who use electronic voting are a mix of all other voter groups, Reform Party's lead in terms of e-votes has been growing from one election to the other, and the party remains undisputed online.
That said, e-voters do not vote for Reform just so they wouldn't have to turn up on Election Day. Reasons for Center's defeat do not end there. Looking at mandates at previous and recent Riigikogu elections, it is clear the Conservative People's Party (EKRE) took the lion's share of Center's potential result.
Overlooking three electoral districts in Tallinn, EKRE came in at least second in all other districts except East Viru County. The party won two districts, one of which was Center's traditional stronghold of Pärnu County.
Events that might have affected election results include the dance surrounding the study language of the Kohtla-Järve State High School. Center's opponent made ruthless use of mixed messages sent by the party and its education minister Mailis Reps, whose result of approximately 2,000 votes fell well short of expectations.
Voters concluded that the best way to avoid unwanted developments was to vote for either Reform Party or EKRE. The result is a five-party Riigikogu that is quite different from the previous one in many key areas.
POTENTIAL COALITIONS
Estonia 200 failing to make the parliament leaves fewer coalition options. The next composition of the Riigikogu basically leaves Reform with two options:
Reform-SDE-Isamaa with 56 seats. A majority that would survive a few MPs taking a window seat (become independents – ed.) that is bound to happen over the next four years. The three parties have formed several governments in the past, which means they have seen their fair share of quarrelling and breakups. Reform is bound to remember the two smaller parties' coalition with Center that took them to the opposition in 2016. While SDE and Isamaa remember Reform's habit of throwing its minor partners under the bus.
While nothing is ever forgotten in politics, pragmatism wins the day. Neither of Reform's potential partners wants to go to the opposition to sit in the shadow of the now considerable EKRE. Their best option is to marry Reform to form a coalition that would also be most convenient for the latter.
Reform Party-Center Party with 60 seats. A strong majority and the added stability of a single partner. Complicating matters is the fact this option would require Reform to marry its biggest rival with which it has fundamental differences of opinion in some places. That said, negotiations are there to solve such differences, provided there is good will. Ratas has said he is working toward being included in the coalition. However, considering Reform's margin of victory, Center would be expected to surrender a lot of ground, with Ratas having to secure a position fitting for the outgoing PM. Besides, the concessions Center would have to make are considerable; Kaja Kallas has listed citizenship policy, a €500 basic exemption and Estonian-language education as Reform's red lines.
Center-EKRE-Isamaa with 57 seats. As we will not see the social democrats share a government with EKRE, the only chance Center has to go behind Reform's back is the aforementioned combination. It is another matter how Center might explain bringing EKRE on board in a situation where Ratas has ruled out cooperation with the national conservatives in the past. There are probably Center Party politicians who have not ruled out the possibility, and should one of them manage to take control of the party…
THE WINNERS
Reform Party. While Reform definitely rallied in the runup to Election Day, many members of the party were pleasantly surprised to take such a convincing win over Center.
The party achieved its best ever Riigikogu elections result, good enough for 34 seats in the 101-member parliament, managing to secure eight mandates over Center. The party was not seen as the favorite to win the elections last year, making its stellar result ever more noteworthy. Reform managed to win one electoral district in the capital Tallinn and both major islands that were seen as EKRE strongholds before elections.
Kaja Kallas. Chairman of the Reform Party Kaja Kallas' 20,000 votes have secured a place for her in the annals of the top players in Estonian politics. She defeated her competition in the electoral district of Harju and Rapla counties, also known as the leaders' district, by a country mile. With it, Kallas has proved that the decision to have her lead the Reform Party was the correct one. She also showed that she has already stepped out from behind her father Siim Kallas.
A mandate this strong will help Kallas going into coalition talks and will give Reform back the unity its team was losing in the years in between elections.
Isamaa. While the party's elections celebrations remained modest yesterday, there seems to be plenty of reasons to celebrate. The conservatives did it again, producing an election result far beyond anything the polls suggested before elections. Losing just two seats in the Riigikogu compared to four years ago in a situation where the party's rating long lingered below the 5 percent election threshold is nothing.
EKRE. A party more than doubling its presence in the Riigikogu can be described as nothing short of a major victory. The beginnings of a brilliant result could be seen already after e-voting, when it turned out EKRE had won over a lot of online voters. The party's carefully coordinated and powerful social media campaign likely had a role in this. It will be difficult for EKRE to make it to the government but not impossible, as Estonia 200's inability to make it to the parliament leaves few combinations. The more difficult talks between other parties, the better for EKRE.