Estonia-Latvia joint packaging solution complicated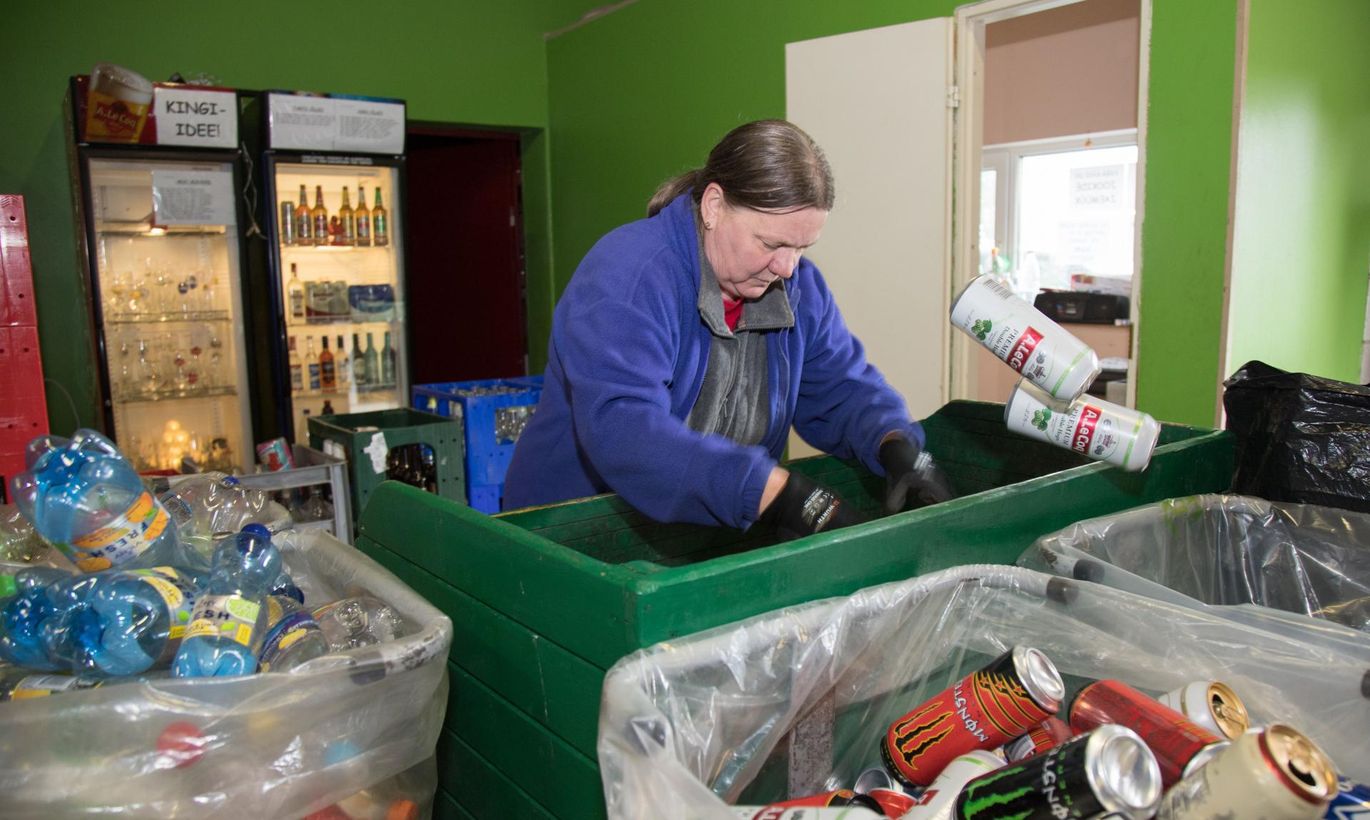 The idea for a common deposit-subjected package handling system for Estonia and Latvia is likely the most ambitious joint venture between the two countries after Rail Baltic. It is also expected to be the source of as much headache and antagonism.
In addition to poor alcohol excise duty receipt and rural shops going out of business, active cross-border trade with Latvia has also created another problem that has perhaps not been discussed as often: what to do with the around 100 million cans and bottles Estonians bring over the border in a single year.
If Estonia has had a very progressive system where reverse vending machines give you 10 cents for every package you return since 2005, Latvia has nothing of the sort. Beverage packages from Latvia are not compatible with the Estonian system – no one has put down a deposit for the containers.
This means that bottles and cans from Latvia often end up littering the forest floor, roadsides, bodies of water and mixed waste where they don't belong. The Ministry of the Environment has now come up with an unexpected idea: to create a common Estonia-Latvia deposit-subjected packaging return system that would be the first such system to exist between two countries in the European Union. This would make bottles bought in Latvia compatible with reverse vending machines in Estonia and vice versa.
While the idea seems noble, major Estonian drinks producers believe it could do more harm than good.
Mission impossible
Member of the board of one of Estonia's leading drinks makers Saku Brewery Jaan Härms said that talking about a joint packaging handling system is replacement activity. Instead, the excise duties of the two countries should be aligned and the problem would take care of itself, Härms suggested. The brewery executive said he has no idea how a common system of handling packages would even work.
He said that the biggest obstacle is marrying the two countries' legislations. "Let us presume we have a common packaging deposit of 10 cents in both countries. What happens when the Latvian Saeima decides to hike it to 15-20 cents?" Härms asked. "We would have to follow suit, but how would we obligate our Riigikogu or government to go along with such a hike?"
Härms' summary was frank: talk of aligning package systems is empty political rhetoric that aims to patch up self-inflicted damage instead of fixing the actual problem.
CEO of A. Le Coq brewery Tarmo Noop also said that a joint packaging system would have little point. On the one hand, it would increase costs, while the system being managed from two countries would be too confusing as both have different drinks producers.
Noop said that cooperation should not be a goal in itself. It would suffice for the Latvian government to launch its own deposit package system that would alleviate the environmental problem in Estonia.
"A joint system has no advantages in front of separate systems, nor would it solve a single problem separate systems would not," Noop said in summary. The Latvian Saeima plans to introduce a deposit-subjected packaging system this year.
Growing costs
Head of Estonian Deposit Packaging (Eesti Pandipakend) Kaupo Karba said that a cross-border solution would be good but added that poor execution would cause a number of problems.
Karba is also worried the new system would mean bigger expenses for his organization that the consumer would end up paying for at the end of the day. A simple example: if today, an Estonian producer sells bottled water using the same EAN code in all countries, a joint package recycling system would require separate codes for Estonia and Latvia. Otherwise, accounting and settlement of accounts would get hopelessly mixed up.
Having to offer packages with different EAN codes spells increased costs also for beverages producers: separate labels, warehousing and transport. The costs of deposit packaging system handlers would also grow: refitting of reverse vending machines, recording of new products and their entry into the system.
Minister of the Environment Siim Kiisler said that their aim is to create a smooth and compatible system between the two countries where producers could release products with the same label for both markets to keep costs down. Kiisler added that the ministry hopes to achieve that by making use of innovative software solutions. "Besides, it would be sensible if Estonian consumers could return their packages in Estonia, instead of taking them back over the border."
New system to come in 2022
The minister agreed that creating a common system would not be easy. First of all, the deposit-subjected packaging system needs to be introduced to Latvians as they do not have a system of their own today.
The main question is how to organize settlement of deposits between the two countries and maintain a fixed deposit sum. "We cannot have Estonian entrepreneurs subsidizing the Latvian system," he promised.
Why is a common system even necessary? "First of all, it will solve environmental problems caused by packaging waste that is taken to the wrong place and is not recycled," the minister said. Another problem is that packages that cannot be returned keep piling up that has a negative impact on our system and waste disposal in general, Kiisler added.
The environmental ministries of Estonia and Latvia plan to propose their cooperation project for a common deposit packaging system to the European Regional Development Fund. The program entails cooperation aimed at solving cross-border problems.
The ministries plan to present the project to the EU in the first half of this year and have the system operational by 2022.