Trolls penetrate major daily's opinion section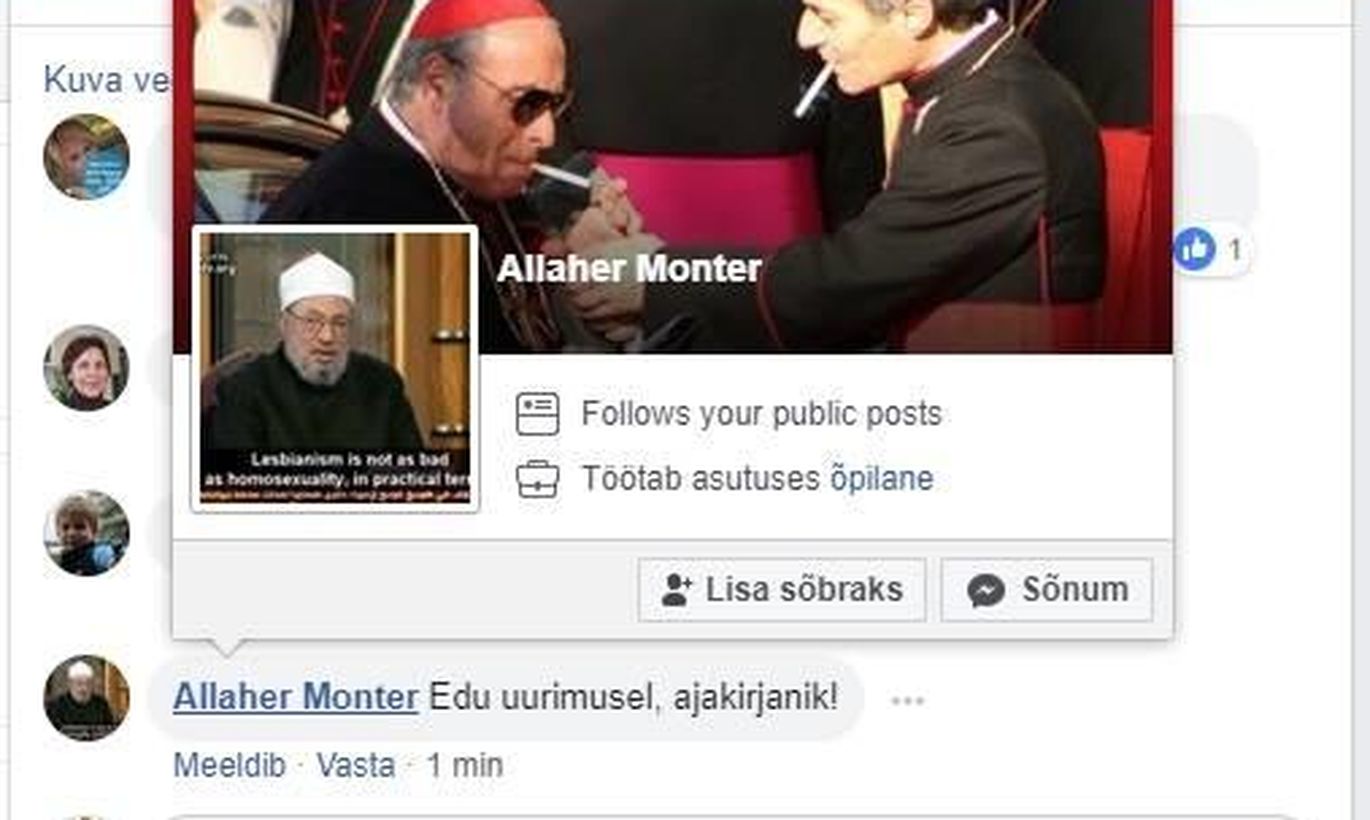 Comments sections of social media sites hold entries by dozens of fake personas two of whom managed to get published by Eesti Päevaleht. Signs point to fake accounts having ties with Conservative People's Party (EKRE) youth organization Blue Awakening.
Last June, the opinion desk of Eesti Päevaleht published a piece by Bert Valter who described himself as a University of Tartu political science student. Bert's piece analyzed EKRE's worldview and how he believes other parties are willing to form a coalition with the national conservatives.
A few months later, a similar piece allegedly by University of Tartu humanities student Kert Valter was published by the paper.
«The social democrats would like to create a truly fascist party instead of EKRE to come to power themselves,» the article reads. «Ruling out EKRE (as a member of government) would mean suppressing the voices of an important part of society the consequences of which could lead to the emergence of a far more radical party than EKRE.»
The Valters are fictional characters. The university found no trace of students by that name.
«It is highly regrettable when someone who is not our student claims to be,» said the university's press representative Made Laas.
Aside from social media, there is nothing to suggest such people exist. Eesti Päevaleht has admitted it made a mistake and removed the articles.
«The letters came from Gmail accounts that had similarities to the authors' names,» head of the paper's opinion desk Alo Raun explained. «It is possible this is part of a broader trend of manipulating the media.»
Raun promised to draw conclusions from the incident. «We need to be more diligent in checking our authors' background,» he said.
Connection to Blue Awakening
Bert Valter also has a Facebook account and his friends list includes almost all members of the board of Blue Awakening. His posts are liked and commented on exclusively by fake users or members of the youth organization. Users share similar inside jokes and memes. Communication is entirely familiar.
Bert's friends list reveals a number of other fake accounts. For example, Kertu, who shared Bert and Kert's last name (the user disappeared from Facebook when the article at hand was being written), loved to comment on Postimees' political articles, argue with fellow citizens sporting more liberal views in comments sections and praise statements by EKRE politicians.
«That was very good, respect,» read her comment under a post by Martin Helme. «I do not know whether to laugh or cry over something so harebrained,» she said in a comment of Marju Lauristin's (SDE) opinion piece in Postimees that merited 68 likes.
Just like Bert or Kert, Kertu does not exist. Another Facebook user who sports a similar style on the social network, Jaak Kivi, also does not exist. Kivi is also an avid commentator of posts by social democrats or ministries. The user criticizes Estonian politics and shares memes liked mostly by members of Blue Awakening or shadow accounts.
It is possible to find dozens of online personas that exhibit signs of being manufactured.
Some make no effort to hide the fact they do not represent real persons. Accounts like those of Jürgen Goldberg, Meelis Rügaberg, Rey McScriff or Sulev Šnitsel. Others, like Jaak Kivi or the aforementioned Valters, try to appear real, using profile pictures downloaded from Google for example.
«Those accounts are managed by easily manipulated youths,» a source who claims to be up to speed on in-house conversations of the Blue Awakening claims. «For example, Jaak Kivi is an inside joke of Blue Awakening. A sort-of posts dumpster.»
Good luck with the investigation, journalist!
Founder of the Blue Awakening and EKRE's Riigikogu elections candidate in Tartu Ruuben Kaalep refused to answer questions.
«Even if I knew anything, would it make sense for me to tell you?» he asked. «I have no comment on this matter.»
Member of the board of the organization Fedor Stomakhin is very active in communicating with fake accounts. «I do not know those people, they've simply added me to their lists,» Stomakhin said of his incognito friends.
«I believe they are so-called meme accounts,» another board member Lenno Pärnoja said. He believes young people who share a similar worldview are simply having a laugh.
«I just talk to them online. I don't know who they are. While I can suspect a thing or two, we do not really know who they are,» Pärnoja said.
Pärnoja could not say why such users talk to members of the board of Blue Awakening. He said he would like to believe the board is not connected to these accounts.
After the journalist called Blue Awakening board members, his own Facebook wall got a comment from the shadow account Allaher Monter.
«Good luck with the investigation, journalist!» the person behind the fake account wrote.
Senior research fellow in the field of semiotics at the University of Tartu Andreas Ventsel said that the aim of trolls posting under false names is usually simple: to blow up negative opinion of political opponents and their ideas and paint such attitudes as having more support than they actually do. Also, to amplify positive reaction to opinions that fit their own agenda.
«This is why election results will see expectations miss the mark by a safe margin,» he said with a smile.
«Such behavior has been studied and noticed extensively abroad. Perhaps it has not been as clear on the level of Estonian parties, but it does happen here too,» he said.
The senior researcher said that while such activities might be organized, there are also lone wolves who try to manipulate public sentiment.